With Alex Jones, Facebook's Worst Demons Abroad Begin to Come Home
To Americans, Facebook's Alex Jones problem might seem novel, even unprecedented.
When does speech become unsafe? When can it be limited? Should those decisions be up to a private company at all? And if a company shies away from acting, as Facebook did with Mr. Jones until Apple moved first, where does that leave the rest of us?
But to activists and officials in much of the developing world, both the problem and Facebook's muddled solutions will be old news.
Before there was Alex Jones, the American conspiracy theorist, there was Amith Weerasinghe, the Sri Lankan extremist who used Facebook as his personal broadcast station.
Mr. Weerasinghe leveraged Facebook's newsfeed to spread paranoia and hatred of the country's Muslim minority. He enjoyed near-total freedom on the platform, despite repeated pleas from activists and officials for the company to intervene, right up until his arrest on charges of inciting a riot that killed one Muslim and left many more homeless.
Before there was Mr. Weerasinghe, there was Ashin Wirathu, the Myanmar extremist, whose Facebook hoaxes incited riots in 2014. Three years later, Mr. Wirathu would contribute to a wave of Facebook-based rumors and hate speech that helped inspire widespread violence against Myanmar's Rohingya minority.
And so on.
"Facebook doesn't seem to get that they're the largest news agency in the world," Harindra Dissanayake, a Sri Lankan official, said a few days after Mr. Weerasinghe's arrest.
The problem, he said, goes beyond a few underregulated extremists. It also involves the algorithm-driven newsfeed that is core to the company's business model. "They are blind to seeing the real repercussions," Mr. Dissanayake said of Facebook's leaders.
Developing countries' experiences with Facebook suggest that the company, however noble its intent, has set in motion a series of problems we are only beginning to understand and that the company has proved unable or unwilling to fully address:
— Reality-distorting misinformation that can run rampant on the newsfeed, which promotes content that will reliably engage users.
— Extremism and hate speech that tap into users' darkest impulses, and polarize politics.
— Malicious actors granted near-limitless reach on one of the most sophisticated communications platforms in history, relatively unchecked by social norms or traditional gatekeepers.
— And a private company uneager to wade into contentious debates, much less pick winners and losers.
Facebook — and many Westerners — have long treated those issues as safely "over there," meaning in countries with weaker institutions, lower literacy rates and more recent histories of racial violence. Last month, a company official, announcing new policies to restrict speech that leads to violence, referred to "a type of misinformation that is shared in certain countries."
But chillingly similar Facebook-linked problems are becoming increasingly visible in wealthy, developed countries like the United States. So is the difficulty of solving those problems — and the consequences of Facebook's preference for action that can be incremental, reactive and agonizingly slow.
'Something Bad Could Happen'
Though Facebook officials often portray the violence associated with it as new or impossible to predict, the incidents date to at least 2012. So does the pressure to more actively regulate speech on the platform.
That year, fake reports of sectarian violence went viral in India, setting off riots that killed several people and displaced thousands. Indian officials put so much pressure on Facebook to remove the posts that American officials publicly intervened in the company's defense.
Reports of Facebook-linked violence only grew in India, and as Facebook expanded to other developing countries, similar stories followed.
"I think in the back deep-deep recesses of our minds, we kind of knew something bad could happen," Chamath Palihapitiya, a senior executive who left Facebook in 2011, said at a policy conference last year. "We have created tools that are ripping apart the social fabric of how society works."
There were other warnings, typically from activists or civil society leaders in the developing countries where Facebook's expansion was fastest and most obviously disruptive. But they were little heeded.
"Facebook is the platform that we could not meet with for years," Damar Juniarto, who leads an Indonesian organization that tracks online hate groups, told me in March.
As a Facebook-based group called the Muslim Cyber Army organized increasingly elaborate real-world attacks, Mr. Juniarto said, Facebook proved unresponsive. "How are we supposed to do this?" members of his group wondered. "Is it a form? Do we email them? We want them to tell us."
Facebook representatives eventually met with Mr. Juniarto, and the company has shut most pages associated with the Muslim Cyber Army.
Still, the episode seems to fit a pattern of Facebook waiting to respond until after a major disruption: an organized lynching, a sectarian riot, state-sponsored election meddling or, as with the so-called Pizzagate rumor pushed by Mr. Jones, a violent close call set off by misinformation.
A Corporate Regulator of Public Life
In the developing countries where such incidents seem most common, or at least most explicitly violent, Facebook simply faces little pressure to act.
In Sri Lanka, government officials spoke of the company as if it were a superpower to be feared and appeased.
Tellingly, Facebook grew more proactive in Myanmar only after the United Nations and Western organizations accused it of having played a role in spreading the hate and misinformation that contributed to acts of ethnic cleansing.
Even officials in India, a major power, struggled to get the company to listen. Indian pressure on Facebook, however, has dropped since the arrival of new government leaders who rose, in part, on a Hindu nationalist wave still prevalent on social media.
American officials have far greater leverage over Facebook, as members of Congress proved when lawmakers summoned Mark Zuckerberg, its chief executive officer, to testify in April. But the Americans seem unsure what they want Facebook to do, or how to compel it to act. So they, too, are not very effective at changing the company's behavior.
More broadly, Americans seem unsure precisely how far Facebook should go in regulating speech on the platform, or what it should do about the data suggesting that misinformation is more common on the political right.
All of which comes through in Facebook's hesitation about shutting down Mr. Jones' page, despite his long record of demonstrable falsehoods that have real-world consequences.
American commitment to free speech is unusually tied into the country's sense of itself. Still, the dilemma here is not so different from those government officials and Facebook itself face in places like Indonesia or Sri Lanka.
So while few are comfortable — perhaps Facebook least of all — with a private company acting as a vastly powerful regulator of public speech, even fewer seem willing to step in and take on the task themselves.
Move Fast and Break Things
There are growing indications Facebook's problems in rich countries may go beyond misinformation to do the kind of harm developing countries have experienced.
Karolin Schwarz, who runs a Berlin-based organization that tracks social media misinformation, said she believed Facebook-based rumors about refugees could be fueling the spate of hate crimes against them.
"I think it does something to their sense of community," she said. "These things, if they reach thousands of people, you cannot get it back."
The platform has grown so powerful, so quickly, that we are still struggling to understand its influence. Social scientists regularly discover new ways that Facebook alters the societies where it operates: a link to hate crimes, a rise in extremism, a distortion of social norms.
After all, Mr. Jones, for all his demagogic skills, was tapping into misinformation and paranoia already on the platform.
In Germany, Gerhard Pauli, a state prosecutor based in Hagen, told me last month about a local firefighter trainee who had grown so fearful of refugees that he attempted to burn down a local refugee group house. "I'm quite sure that social media made it worse," he said.
Mr. Pauli said that his office spent more and more time tracking rumors and hate speech on Facebook, and that it seemed to rise in advance of violence, as when the mayor of nearby Altena was stabbed last year.
Though Germany is a major economy with some of the world's strictest social media regulations, Mr. Pauli had only somewhat more success with Facebook than his peers in the developing world.
"In the beginning, they did nothing," he said. "They would say, 'You have no jurisdiction over us.' In the last few years, they are more helpful, especially in cases of child abuse."
But, in other matters, the company remains skittish, Mr. Pauli said. "They do have a lot of information, but they don't want to lose users," he said.
The prosecutor has grown especially concerned, he said, about social media rumors — say, a stranger near a school — that could spin ordinarily self-contained Germans into violence. Not so unlike in Sri Lanka or India.
"We have lots of situations where somebody saw somebody outside the kindergarten," he said. "Within five minutes it's spreading, and from post to post, it gets worse. It takes two hours and then you have some lynch mob on the street."
A version of this article appears in print on , on Page B1 of the New York edition with the headline: Facebook's Worst Demons Have Come Home to Roost
. Order Reprints | Today's Paper | Subscribe
10 Attractions You Can't Miss In Las Vegas
This desert oasis is a city that most people already know a decent amount about.  It is one of the biggest epicentres for gambling in the world.  When you get off a plane in Las Vegas airport you are immediately greeted by slot machines.  As you leave the airport you have amazing views of "The Strip", which is an incredibly long stretch of mega-casino and resorts lit up by glowing neon lights.  The gambling doesn't stop there as gas stations and even grocery stores feature slot machines (seriously, people hang out and gamble in grocery stores).
Las Vegas has done an excellent job of adding more than just gambling to its offerings.  It attempts to brand itself as the "entertainment capital of the world", and frankly they are doing a pretty good job of it.  There are musicians that take up permanent residency in Vegas (yes Britney, Backstreet Boys, and maybe Gaga), an incredible variety of shows (Cirque du Soleil to Blue Man Group), world-class dining options, phenomenal golf courses, mountain hikes, endless shopping (high end to outlet malls), pool parties and nightlife, and even a manmade beach and ski-resort.
As you visit Vegas you will be enthralled by everything "Sin City" has to offer.
This list is in no way inclusive of everything you could plan on a Vegas vacation but is designed to include some of the most iconic Las Vegas attractions that are perfect for the first timer, and things that you may not think to explore.
Also, check out these exclusive Las Vegas Timeshare Deals
Top 10 Must do's in Vegas
1. Welcome to Las Vegas Sign
Taking a picture at the Welcome to Las Vegas sign is a rite of passage for vacationers.  Whether you are here for a bachelor party, work convention, or just escaping cold winter temperatures this sign on the South end of The Strip is a perfect way to begin your trip.
2. Visit Foreign Cities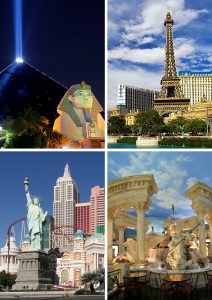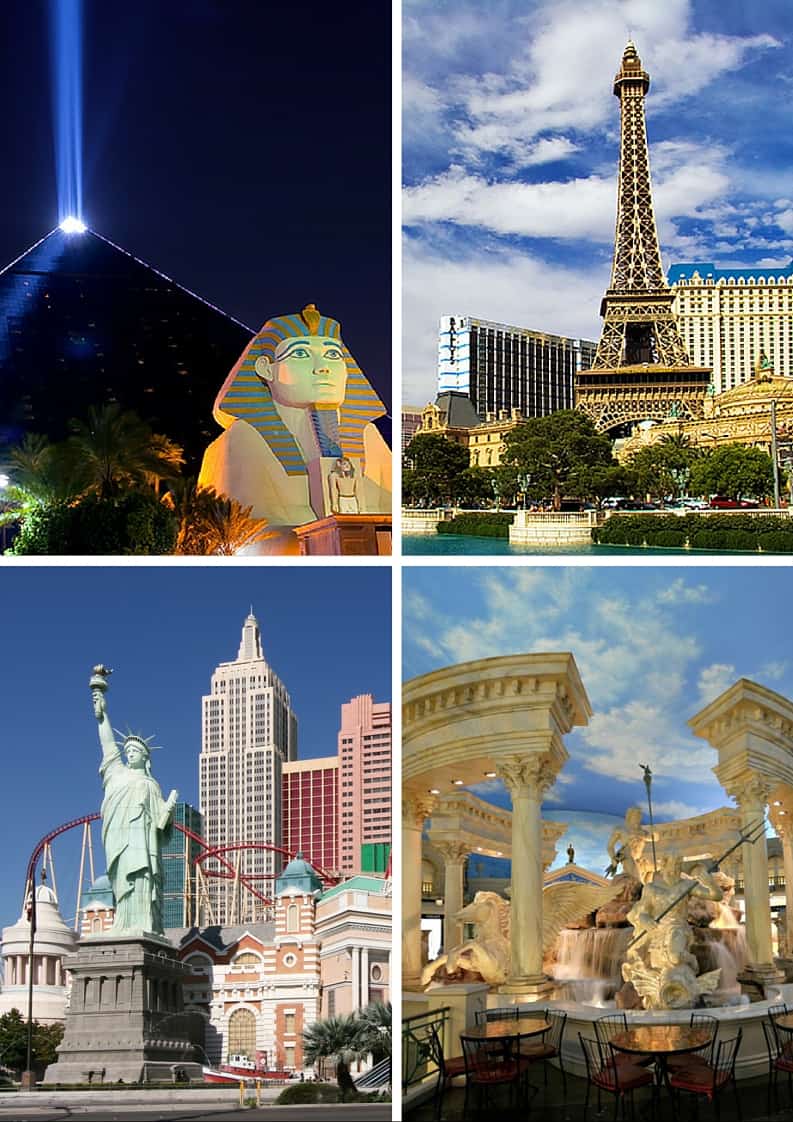 Okay not really, but lots of the casinos are based on a location or theme from somewhere else in the world.  The Paris features its own Eiffel Tower and really is reminiscent of Paris, the Venetian is based on Venice (discussed more below), the Luxor is based on ancient Egypt, Caesar's Palace is based off classic Rome, the Imperial Palace shouts out to Imperial Japan, and New York New York is pretty self-explanatory. Visiting a casino is not a substitute for seeing these places, but I recommend exploring more than just the one you stay in as it is fun to see what elements from around the world have implemented in Vegas.
3. Freemont Street (Old Vegas)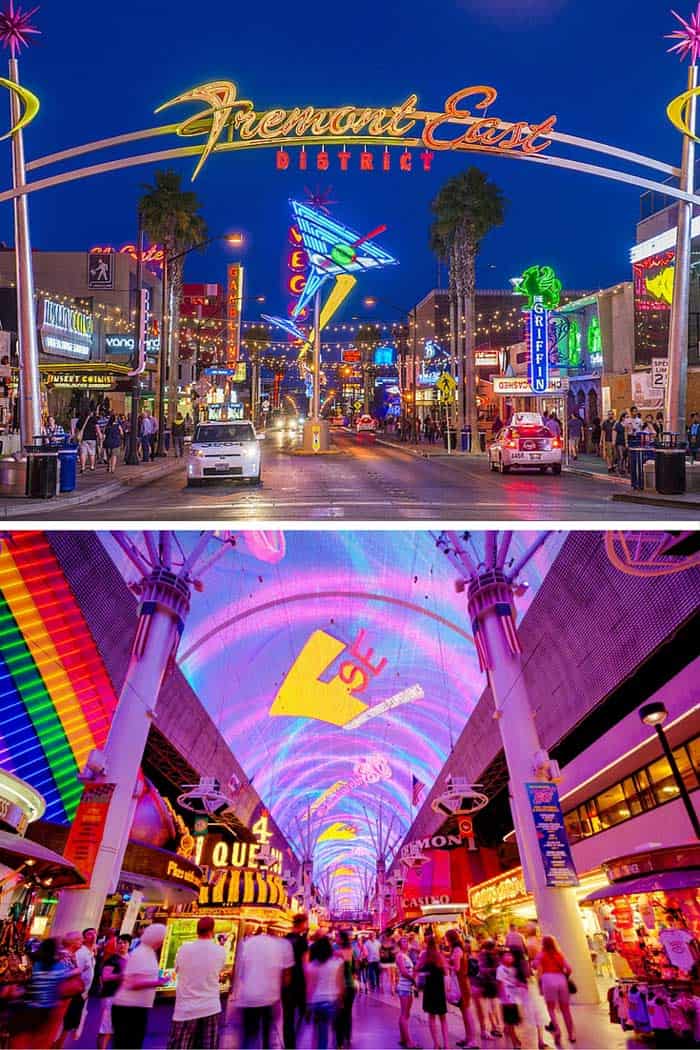 Freemont Street is where you will find the old school Vegas casinos like the 4 Queens and Golden Nugget (featuring a water slide through a shark tank). Even though it is old, it is not run down or left behind.
Freemont Street runs straight through most of the big classic casinos, and is a perfect spot to get a drink from an outdoor bar, see some of the most unique street performers in the world, experience free live music, as well as have strippers attempt to pull you in to see their shows (seriously, be careful).
4. Bellagio Fountain and Gardens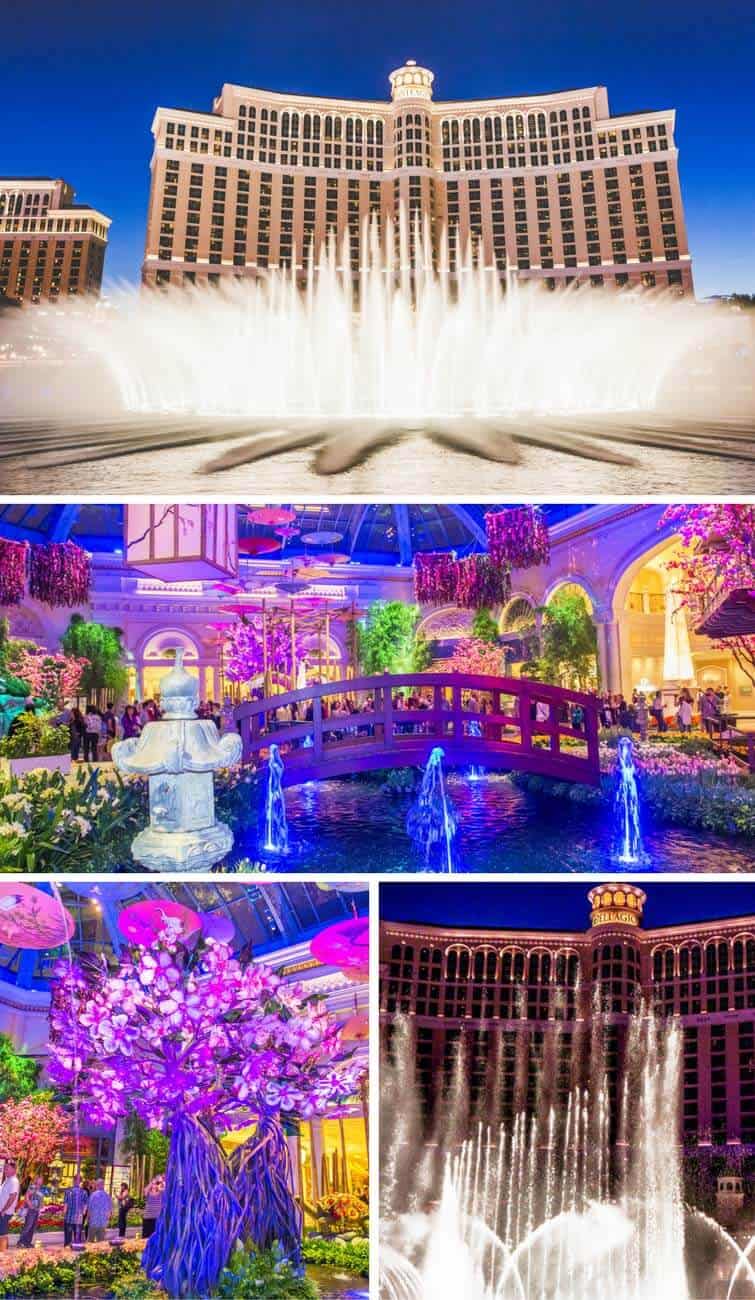 Even though each resort has fantastic things to see, the water show and botanical gardens at the Bellagio cannot be missed.  The 8-acre man-made lake features a dancing water fountain show choreographed to music.  The show is different every 15 minutes, and the results truly are beautiful.  This is the spot that was glorified in Oceans 11 (Brad Pitt and George Clooney could make anything glorious).
The gardens in the lobby are exquisitely decorated and maintained for each season with some of the unique plants and flowers in the world.  Even as a local I make a point to go down each year to see the gardens decorated with a Christmas theme.
5. Gondola Ride at the Venetian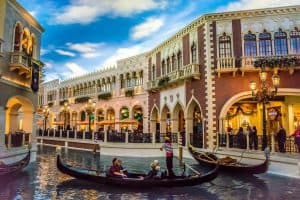 The sky in this picture really is painted on, and it does look that amazing in person.
The Venetian is a luxury resort based off of Venice Italy.  My favorite part of the Venetian is that they built canals throughout the ground floor and mall of the casino, and offer motorized gondola rides while you get serenaded by your very own gondolier.
Even though it makes my husband want to barf, I love how romantic these rides are.  Somehow they designed it so that you don't feel like you are floating through the middle of a casino.
6. Adventure Rides at the Stratosphere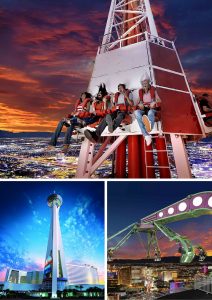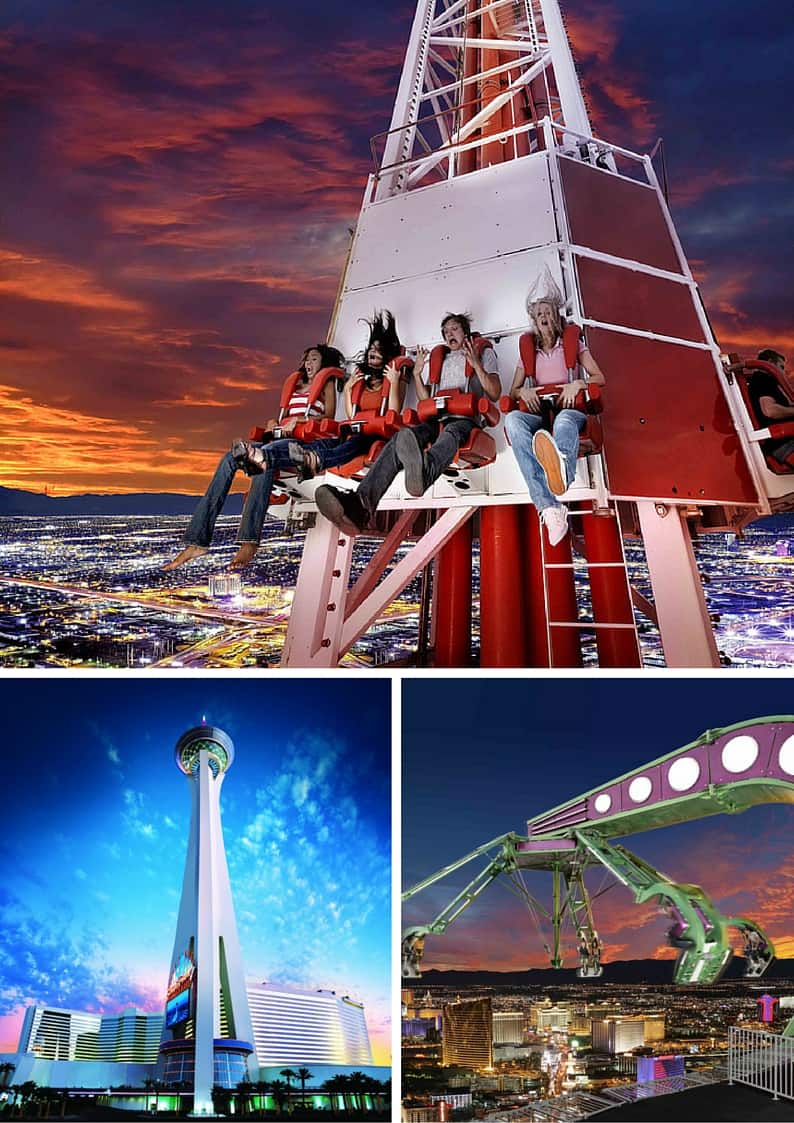 The Stratosphere is hotel and casino that towers overall on the North end of The Strip.  The Stratosphere is most famous for its views of The Strip and hair-raising rides.
It is by far the tallest building in Vegas, and the rides up top are NOT for someone who is afraid of heights. My favorite is the Big Shot, which shoots your seat straight up the top of the tower and into the sky.  It is the tallest thrill ride in the world.  If that isn't gutsy enough for you, you can jump off the top via controlled cables to the bottom.
7. The High Roller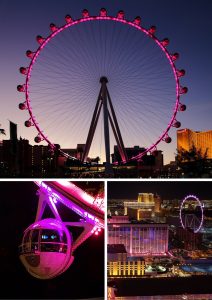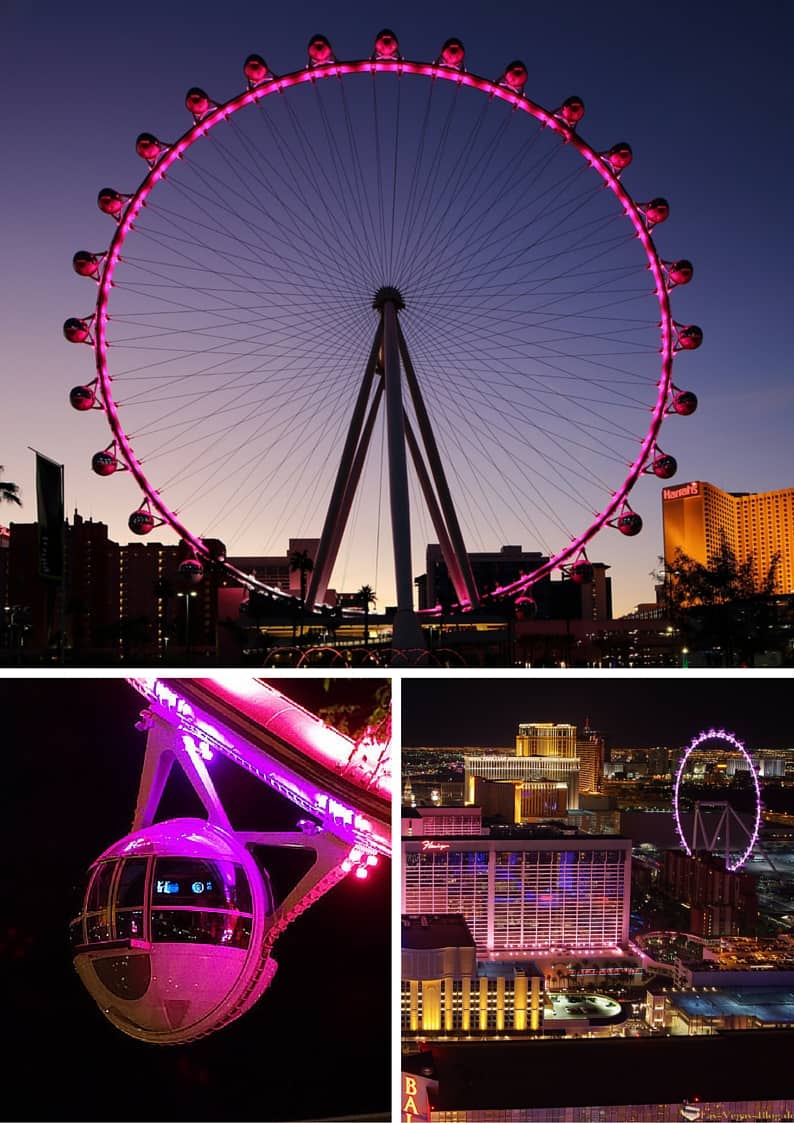 This gigantic observation/Ferris wheel is brand new to Las Vegas.  It is like the London Eye, but bigger.  Surprisingly it really is a fun ride as pods are big enough to feature whole groups of friends, and even your own bar and bartender.
Also Read: More Things To Do In Las Vegas 
8. Hoover Dam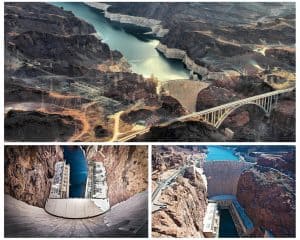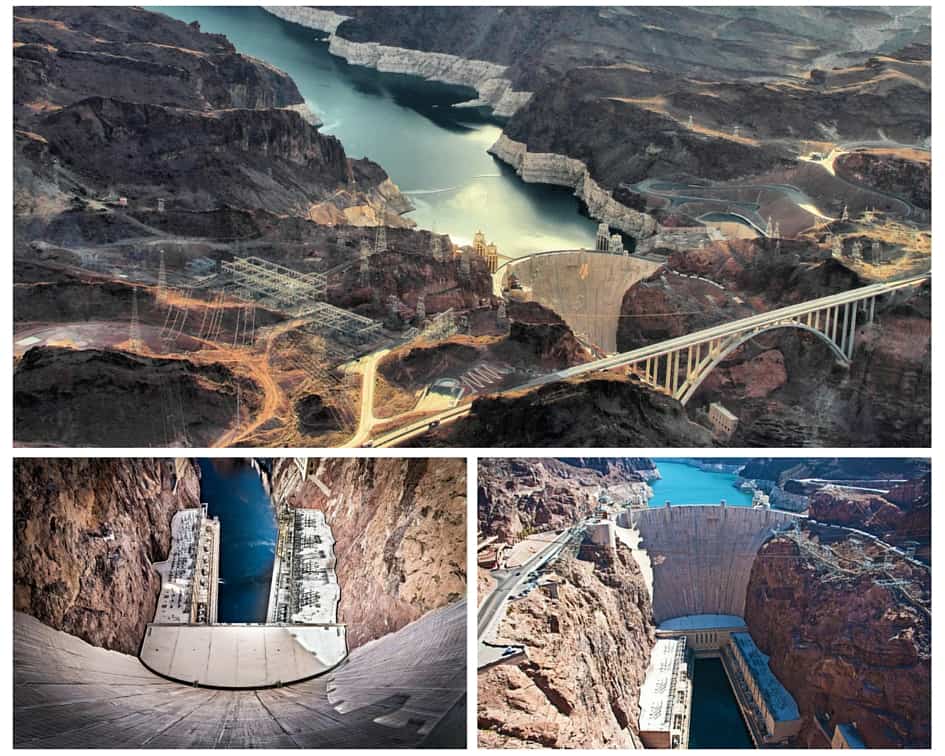 Not all the attractions in Vegas feature neon lights.  The Hoover Dam is a testament to modern engineering.  I found the tour showing how the dam generates power for Las Vegas fascinating.  Also, the lake made by the dam (Lake Mead) is great for boating.
9. Las Vegas Ski Resort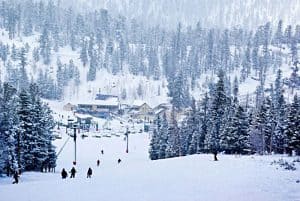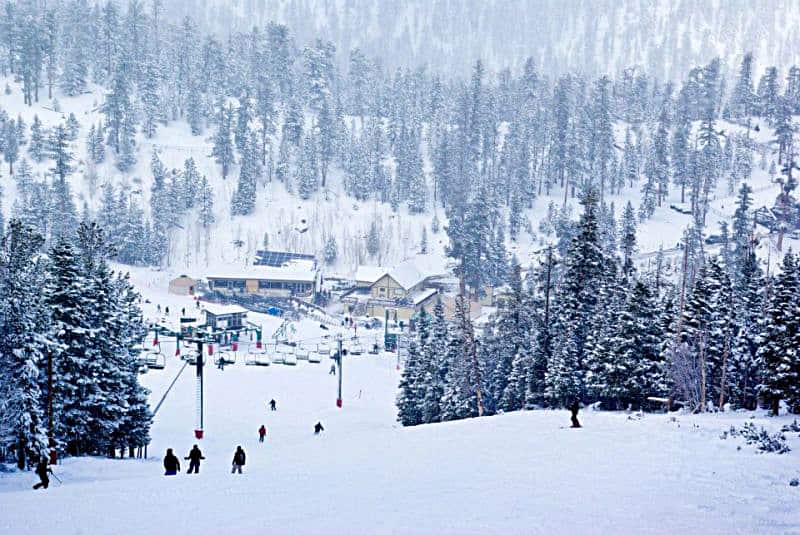 Yes, in the mountains just 45 minutes away from The Strip developers built a ski-resort.  It is not huge, and does not feature the world's best snow, but the novelty of being able to ski within 45 minutes of the scorching desert heat is unreal.
10. The Mob Museum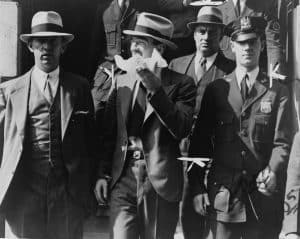 Part of the reason that Las Vegas is built the way it is today is that of the involvement of organized crime.  The mob used casinos to launder their money.  Supposedly organized crime is out of Vegas now, but a fascinating history remains.  The Mob Museum doesn't just explore Vegas' criminal history, but the characters that made this possible from around the country.  The museum does have some creepy elements as it allows visitors to hold a tommy gun, explore crime scene photos, and even see the bloody walls left from massacres.