Why the 'Manhattan Madam' Is Ensnared in the Mueller Inquiry
In March 2017, for instance, Mr. Stone acknowledged that before the 2016 election he traded private messages with Guccifer 2.0., the mysterious online avatar that was instrumental in helping WikiLeaks release internal emails and other political documents that eventually proved damaging to Hillary Clinton's presidential bid and to the Democratic Party.
In an indictment unsealed last month, Mr. Mueller charged that Guccifer 2.0 was in fact a front for Russian intelligence officers. The indictment also said that a person "in regular contact with senior members" of Mr. Trump's campaign had communicated with Guccifer 2.0. Government officials have identified that person as Mr. Stone.
Though Mr. Stone has downplayed his ties to Guccifer 2.0 as minimal and innocuous, media organizations have reported that he was also in direct communication with WikiLeaks in the weeks before the election, despite his assertions to the contrary. In February, The Atlantic published an article that included screenshots of private messages that Mr. Stone swapped with a Twitter account for WikiLeaks, a development that seemed at odds with a statement Mr. Stone gave to Congress in September when he claimed that he had communicated with the group only through an intermediary.
What further light can Ms. Davis shed on Mr. Stone's activities?
It's hard to say at this point, but Ms. Davis may be able to help investigators sort through Mr. Stone's confusing and complicated ties to the two entities — WikiLeaks and Guccifer 2.0 — that are at the center of the hacking of Democratic emails and political documents, and their subsequent leak to the public.
Ms. Davis is close enough to Mr. Stone that, by his own account, he is the godfather of her son. And beyond the work he did for her during her run for governor, Mr. Stone employed her, on and off, for years, as an assistant in his office. Ms. Davis also has ties to one of Mr. Stone's close aides, Andrew Miller, who served as her campaign manager when she ran for governor. Mr. Miller has himself been subpoenaed to appear before the grand jury in the Russia investigation.
Mr. Stone has nonetheless claimed Ms. Davis is unlikely to be helpful to Mr. Mueller. "She knows nothing about Russian collusion," he said last week.
What does all of this mean for the larger investigation?
If Mr. Stone is ultimately charged with a crime, it would mean another person close to Mr. Trump had been felled by Mr. Mueller's investigation. But beyond Mr. Stone's actions, prosecutors are presumably also interested in what Mr. Trump knew about the hacks and leaks and when he knew it. Mr. Stone might be a key witness.
10 Attractions You Can't Miss In Las Vegas
This desert oasis is a city that most people already know a decent amount about.  It is one of the biggest epicentres for gambling in the world.  When you get off a plane in Las Vegas airport you are immediately greeted by slot machines.  As you leave the airport you have amazing views of "The Strip", which is an incredibly long stretch of mega-casino and resorts lit up by glowing neon lights.  The gambling doesn't stop there as gas stations and even grocery stores feature slot machines (seriously, people hang out and gamble in grocery stores).
Las Vegas has done an excellent job of adding more than just gambling to its offerings.  It attempts to brand itself as the "entertainment capital of the world", and frankly they are doing a pretty good job of it.  There are musicians that take up permanent residency in Vegas (yes Britney, Backstreet Boys, and maybe Gaga), an incredible variety of shows (Cirque du Soleil to Blue Man Group), world-class dining options, phenomenal golf courses, mountain hikes, endless shopping (high end to outlet malls), pool parties and nightlife, and even a manmade beach and ski-resort.
As you visit Vegas you will be enthralled by everything "Sin City" has to offer.
This list is in no way inclusive of everything you could plan on a Vegas vacation but is designed to include some of the most iconic Las Vegas attractions that are perfect for the first timer, and things that you may not think to explore.
Also, check out these exclusive Las Vegas Timeshare Deals
Top 10 Must do's in Vegas
1. Welcome to Las Vegas Sign
Taking a picture at the Welcome to Las Vegas sign is a rite of passage for vacationers.  Whether you are here for a bachelor party, work convention, or just escaping cold winter temperatures this sign on the South end of The Strip is a perfect way to begin your trip.
2. Visit Foreign Cities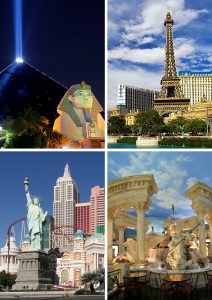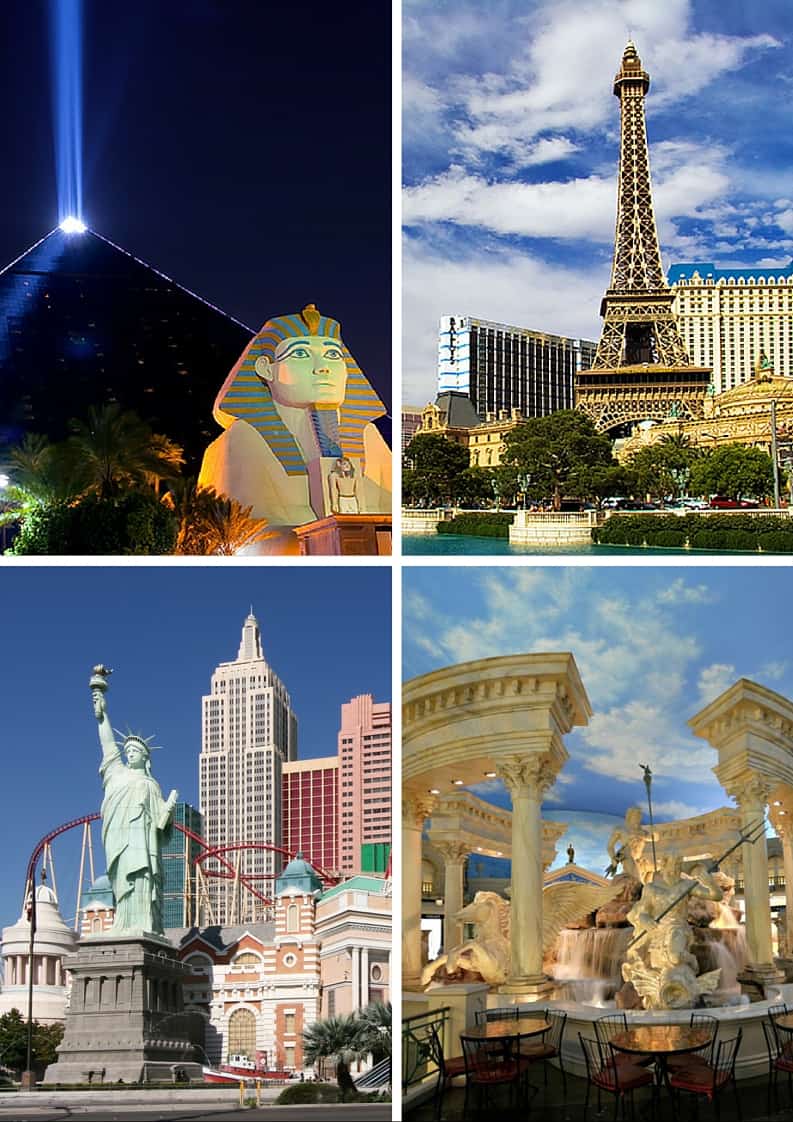 Okay not really, but lots of the casinos are based on a location or theme from somewhere else in the world.  The Paris features its own Eiffel Tower and really is reminiscent of Paris, the Venetian is based on Venice (discussed more below), the Luxor is based on ancient Egypt, Caesar's Palace is based off classic Rome, the Imperial Palace shouts out to Imperial Japan, and New York New York is pretty self-explanatory. Visiting a casino is not a substitute for seeing these places, but I recommend exploring more than just the one you stay in as it is fun to see what elements from around the world have implemented in Vegas.
3. Freemont Street (Old Vegas)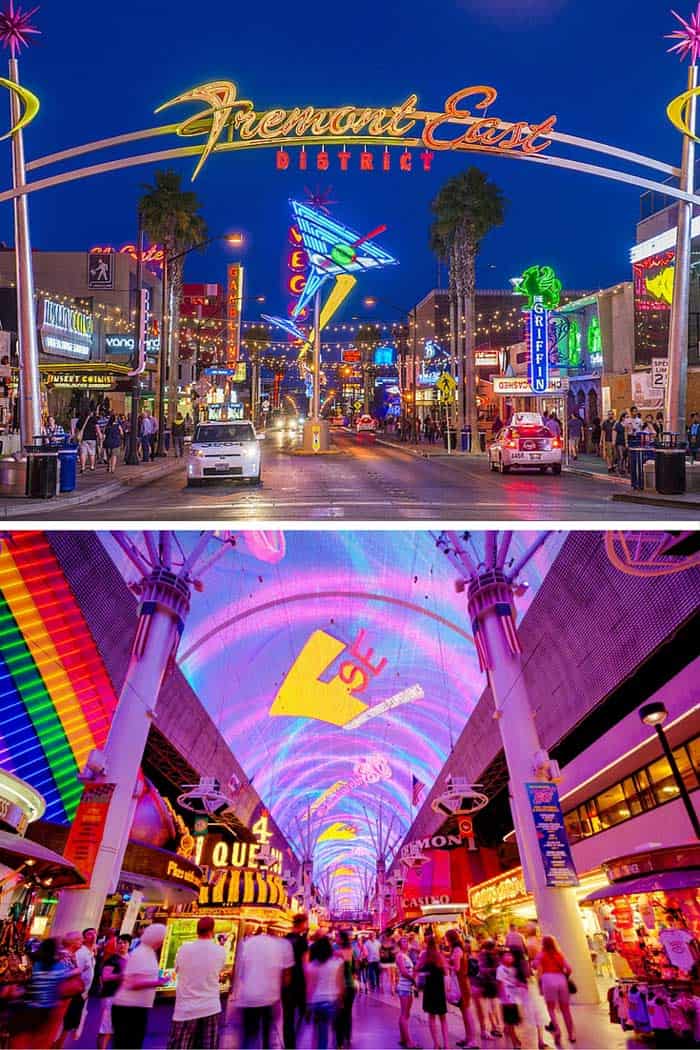 Freemont Street is where you will find the old school Vegas casinos like the 4 Queens and Golden Nugget (featuring a water slide through a shark tank). Even though it is old, it is not run down or left behind.
Freemont Street runs straight through most of the big classic casinos, and is a perfect spot to get a drink from an outdoor bar, see some of the most unique street performers in the world, experience free live music, as well as have strippers attempt to pull you in to see their shows (seriously, be careful).
4. Bellagio Fountain and Gardens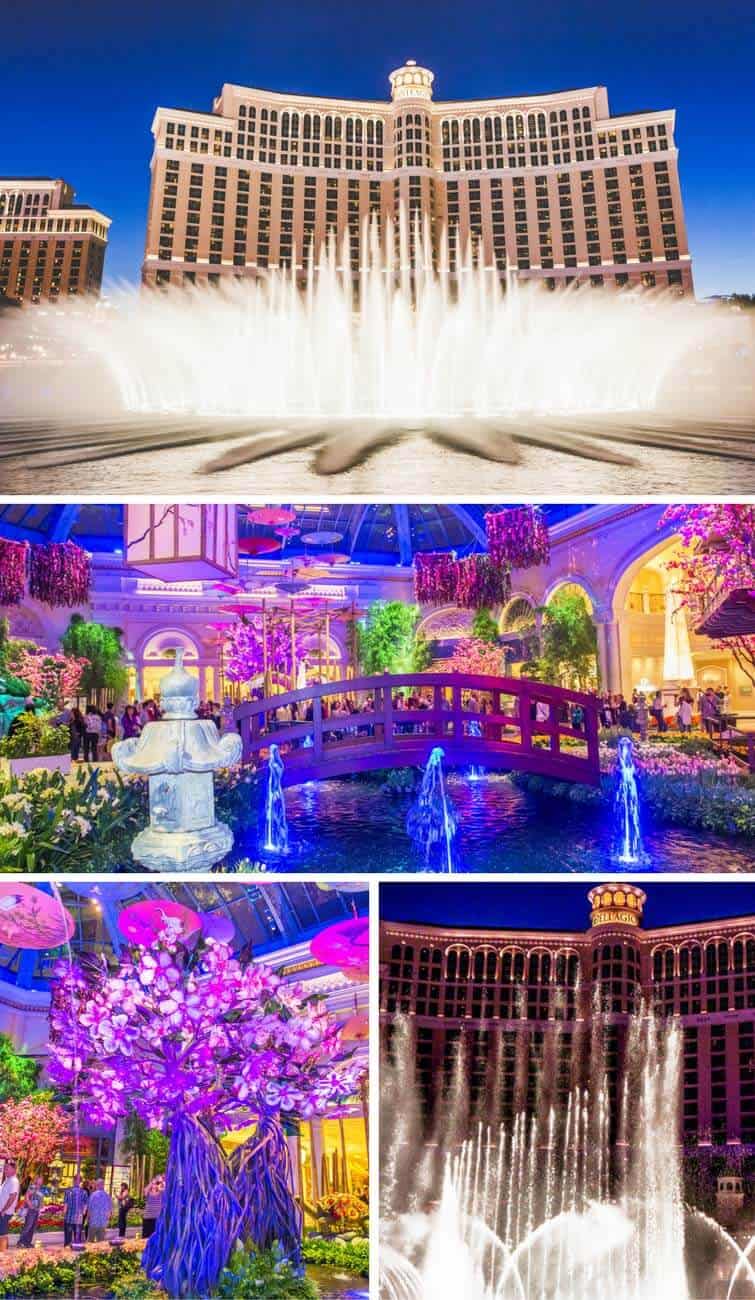 Even though each resort has fantastic things to see, the water show and botanical gardens at the Bellagio cannot be missed.  The 8-acre man-made lake features a dancing water fountain show choreographed to music.  The show is different every 15 minutes, and the results truly are beautiful.  This is the spot that was glorified in Oceans 11 (Brad Pitt and George Clooney could make anything glorious).
The gardens in the lobby are exquisitely decorated and maintained for each season with some of the unique plants and flowers in the world.  Even as a local I make a point to go down each year to see the gardens decorated with a Christmas theme.
5. Gondola Ride at the Venetian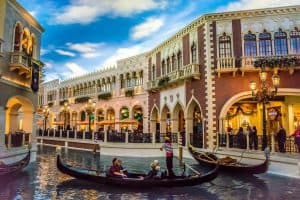 The sky in this picture really is painted on, and it does look that amazing in person.
The Venetian is a luxury resort based off of Venice Italy.  My favorite part of the Venetian is that they built canals throughout the ground floor and mall of the casino, and offer motorized gondola rides while you get serenaded by your very own gondolier.
Even though it makes my husband want to barf, I love how romantic these rides are.  Somehow they designed it so that you don't feel like you are floating through the middle of a casino.
6. Adventure Rides at the Stratosphere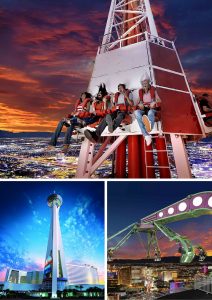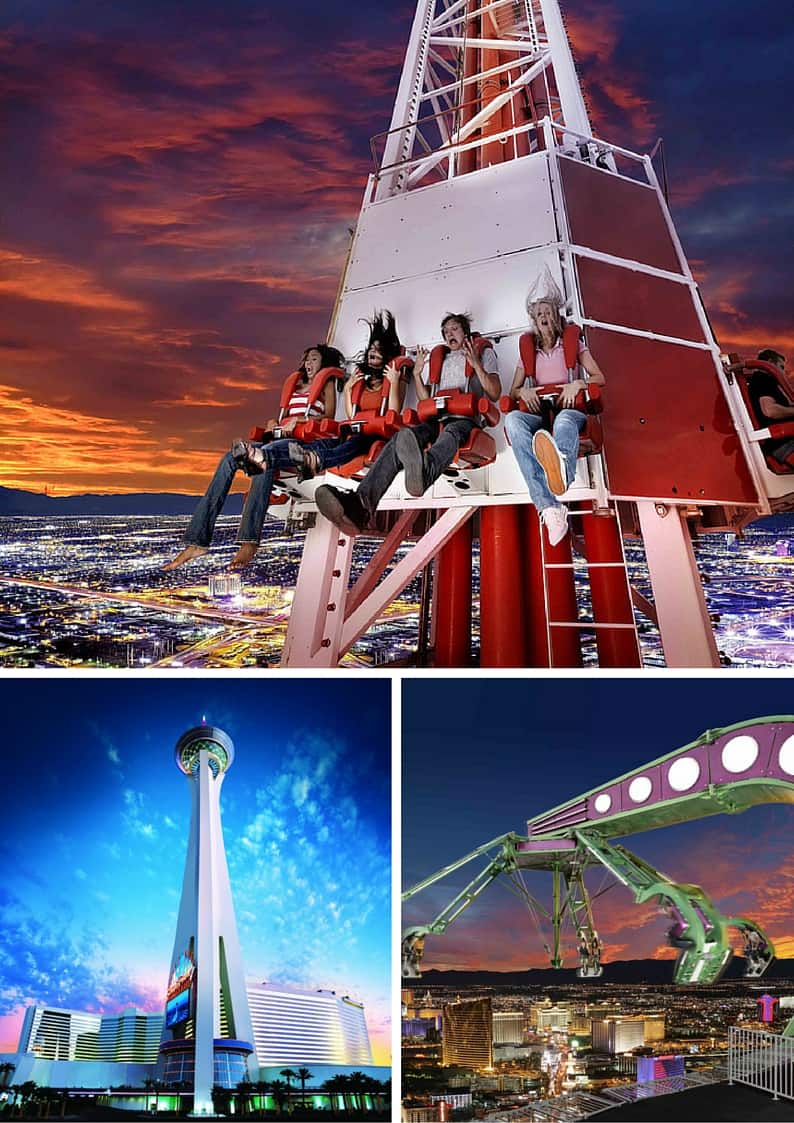 The Stratosphere is hotel and casino that towers overall on the North end of The Strip.  The Stratosphere is most famous for its views of The Strip and hair-raising rides.
It is by far the tallest building in Vegas, and the rides up top are NOT for someone who is afraid of heights. My favorite is the Big Shot, which shoots your seat straight up the top of the tower and into the sky.  It is the tallest thrill ride in the world.  If that isn't gutsy enough for you, you can jump off the top via controlled cables to the bottom.
7. The High Roller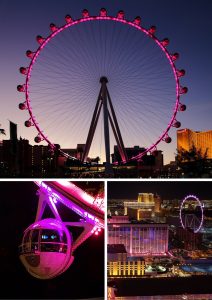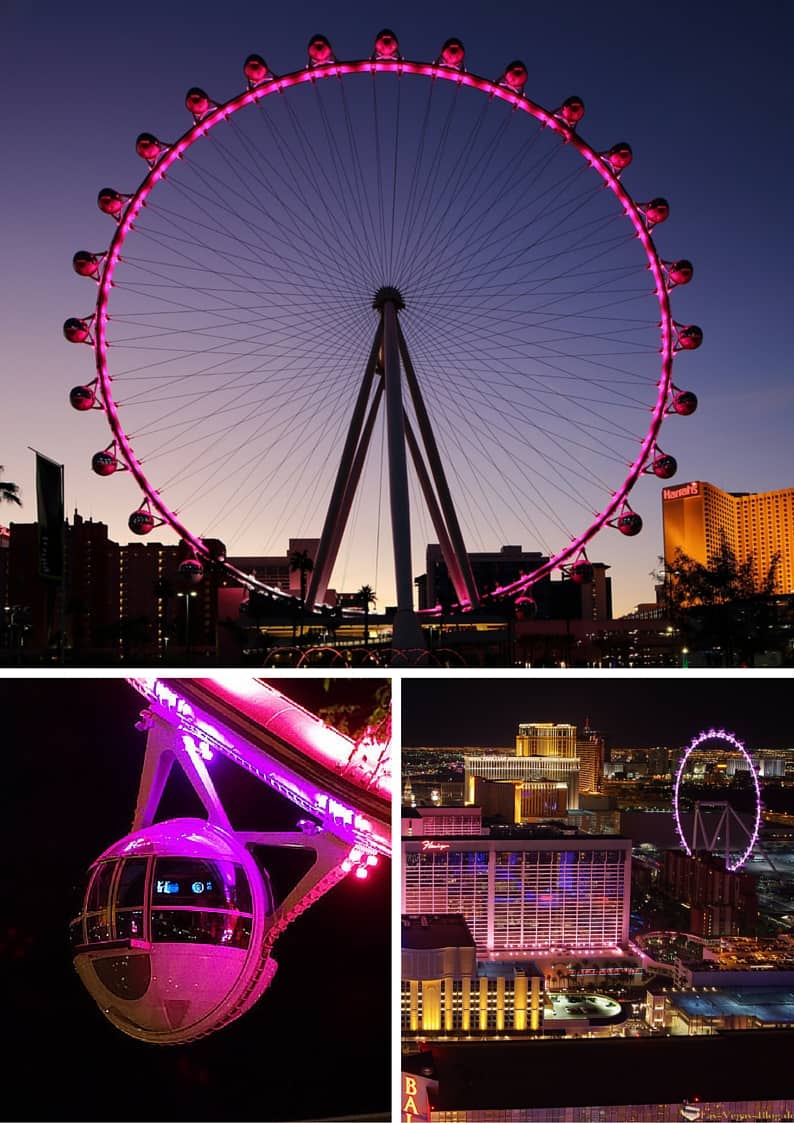 This gigantic observation/Ferris wheel is brand new to Las Vegas.  It is like the London Eye, but bigger.  Surprisingly it really is a fun ride as pods are big enough to feature whole groups of friends, and even your own bar and bartender.
Also Read: More Things To Do In Las Vegas 
8. Hoover Dam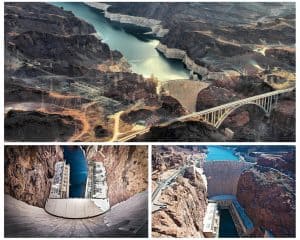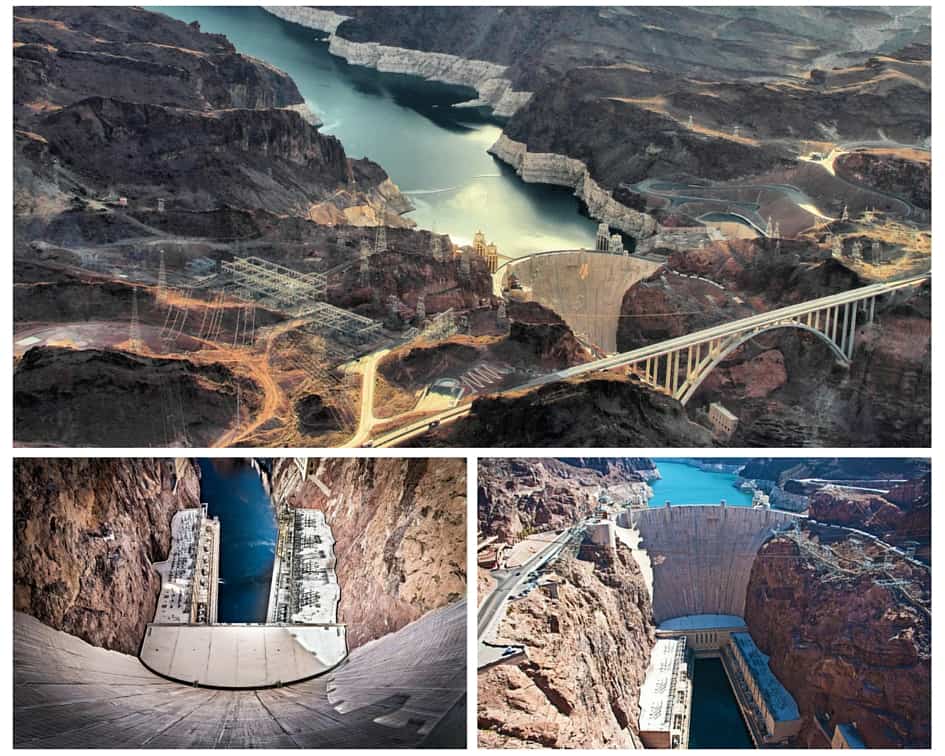 Not all the attractions in Vegas feature neon lights.  The Hoover Dam is a testament to modern engineering.  I found the tour showing how the dam generates power for Las Vegas fascinating.  Also, the lake made by the dam (Lake Mead) is great for boating.
9. Las Vegas Ski Resort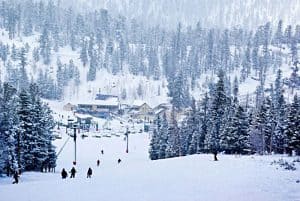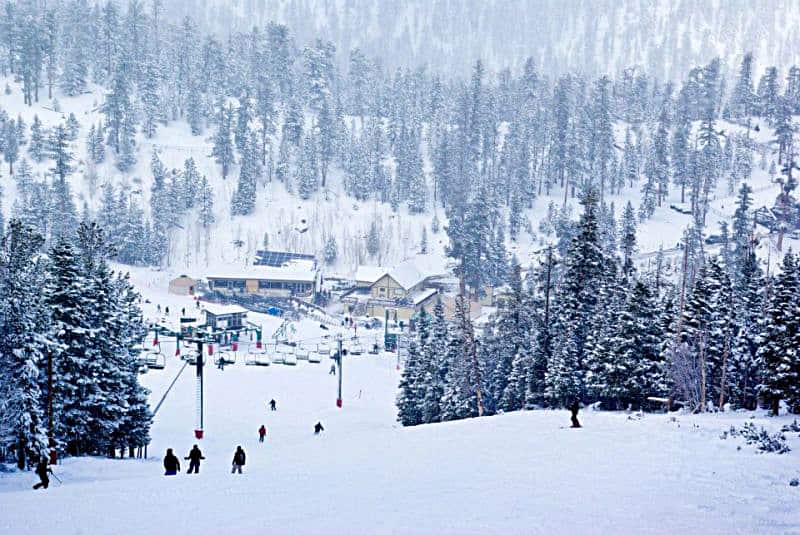 Yes, in the mountains just 45 minutes away from The Strip developers built a ski-resort.  It is not huge, and does not feature the world's best snow, but the novelty of being able to ski within 45 minutes of the scorching desert heat is unreal.
10. The Mob Museum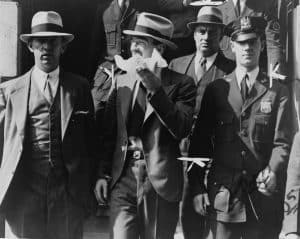 Part of the reason that Las Vegas is built the way it is today is that of the involvement of organized crime.  The mob used casinos to launder their money.  Supposedly organized crime is out of Vegas now, but a fascinating history remains.  The Mob Museum doesn't just explore Vegas' criminal history, but the characters that made this possible from around the country.  The museum does have some creepy elements as it allows visitors to hold a tommy gun, explore crime scene photos, and even see the bloody walls left from massacres.