Why is there a war in Syria?
A peaceful uprising against the president of Syria seven years ago has turned into a full-scale civil war. The conflict has left more than 350,000 people dead, devastated cities and drawn in other countries.
How did the Syrian war start?

Even before the conflict began, many Syrians were complaining about high unemployment, corruption and a lack of political freedom under President Bashar al-Assad, who succeeded his late father Hafez in 2000.
In March 2011, pro-democracy demonstrations erupted in the southern city of Deraa, inspired by the "Arab Spring" in neighbouring countries.
When the government used deadly force to crush the dissent, protests demanding the president's resignation erupted nationwide.
The unrest spread and the crackdown intensified. Opposition supporters took up arms, first to defend themselves and later to rid their areas of security forces. Mr Assad vowed to crush what he called "foreign-backed terrorism".
The violence rapidly escalated and the country descended into civil war.
How many people have died?

The Syrian Observatory for Human Rights, a UK-based monitoring group with a network of sources on the ground, had documented the deaths of 353,900 people by March 2018, including 106,000 civilians.
The figure did not include 56,900 people who it said were missing and presumed dead. The group also estimated 100,000 deaths had not been documented.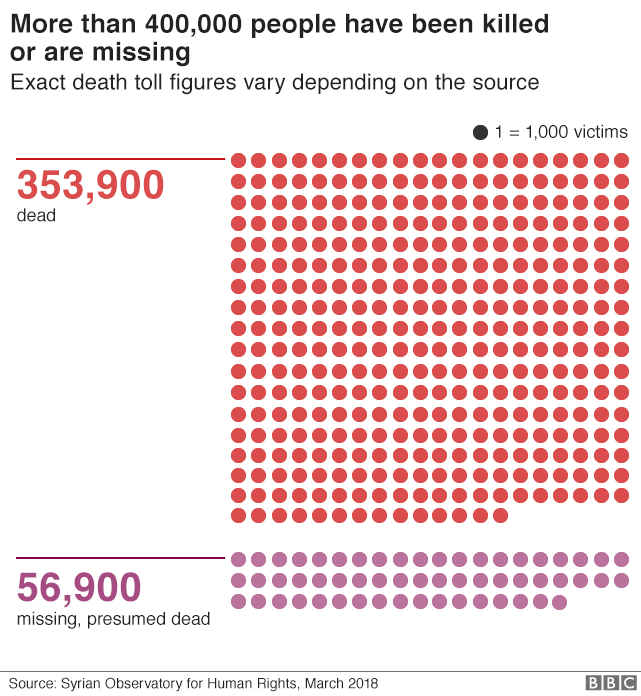 Meanwhile, the Violations Documentation Center, which relies on activists inside Syria, has recorded what it considers violations of international humanitarian law and human rights law, including attacks on civilians.
It had documented 185,980 battle-related deaths, including 119,200 civilians, by February 2018.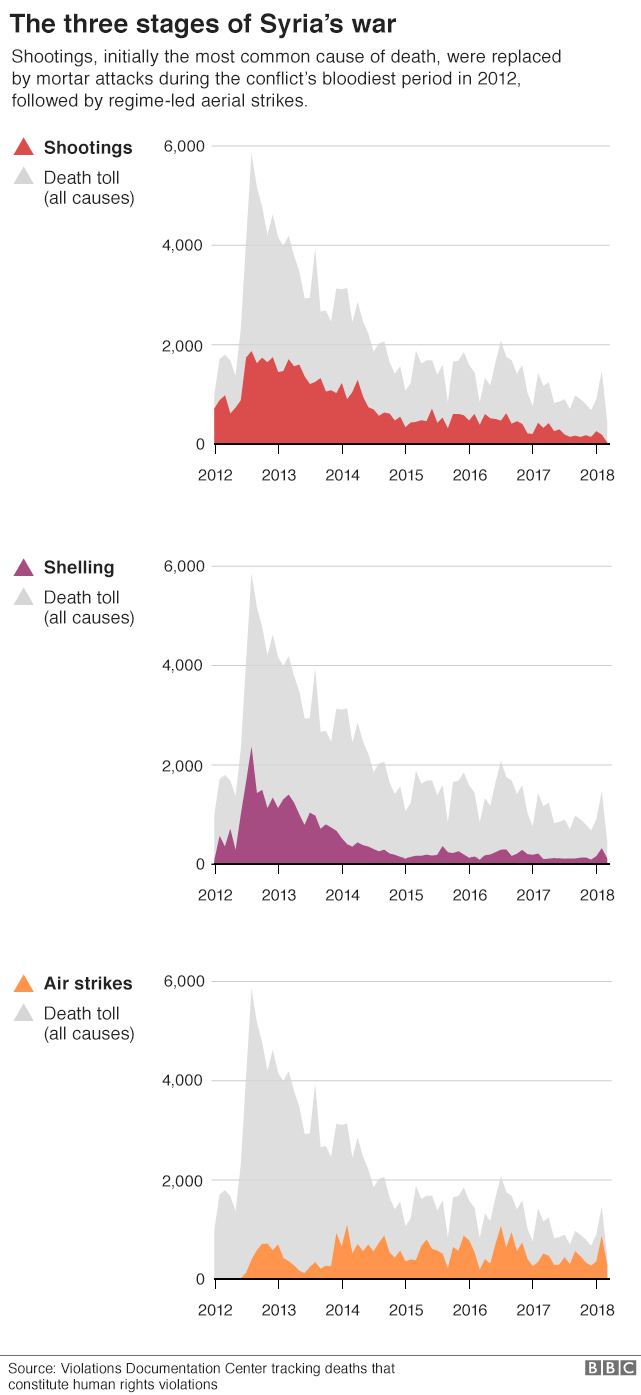 What is the war about?

It is now more than a battle between those for or against Mr Assad.
Many groups and countries – each with their own agendas – are involved, making the situation far more complex and prolonging the fighting.
They have been accused of fostering hatred between Syria's religious groups, pitching the Sunni Muslim majority against the president's Shia Alawite sect.
Such divisions have led both sides to commit atrocities, torn communities apart and dimmed hopes of peace.
They have also allowed the jihadist groups Islamic State (IS) and al-Qaeda to flourish.
Syria's Kurds, who want the right of self-government but have not fought Mr Assad's forces, have added another dimension to the conflict.
Who's involved?

The government's key supporters are Russia and Iran, while the US, Turkey and Saudi Arabia back the rebels.
Russia – which already had military bases in Syria – launched an air campaign in support of Mr Assad in 2015 that has been crucial in turning the tide of the war in the government's favour.
The Russian military says its strikes only target "terrorists" but activists say they regularly kill mainstream rebels and civilians.
Iran is believed to have deployed hundreds of troops and spent billions of dollars to help Mr Assad.
Thousands of Shia Muslim militiamen armed, trained and financed by Iran – mostly from Lebanon's Hezbollah movement, but also Iraq, Afghanistan and Yemen – have also fought alongside the Syrian army.
The US, UK, France and other Western countries have provided varying degrees of support for what they consider "moderate" rebels.
A global coalition they lead has also carried out air strikes on IS militants in Syria since 2014 and helped an alliance of Kurdish and Arab militias called the Syrian Democratic Forces (SDF) capture territory from the jihadists.
Turkey has long supported the rebels but it has focused on using them to contain the Kurdish militia that dominates the SDF, accusing it of being an extension of a banned Kurdish rebel group in Turkey.
Saudi Arabia, which is keen to counter Iranian influence, has also armed and financed the rebels.
Israel, meanwhile, has been so concerned by shipments of Iranian weapons to Hezbollah in Syria that it has conducted air strikes in an attempt to thwart them.
How has the country been affected?

As well as causing hundreds of thousands of deaths, the war has left 1.5 million people with permanent disabilities, including 86,000 who have lost limbs.
At least 6.1 million Syrians are internally displaced, while another 5.6 million have fled abroad.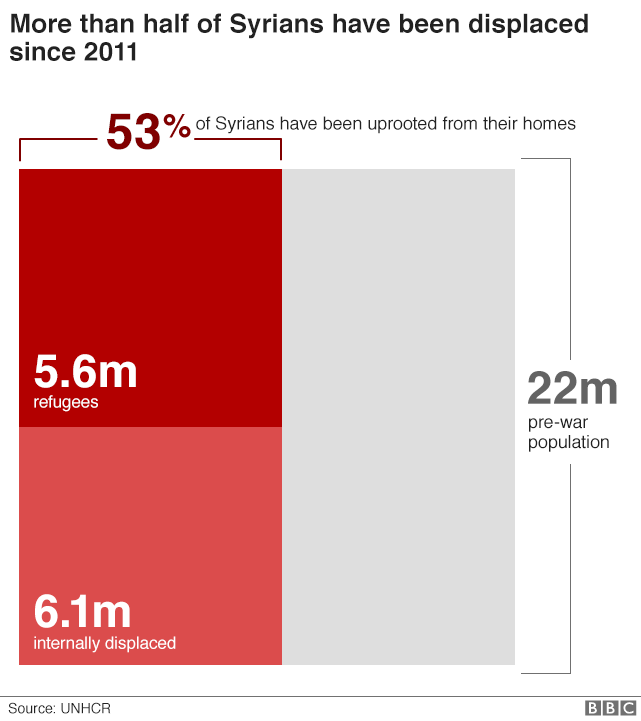 Neighbouring Lebanon, Jordan and Turkey, where 92% of them now live, have struggled to cope with one of the largest refugee exoduses in recent history.
The UN estimates 13.1 million people will require some form of humanitarian help in Syria in 2018.
The warring parties have made the problems worse by refusing aid agencies access to many of those in need. Almost 3 million people live in besieged or hard-to-reach areas.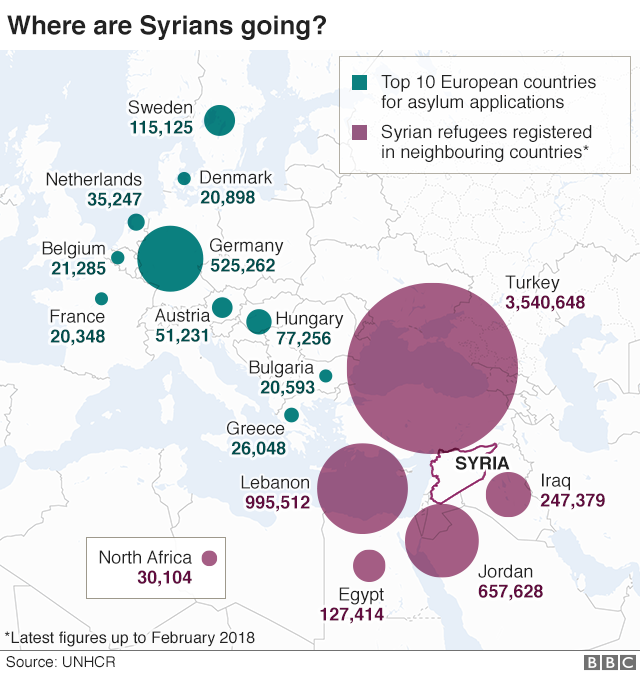 Syrians also have limited access to healthcare.
Physicians for Human Rights had documented 492 attacks on 330 medical facilities by the end of December 2017, resulting in the deaths of 847 medical personnel.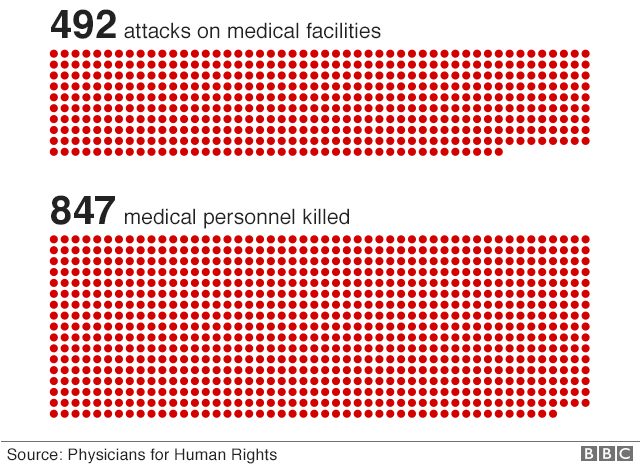 Much of Syria's rich cultural heritage has also been destroyed. All six of the country's six Unesco World Heritage sites have been damaged significantly.
Entire neighbourhoods have been levelled across the country.
INTERACTIVE
See how Jobar, Eastern Ghouta, has been destroyed
February 2018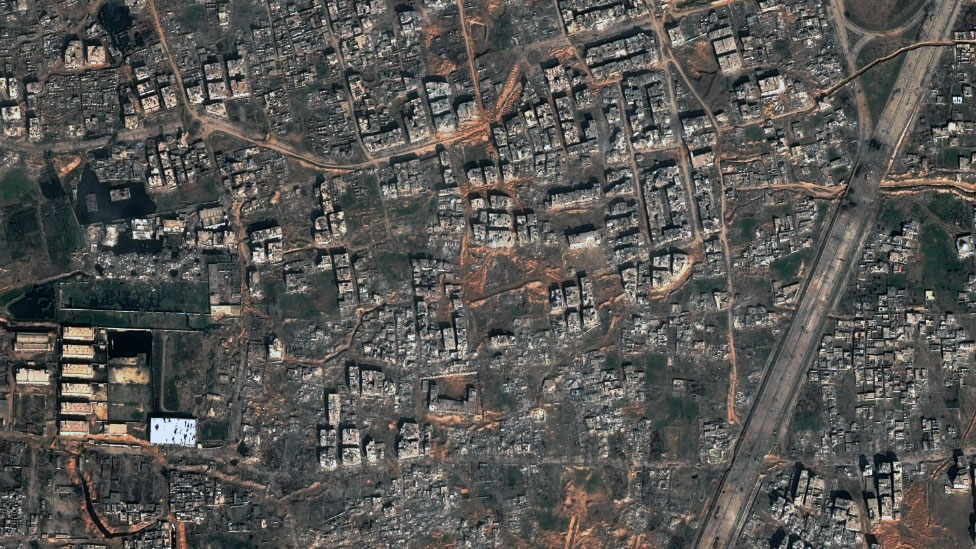 August 2013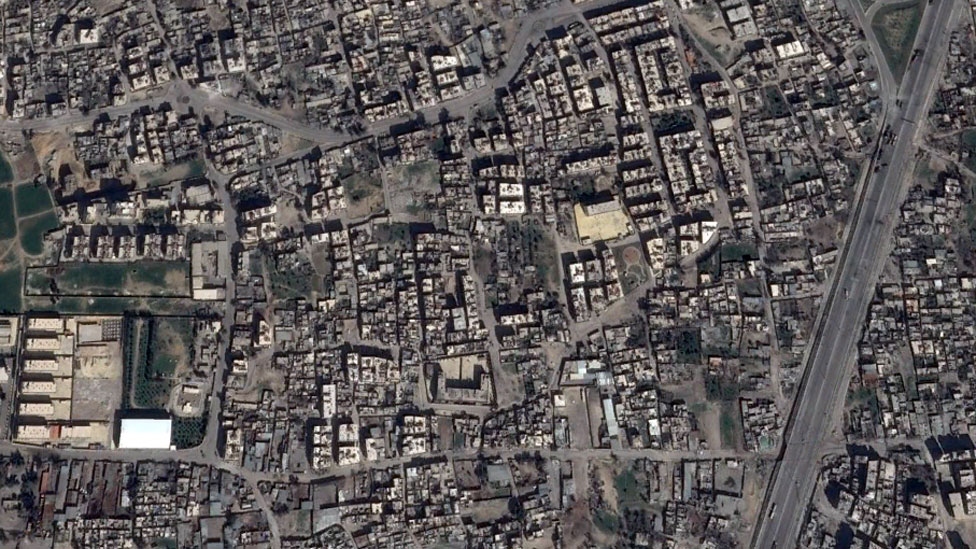 A recent UN assessment found 93% of buildings had been damaged or destroyed in one district of the rebel-held Eastern Ghouta region near Damascus.
How is the country divided?

The government has regained control of Syria's biggest cities but large parts of the country are still held by rebel groups and the Kurdish-led SDF alliance.
The largest opposition stronghold is the north-western province of Idlib, home to more than 2.6 million people.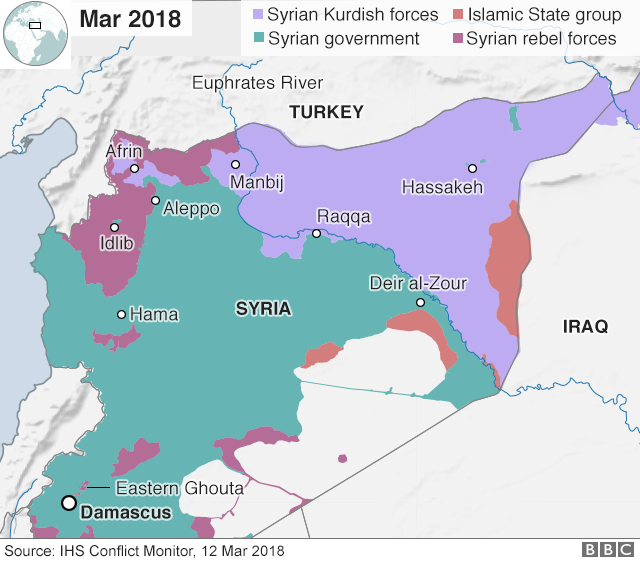 Despite being designated a "de-escalation zone", Idlib is the target of an offensive by the government, which says it is targeting jihadists linked to al-Qaeda.
A ground assault is also under way in the Eastern Ghouta. Its 393,000 residents have been under siege by the government since 2013, and are facing intense bombardment as well as severe shortages of food and medical supplies.
The SDF meanwhile controls most territory east of the River Euphrates, including the city of Raqqa. Until 2017, it was the de facto capital of the "caliphate" proclaimed by IS, which now controls only a few pockets across Syria.
Will the war ever end?

It does not look like it will any time soon but everyone agrees a political solution is required.
The UN Security Council has called for the implementation of the 2012 Geneva Communique, which envisages a transitional governing body "formed on the basis of mutual consent."
But nine rounds of UN-mediated peace talks – known as the Geneva II process – since 2014 have shown little progress.
President Assad has appeared increasingly unwilling to negotiate with the opposition. The rebels still insist he must step down as part of any settlement.
Meanwhile, Western powers have accused Russia of undermining the peace talks by setting up a parallel political process.
The so-called Astana process saw Russia host a "Congress of National Dialogue" in January 2018. However, most opposition representatives refused to attend.
Gold's Gym Brings Exceptional Fitness To The Daytona Beach Community
Fitness enthusiasts in Daytona Beach have a lot to look forward to this December, as Gold's Gym makes its way to the Shoppes at One Daytona. With an exciting rollout, a massive new store, and an innovative pre-sale event planned, Gold's is set to make an explosive entrance into the world's most famous beach.
And it's in good hands, too!
Gold's Gym and the Ward Family
Ormond Beach Gold's Gym franchise owners, the Ward family, will be taking over the lease at the Daytona location. Co-owner, Tyler Ward, spoke about the family's experience owning the store since 2001, what prompted the expansion, and his hopes for the future.
"We've been looking to expand for quite some time, now," Ward said. "Branch out, and, with a few folks we had worked with before, we started a discussion about leasing out this space."
What To Expect
The location in question clocks in at an impressive 29,300 sq ft, surpassing the available work area at the Ward family's current location. It's also the largest available space at the Shoppes at One Daytona. Management is predicting staff members at the new location will number around 50 workers, with a full complement of gym equipment. It's a strong introduction into the community from one of the leading fitness brands in the country, and translates into increased job opportunities within the city itself.
"One thing that will be unique to the new location is going to be more of a studio style or boutique style of classes. We'll have five different class spaces with five different offerings going on at any time of the day. We're bringing a host of classes under one roof and allowing our guests to pick. So, where once you may have had to go from one location to another, do this but not that because of time, now you can take any combination of classes you want."
The gym will feature a team training center, as well as facilities for yoga, cycling, and exercise. Guests can also look forward to hydrotherapy massage facilities, and there's even an onsite Kids Club for busy parents.
Classes will be half-hour slots, so guests can combine classes without becoming exhausted. "We want people to be able to fit their workouts in before work, during lunch, and after work."
Another bit of innovation behind the launch is an interactive pre-sale area, going up in Shoppes at One Daytona in mid-September. "We will have a small pre-sale space opening right there in the shopping center while the new gym is still under construction. And that pre-sale area, what it's going to offer is a sneak peak view into the look and feel of the facility."
The area will feature massive picture frames, showing off 3D renderings of each the gym area, long before it's finished being built. Future guests can walk in, look around, and get an almost exact idea of what they will be experiencing when the gym has its grand opening, later this year.
And to top it all off: "We'll have actual gym equipment set up in the pre-sale room as well, for people to get a full-on tactile experience of what we'll be offering."
A Note On Service
Ormond members understand the Ward family's involvement with their location. This is something Tyler and Ward co-owners, his father, grandfather, and aunt are all proud of. "We've grown with Ormond beach, as a family as well as a company. The reciprocation of the members – their love of the facility is the foundation of what Gold's Gym is, here in Ormond."
"We were at about 10,000 sq ft and 1200 members back in 2001 and we've grown this into over a 5,000 member base and 27,000 sq ft of space. It's been amazing over the years to see how many members have joined with us and continue to stick with us because, when they come in every day, they get a 'Hello'. We work in that way to brighten their day, give them a good start to their day."
Ward spoke about his hopes to bring that same personable model over to operations at the Shoppes at One Daytona. "Our tagline within this facility has always been 'Friendliness, cleanliness, and professionalism'. And in the time that we've been operational, we've created programs to duplicate that work ethic and carry that with us, over and over again, wherever we go."
"We put the value to the customer long before anything else," Ward said. "Within both facilities, you're part of our Gold's Gym family – you're not a number to us. When you join us, you're joining a family."
Gold's Gym, Daytona
Memberships are priced per month, for individuals and families, but Ward says to look out for special offers in the following months. "Pre-sale rates, grand opening offers – guests can look forward to that. Keep your eyes open."