Unite the Right II, Manafort, Heat Waves: Your Weekend Briefing
Here are the week's top stories, and a look ahead.
1. Washington is bracing for the possibility of violence.
White nationalists are marking the anniversary of last year's violent rally in Charlottesville, Va., with one named after it: Unite the Right II. Their permit allows up to 400 people to gather for two hours this evening at Lafayette Square, facing the White House.
An antiracism group was granted a permit for more than three times that number. Security forces intend to separate them with physical barriers. Other counterprotesters have permits for elsewhere in the city.
Although no rally is planned in Charlottesville, above, Virginia's governor declared a state of emergency.
2. The tax and bank fraud trial of Paul Manafort, above, has been a bit more exciting than the norm for white-collar crime.
Rick Gates, a Manafort protégé who worked with him on President Trump's 2016 campaign, admitted stealing money from his former boss and helping falsify documents. Mr. Manafort's lawyers attacked Mr. Gates as a thief, adulterer and possible forger.
The presiding judge, T.S. Ellis III, demands both precise questioning and a breakneck pace. The prosecution expects to rest its case Monday. No word from the defense yet.
3. Voters in Kansas, Michigan, Washington, Ohio, Missouri and Hawaii had their say.
Over all, Republicans are seeing a tough fight to keep the House, pinning their hopes on well-funded outside groups and a slashing negative message about Democrats.
In Michigan, there were two races for the House seat being vacated by John Conyers Jr. Brenda Jones won the primary to fill out the rest of Mr. Conyers's term. Rashida Tlaib, above celebrating, won the right to run for the seat for the next congressional cycle. (She's poised to become the first Muslim woman ever elected to Congress.)
The recount is continuing in the too-close-to-call gubernatorial primary in Kansas. Kris Kobach, a hard-right conservative candidate endorsed by President Trump, is secretary of state, but said he would recuse himself from overseeing the counting.
This week, Wisconsin, Minnesota, Connecticut and Vermont are holding primaries. See the full election calendar and results.
____
4. Paul Ryan's tenure as speaker of the House is almost up.
Mr. Ryan's official reason for leaving at the end of the year, announced in April, was that his "family clock was ticking" and he no longer wanted to be a "weekend dad."
5. Internationally, the Trump administration set its sights — and new sanctions — on Turkey, Iran and Russia.
The move against Turkey, prompted in part by its detention of an American pastor, has reverberated through the global economy and raised fears of market volatility.
As for Iran, above, the administration is betting that restoring the sanctions in effect prior to the 2015 nuclear accord will force Tehran to curb its weapons program. But the decision further strained relations with European allies.
And Russia's ruble tumbled, with investors unnerved by new sanctions in response to the attempted assassination of a former Russian spy and his daughter.
6. Also heating up: the planet.
The trend is clear. This year is shaping up to be the fourth-hottest on record, and 17 of the 18 warmest years since modern record-keeping began have occurred since 2001.
"It's not a wake-up call anymore," said Cynthia Rosenzweig, who runs the climate impacts group at the NASA Goddard Institute for Space Studies. "It's now absolutely happening to millions of people around the world."
Fires are still burning in parched California. We ventured into the evacuation zone of the Mendocino Complex fire, the largest in the state's recorded history.
____
7. Some of us embrace the good and the bad, in weather and life. Our International Desk brings you two modern profiles in courage.
One is the story of the American couple above. "There's magic out there, in this great big beautiful world," wrote Jay Austin, who, with Lauren Geoghegan, set out to bike around the world.
8. Facebook, YouTube, Apple, Google and Spotify decided to remove most of the content generated by the right-wing provocateur Alex Jones, setting off debate over online speech and making the app for Infowars, Mr. Jones's site, a top download.
Twitter, however, decided to keep Mr. Jones's account live, drawing ire from users and the company's own employees.
Times reporters were inside a company meeting in which employees debated the nature of "dehumanizing" speech. In an interview, Jack Dorsey, the Twitter chief executive, said he was "O.K. with people not agreeing" with him.
9. V.S. Naipaul, the Nobel laureate whose books were equally critical of colonialism and postcolonial life in Africa and his native Caribbean, has died at 85.
"He was a walking sack of contradictions, in some ways the archetypal writer of the shifting and migratory 20th century," our critic writes.
____
10. What's a weekend without a strange and most unexpected story?
An airline employee took off in a stolen plane from Seattle-Tacoma International Airport on Friday night.
He crashed, but while the plane was still aloft, officials heard him say: "I got a lot of people that care about me and it's gonna disappoint them to hear that I did this. I would like to apologize to each and every one of them. Just a broken guy, got a few screws loose, I guess. Never really knew it until now."
____
11. Finally, meet First Lt. Marina A. Hierl, the first woman in the Marine Corps infantry to lead a platoon, in our Best Weekend Reads. A look at the cast of "Crazy Rich Asians" is in there, too.
Your Weekend Briefing is published Sundays at 6 a.m. Eastern.
You can sign up here to get our Morning Briefings by email in the Australian, Asian, European or American morning, or to receive an Evening Briefing on U.S. weeknights.
Browse our full range of Times newsletters here.
What did you like? What do you want to see here? Let us know at briefing@nytimes.com.
10 Attractions You Can't Miss In Las Vegas
This desert oasis is a city that most people already know a decent amount about.  It is one of the biggest epicentres for gambling in the world.  When you get off a plane in Las Vegas airport you are immediately greeted by slot machines.  As you leave the airport you have amazing views of "The Strip", which is an incredibly long stretch of mega-casino and resorts lit up by glowing neon lights.  The gambling doesn't stop there as gas stations and even grocery stores feature slot machines (seriously, people hang out and gamble in grocery stores).
Las Vegas has done an excellent job of adding more than just gambling to its offerings.  It attempts to brand itself as the "entertainment capital of the world", and frankly they are doing a pretty good job of it.  There are musicians that take up permanent residency in Vegas (yes Britney, Backstreet Boys, and maybe Gaga), an incredible variety of shows (Cirque du Soleil to Blue Man Group), world-class dining options, phenomenal golf courses, mountain hikes, endless shopping (high end to outlet malls), pool parties and nightlife, and even a manmade beach and ski-resort.
As you visit Vegas you will be enthralled by everything "Sin City" has to offer.
This list is in no way inclusive of everything you could plan on a Vegas vacation but is designed to include some of the most iconic Las Vegas attractions that are perfect for the first timer, and things that you may not think to explore.
Also, check out these exclusive Las Vegas Timeshare Deals
Top 10 Must do's in Vegas
1. Welcome to Las Vegas Sign
Taking a picture at the Welcome to Las Vegas sign is a rite of passage for vacationers.  Whether you are here for a bachelor party, work convention, or just escaping cold winter temperatures this sign on the South end of The Strip is a perfect way to begin your trip.
2. Visit Foreign Cities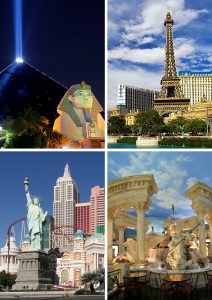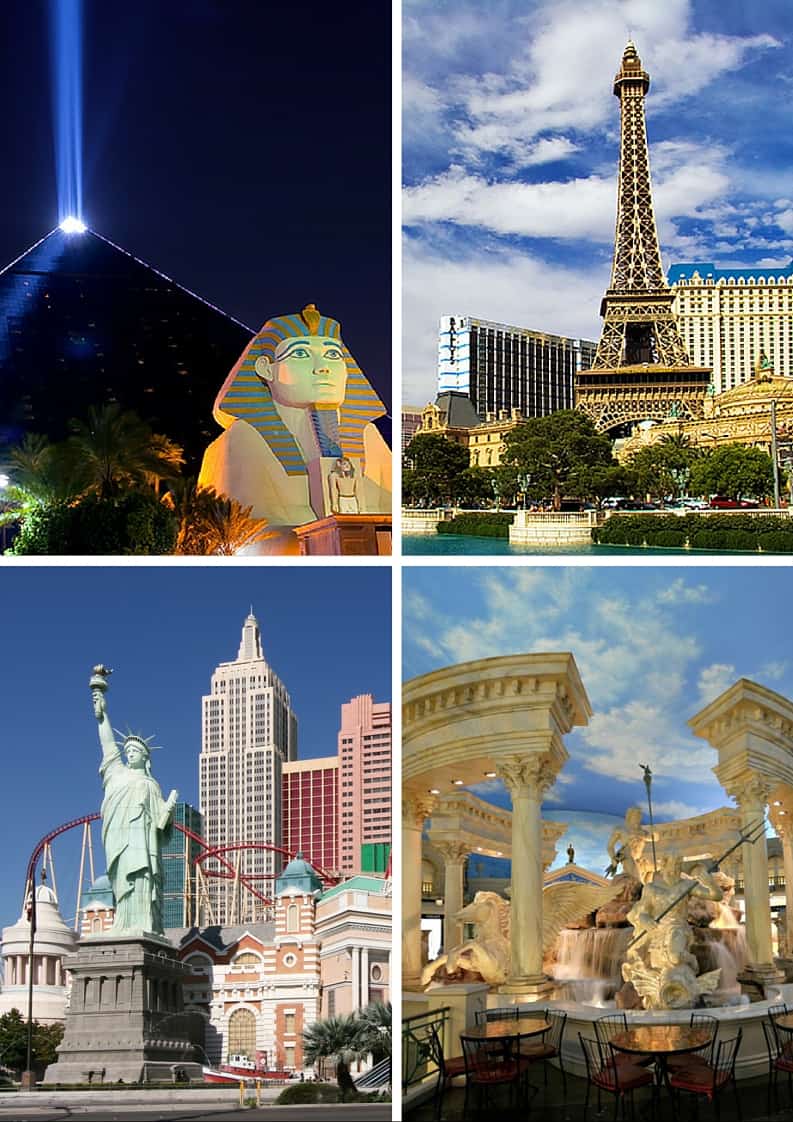 Okay not really, but lots of the casinos are based on a location or theme from somewhere else in the world.  The Paris features its own Eiffel Tower and really is reminiscent of Paris, the Venetian is based on Venice (discussed more below), the Luxor is based on ancient Egypt, Caesar's Palace is based off classic Rome, the Imperial Palace shouts out to Imperial Japan, and New York New York is pretty self-explanatory. Visiting a casino is not a substitute for seeing these places, but I recommend exploring more than just the one you stay in as it is fun to see what elements from around the world have implemented in Vegas.
3. Freemont Street (Old Vegas)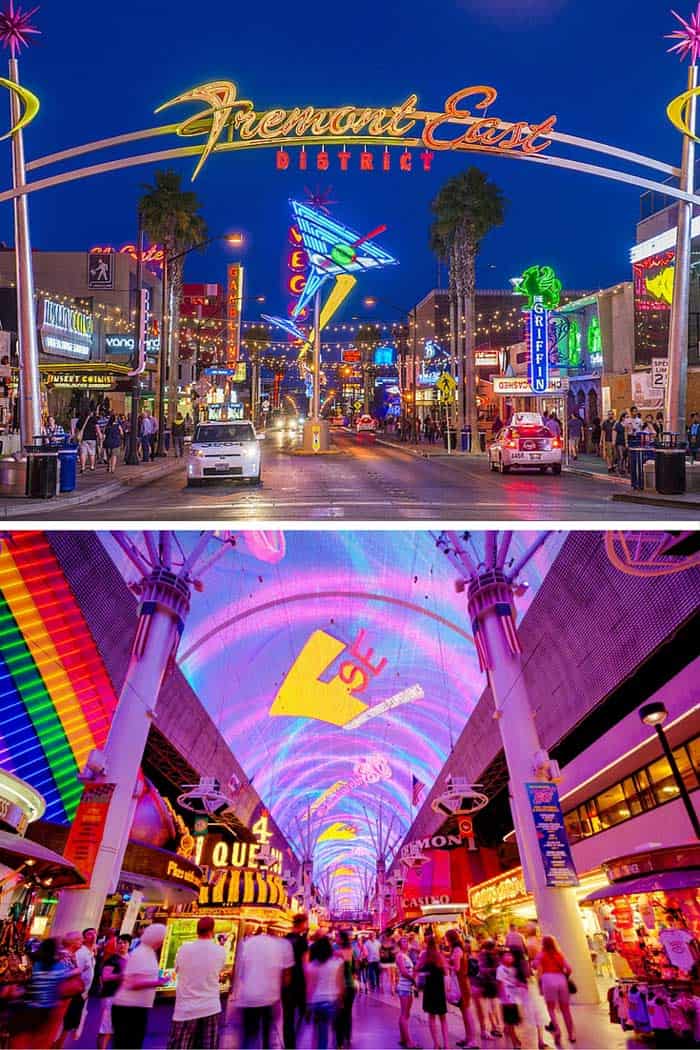 Freemont Street is where you will find the old school Vegas casinos like the 4 Queens and Golden Nugget (featuring a water slide through a shark tank). Even though it is old, it is not run down or left behind.
Freemont Street runs straight through most of the big classic casinos, and is a perfect spot to get a drink from an outdoor bar, see some of the most unique street performers in the world, experience free live music, as well as have strippers attempt to pull you in to see their shows (seriously, be careful).
4. Bellagio Fountain and Gardens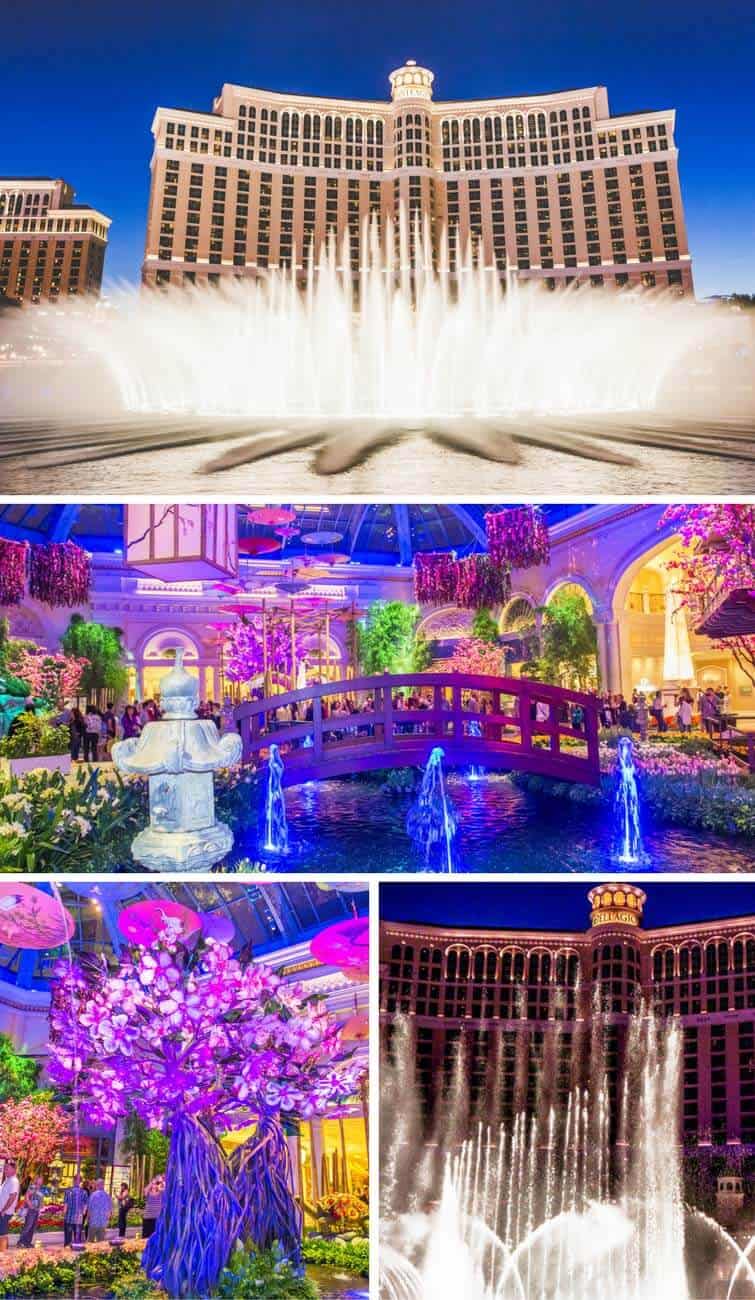 Even though each resort has fantastic things to see, the water show and botanical gardens at the Bellagio cannot be missed.  The 8-acre man-made lake features a dancing water fountain show choreographed to music.  The show is different every 15 minutes, and the results truly are beautiful.  This is the spot that was glorified in Oceans 11 (Brad Pitt and George Clooney could make anything glorious).
The gardens in the lobby are exquisitely decorated and maintained for each season with some of the unique plants and flowers in the world.  Even as a local I make a point to go down each year to see the gardens decorated with a Christmas theme.
5. Gondola Ride at the Venetian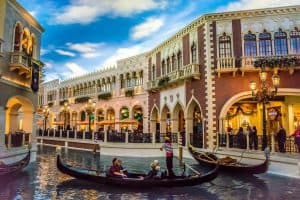 The sky in this picture really is painted on, and it does look that amazing in person.
The Venetian is a luxury resort based off of Venice Italy.  My favorite part of the Venetian is that they built canals throughout the ground floor and mall of the casino, and offer motorized gondola rides while you get serenaded by your very own gondolier.
Even though it makes my husband want to barf, I love how romantic these rides are.  Somehow they designed it so that you don't feel like you are floating through the middle of a casino.
6. Adventure Rides at the Stratosphere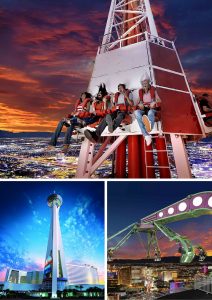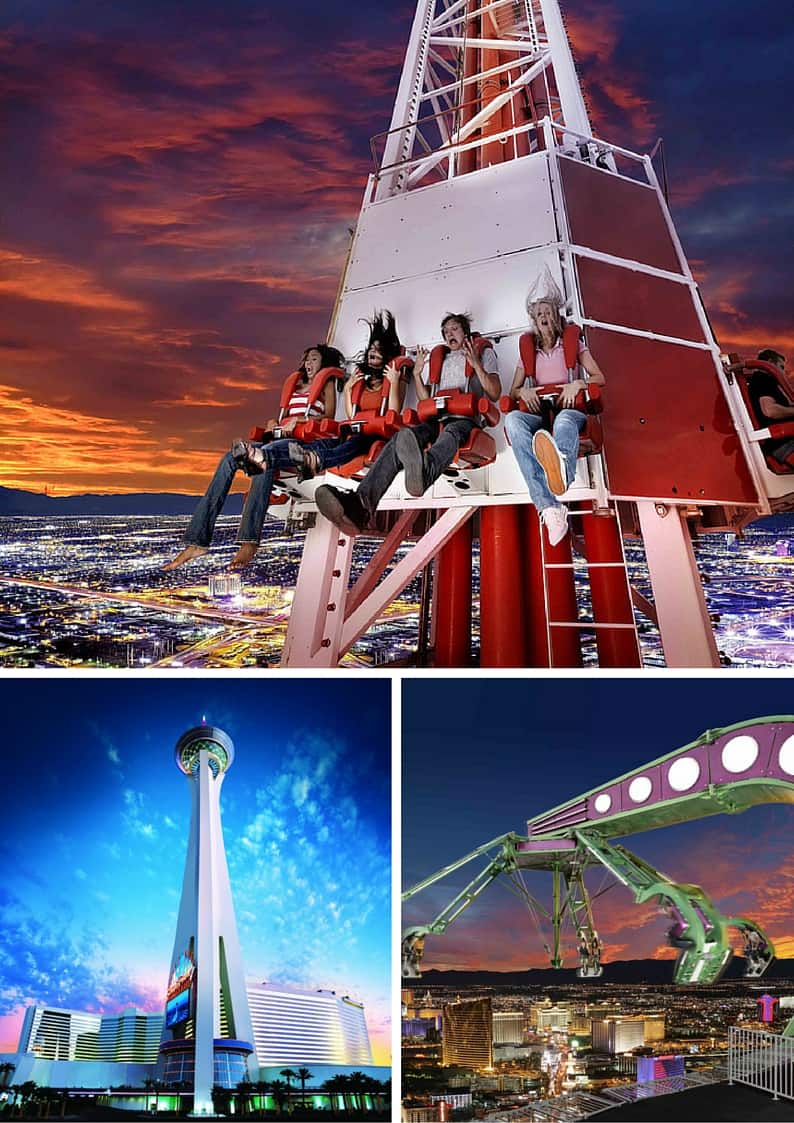 The Stratosphere is hotel and casino that towers overall on the North end of The Strip.  The Stratosphere is most famous for its views of The Strip and hair-raising rides.
It is by far the tallest building in Vegas, and the rides up top are NOT for someone who is afraid of heights. My favorite is the Big Shot, which shoots your seat straight up the top of the tower and into the sky.  It is the tallest thrill ride in the world.  If that isn't gutsy enough for you, you can jump off the top via controlled cables to the bottom.
7. The High Roller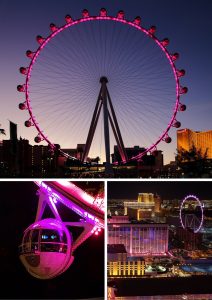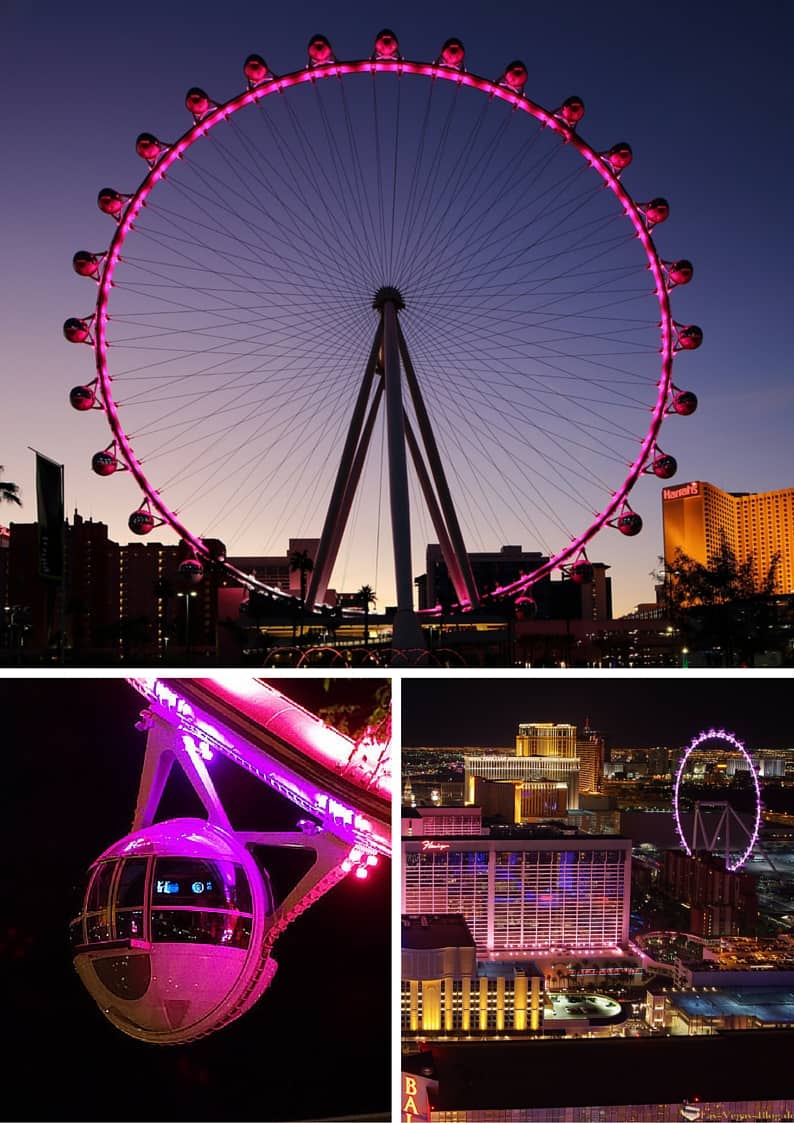 This gigantic observation/Ferris wheel is brand new to Las Vegas.  It is like the London Eye, but bigger.  Surprisingly it really is a fun ride as pods are big enough to feature whole groups of friends, and even your own bar and bartender.
Also Read: More Things To Do In Las Vegas 
8. Hoover Dam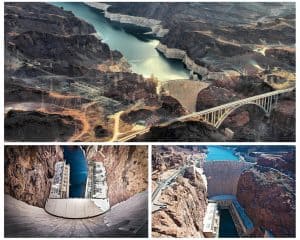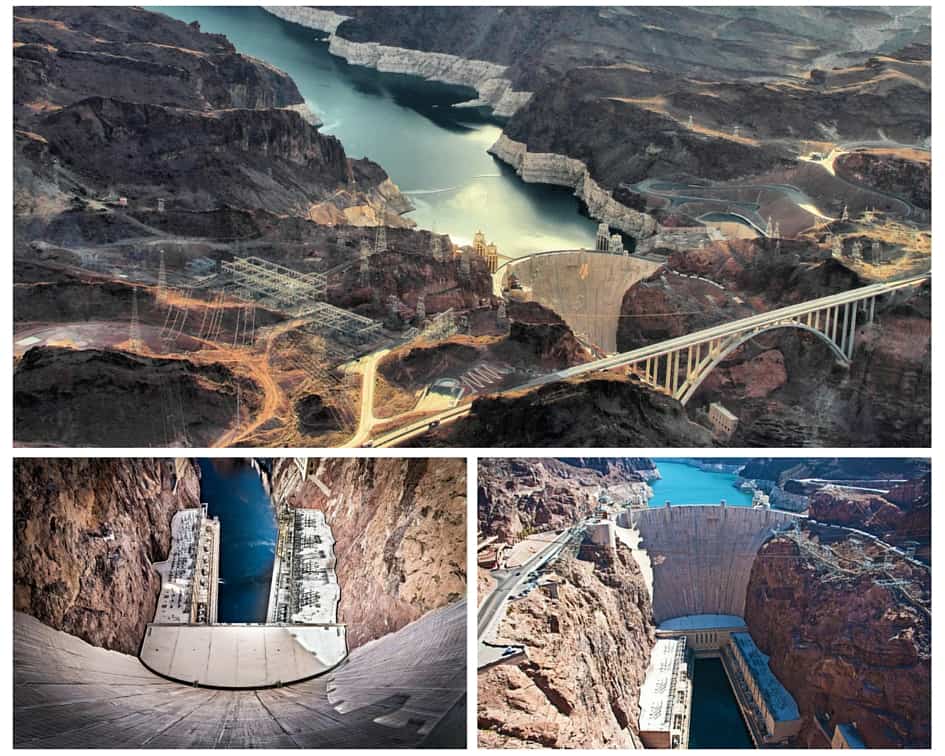 Not all the attractions in Vegas feature neon lights.  The Hoover Dam is a testament to modern engineering.  I found the tour showing how the dam generates power for Las Vegas fascinating.  Also, the lake made by the dam (Lake Mead) is great for boating.
9. Las Vegas Ski Resort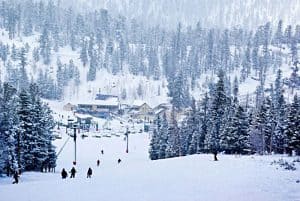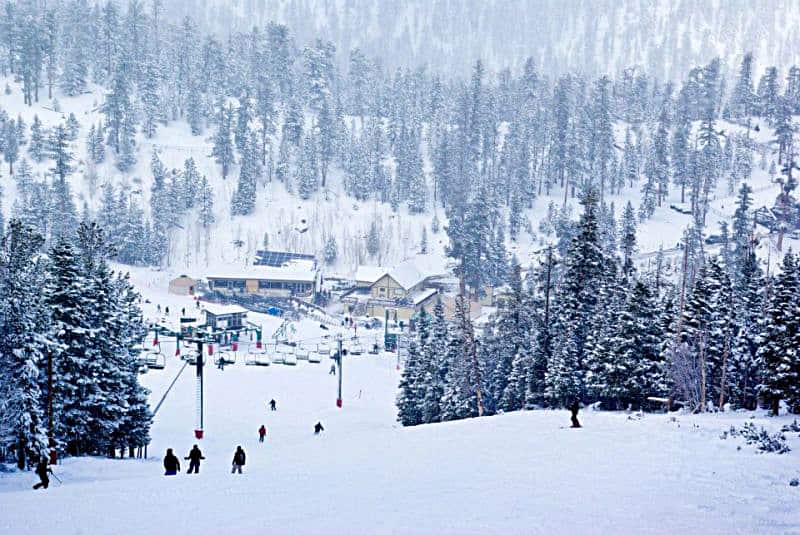 Yes, in the mountains just 45 minutes away from The Strip developers built a ski-resort.  It is not huge, and does not feature the world's best snow, but the novelty of being able to ski within 45 minutes of the scorching desert heat is unreal.
10. The Mob Museum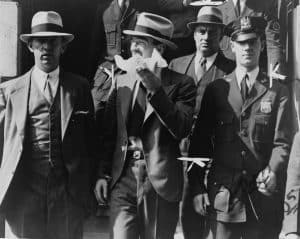 Part of the reason that Las Vegas is built the way it is today is that of the involvement of organized crime.  The mob used casinos to launder their money.  Supposedly organized crime is out of Vegas now, but a fascinating history remains.  The Mob Museum doesn't just explore Vegas' criminal history, but the characters that made this possible from around the country.  The museum does have some creepy elements as it allows visitors to hold a tommy gun, explore crime scene photos, and even see the bloody walls left from massacres.