U.S. to Restore Sanctions on Iran After Withdrawal From Nuclear Deal
WASHINGTON — The United States will reimpose sanctions against Iran at midnight on Monday, restoring economic penalties that were lifted under the 2015 nuclear accord and ratcheting up pressure on Tehran while worsening divides with European allies and other world powers.
The sanctions are a consequence of President Trump's decision in May to withdraw from an international deal that sought to limit Iran's nuclear program in exchange for easing pressure on the country's shaky economy. Mr. Trump blasted the deal long before becoming president; his administration is betting that backing out of it will force Iran to shut down its nuclear enrichment efforts, curb its weapons program and end its support of brutal governments or uprisings in the Middle East.
In a statement, Mr. Trump again described the nuclear deal — by which other world powers are still abiding — as "horrible, one sided." He said the Iranian government "faces a choice: Either change its threatening, destabilizing behavior and reintegrate with the global economy, or continue down a path of economic isolation."
European officials have said that the Iran nuclear agreement is crucial to their national security, and international inspectors have concluded that Tehran is complying with the accord. "We are determined to protect European economic operators engaged in legitimate business with Iran," the foreign ministers of Britain, France and Germany said in a joint statement on Monday. Russia and China also signed on to the 2015 deal.
But faced with a choice between the tiny Iranian market, which never lived up to expectations, and the huge American market, major European companies overwhelmingly indicated they would observe the sanctions.
"We have suspended our activities in Iran, which were anyway very limited, until further notice according to applicable sanctions," Daimler, the German maker of Mercedes-Benz cars and trucks, said in a statement.
The new sanctions bar any transactions with Iran involving dollar bank notes, gold, precious metals, aluminum, steel, commercial passenger aircraft and coal, and they end imports into the United States of Iranian carpets and foodstuffs.
In a tweet on Monday, Foreign Minister Mohammad Javad Zarif of Iran said the sanctions would endanger ordinary Iranians — particularly those who would feel the effects of the penalties on passenger jets.
The Trump administration "wants the world to believe it's concerned about the Iranian people," Mr. Zarif wrote. "U.S. hypocrisy knows no bounds."
In a speech in May, Secretary of State Mike Pompeo demanded that Iran end all nuclear enrichment and development of nuclear-capable missiles; release all American citizens; end its support for Hezbollah, Hamas, Islamic Jihad and Houthi militias; and withdraw its forces from Syria.
He said such changes would be consistent with "global norms," although the enrichment of nuclear material for civilian purposes and the development of rockets is, in most states, allowed under international law. Additionally, Russia, Turkey, Iraq and the United States also have forces fighting in Syria's seven-year civil war.
In a conference call with reporters on Monday, senior administration officials said they wanted a change in behavior from Tehran, and were not demanding a change in government. They noted that the threat of new sanctions had already had an effect on the Iranian economy — including a plunge in the value of the rial, growing unemployment and increasing protests.
Some analysts worry that the Trump administration's decision to go ahead with sanctions would encourage Europe, Russia and China to find ways around the American-led financial system and undermine the success of economic penalties in other areas.
The European Union on Monday updated a blocking statute that seeks to protect European companies from any penalties imposed by the United States for doing business with, or in, Iran. The measure threatens companies with penalties if they comply with American sanctions, putting some in a bind.
The law was originally passed in 1996 to protect companies against penalties imposed for doing business in Cuba, Libya and Iran. For years, the United States largely ignored European investments in Cuba to avoid friction.
But while top American officials said on Monday that they would continue talking to foreign counterparts to cooperate on sanctions, they vowed to undertake vigorous enforcement of the restored penalties against Iran — regardless of European concerns. They also said more than 100 major businesses had already announced an intent to leave Iran, ahead of the sanctions.
In practice, the blocking statute is likely to be difficult to enforce.
"The idea that the European Commission would come after Siemens or Total for not doing business in Iran is legally dubious and politically very tricky," said Jacob Funk Kirkegaard, a senior fellow at the Peterson Institute for International Economics in Washington. "I can't imagine that happening."
While European leaders insisted they would resist the sanctions, some have quietly taken actions to comply.
The Bundesbank, Germany's central bank, introduced a change to its rules last month that could block the transfer of hundreds of millions of euros from an Iranian bank in Hamburg back to Iran. The Bundesbank is the conduit for major international transfers of money.
Europe could undertake the provocative step of instructing state-owned banks and energy companies — which are largely insulated from American penalties — to do business with Iran.
"But I don't see Europeans ready to pull the trigger on those types of measures, so most companies are making the unhappy decision to side with the U.S.," said Peter Harrell, who was a sanctions official in the Obama administration.
"The Trump administration's approach to Iran is to build a coalition of the unwilling that has to pull out," Mr. Harrell said.
European leaders' powerlessness to counter American sanctions has only added to their fury. It widens a divide over a host of issues including NATO, immigration and relations with Russia that could undercut current efforts to defuse tensions over trade.
Sanctions could also serve as further irritants to ties with China and India, both of which have significant economic relations with Iran.
For Beijing, the threat of American sanctions arising from transactions with Iran is just one in a growing portfolio of disputes, including a worsening trade war, restrictions related to North Korea and military tensions in the South China Sea.
Many large Chinese firms are state-owned and have limited exposure to the American market, leaving them able to continue dealings with Iran. Beijing is unlikely to seriously curb economic ties with Tehran unless it receives significant concessions on other issues — something the Trump administration is unlikely to grant.
India is one of the largest buyers of Iran's oil, and has pledged to invest millions in Iran's Chabahar Port. Recent demands by top American officials that India reduce its oil imports from Iran to zero by November led to hard feelings in New Delhi. Those demands were later softened, but the damage was done.
An even tougher round of sanctions is scheduled to go into effect in November, including sanctions on Iran's sale of crude oil and transactions with its Central Bank.
Gardiner Harris reported from Washington, and Jack Ewing from Frankfurt. Milan Schreuer contributed reporting from Brussels.
10 Attractions You Can't Miss In Las Vegas
This desert oasis is a city that most people already know a decent amount about.  It is one of the biggest epicentres for gambling in the world.  When you get off a plane in Las Vegas airport you are immediately greeted by slot machines.  As you leave the airport you have amazing views of "The Strip", which is an incredibly long stretch of mega-casino and resorts lit up by glowing neon lights.  The gambling doesn't stop there as gas stations and even grocery stores feature slot machines (seriously, people hang out and gamble in grocery stores).
Las Vegas has done an excellent job of adding more than just gambling to its offerings.  It attempts to brand itself as the "entertainment capital of the world", and frankly they are doing a pretty good job of it.  There are musicians that take up permanent residency in Vegas (yes Britney, Backstreet Boys, and maybe Gaga), an incredible variety of shows (Cirque du Soleil to Blue Man Group), world-class dining options, phenomenal golf courses, mountain hikes, endless shopping (high end to outlet malls), pool parties and nightlife, and even a manmade beach and ski-resort.
As you visit Vegas you will be enthralled by everything "Sin City" has to offer.
This list is in no way inclusive of everything you could plan on a Vegas vacation but is designed to include some of the most iconic Las Vegas attractions that are perfect for the first timer, and things that you may not think to explore.
Also, check out these exclusive Las Vegas Timeshare Deals
Top 10 Must do's in Vegas
1. Welcome to Las Vegas Sign
Taking a picture at the Welcome to Las Vegas sign is a rite of passage for vacationers.  Whether you are here for a bachelor party, work convention, or just escaping cold winter temperatures this sign on the South end of The Strip is a perfect way to begin your trip.
2. Visit Foreign Cities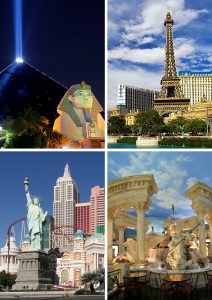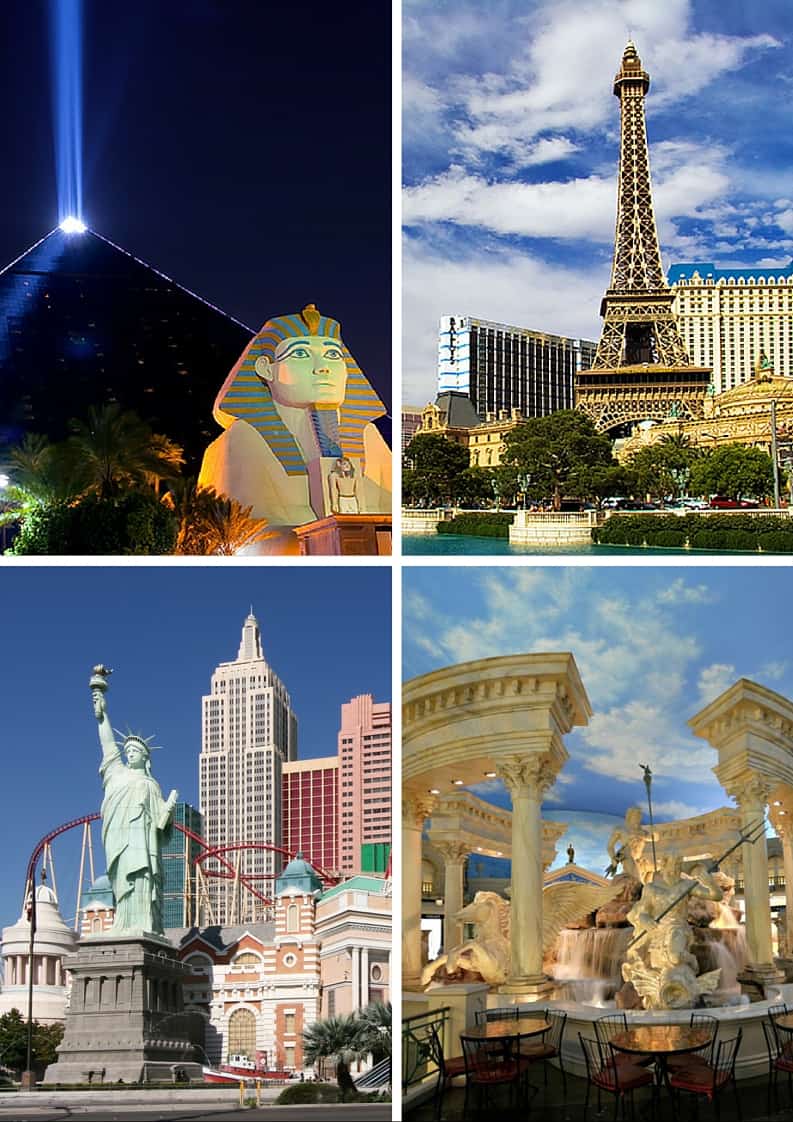 Okay not really, but lots of the casinos are based on a location or theme from somewhere else in the world.  The Paris features its own Eiffel Tower and really is reminiscent of Paris, the Venetian is based on Venice (discussed more below), the Luxor is based on ancient Egypt, Caesar's Palace is based off classic Rome, the Imperial Palace shouts out to Imperial Japan, and New York New York is pretty self-explanatory. Visiting a casino is not a substitute for seeing these places, but I recommend exploring more than just the one you stay in as it is fun to see what elements from around the world have implemented in Vegas.
3. Freemont Street (Old Vegas)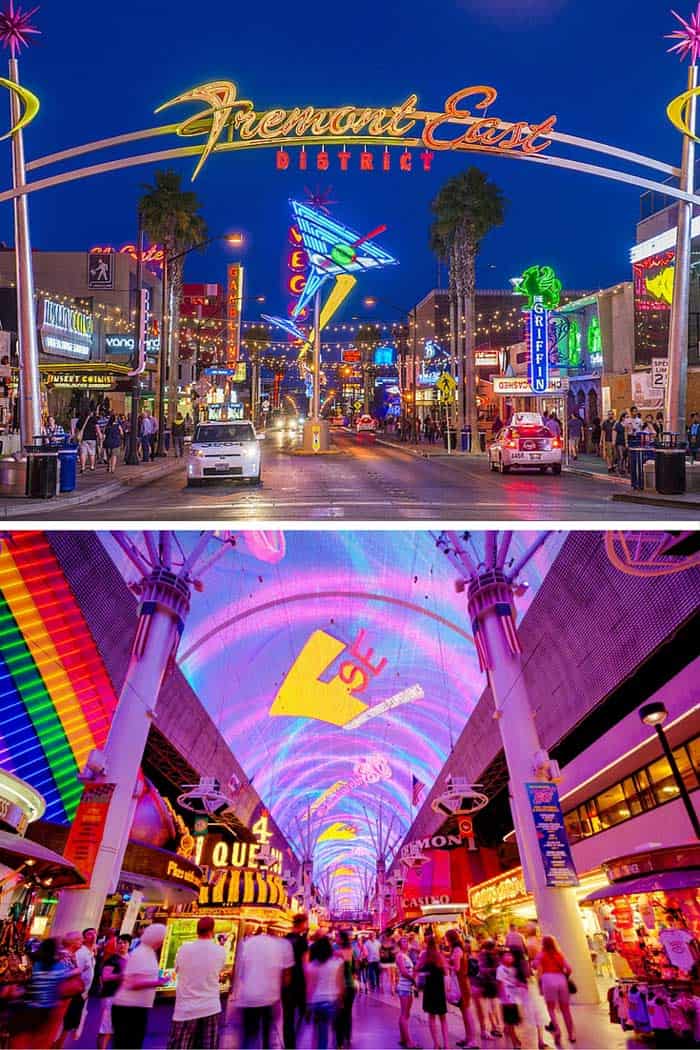 Freemont Street is where you will find the old school Vegas casinos like the 4 Queens and Golden Nugget (featuring a water slide through a shark tank). Even though it is old, it is not run down or left behind.
Freemont Street runs straight through most of the big classic casinos, and is a perfect spot to get a drink from an outdoor bar, see some of the most unique street performers in the world, experience free live music, as well as have strippers attempt to pull you in to see their shows (seriously, be careful).
4. Bellagio Fountain and Gardens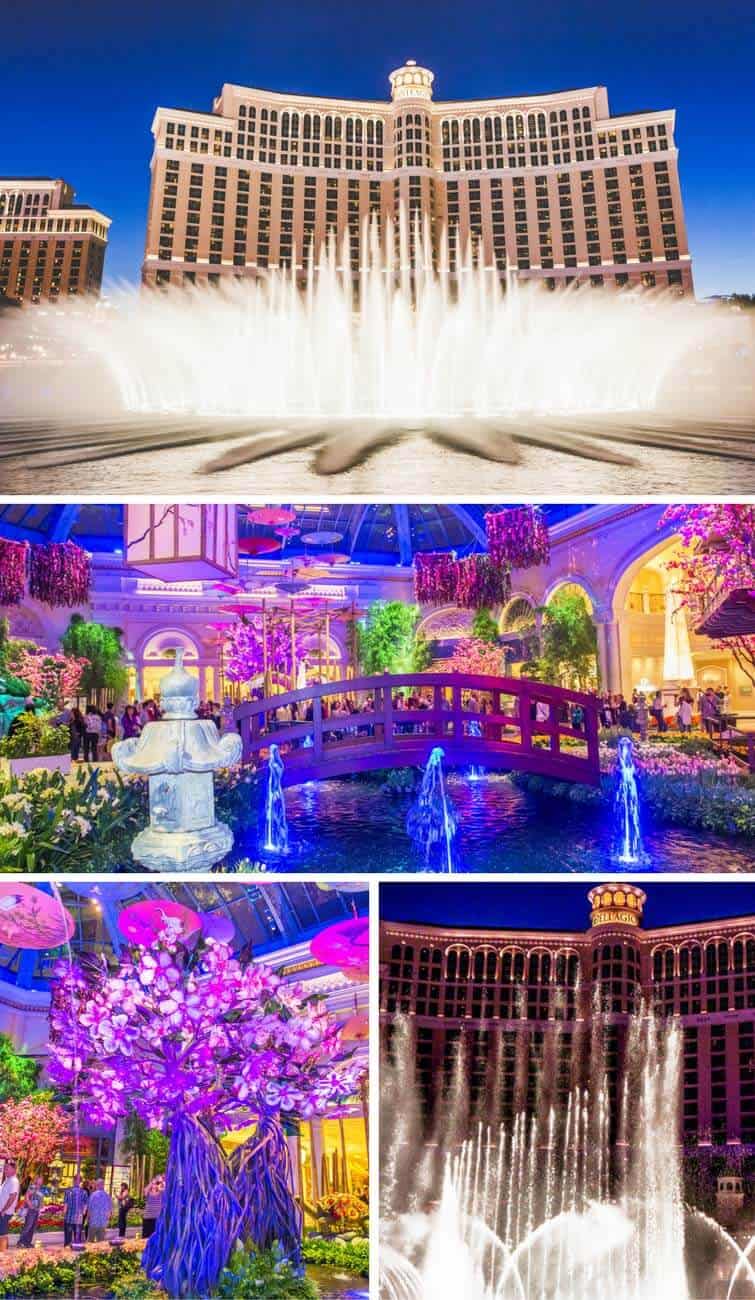 Even though each resort has fantastic things to see, the water show and botanical gardens at the Bellagio cannot be missed.  The 8-acre man-made lake features a dancing water fountain show choreographed to music.  The show is different every 15 minutes, and the results truly are beautiful.  This is the spot that was glorified in Oceans 11 (Brad Pitt and George Clooney could make anything glorious).
The gardens in the lobby are exquisitely decorated and maintained for each season with some of the unique plants and flowers in the world.  Even as a local I make a point to go down each year to see the gardens decorated with a Christmas theme.
5. Gondola Ride at the Venetian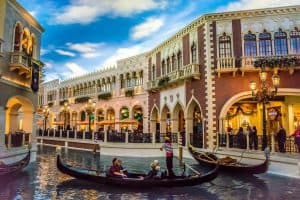 The sky in this picture really is painted on, and it does look that amazing in person.
The Venetian is a luxury resort based off of Venice Italy.  My favorite part of the Venetian is that they built canals throughout the ground floor and mall of the casino, and offer motorized gondola rides while you get serenaded by your very own gondolier.
Even though it makes my husband want to barf, I love how romantic these rides are.  Somehow they designed it so that you don't feel like you are floating through the middle of a casino.
6. Adventure Rides at the Stratosphere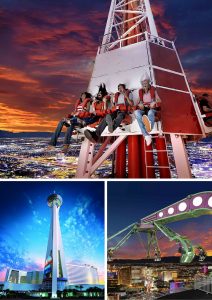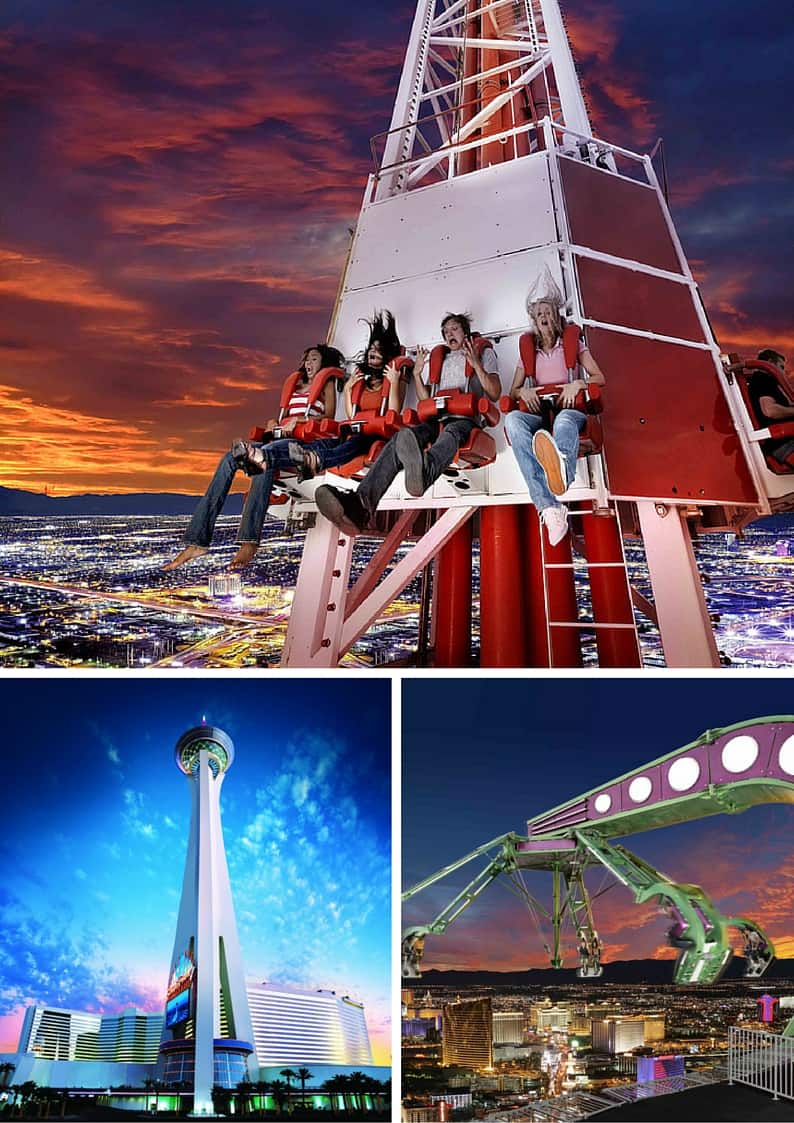 The Stratosphere is hotel and casino that towers overall on the North end of The Strip.  The Stratosphere is most famous for its views of The Strip and hair-raising rides.
It is by far the tallest building in Vegas, and the rides up top are NOT for someone who is afraid of heights. My favorite is the Big Shot, which shoots your seat straight up the top of the tower and into the sky.  It is the tallest thrill ride in the world.  If that isn't gutsy enough for you, you can jump off the top via controlled cables to the bottom.
7. The High Roller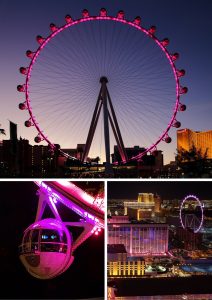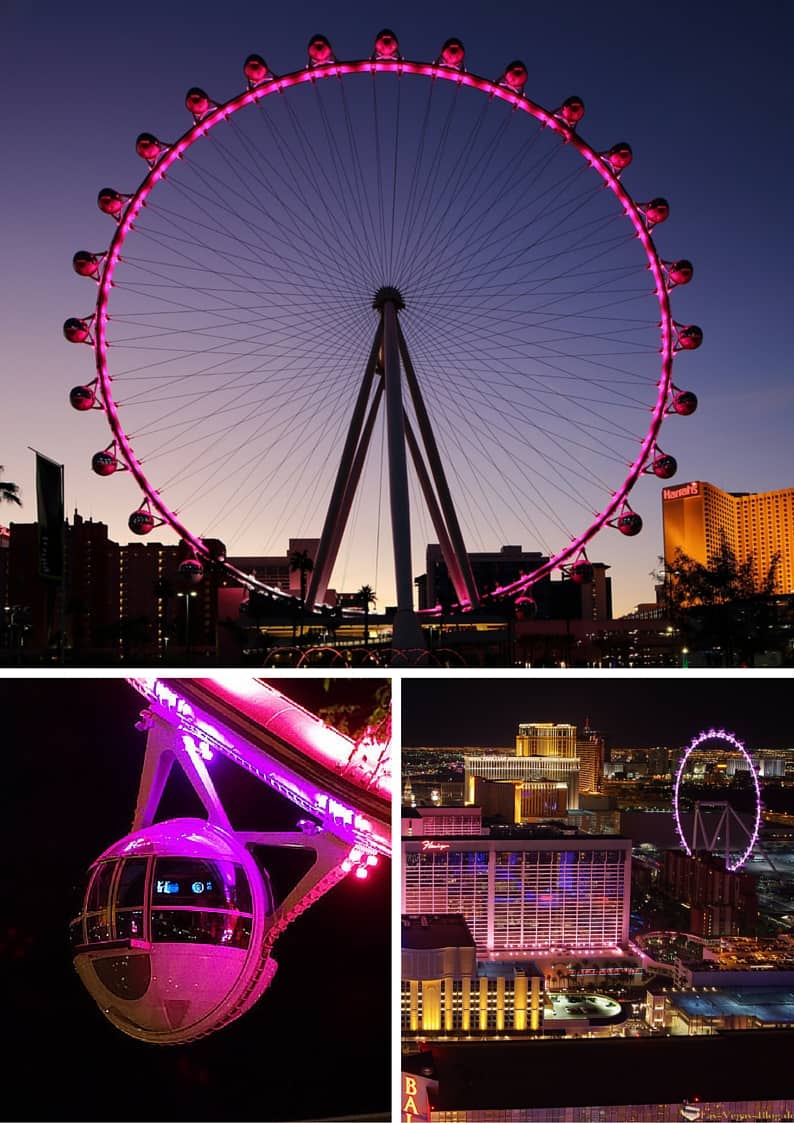 This gigantic observation/Ferris wheel is brand new to Las Vegas.  It is like the London Eye, but bigger.  Surprisingly it really is a fun ride as pods are big enough to feature whole groups of friends, and even your own bar and bartender.
Also Read: More Things To Do In Las Vegas 
8. Hoover Dam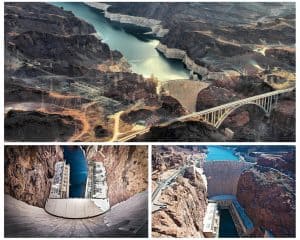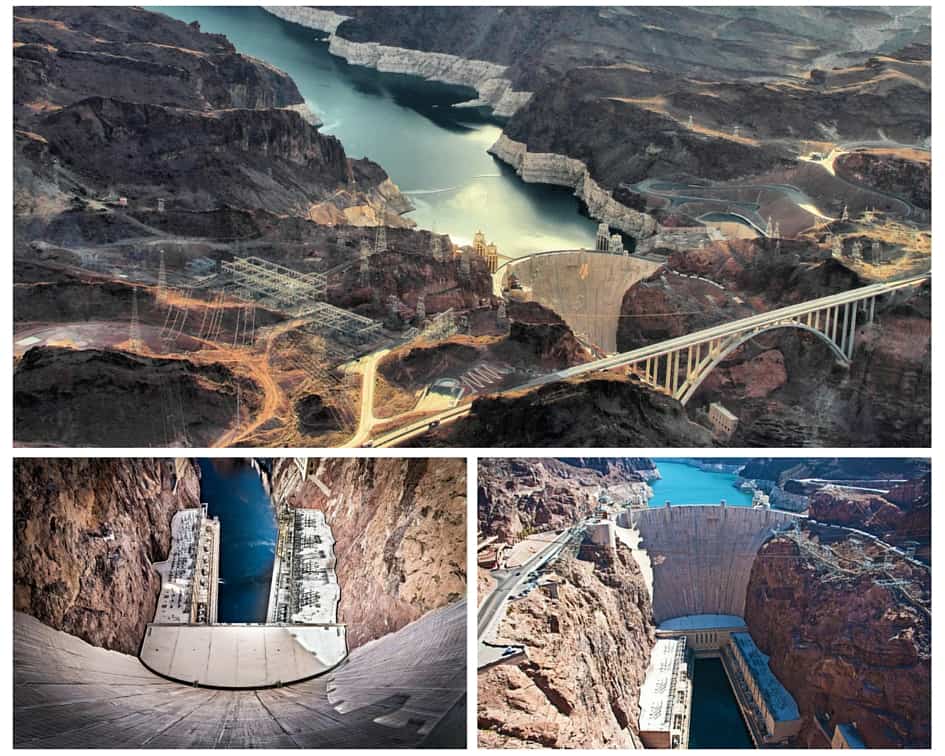 Not all the attractions in Vegas feature neon lights.  The Hoover Dam is a testament to modern engineering.  I found the tour showing how the dam generates power for Las Vegas fascinating.  Also, the lake made by the dam (Lake Mead) is great for boating.
9. Las Vegas Ski Resort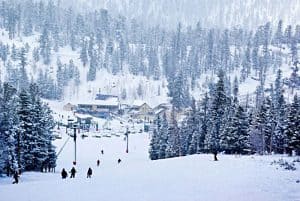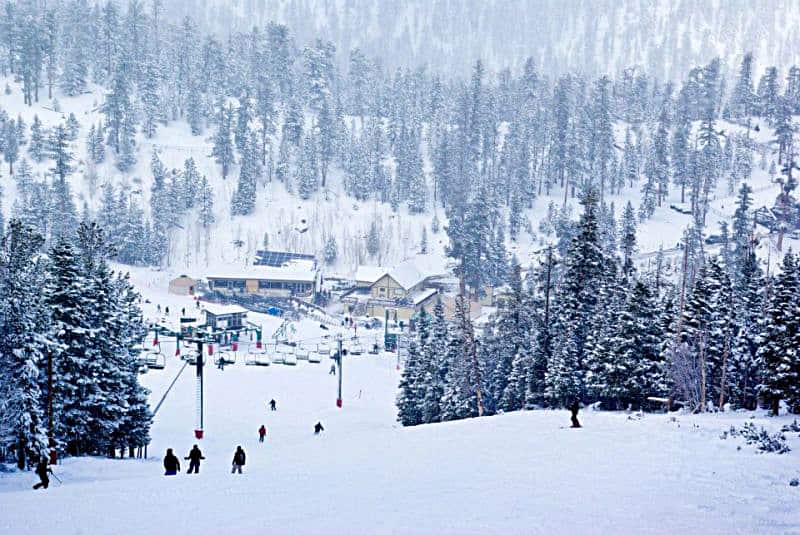 Yes, in the mountains just 45 minutes away from The Strip developers built a ski-resort.  It is not huge, and does not feature the world's best snow, but the novelty of being able to ski within 45 minutes of the scorching desert heat is unreal.
10. The Mob Museum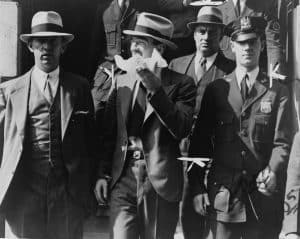 Part of the reason that Las Vegas is built the way it is today is that of the involvement of organized crime.  The mob used casinos to launder their money.  Supposedly organized crime is out of Vegas now, but a fascinating history remains.  The Mob Museum doesn't just explore Vegas' criminal history, but the characters that made this possible from around the country.  The museum does have some creepy elements as it allows visitors to hold a tommy gun, explore crime scene photos, and even see the bloody walls left from massacres.