U.S. to Issue New Sanctions Against Russia Over Spy Poisoning
WASHINGTON — The Trump administration said on Wednesday that it would soon impose new sanctions against Russia in response to the attempted assassination in March of a former Russian spy living in England and his daughter.
Under the terms of the sanctions, any attempt by an American company to obtain an export license to sell anything with a potential national security purpose — gas turbine engines, electronics, integrated circuits and testing and calibration equipment — will be automatically denied. Exporters can attempt to prove that the goods will be used for legitimate purposes, but that is a tough hurdle to clear.
An administration official described the list of affected items as "enormously elaborate," but outside experts said the actual amount of exports involved is fairly small because the Obama administration already banned exports to Russia that could have military purposes.
Tougher measures are called for in the legislation, however, if Russia fails to prove that it is no longer using chemical weapons.
"Today's step is an important but moderate set of sanctions," said Peter Harrell, a sanctions official in the Obama administration, adding that further sanctions expected in three months "could be among the most severe yet, but could also be quite modest, depending on where the Trump administration wants to go."
The sanctions were imposed under the provisions of the Chemical and Biological Weapons Control and Warfare Elimination Act of 1991, which mandates that once the government has determined that a country has used chemical or biological weapons in violation of international law or even made "substantial preparations" to do so, sanctions must be imposed.
British officials had declared that Russia was to blame for the attempted poisoning of Sergei V. Skripal, a British citizen, and his daughter Yulia, in large part because of the obscure poison involved. It was one of a strain of nerve agents known as Novichok that they say is kept under tight control by the Russian authorities.
The Trump administration agreed with the determination by the British government that set in motion the sanctions. The legislation requires that sanctions be put in place within 60 days, and Representative Ed Royce, Republican of California and the chairman of the House Foreign Relations Committee, sent a letter to President Trump two weeks ago chiding the administration for missing it.
The announcement by the State Department came three and a half weeks after Mr. Trump's meeting with President Vladimir V. Putin of Russia in Finland. The meeting elicited angry reactions from both Democrats and Republicans, who said that the Mr. Trump's solicitous behavior was inappropriate, given evidence that Russia intervened in the 2016 election.
Before the meeting, administration officials had insisted that whatever the president's public remarks, the United States has deployed time-tested diplomatic weapons against Moscow.
In response to the attempted poisoning, the Trump administration joined more than two dozen Western countries in expelling more than 150 Russian diplomats, including 60 from the United States. Russia responded with a similar number of diplomatic expulsions and ordered the closure of the United States Consulate in St. Petersburg, Russia's second-largest city.
According to an internal government document, the United States has imposed sanctions on 213 Russian-related targets — including close associates of Mr. Putin's — since January 2017, as punishment for Russia's cyberattacks and its predatory behavior in Ukraine.
The State Department shut down the Russian Consulate in San Francisco in a tit-for-tat move after Russia struck back against the sanctions.
"Yet again, these new rounds of sanctions underscore that the Trump administration has one policy toward Russia, while Trump himself has his own personal policy," said Michael A. McFaul, a former American ambassador to Russia. "I generally support the former, not the latter."
Mr. McFaul, who teaches at Stanford University, added, "I hope the two policies come into alignment — before the next summit with Putin."
That dichotomy seemed apparent in Wednesday's announcement. Trump administration officials said the decision to impose the sanctions was a legal procedure and did not arouse significant internal debate. The National Security Council was involved in the process, the officials said, but the State Department, and Secretary of State Mike Pompeo, were in the lead. No statement was forthcoming from the White House.
"The professionals in government were just doing their jobs here," said Daniel Fried, an assistant secretary of state in the George W. Bush administration who also served as a special envoy under President Barack Obama.
The new sanctions are expected to go into effect on Aug. 22. The provisions of the biological and chemical weapons act have previously been used only twice — against Syria in 2013, for its chemical weapons attack on its own population, and this year against North Korea, for the alleged assassination of Kim Jong-un's half brother with a banned nerve agent in Malaysia.
American officials said some exceptions will be allowed: for equipment that the United States relies upon to send goods and people to the International Space Station, as well as for commercial aircraft equipment involved in the safety of passengers.
Trade between the United States and Russia has been declining since 2013, as relations between the countries have grown increasingly cold. With other sanctions already imposed over the past year against Russia — on its military equipment vendors, on officials engaged in human rights abuses and on oligarchs with close ties to Mr. Putin — trade is likely to tumble even more.
The legislation calls for tougher sanctions to be imposed three months from now if Russia fails several tests, including a determination that it is no longer using chemical or biological weapons, that it provides reliable reassurances that it will not use them in the future, and that it allows international inspectors to ensure compliance — tests that Russia is unlikely to meet.
In a call with reporters on Wednesday, a senior official refused to say whether the United States had any new information on Russia's involvement in the case. He said the Trump administration accepted months ago that the poison used in the attempt on Mr. Skripal's and his daughter's lives was Novichok and that Russia was to blame.
Many in Washington praised the new sanctions.
"We must stand with our British allies, and I'm pleased to see the Trump administration hold Russia accountable for its actions by imposing additional sanctions," Senator Rob Portman, Republican of Ohio, said in a statement.
Sanctions have in recent years become popular with both Congress and the White House to punish countries and individuals who defy American foreign policy goals.
John Glaser of the Cato Institute, however, is one of many scholars who argue that there is little evidence that they work.
"Sanctions are a very weak tool of coercive diplomacy and have a poor track record in terms of actually driving policy changes in the target state," Mr. Glaser said.
One of the few widely hailed successes of sanctions efforts was Iran's agreement to the 2015 nuclear deal. Mr. Trump walked away from that accord in May, in a step that is seen by critics as undermining the deterrent effects of any future sanctions.
10 Attractions You Can't Miss In Las Vegas
This desert oasis is a city that most people already know a decent amount about.  It is one of the biggest epicentres for gambling in the world.  When you get off a plane in Las Vegas airport you are immediately greeted by slot machines.  As you leave the airport you have amazing views of "The Strip", which is an incredibly long stretch of mega-casino and resorts lit up by glowing neon lights.  The gambling doesn't stop there as gas stations and even grocery stores feature slot machines (seriously, people hang out and gamble in grocery stores).
Las Vegas has done an excellent job of adding more than just gambling to its offerings.  It attempts to brand itself as the "entertainment capital of the world", and frankly they are doing a pretty good job of it.  There are musicians that take up permanent residency in Vegas (yes Britney, Backstreet Boys, and maybe Gaga), an incredible variety of shows (Cirque du Soleil to Blue Man Group), world-class dining options, phenomenal golf courses, mountain hikes, endless shopping (high end to outlet malls), pool parties and nightlife, and even a manmade beach and ski-resort.
As you visit Vegas you will be enthralled by everything "Sin City" has to offer.
This list is in no way inclusive of everything you could plan on a Vegas vacation but is designed to include some of the most iconic Las Vegas attractions that are perfect for the first timer, and things that you may not think to explore.
Also, check out these exclusive Las Vegas Timeshare Deals
Top 10 Must do's in Vegas
1. Welcome to Las Vegas Sign
Taking a picture at the Welcome to Las Vegas sign is a rite of passage for vacationers.  Whether you are here for a bachelor party, work convention, or just escaping cold winter temperatures this sign on the South end of The Strip is a perfect way to begin your trip.
2. Visit Foreign Cities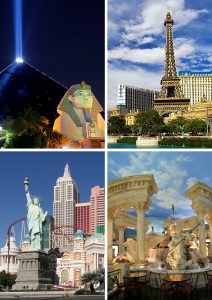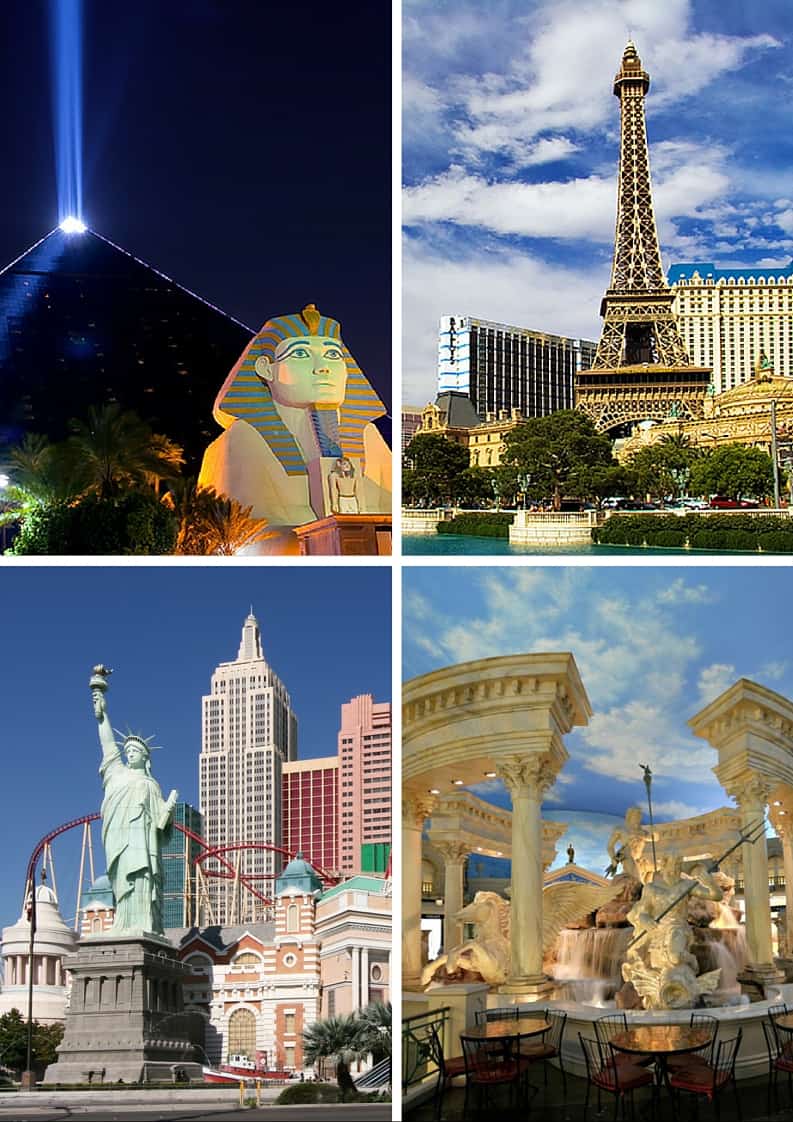 Okay not really, but lots of the casinos are based on a location or theme from somewhere else in the world.  The Paris features its own Eiffel Tower and really is reminiscent of Paris, the Venetian is based on Venice (discussed more below), the Luxor is based on ancient Egypt, Caesar's Palace is based off classic Rome, the Imperial Palace shouts out to Imperial Japan, and New York New York is pretty self-explanatory. Visiting a casino is not a substitute for seeing these places, but I recommend exploring more than just the one you stay in as it is fun to see what elements from around the world have implemented in Vegas.
3. Freemont Street (Old Vegas)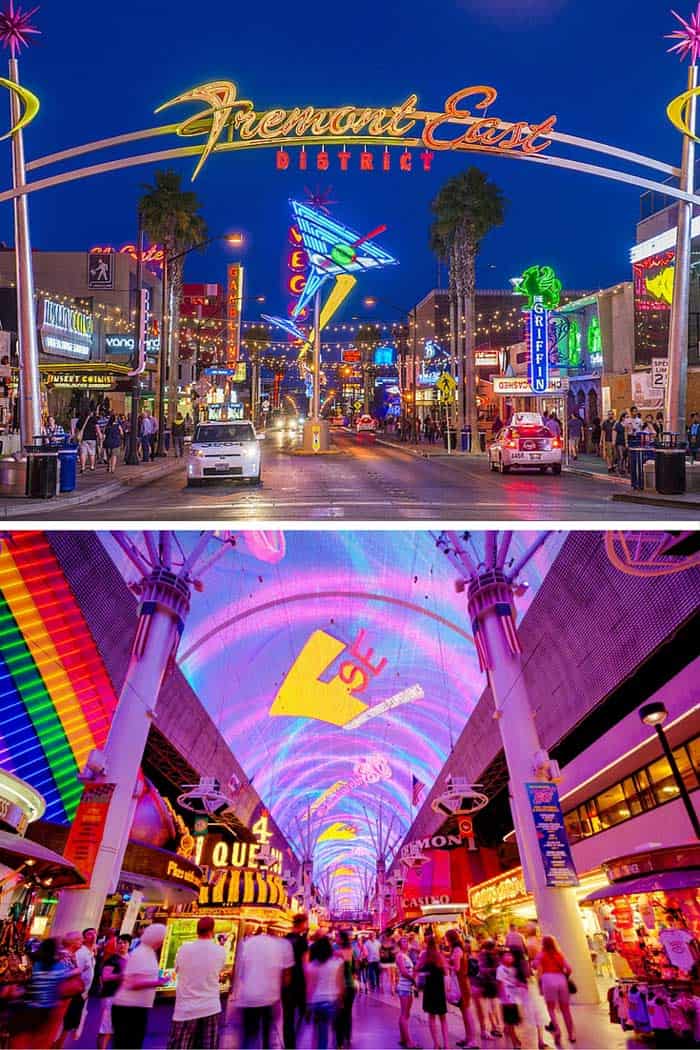 Freemont Street is where you will find the old school Vegas casinos like the 4 Queens and Golden Nugget (featuring a water slide through a shark tank). Even though it is old, it is not run down or left behind.
Freemont Street runs straight through most of the big classic casinos, and is a perfect spot to get a drink from an outdoor bar, see some of the most unique street performers in the world, experience free live music, as well as have strippers attempt to pull you in to see their shows (seriously, be careful).
4. Bellagio Fountain and Gardens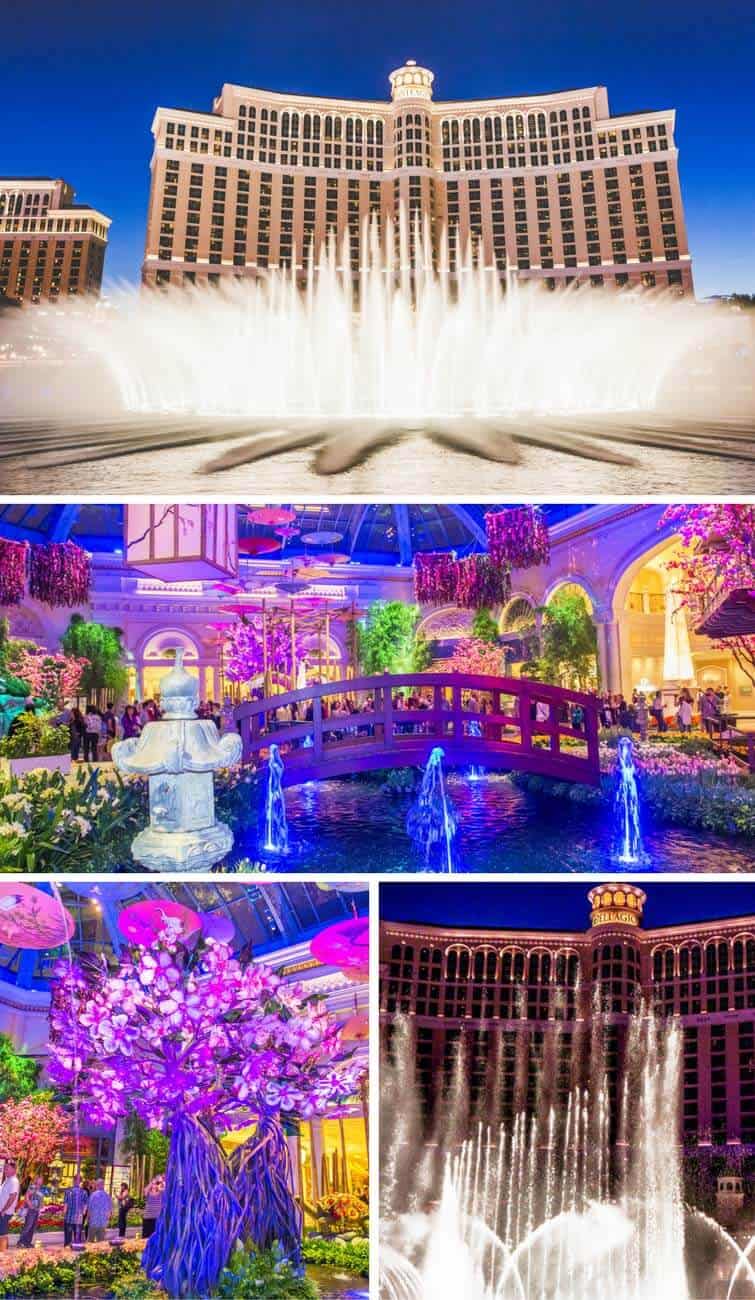 Even though each resort has fantastic things to see, the water show and botanical gardens at the Bellagio cannot be missed.  The 8-acre man-made lake features a dancing water fountain show choreographed to music.  The show is different every 15 minutes, and the results truly are beautiful.  This is the spot that was glorified in Oceans 11 (Brad Pitt and George Clooney could make anything glorious).
The gardens in the lobby are exquisitely decorated and maintained for each season with some of the unique plants and flowers in the world.  Even as a local I make a point to go down each year to see the gardens decorated with a Christmas theme.
5. Gondola Ride at the Venetian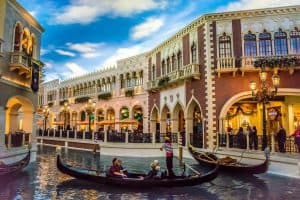 The sky in this picture really is painted on, and it does look that amazing in person.
The Venetian is a luxury resort based off of Venice Italy.  My favorite part of the Venetian is that they built canals throughout the ground floor and mall of the casino, and offer motorized gondola rides while you get serenaded by your very own gondolier.
Even though it makes my husband want to barf, I love how romantic these rides are.  Somehow they designed it so that you don't feel like you are floating through the middle of a casino.
6. Adventure Rides at the Stratosphere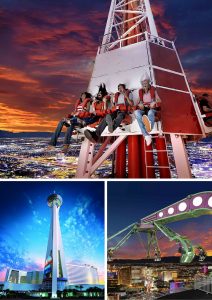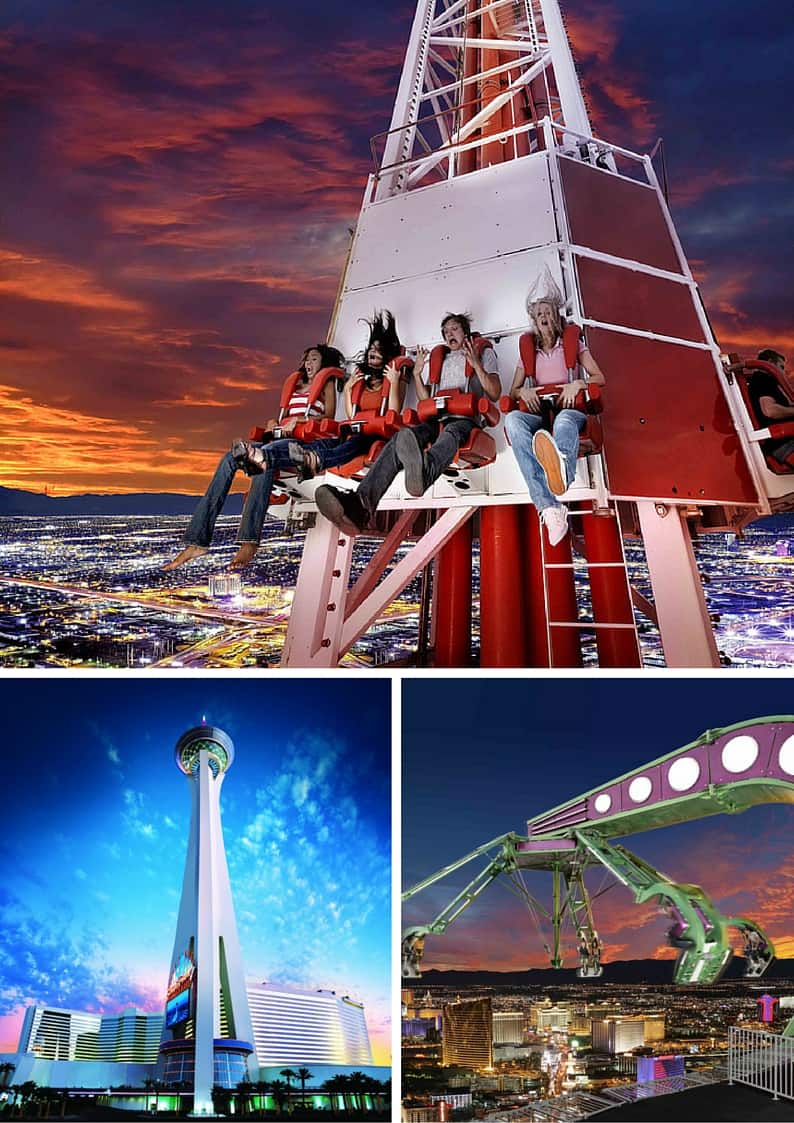 The Stratosphere is hotel and casino that towers overall on the North end of The Strip.  The Stratosphere is most famous for its views of The Strip and hair-raising rides.
It is by far the tallest building in Vegas, and the rides up top are NOT for someone who is afraid of heights. My favorite is the Big Shot, which shoots your seat straight up the top of the tower and into the sky.  It is the tallest thrill ride in the world.  If that isn't gutsy enough for you, you can jump off the top via controlled cables to the bottom.
7. The High Roller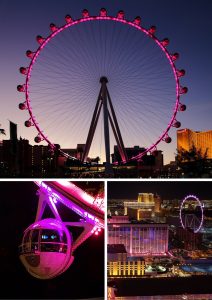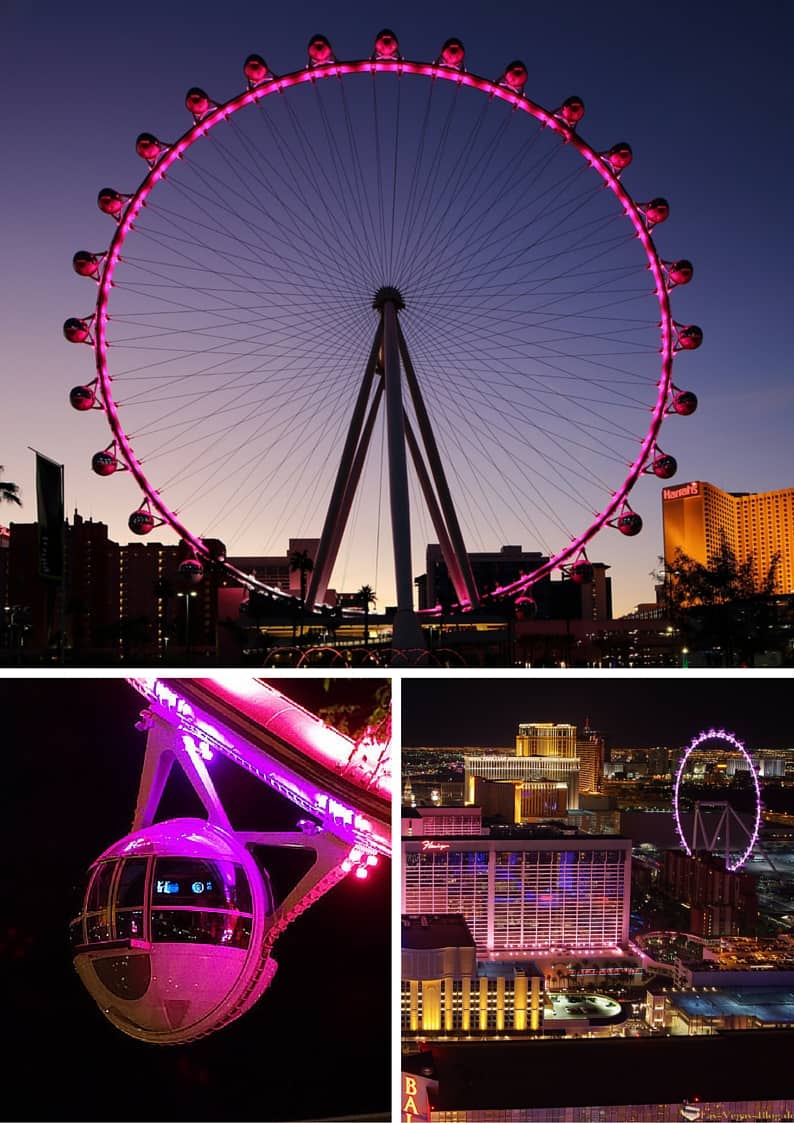 This gigantic observation/Ferris wheel is brand new to Las Vegas.  It is like the London Eye, but bigger.  Surprisingly it really is a fun ride as pods are big enough to feature whole groups of friends, and even your own bar and bartender.
Also Read: More Things To Do In Las Vegas 
8. Hoover Dam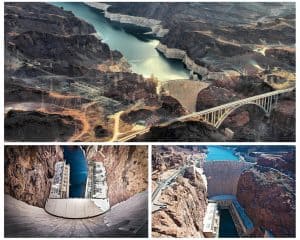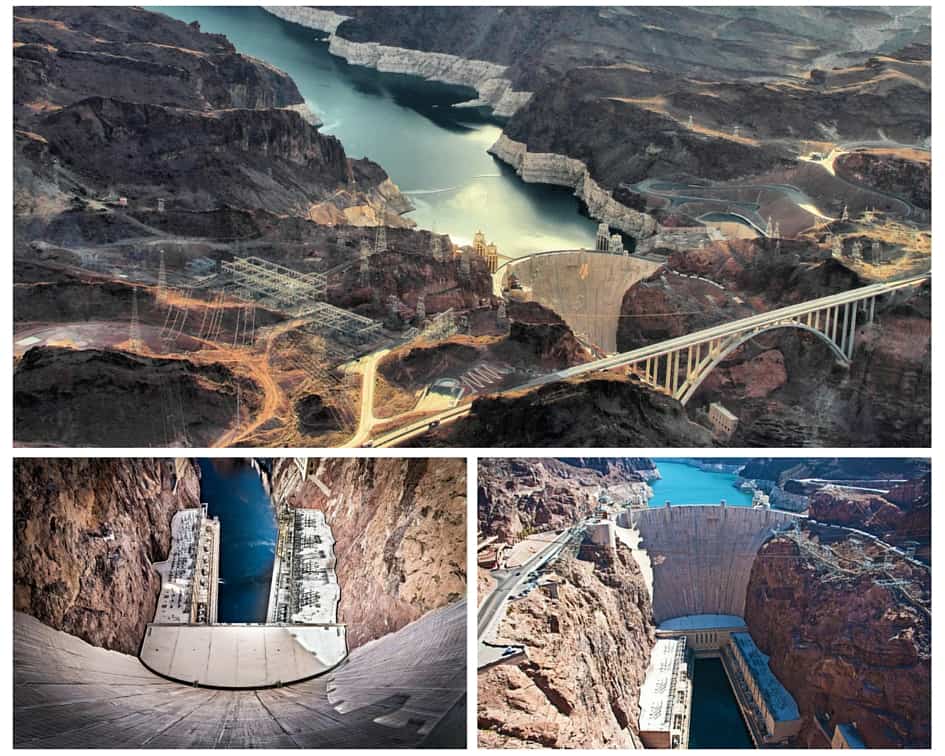 Not all the attractions in Vegas feature neon lights.  The Hoover Dam is a testament to modern engineering.  I found the tour showing how the dam generates power for Las Vegas fascinating.  Also, the lake made by the dam (Lake Mead) is great for boating.
9. Las Vegas Ski Resort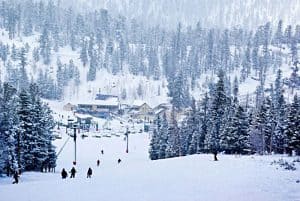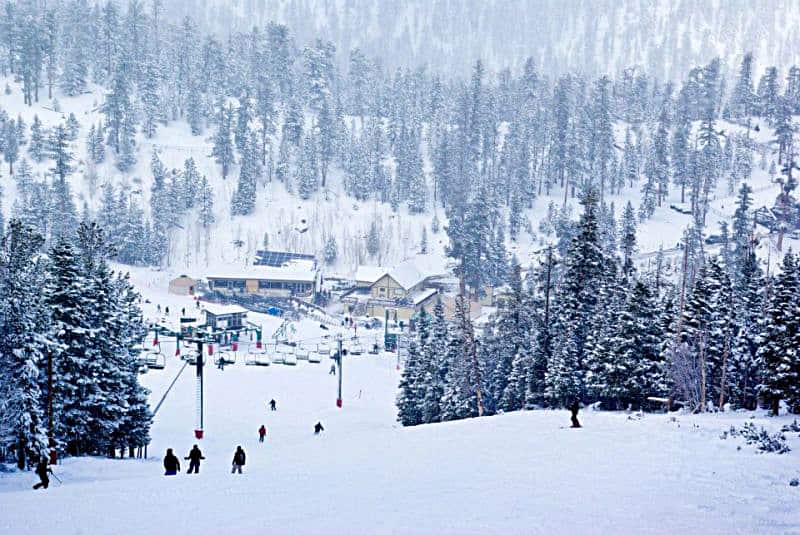 Yes, in the mountains just 45 minutes away from The Strip developers built a ski-resort.  It is not huge, and does not feature the world's best snow, but the novelty of being able to ski within 45 minutes of the scorching desert heat is unreal.
10. The Mob Museum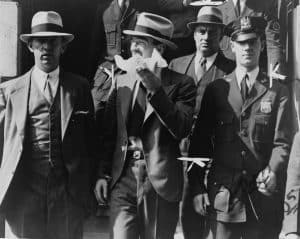 Part of the reason that Las Vegas is built the way it is today is that of the involvement of organized crime.  The mob used casinos to launder their money.  Supposedly organized crime is out of Vegas now, but a fascinating history remains.  The Mob Museum doesn't just explore Vegas' criminal history, but the characters that made this possible from around the country.  The museum does have some creepy elements as it allows visitors to hold a tommy gun, explore crime scene photos, and even see the bloody walls left from massacres.