Trump Calls Omarosa Manigault Newman 'That Dog' in His Latest Insult
WASHINGTON — President Trump added his former White House aide, Omarosa Manigault Newman, on Tuesday to the growing list of African-Americans he has publicly denigrated on Twitter, calling her "that dog" and a "crazed, crying lowlife" after her allegations against him of mental deterioration and racism.
Even for a president who consistently uses Twitter to assail his adversaries, the morning tweet about Ms. Manigault Newman was a remarkably crude use of the presidential bully pulpit to disparage a woman who once served at the highest levels in his White House.
In an interview on MSNBC, Ms. Manigault Newman responded that Mr. Trump treats women differently from men because he "believes they are beneath him" and that he talked in derogatory ways about minorities.
"He has absolutely no respect for women, for African-Americans," she said.
In recent weeks, Mr. Trump has called Don Lemon, a CNN anchor, "the dumbest man on television." He has questioned the intelligence of LeBron James, a star basketball player for the Los Angeles Lakers. And he has repeatedly said that Representative Maxine Waters, Democrat of California, has a "low I.Q."
Mr. Trump has also deployed the "dog" insult for white people, including Arianna Huffington, a founder of HuffPost. During the 2016 presidential campaign, Mr. Trump tweeted that a onetime political rival and fellow Republican, Senator Ted Cruz of Texas, "lies like a dog."
Tuesday morning's tweet was the latest in what has become an increasingly personal and malicious stream of Twitter posts from Mr. Trump, many of which are responses to his critics or aimed at questioning the integrity of the continuing investigation into Russian interference in the 2016 election and whether Mr. Trump or his aides were complicit in it. In recent days, the president has again used Twitter to lash out at his attorney general, Jeff Sessions, and at an F.B.I. agent who helped oversee the Russia investigation and who was fired for sending texts critical of Mr. Trump.
Mr. Trump's advisers and allies described the tweet about Ms. Manigault Newman, in particular, as a reaction to the accusations that she makes about the president in "Unhinged," her tell-all book about her year in the West Wing. Scholars called it an ugly historical echo of the country's racial divisions.
"It's important to understand the legacy, the history of the attack on black intelligence as a way of justifying our dehumanization," said Eddie S. Glaude Jr., the chairman of the African-American studies department at Princeton University. He said there was "something deeply racial" about the way Mr. Trump described Ms. Manigault Newman on Tuesday.
Sarah Huckabee Sanders, the White House press secretary, disputed the idea that Mr. Trump's tweet about Ms. Manigault Newman was driven by racial animus, and defended the president by pointing out his willingness to lash out at people of all races.
"The fact is the president's an equal opportunity person that calls things like he sees it," Ms. Sanders told reporters. Under persistent questioning by reporters, Ms. Sanders said she could not guarantee that Mr. Trump had never used the N-word, but said that he had denied using it and that he had never used it in her presence.
She said White House employees would not continue to work with him if they thought he was a racist. "If at any point we felt that the president was who some of his critics claim him to be, we certainly wouldn't be here," Ms. Sanders said.
She told reporters they should focus instead on the fact that Mr. Trump created 700,000 jobs for African-Americans in less than two years, far more than the 195,000 jobs for blacks that she said were created during the eight years of the Obama administration.
In fact, Labor Department statistics showed that African-American employment grew by about three million during President Barack Obama's two terms. Hours after her briefing, Ms. Sanders made a rare apology, tweeting that her numbers were off.
"Jobs numbers for Pres Trump and Pres Obama were correct, but the time frame for Pres Obama wasn't," she wrote, citing information that she had interpreted incorrectly from the White House Council of Economic Advisers. "I'm sorry for the mistake, but no apologies for the 700,000 jobs for African Americans created under President Trump."
During a decades-long career in real estate and reality television, Mr. Trump has at times been embraced by African-American celebrities who have vouched for his willingness to look past racial stereotypes. Michael Jackson and Don King, the boxing promoter, at times called Mr. Trump a friend.
Ms. Manigault Newman became a celebrity herself on "The Apprentice," Mr. Trump's reality television show. Later, as a top White House aide, she often defended the president against charges of racial bias or xenophobia.
In addition to the tweet praising his chief of staff, John F. Kelly, for "quickly firing that dog," Mr. Trump also called Ms. Manigault Newman "Wacky and Deranged Omarosa" in another tweet this week. And in yet another, the president said she was hated by other staff members inside the White House and was known to be "vicious, but not smart."
Linda-Susan Beard, the director of Africana Studies at Bryn Mawr College in Pennsylvania, said there is a long history in the United States of black women being compared to dogs.
"He's drawing on a history of discourse that is so hate-filled and so historic that it all came together in these 34 words," she said of Mr. Trump's tweet about Ms. Manigault Newman, which was actually 35 words. "The statement is brilliant in its ability to do double duty: to offer an attack that is simultaneously racialized and gendered."
On Tuesday, CBS News released a recording that Ms. Manigault Newman said was of two Trump campaign aides discussing how to react if a tape emerges with Mr. Trump using the N-word. Trump campaign officials had denied that such conversations took place.
A day earlier, NBC released a tape that Ms. Manigault Newman made of her speaking to Mr. Trump, which she said was recorded the day after she was fired. In the recording, the president said he knew nothing about the decision to fire her and told her, "I don't love you leaving at all."
In December, Mr. Kelly fired Ms. Manigault Newman in the Situation Room, the most secure conference room in the White House. Ms. Manigault Newman has released a recording of that conversation, as well.
Ms. Manigault Newman has said she has more audio recordings, and in an interview on Monday on MSNBC's "Hardball," said she would cooperate with Robert S. Mueller III, the special counsel leading the Russia investigation, if asked. "Anything they want, I'll share," she said.
The president's latest attack on Mr. Sessions was packaged with other tweets assailing the Russia investigation, which Mr. Trump regularly calls a "witch hunt." He said the inquiry never would have started if "we had a real Attorney General," an apparent reference to the decision by Mr. Sessions to recuse himself in the Russia inquiry.
Mr. Trump's former campaign chairman, Paul Manafort, is currently on trial, accused of tax and bank fraud crimes. He is the first person to be prosecuted by the special counsel. Mr. Manafort's lawyers rested on Tuesday without presenting a defense.
Blaming Mr. Sessions for not shutting down the investigation is not a new tack for Mr. Trump. Mr. Mueller is already reviewing some of Mr. Trump's tweets about Mr. Sessions as part of a wide-ranging inquiry into whether the president has tried to obstruct justice in the investigation.
Mr. Trump also questioned why the Russia investigation would not end with the firing of the F.B.I. agent, Peter Strzok.
"Strzok started the illegal Rigged Witch Hunt — why isn't this so-called 'probe' ended immediately?" Mr. Trump tweeted.
A version of this article appears in print on , on Page A1 of the New York edition with the headline: Trump Belittles A Female Critic As 'That Dog'
. Order Reprints | Today's Paper | Subscribe
How to Grow Your Instagram Following: A Strategic Plan
Want to quickly grow your Instagram audience? Looking for a strategy that attracts the right kind of connections?
In this article, you'll discover how to combine an Instagram growth strategy with an ad sequence that can turn followers into customers.
How This Instagram Growth Strategy Works
On average, Instagram users share "more than 95 million photos and videos every single day," according to Reuters. That amounts to a lot of noise for Instagram marketers to break through to get their message in front of potential customers.
Simply focusing on run-of-the-mill Instagram growth tactics that you hear regurgitated time and again won't help you set yourself apart. You'll just be adding to the noise on the platform instead of building important assets for your brand.
A better approach is the $1.80 Instagram strategy for custom audience growth. Gary Vaynerchuk's $1.80 Instagram growth strategy to grow your business or brand is all about creating micro-connections that gradually accumulate into an active and engaged community on the platform.
Even though it's called the $1.80 strategy, it's completely free to implement. The only resource costs are your time and attention. Once a day, you'll:
Start by searching 10 relevant hashtags.
Locate the top 9 posts for each hashtag.
Leave a meaningful comment (your two cents [$0.02]).
The $1.80 Instagram growth strategy boils down to this equation: 10 hashtags multiplied by 9 posts where you leave your $0.02 = $1.80 in community-building effort.
Getting 2x, 5x, or 10x growth results with this strategy doesn't happen overnight. It requires you to stay consistent and make community-building a regular action for your brand.
As Gary states, "The number of Instagram followers you have means nothing if you can't build a community of like-minded people who care and engage." It's those people who then go on to become customers, brand evangelists, and significantly drive your brand goals forward. Finding this pocket of people is as simple as becoming part of the conversation.
In 2018, we used this strategy at The Ad Strategist to double the size of our Instagram following. More importantly, by implementing the $1.80 Instagram growth strategy, our Instagram engagement custom audience grew to almost 3x larger than our follower count.

Why is this important? The size of your warm custom audiences represents the number of users who've had a meaningful interaction with your brand. This includes everyone who liked, commented on, sent, and saved your content; DM'ed you; or clicked the link in your bio. Of course, just because someone interacts with you doesn't mean they follow you on Instagram. And if they're not following you, it's unlikely they'll see your organic content and posts in the future.
That doesn't mean those users are gone forever, though. You can create a dynamic Instagram ad sequence targeting your Instagram engagement custom audience that converts those non-followers into followers and then customers.
Running ads to this engagement custom audience resulted in 50%–100% cheaper lead costs in an ad spend study of over $45,000 with 349 ad set variations. So targeting this Instagram engagement custom audience creates costs per result that are significantly lower than if you were to target cold traffic.
#1: Create Your Instagram Engagement Custom Audience
To create an Instagram engagement custom audience, navigate to the Audience dashboard in Ads Manager.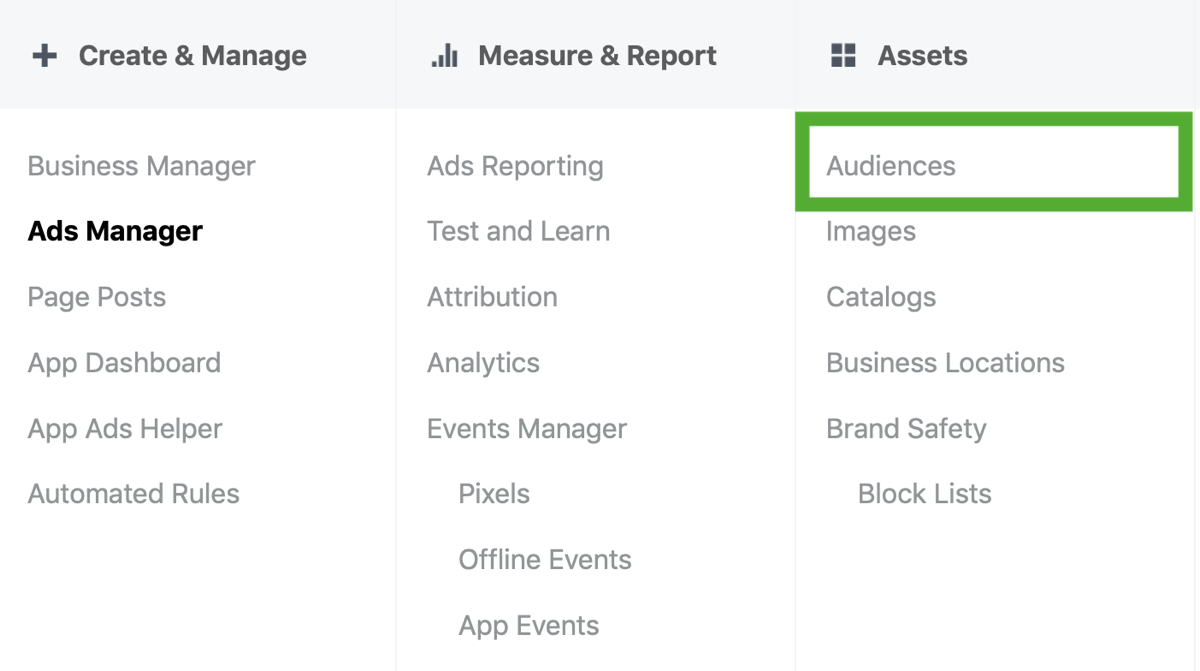 Then click Create Audience and select Custom Audience.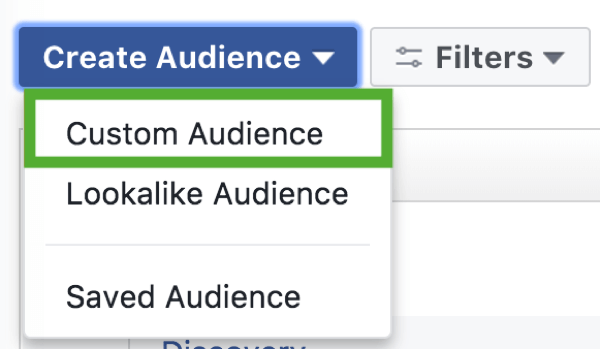 In the Create a Custom Audience window, choose Instagram Business Profile.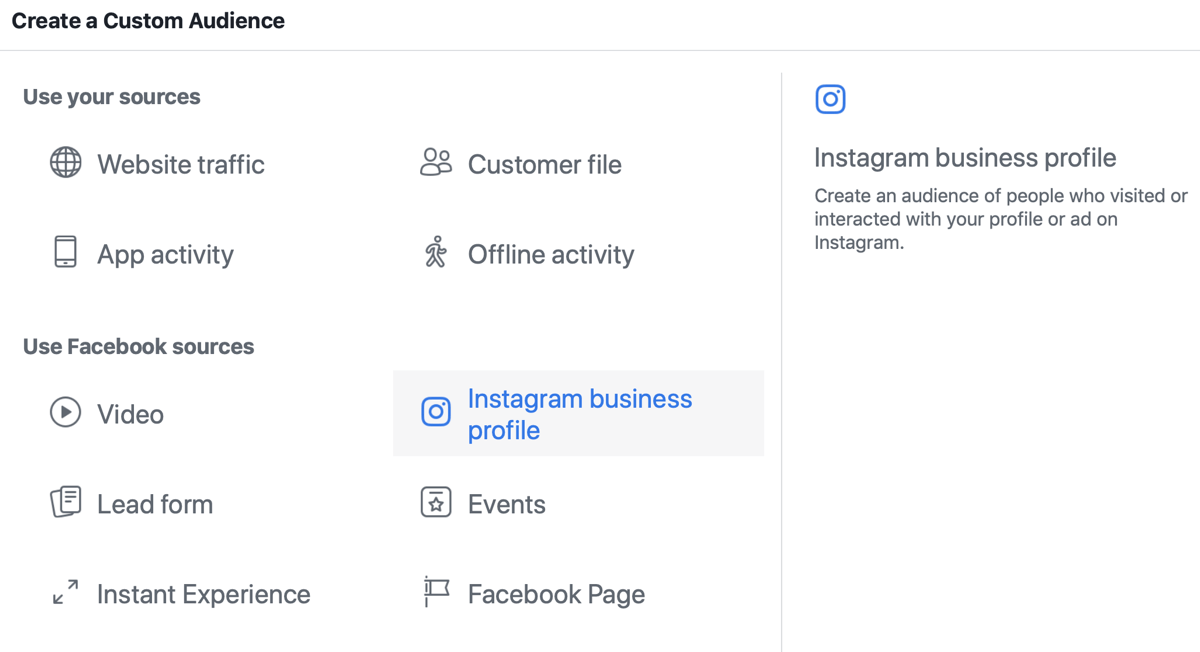 Next, select the correct Instagram profile and ensure Everyone Who Engaged With Your Business in the Past 365 Days is selected.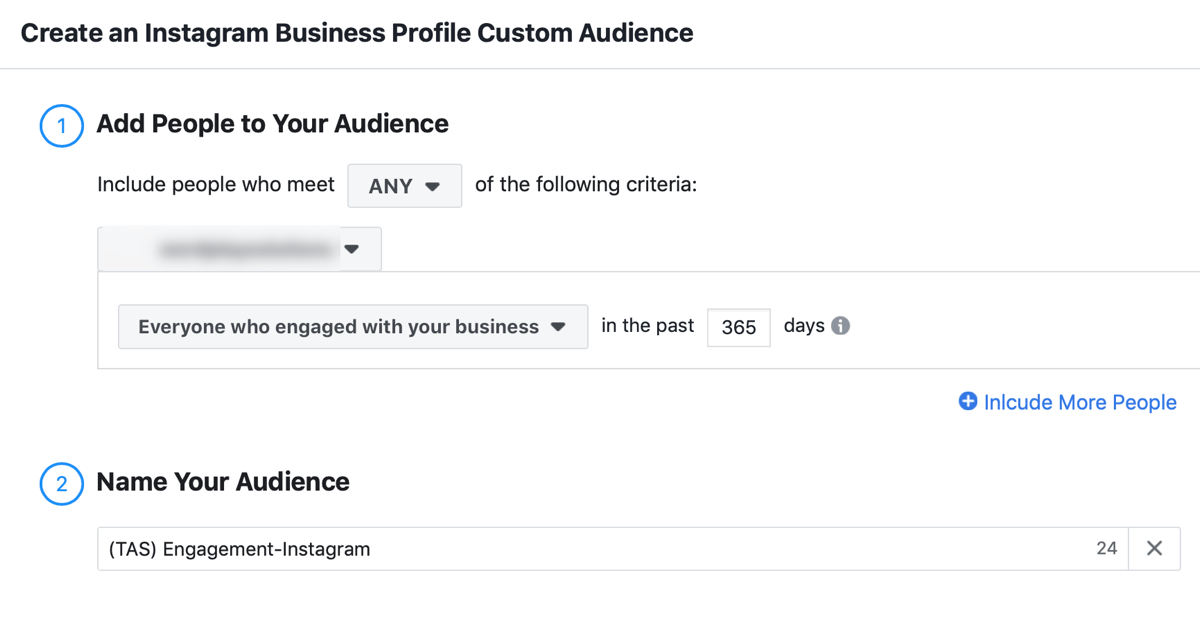 Choose a name for this audience that will be easily identifiable to you in the future and then click Create Audience. Remember that it takes up to 24 hours to reveal the size of your current Instagram engagement audience.
Now write down the current size of this audience to determine your starting point. I recommend that you track the growth of this custom audience weekly as you implement the rest of the $1.80 strategy consistently to assess your measurable growth.
Set Up a Spreadsheet to Track Instagram Growth
For fellow spreadsheet connoisseurs: Tracking this data in a notebook can feel like poking your eyes out, so here's how to structure your results tracking spreadsheet.
Set up your spreadsheet to track the total Instagram engagement custom audience with a separate column for each week.

Then use the formula =sum(D5-C5)/C5 to calculate your weekly growth rate.

Now expand the weekly growth rate calculation across all weeks.

The result is the growth rate of your retargetable custom audiences using the $1.80 Instagram growth strategy over time. Once you have this information for a larger range of weeks, you can assess what is and isn't working for you and then tailor the rest of your Instagram marketing strategy accordingly.
#2: Research and Incorporate Relevant Hashtags
Now that you're tracking your retargetable engagement, the next step is to find relevant hashtags for your business.
Open Instagram and navigate to the Search & Explore tab.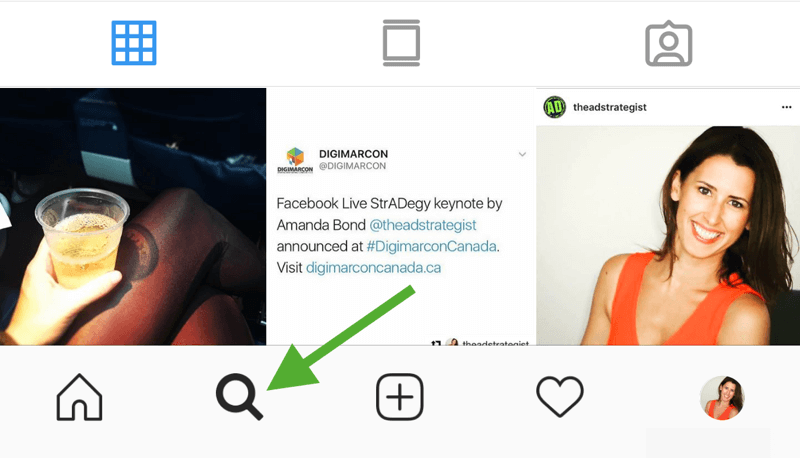 Start by searching for one hashtag such as #facebookads.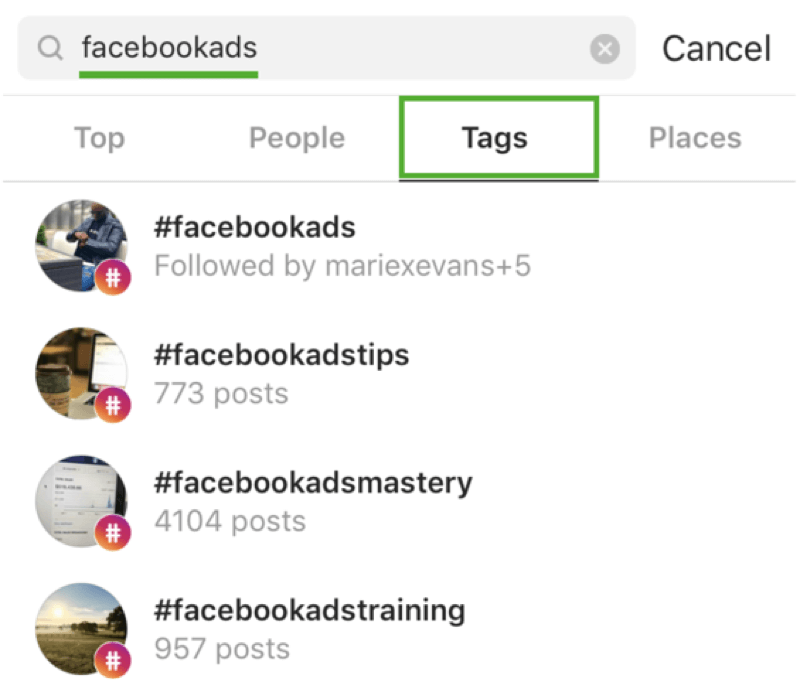 You likely have a core group of hashtags you're already using in your own posts. Because it's best to search and engage daily, I recommend that you set up a spreadsheet to track all of the relevant hashtags you're using because the list will quickly grow.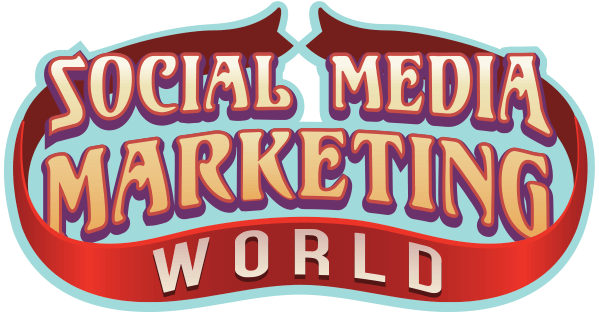 If you're a digital marketing agency, you might start with hashtags like these:

Here's the most surprising part of implementing this strategy: truly understanding the quality of a hashtag. As a Facebook advertising strategist, I'd assume that #facebookads would be an ideal hashtag for posts. However, upon closer inspection, the type of content being tagged with this particular hashtag is:
Extremely promotional (often for get-rich-quick–type schemes)
Unrelated to digital strategy
Entirely misleading
Often extremely spammy
This leads me to the conclusion that we won't use #facebookads in our own Instagram efforts going forward.
As you research hashtags and carry out your daily $1.80 growth strategy, make note of the highest-quality hashtags you find. Then use those in your organic content's written captions to give yourself the greatest opportunity to get in the Search & Explore tab of your ideal customers.
#3: Identify and Engage With 9 Relevant Instagram Posts
After you've found your Instagram hashtags, it's time to filter through the content you've found to determine whether it's relevant and valuable for you to leave your $0.02. Not every post is created equally—especially in a world full of spam bots and automation.
Take a few seconds to analyze each Instagram post you come across. I recommend clicking the full post to:
Read the caption.
Quickly measure the engagement rate (likes and comments vs. total followers).
Click the account profile image to check out their bio and the rest of their profile.
Remember, this strategy works across any vertical: B2B, B2C, SMB, etc. It's the process of culling through the noise to find the gems that most of your competitors aren't setting aside enough time to do.
Here's what to look for when analyzing accounts.
How Much Effort Is Being Put Into Writing an Informative Caption?
A lot of low-quality accounts tend to 'phone in' the caption description and jam as many hashtags into the caption as humanly possible—in the hopes that it will help them rank on the Search & Explore tab.
Well-written captions crafted with meaningful thought aren't an easy feat. The Instagram users who are putting in the time and effort to write their own story-driven captions tend to be active community members outside of their own profiles as well. They're invested in their own Instagram success and your $0.02 interaction helps them signal to the algorithm that their content is also relevant.
What Is the Engagement Rate?
In my algorithmic experience, engagement is king. If an account has 200,000 followers but barely hits 500 likes and comments on a post (0.2% engagement), what does that say about the quality of their community?
On the flipside, never discount an account for having a low follower count. If they have 200 followers and still have 30 likes and comments per post (a 15% engagement rate!), it shows they're building a small but mighty community. Engage away!
Is This Profile Something You Would Naturally Engage With?
Yes, you'll be deploying this strategy for your social media growth efforts. However, it's important to make sure the comments you're leaving have the potential to create strategic and long-term value for your brand and for your potential future community. Otherwise, as with anything, you'll be wasting your time and getting lost in the weeds.
The Anatomy of a Great Instagram Post
Most people want to skip this step (and the time it takes to properly assess the quality of the Instagram account where you're leaving your $0.02) and go straight to the end result—revenue growth. Taking your time to build relationships with the right profiles and people can help expedite your growth.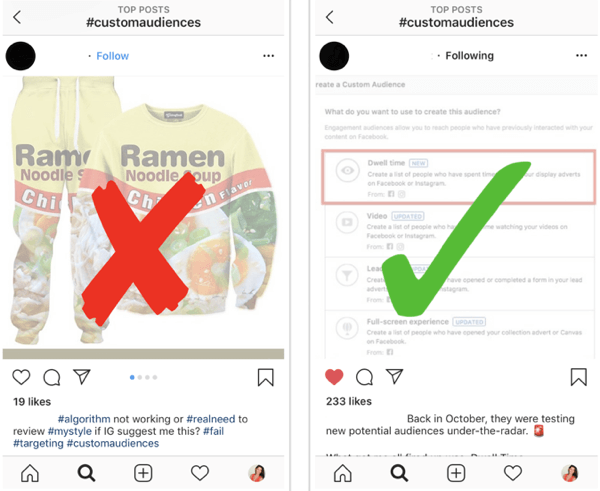 On the left:
The post engagement is lower than the one on the right (total number of likes aside).
The caption is stuffed with hashtags in an attempt to rank content vs. writing quality content to engage your audience.
The account has no bio or any other qualifying details.
On the right:
The content is relevant and educational.
The caption is well-written and informative.
The bio clearly states what they do and allows you to identify whether they belong in your community.
Now onto the fun stuff! This one's simple: Be social on social media. At this point in your efforts, all that's left is to leave your $0.02 on these newfound pieces of content.
Let's talk about leaving your $0.02 for a moment. There's a difference between crafting a meaningful comment that shows you want to be a part of the larger conversation vs. leaving a comment of three emoji hearts and then bouncing.
If all you do is leave emojis, don't use the $1.80 strategy. Spend your time elsewhere on actions/tasks that move the needle in your marketing.
Here are some best practices for being a human on social media:
Share your own experiences. Is there something in your life (or behind the scenes in your business) that's relatable to the original caption? Share that!

Ask open-ended questions. The goal here is to get people to come back to your Instagram profile and engage. If you only talk about yourself and your own experiences, it lessens your chance of developing a meaningful conversation with the other person.
Don't be a know-it-all. Let other people share their perspective and worldview. We, as humans, love to share about ourselves often. Remember that this exercise is not about YOU. It's about the incredible humans you serve in your marketing.

#4: Monetize Your Efforts With an Ad Sequence
After going through these steps, you've started to build two powerful marketing assets:
A captive community of current and future customers who drive real revenue
An engaged custom audience available for retargeting with paid advertising
The first of these two assets, a captive community, will fuel your organic Instagram efforts again and again. Next time you publish a post, these followers will be hungry for your new content. Because you've now engaged in conversations with these users, they're more ready to engage and respond than total strangers.
The second asset is an engaged custom audience that's retargetable by building a $5/day Instagram ad campaign.
When you pair a $5/day Instagram ad sequence with the $1.80 Instagram growth strategy, every image you post, DM you send, and heart you tap is automatically and effortlessly leading people toward becoming your customers. Having a low-cost Instagram ad sequence that's always running in the background is a simple way to turn followers into fanatical (read: paying!) customers.
Conclusion
Set aside time each day to execute this strategy. For me, it's only 15 minutes a day when I'm in an Uber or waiting for a meeting to begin. For you, it might be a consistent hour from 3–4 PM daily.
Your Instagram growth won't happen unless you put in the time and effort daily, track your results, tweak what isn't working, and continuously and relentlessly improve upon your efforts. A year from now, imagine your account at 2x, 10x, 100x growth and what that could mean for your business goals.
With a simple $1.80 Instagram growth strategy paired with a $5/day Facebook advertising strategy, you can rapidly grow your Instagram account with followers who turn into customers.
What do you think? Have you tried the $1.80 Instagram growth strategy? What were your results? Share your results and questions in the comments below.