Talking to a Man Named Mr. Cotton About Slavery and Confederate Monuments
In this week's Race/Related newsletter: A writer explores the nation's divide over its Civil War past. He finds that some Confederate monuments cannot be moved.
Please sign up here to have the Race/Related newsletter delivered weekly to your inbox.
---
VICKSBURG, Miss. — Slavery, Gordon Cotton explains, "did some good for some people."
A white retired journalist, Mr. Cotton is propped on a stool in his cluttered kitchen, holding court before me and another black reporter. We showed up unannounced at his home just off a dirt road in a heavily wooded area on the outskirts of this city in the Deep South.
His great-great-grandmother owned about 30 slaves and "she provided nice little homes for them," he says. "She provided clothing and food and medical care. She had one who made baskets, and she always bought his baskets."
However society feels about slavery now, Mr. Cotton says, he won't let it diminish his admiration for ancestors like his great-great-grandmother or spiritual forebears like Jefferson Davis, the Confederate president whom Mr. Cotton, 82, calls his hero.
"Looking back 150, 200 years ago, it was a way of life," he says. "It may not have been right, but it was the way of life at the time."
That personal connection to, and quick empathy for, the Old South has shaped Mr. Cotton's view that Confederate monuments belong in the public square; that the Davises and Robert E. Lees of the world deserve to be honored, not shamed.
That belief, of course, is the source of a fierce debate, one that reached a violent climax a year ago when white supremacists, rallying against a proposal to remove a statue of General Lee from a public park in Charlottesville, Va., clashed with counterdemonstrators. Heather Heyer, 32, was killed when a white supremacist plowed his car into a crowd.
The ugly episode aggravated the country's frayed racial dynamic — even more so after President Trump equated the counterprotesters with the white supremacists by blaming "many sides" for the violence.
A year later, public debate over Confederate iconography has quieted down. But have feelings really evolved? Are we any closer as a country to coming to terms with how to confront our shameful history, or are we quietly hurtling toward another eruption of violence?
I recently traveled through the South with Trymaine Lee, an NBC correspondent. Our trip took us through Virginia, Kentucky, Mississippi and Alabama.
We found that the legacy of the Confederacy has become so embedded in daily life that it will take more than the removal of a statue here, or a plaque there, to address it. That it has become too easy to look past the atrocities that occurred on the serene plantations where you take prom pictures, or walks with your family amid stone sculptures and bright flowers.
What's left is a complicated calculus when it comes to finding common ground on the monument debate.
In some cases, the structures are simply too massive to remove — take the 351-foot obelisk honoring Jefferson Davis in his birthplace of Fairview, Ky. In others, as in Alabama, a law has been established to prohibit the removal of Confederate monuments.
But in many instances, Confederate memorials are not physical. They are better understood as emotional, spiritual and familial connections.
Mr. Cotton is a historian whose ancestors owned slaves and fought for the Confederacy. His house is decorated like a shrine to the rebellion. He has Confederate flags and Treasury notes alongside portraits of Davis and Nathan Bedford Forrest, a Confederate general and Ku Klux Klan leader. He also has racist iconography amid the clutter: a book of sheet music titled "Pickaninny Rag" with a caricature of a black boy on the cover; a CD of a white comedian who performs in blackface.
As we sit down for the interview, we ask him to spell his name. "C-O-T-T-O-N," he says, then adds, matter-of-factly, "Cotton, just like you pick."
Mr. Cotton lives near Brierfield, Jefferson Davis's former estate. He also went to a school named for the Confederacy's only president. Like many pro-Confederates in the South, Mr. Cotton plays down the role of slavery in the Civil War. He believes it had more to do with the North trying to control, and eventually invade, the South than anything else.
"He's one of my heroes, and nobody will ever take that away from me," he says of Davis. "You can take his statues down if you want to. They can destroy what they can, but they'll never destroy the legend of the man."
For Mr. Cotton and other Davis supporters, much of that legend was built on what Davis did before he became the president of the Confederacy. They see him as a heroic West Point graduate who served in the Mexican-American War, and as a United States senator representing Mississippi.
What they don't highlight are his beliefs about slavery. Davis thought that the institution should be expanded and that black people were an inferior race. These white supremacist beliefs continued to shape American society long after the Civil War was over and efforts to integrate freed slaves gave way to an era of racially motivated killings.
That violence touched a generation of Southerners for whom the legacy of the Confederacy is also poignant, only for reasons very different from pro-Confederates like Mr. Cotton.
As Susie Jones browses an exhibit at the Civil Rights Memorial Center in Montgomery, Ala., she stops in her tracks when she comes across a name etched onto a gray wall: Milton Russell.
"This is my daddy's cousin," she says.
Mr. Russell was one of several dozen people who died from racially motivated violence to be honored in the exhibit, put together by the Southern Poverty Law Center. He was killed on Jan. 21, 1956, in an arson attack at his home in Belzoni, Miss.
The exhibit featured another person from Belzoni who was killed: the Rev. George Lee, murdered on May 7, 1955, for registering black voters.
"Reverend Lee used to be my neighbor," Ms. Jones, who is black, adds.
He lived across the street and owned a store and "kind of took care of all of the black people in the area."
Ms. Jones, 66, now lives in Jacksonville, Fla. She is in Montgomery on a trip through the South with her granddaughters, ages 12 and 9. Her goal is to teach them about their African-American heritage, plenty of which can be found in Montgomery: from the bus stop where Rosa Parks boarded for her fateful ride, to the church where the Rev. Dr. Martin Luther King Jr. was a preacher.
But it also is a place steeped in Confederate lore.
The State Capitol features a gold star on its steps marking where Jefferson Davis took his oath of office and a tall column celebrating Confederate soldiers. There is a statue of Davis nearby, next to one of James Marion Sims, the "father of modern gynecology" who experimented on enslaved women without using anesthesia.
"It's a reminder of hatred and all the wrongdoings that's been done against African-Americans," Ms. Jones says of Confederate symbols. "I do believe they have a right to their history, but not at the sake of ours. If you're going to write part of the story, write the whole story. Tell what you did."
For many black people, Confederate symbols often read like Do Not Enter signs. We felt this in the pits of our stomachs as we rolled up to Mr. Cotton's home and were greeted by two cars with Confederate flags on the bumpers. The angst quickly subsided when Mr. Cotton, referred to us by a local resident, appeared from behind a green door and welcomed us into his home.
Regardless of where you are on the political spectrum, if you live in the South, Confederate symbols come with the territory. You can barely walk without stubbing your toe on one.
My first two hotels were on thoroughfares named for Davis. Trymaine and I stayed at Anchuca, a bed-and-breakfast in Vicksburg, where Davis's older brother Joseph once lived. Jefferson Davis State Park, at the obelisk site in Fairview, is one of the nicest places to have a cookout in the area, and indeed black people visit regularly.
Kitty Calhoun, who is white and a partner at a restaurant in Hopkinsville, Ky., says that she appreciates monuments like the obelisk for their artistic beauty, not their negative symbolism.
"I don't try to think about the representation," says Ms. Calhoun, 68. Rather, she adds, it is "the history that's behind it, as far as it being there, how long it's been there, is more what I'm into."
But ignoring the misdeeds of Confederate leaders — seeing Jefferson Davis the statesman without seeing Jefferson Davis the slave owner — is not a luxury available to black people.
At the same time, the pride that descendants of the Confederacy have in their ancestors is very real and isn't going to go away any time soon.
"We have to understand him from a very broad perspective," Bertram Hayes-Davis says of his great-great-grandfather, Jefferson Davis.
Mr. Hayes-Davis, 69, is a living, breathing monument to his great-great-grandfather. When I met him at his home in Vicksburg, he was loose and inviting. He sometimes nestles into a chair once owned by Davis while channeling his great-great-grandfather's thoughts on uniting the country after the war. He keeps a well-worn book of the United States Constitution signed by Davis in a glass-encased bookshelf and a letter written by Davis over the fireplace mantel.
Mr. Hayes-Davis, who grew up in Colorado, knows full well the admiration that his name draws among certain communities in the South. But in a strange way, he may also be the conduit that we need to bridge the divide on Confederate monuments.
Mr. Hayes-Davis's life's mission is to prevent people — whether pro- or anti-Confederate — from reducing his great-great-grandfather's legacy to his time as president of the Confederacy. He believes that racists have hijacked Confederate symbols in an effort to deepen the country's racial divide.
While he says that people who support the removal of monuments are often misguided, Mr. Hayes-Davis also agrees that, if a statue offends someone, it should be moved to a private area where it could be used for teaching.
He is unafraid to point out Davis's flaws — "Was he a white supremacist? Yes he was," Mr. Hayes-Davis says, always adding that he was so much more.
Mr. Hayes-Davis's moderated stance has put him at odds with staunch Confederate groups. Some of them, he says, cling to the past so tightly that they are willing to deny certain realities about the Confederacy and the war.
"They're holding on to that one small piece of history," he says. "Their ancestor's legacy as a soldier in the Confederate States of America."
Susan Beachy contributed research.
John Eligon covers race for The Times. He speaks three languages fluently: English, German and Trinidadian slang. Watch the video of his journey through the South below and follow him on Twitter: @jeligon.
---
---
It has happened over and over again this summer: White people calling the police on black people who are doing nothing wrong. But what happens when white people intervene to try to stop such discriminatory behavior?
Watch our live chat with Michelle Snider, the white woman behind the viral #BBQBecky video, and Debbie Irving, the author of "Waking Up White." And be sure to join our live conversations every week at 9 p.m. Eastern on Wednesdays as we examine topics related to race and culture on The Times's Facebook page.
If you have experienced, witnessed or read about a hate crime or incident of bias or harassment, you can use this form to send information about the incident to Race/Related and other partners in the Documenting Hate project.
With New Urgency, Museums Cultivate Curators of Color
Hoping to reflect a broader range of visitors, museums are diversifying their staffs, welcoming a more inclusive generation of future leaders.
Is It Southern Food, or Soul Food?
Two Southern cooks chew on questions of culture, identity and cuisine.
Black, Gay and Becoming Visible
In Darnell L. Moore's memoir, "No Ashes in the Fire," he describes a brutal childhood in Camden, N.J., and the struggle to fully accept his identity.
Revealing the Lives of Black Fathers
Robyn Price Pierre looked to her family, classmates and friends to create personal photos exploring black fatherhood.
---
For more coverage of race, see our archive and sign up here to have our Race/Related newsletter delivered weekly to your inbox.
Correction:
Because of an editing error, an earlier version of this article and an earlier version of a picture caption misidentified the book kept by Bertram Hayes-Davis. The book was of the United States Constitution, not the Confederate Constitution.
John Eligon is a Kansas City-based national correspondent covering race. He previously worked as a reporter in Sports and Metro, and his work has taken him to Nelson Mandela's funeral in South Africa and the Winter Olympics in Turin.
A version of this article appears in print on , on Page A12 of the New York edition with the headline: Touring the Deep South, Where the Confederacy Is Set in Stone
. Order Reprints | Today's Paper | Subscribe
10 Attractions You Can't Miss In Las Vegas
This desert oasis is a city that most people already know a decent amount about.  It is one of the biggest epicentres for gambling in the world.  When you get off a plane in Las Vegas airport you are immediately greeted by slot machines.  As you leave the airport you have amazing views of "The Strip", which is an incredibly long stretch of mega-casino and resorts lit up by glowing neon lights.  The gambling doesn't stop there as gas stations and even grocery stores feature slot machines (seriously, people hang out and gamble in grocery stores).
Las Vegas has done an excellent job of adding more than just gambling to its offerings.  It attempts to brand itself as the "entertainment capital of the world", and frankly they are doing a pretty good job of it.  There are musicians that take up permanent residency in Vegas (yes Britney, Backstreet Boys, and maybe Gaga), an incredible variety of shows (Cirque du Soleil to Blue Man Group), world-class dining options, phenomenal golf courses, mountain hikes, endless shopping (high end to outlet malls), pool parties and nightlife, and even a manmade beach and ski-resort.
As you visit Vegas you will be enthralled by everything "Sin City" has to offer.
This list is in no way inclusive of everything you could plan on a Vegas vacation but is designed to include some of the most iconic Las Vegas attractions that are perfect for the first timer, and things that you may not think to explore.
Also, check out these exclusive Las Vegas Timeshare Deals
Top 10 Must do's in Vegas
1. Welcome to Las Vegas Sign
Taking a picture at the Welcome to Las Vegas sign is a rite of passage for vacationers.  Whether you are here for a bachelor party, work convention, or just escaping cold winter temperatures this sign on the South end of The Strip is a perfect way to begin your trip.
2. Visit Foreign Cities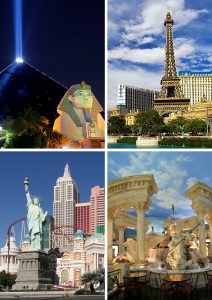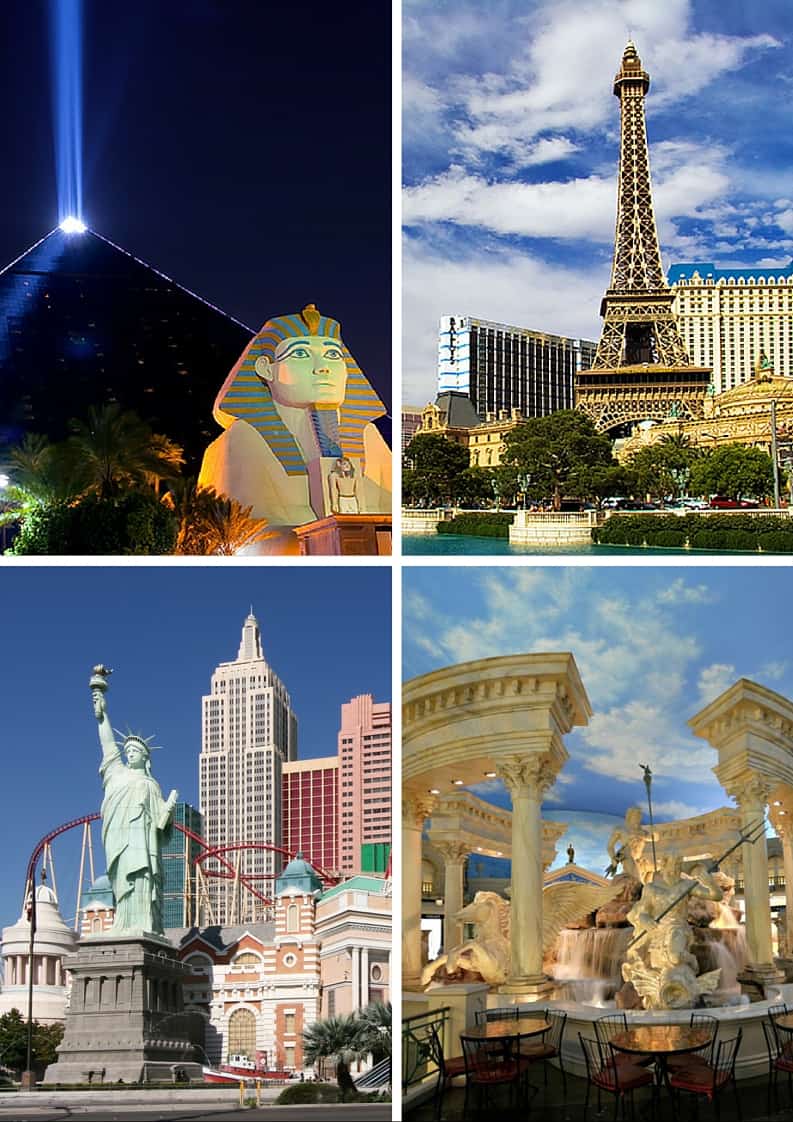 Okay not really, but lots of the casinos are based on a location or theme from somewhere else in the world.  The Paris features its own Eiffel Tower and really is reminiscent of Paris, the Venetian is based on Venice (discussed more below), the Luxor is based on ancient Egypt, Caesar's Palace is based off classic Rome, the Imperial Palace shouts out to Imperial Japan, and New York New York is pretty self-explanatory. Visiting a casino is not a substitute for seeing these places, but I recommend exploring more than just the one you stay in as it is fun to see what elements from around the world have implemented in Vegas.
3. Freemont Street (Old Vegas)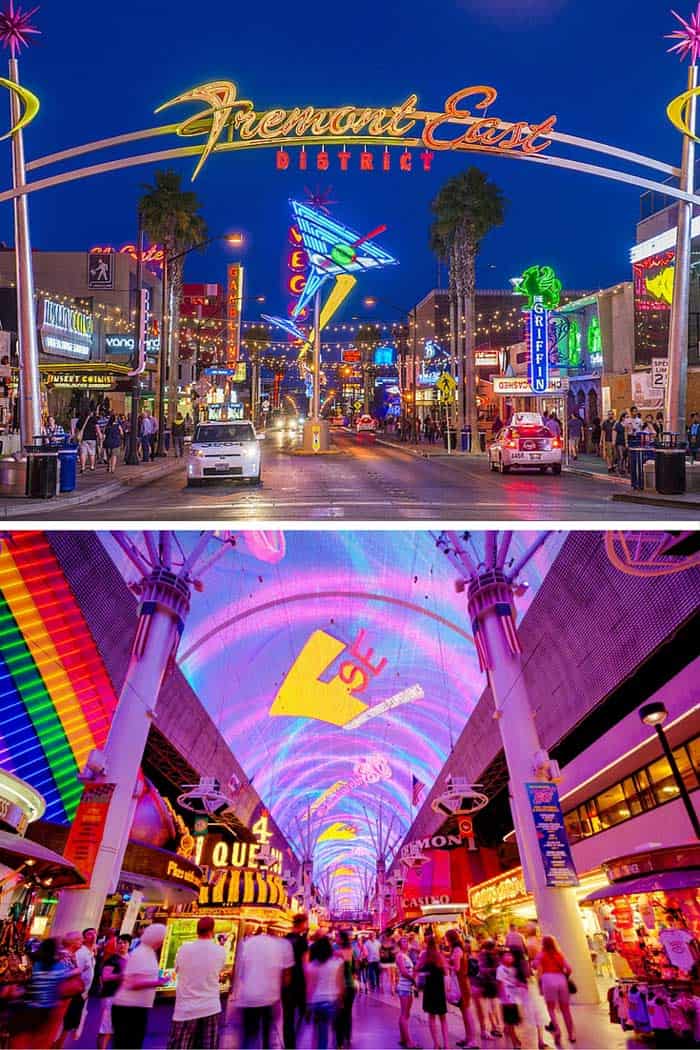 Freemont Street is where you will find the old school Vegas casinos like the 4 Queens and Golden Nugget (featuring a water slide through a shark tank). Even though it is old, it is not run down or left behind.
Freemont Street runs straight through most of the big classic casinos, and is a perfect spot to get a drink from an outdoor bar, see some of the most unique street performers in the world, experience free live music, as well as have strippers attempt to pull you in to see their shows (seriously, be careful).
4. Bellagio Fountain and Gardens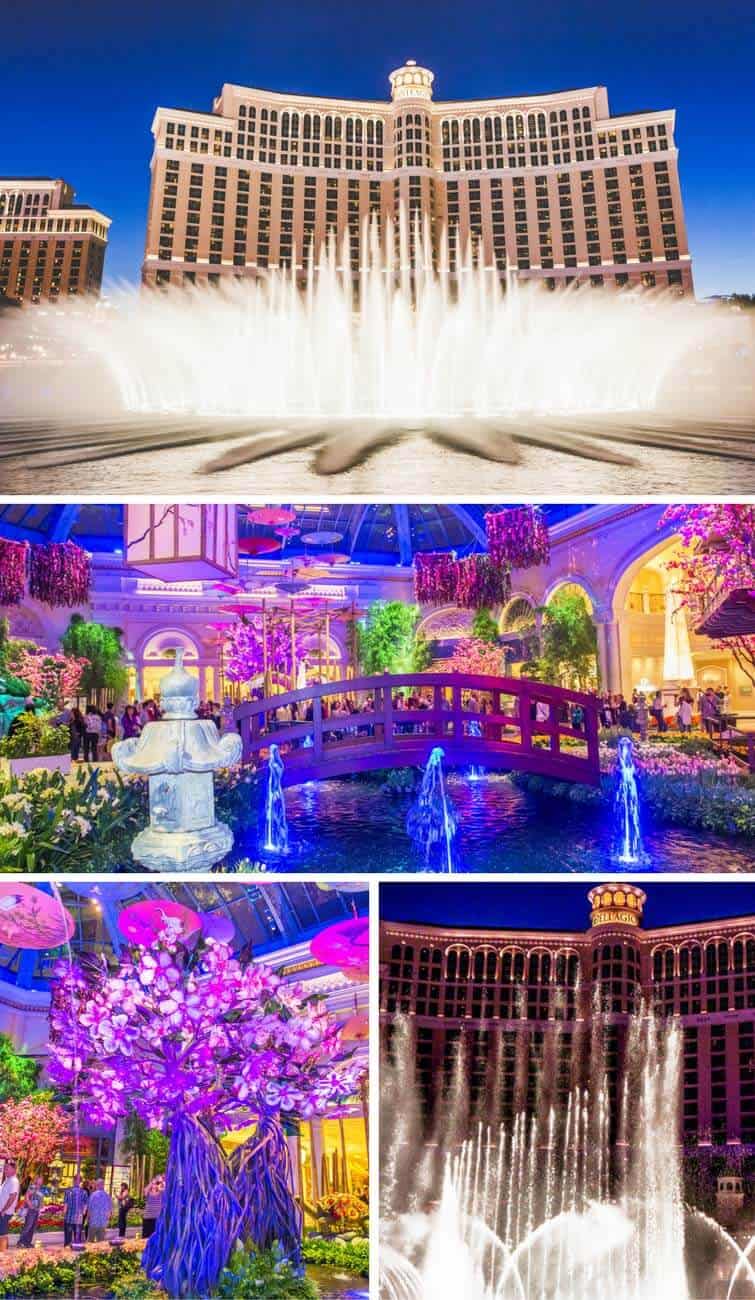 Even though each resort has fantastic things to see, the water show and botanical gardens at the Bellagio cannot be missed.  The 8-acre man-made lake features a dancing water fountain show choreographed to music.  The show is different every 15 minutes, and the results truly are beautiful.  This is the spot that was glorified in Oceans 11 (Brad Pitt and George Clooney could make anything glorious).
The gardens in the lobby are exquisitely decorated and maintained for each season with some of the unique plants and flowers in the world.  Even as a local I make a point to go down each year to see the gardens decorated with a Christmas theme.
5. Gondola Ride at the Venetian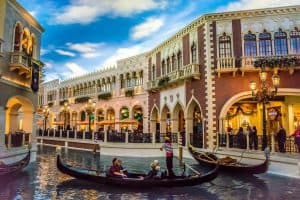 The sky in this picture really is painted on, and it does look that amazing in person.
The Venetian is a luxury resort based off of Venice Italy.  My favorite part of the Venetian is that they built canals throughout the ground floor and mall of the casino, and offer motorized gondola rides while you get serenaded by your very own gondolier.
Even though it makes my husband want to barf, I love how romantic these rides are.  Somehow they designed it so that you don't feel like you are floating through the middle of a casino.
6. Adventure Rides at the Stratosphere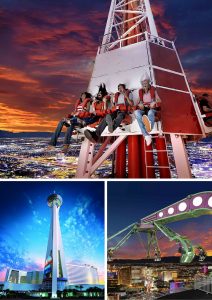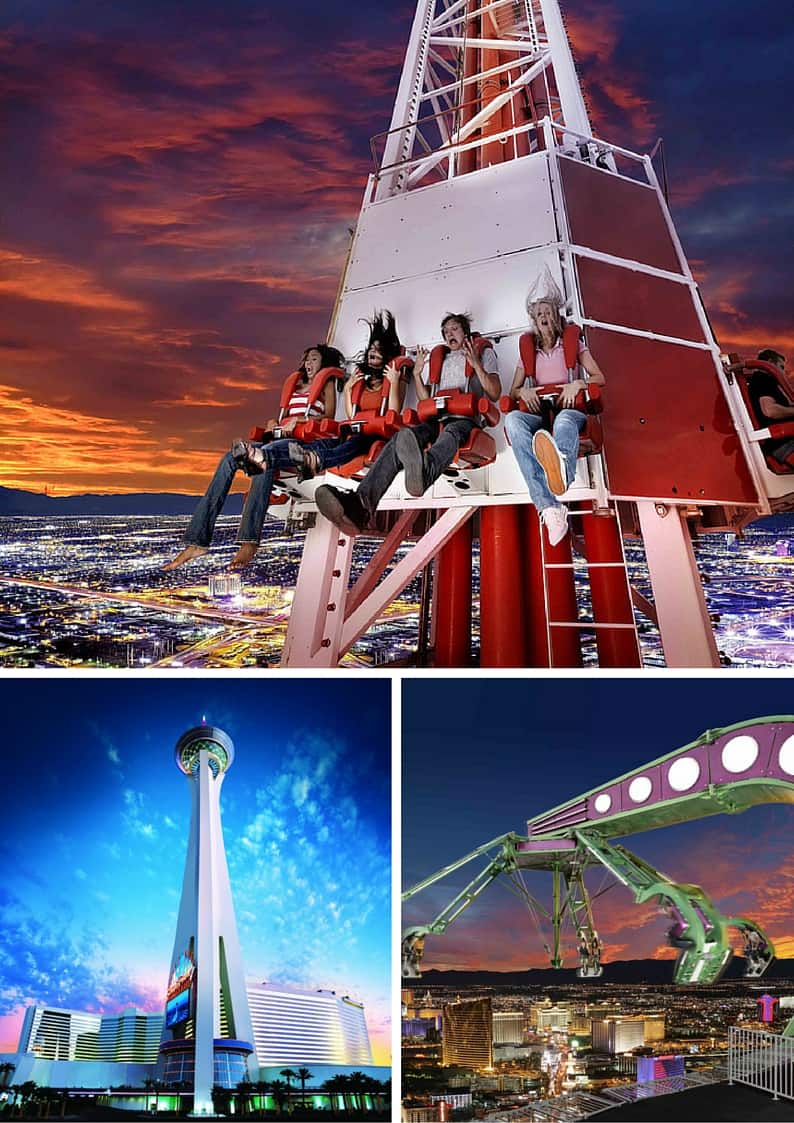 The Stratosphere is hotel and casino that towers overall on the North end of The Strip.  The Stratosphere is most famous for its views of The Strip and hair-raising rides.
It is by far the tallest building in Vegas, and the rides up top are NOT for someone who is afraid of heights. My favorite is the Big Shot, which shoots your seat straight up the top of the tower and into the sky.  It is the tallest thrill ride in the world.  If that isn't gutsy enough for you, you can jump off the top via controlled cables to the bottom.
7. The High Roller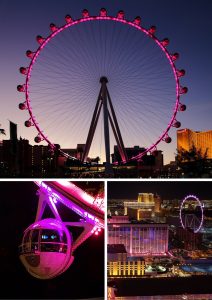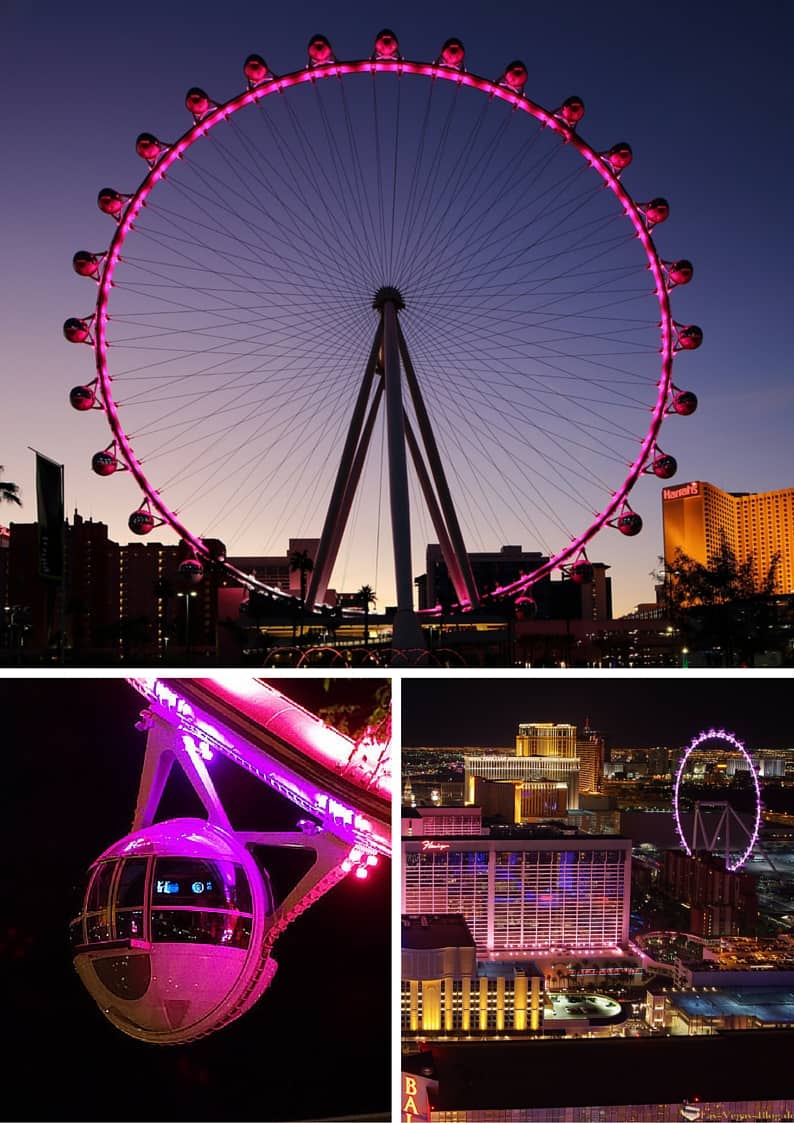 This gigantic observation/Ferris wheel is brand new to Las Vegas.  It is like the London Eye, but bigger.  Surprisingly it really is a fun ride as pods are big enough to feature whole groups of friends, and even your own bar and bartender.
Also Read: More Things To Do In Las Vegas 
8. Hoover Dam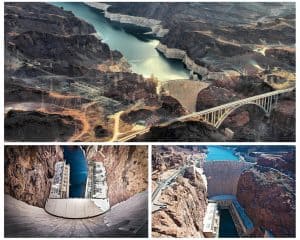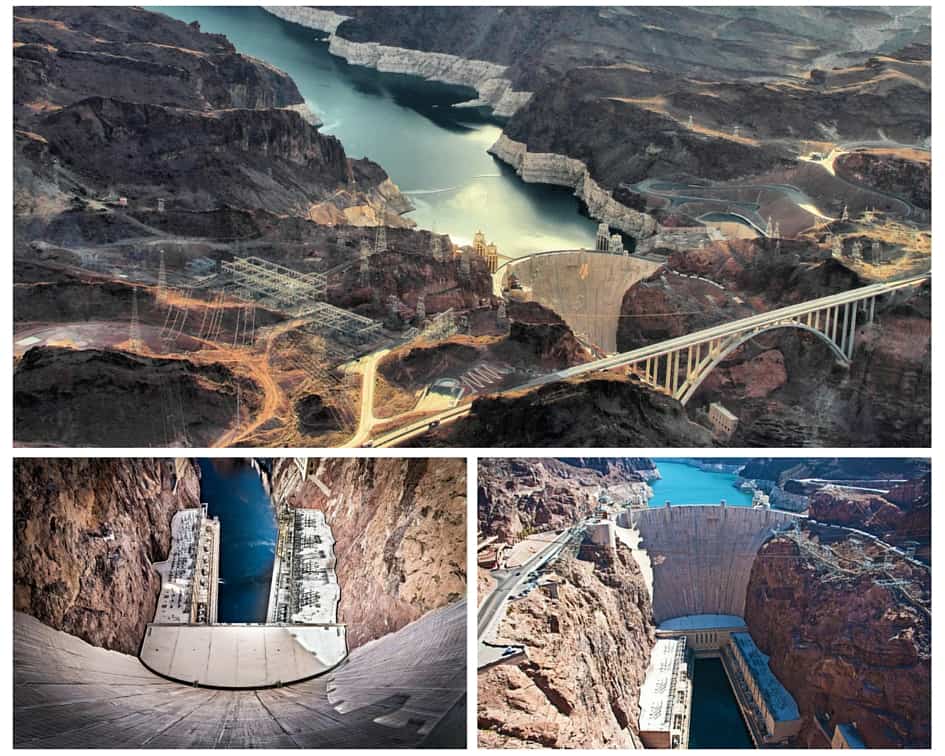 Not all the attractions in Vegas feature neon lights.  The Hoover Dam is a testament to modern engineering.  I found the tour showing how the dam generates power for Las Vegas fascinating.  Also, the lake made by the dam (Lake Mead) is great for boating.
9. Las Vegas Ski Resort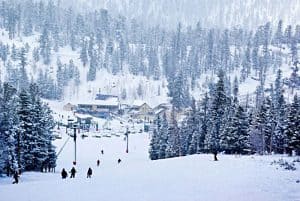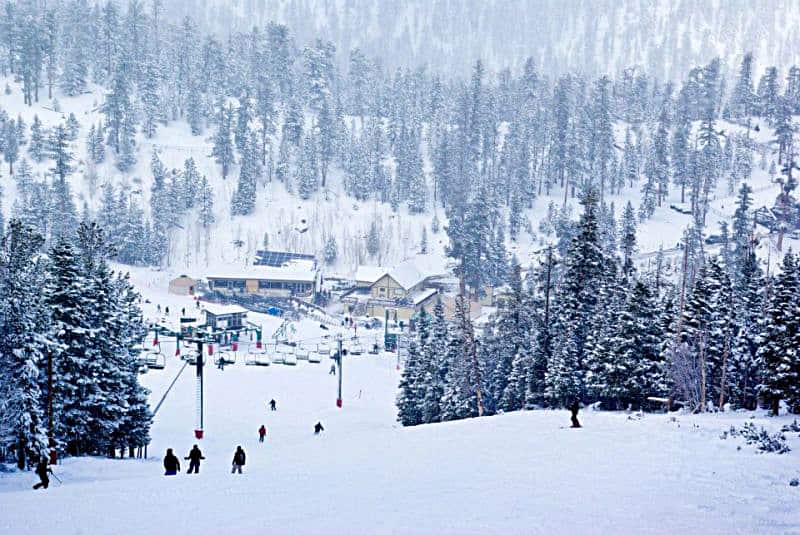 Yes, in the mountains just 45 minutes away from The Strip developers built a ski-resort.  It is not huge, and does not feature the world's best snow, but the novelty of being able to ski within 45 minutes of the scorching desert heat is unreal.
10. The Mob Museum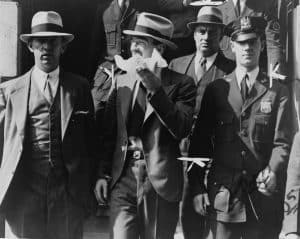 Part of the reason that Las Vegas is built the way it is today is that of the involvement of organized crime.  The mob used casinos to launder their money.  Supposedly organized crime is out of Vegas now, but a fascinating history remains.  The Mob Museum doesn't just explore Vegas' criminal history, but the characters that made this possible from around the country.  The museum does have some creepy elements as it allows visitors to hold a tommy gun, explore crime scene photos, and even see the bloody walls left from massacres.