Taiwan Baseball? It's 'Hot Noisy,' and Ingrained in National Identity
TAOYUAN, Taiwan — As the batter steps to the plate, the clamor crescendoes, a rhyming, thumping chant, often tailored to his name.
Cheerleaders prance atop the dugout, accompanied by blaring recorded music or even live drums and brass instruments. Fans wield all manner of noise makers — clappers, pairs of plastic bats, small vuvuzelas — pretty much nonstop for nine innings.
They are not trying to distract from the opposing team's batter, but to cheer on their own. How any batter manages to concentrate enough in the din to get a hit is anyone's guess.
"Yi qi an da! Yi qi an da!" (pronounced ee-chi-ahn-dah) goes one of the more general chants, which is, roughly, the way to say, "Let's get a hit together."
On a recent night, Chin Jou-lin, an ebullient 28-year-old fan, was sitting along the right-field line at Taoyuan International Baseball Stadium in this city in northwest Taiwan. She said she had heard that in America you could actually hear the crack of the bat hitting the ball. She giggled, incredulous.
"I can't imagine," she said.
To say baseball is a national obsession in Taiwan might be an overstatement since its fortunes have risen and fallen over the years. It does, however, seem deeply ingrained in its national identity as a small but spirited bastion of democracy.
The 500-note of the island's currency, the New Taiwan Dollar, depicts a baseball team, paying homage to its phenomenally successful youth teams, which, as any ex-Little Leaguer of a certain age will recall, dominated the Little League World Series from 1969 to 1996, winning 17 of 28 finals.
At a time when China endeavors to isolate Taiwan diplomatically, baseball remains one of the island's potent instruments of soft power and a path to international recognition. When the sport debuted in the Olympics in Barcelona in 1992, Taiwan won the silver medal, losing the championship game to another small, baseball-crazed island, Cuba.
"Brazil has football," said Shih Fu-dao, a taxi driver, as he drove a colleague and me to another game, this time in Tainan, in southern Taiwan. "Taiwan has baseball."
Quoting taxi drivers is a journalistic cliché that is best avoided, but Mr. Shih knew whereof he spoke. His son, Hsiang-kai, played professionally here for four seasons, from 2004 to 2008.
For all its obvious connections to the American pastime, baseball is not an American import. It came through Japan, where baseball had already been played for a quarter century when the Japanese seized Taiwan in 1895. At the time, Taiwan was controlled by the Qing-era rulers of China.
Andrew D. Morris, a contributing writer to "Baseball Beyond Our Borders: An International Pastime," wrote that the Japanese legacy shapes the game to this day, one more thing that distinguishes Taiwan's identity from China's.
After the forces of Chiang Kai-shek retreated to Taiwan and established the Republic of China following the Communist Revolution in 1949, the new government sought to erase the vestiges of Japanese rule, except for baseball.
The game's history since then has been as turbulent as the island's transition to democracy.
The Chinese Professional Baseball League — its very name a reflection of Taiwan's complicated history with China — formed only in 1990, after a long era of martial law that ended in 1987.
Teams have formed and folded, the league expanding and contracting. Scandals over gambling tarred the game. In 1996, gangsters kidnapped players who apparently did not follow through on a fix.
An even broader betting scandal erupted in 2008, leading to accusations against scores of players for accepting cash and sex with prostitutes to fix games. One team was expelled; another withdrew.
A year later scandal flared up again, implicating players from the Brother Elephants, one of the league's most popular teams.
Attendance plummeted. Some blamed the scandals, but others blamed the increasing numbers of foreign players.
A newspaper columnist complained in 1998 that so many foreign pitchers were being signed that the pitchers' mound was practically a "foreign concession," a bitter allusion to China's experience as a nation exploited by the colonial powers of Europe.
At the game's nadir in 2009, Taiwan's government and league executives intervened and vowed to clean up the sport, improving salaries and policing gambling more aggressively.
The league since then has settled down with four teams: the Lamigo Monkeys; the Uni-President 7-Eleven Lions, named after the convenience store, which is ubiquitous here; the Chinatrust Brothers, the franchise that emerged from the tainted Brother Elephants; and the newest, the Fubon Guardians.
Only the Monkeys, winners of the championship three of the last four years, have a dedicated stadium, beside the high-speed train station in Taoyuan. The others rotate home stadiums, though they are associated with their cities: the Guardians in Taipei, the Uni-Lions in Tainan and the Brothers in Taichung.
There is a consensus the league has been making a comeback. One reason is the most famous foreigner to play here: Manny Ramirez, a player with a stellar, though checkered career in the United States.
In 2013, after two suspensions for violating Major League Baseball's drug policy, Mr. Ramirez came to Taiwan. While he played in only 49 games, attendance soared and it has remained steady since.
(His presence might have been fleeting, but he was here long enough to be the source of what is arguably one of the most memorable home run calls by a television announcer. Ever. "This ball is long gone," he shouted, punctuating each word, "just like the ex-girlfriend who will never return!")
While the league might not have the renown of Japan's professional league, it has sent a dozen players to the Major Leagues, and continues to attract foreign players.
"On the road it's the worst," said Michael Nix, an American pitcher for the Monkeys, describing the hometown cheers for the batters he has to face. "You get used to it."
Attending games at the stadiums can feel like a tailgate party that rolls right into the stands before turning into an aerobic workout. Everyone seems to know not only the words to a lineup's worth of chants, which have a delirious mix of English and Chinese, but also the dances that go with them.
The experience at the ballpark can be so giddily polyglot that it seems only a little odd that a cheesy 1979 pop song by the German band Dschinghis Khan could be repurposed as a cheer for the Monkeys. "Go, go, Lamigo …."
Ms. Chin is a devoted fan of the Monkeys but also of the vibe in the stands. She commutes regularly to the games from Miaoli, an hour south by train. She was there on a recent evening with her boyfriend.
"He likes baseball," she explained, speaking a little more loudly since at that particularly deafening moment the Monkeys were padding their lead over the Guardians, 15-2, "but he doesn't like to dance."
Asked what attracted her to the game, she used a two-word phrase in Chinese whose meaning might not otherwise translate were it not uttered in a Taiwan ballpark on a sultry summer night:
"Hot noisy."
Correction:
An earlier version of this article misstated the year of the Olympics in Barcelona. They were in 1992, not 2002.
Follow Steven Lee Myers on Twitter: @stevenleemyers
Olivia Mitchell Ryan contributed research.
A version of this article appears in print on , on Page A4 of the New York edition with the headline: The Crack of the Bat? More Like the Roar of the Crowd
. Order Reprints | Today's Paper | Subscribe
10 Attractions You Can't Miss In Las Vegas
This desert oasis is a city that most people already know a decent amount about.  It is one of the biggest epicentres for gambling in the world.  When you get off a plane in Las Vegas airport you are immediately greeted by slot machines.  As you leave the airport you have amazing views of "The Strip", which is an incredibly long stretch of mega-casino and resorts lit up by glowing neon lights.  The gambling doesn't stop there as gas stations and even grocery stores feature slot machines (seriously, people hang out and gamble in grocery stores).
Las Vegas has done an excellent job of adding more than just gambling to its offerings.  It attempts to brand itself as the "entertainment capital of the world", and frankly they are doing a pretty good job of it.  There are musicians that take up permanent residency in Vegas (yes Britney, Backstreet Boys, and maybe Gaga), an incredible variety of shows (Cirque du Soleil to Blue Man Group), world-class dining options, phenomenal golf courses, mountain hikes, endless shopping (high end to outlet malls), pool parties and nightlife, and even a manmade beach and ski-resort.
As you visit Vegas you will be enthralled by everything "Sin City" has to offer.
This list is in no way inclusive of everything you could plan on a Vegas vacation but is designed to include some of the most iconic Las Vegas attractions that are perfect for the first timer, and things that you may not think to explore.
Also, check out these exclusive Las Vegas Timeshare Deals
Top 10 Must do's in Vegas
1. Welcome to Las Vegas Sign
Taking a picture at the Welcome to Las Vegas sign is a rite of passage for vacationers.  Whether you are here for a bachelor party, work convention, or just escaping cold winter temperatures this sign on the South end of The Strip is a perfect way to begin your trip.
2. Visit Foreign Cities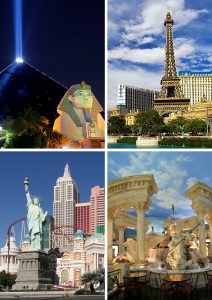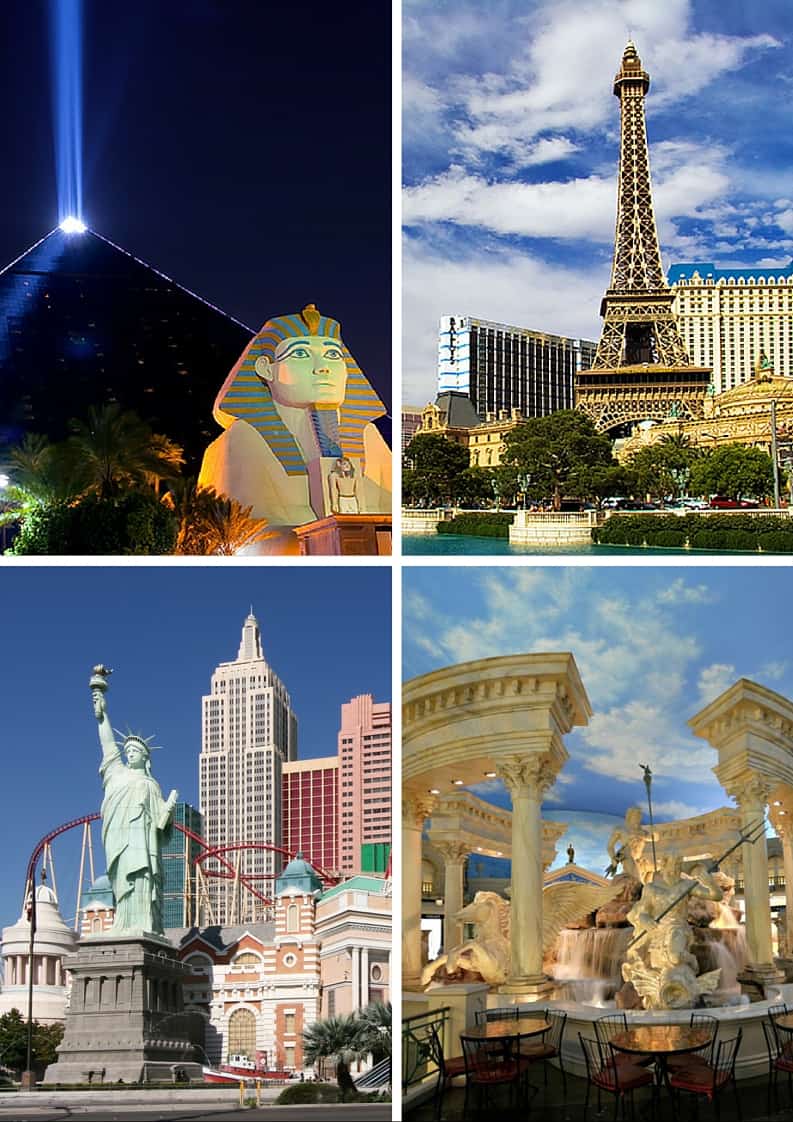 Okay not really, but lots of the casinos are based on a location or theme from somewhere else in the world.  The Paris features its own Eiffel Tower and really is reminiscent of Paris, the Venetian is based on Venice (discussed more below), the Luxor is based on ancient Egypt, Caesar's Palace is based off classic Rome, the Imperial Palace shouts out to Imperial Japan, and New York New York is pretty self-explanatory. Visiting a casino is not a substitute for seeing these places, but I recommend exploring more than just the one you stay in as it is fun to see what elements from around the world have implemented in Vegas.
3. Freemont Street (Old Vegas)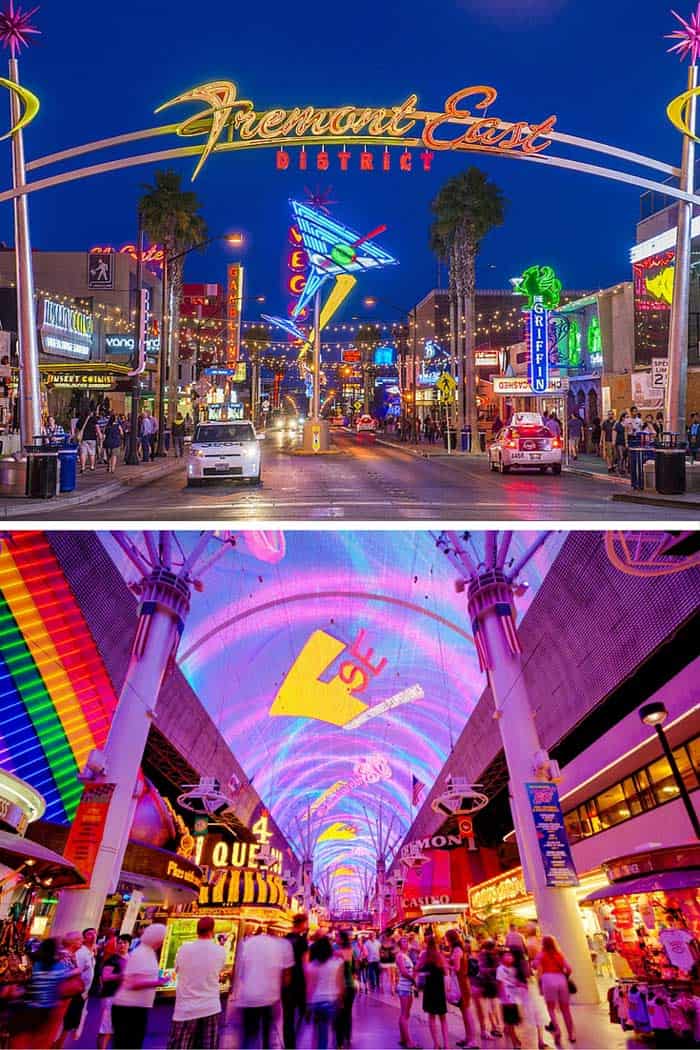 Freemont Street is where you will find the old school Vegas casinos like the 4 Queens and Golden Nugget (featuring a water slide through a shark tank). Even though it is old, it is not run down or left behind.
Freemont Street runs straight through most of the big classic casinos, and is a perfect spot to get a drink from an outdoor bar, see some of the most unique street performers in the world, experience free live music, as well as have strippers attempt to pull you in to see their shows (seriously, be careful).
4. Bellagio Fountain and Gardens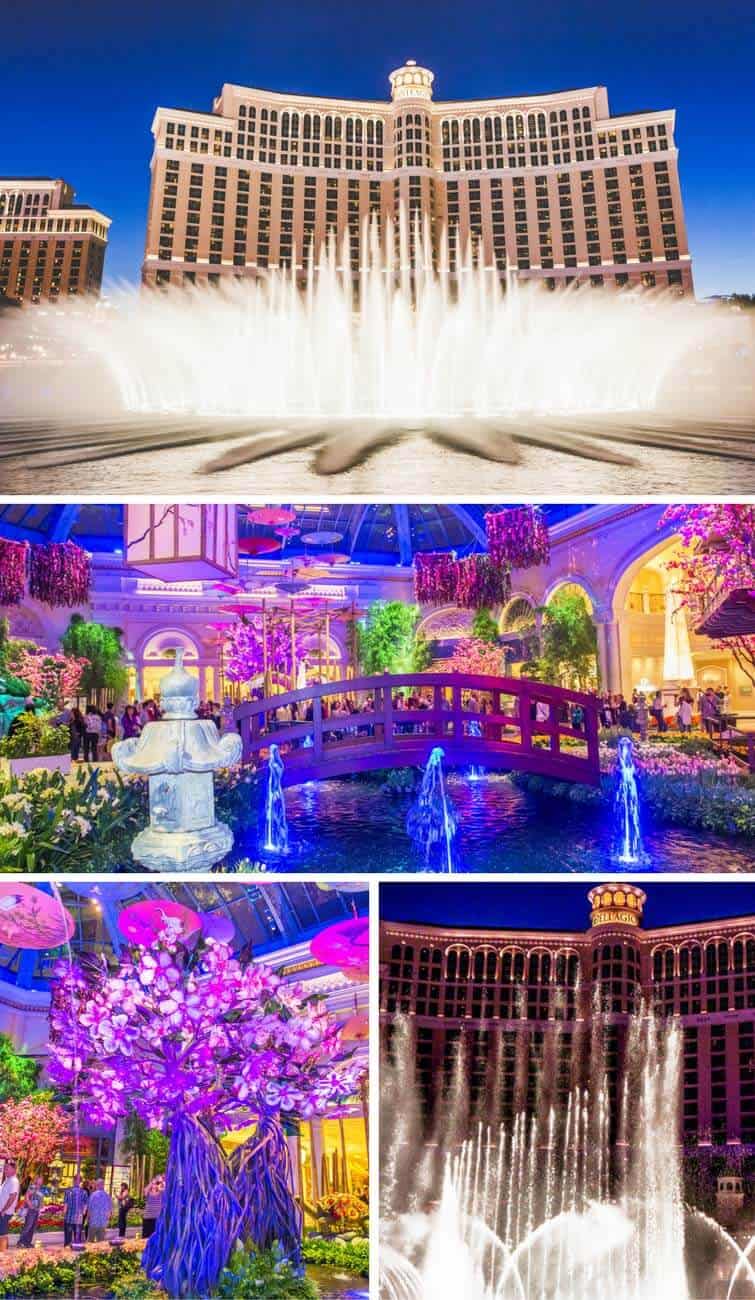 Even though each resort has fantastic things to see, the water show and botanical gardens at the Bellagio cannot be missed.  The 8-acre man-made lake features a dancing water fountain show choreographed to music.  The show is different every 15 minutes, and the results truly are beautiful.  This is the spot that was glorified in Oceans 11 (Brad Pitt and George Clooney could make anything glorious).
The gardens in the lobby are exquisitely decorated and maintained for each season with some of the unique plants and flowers in the world.  Even as a local I make a point to go down each year to see the gardens decorated with a Christmas theme.
5. Gondola Ride at the Venetian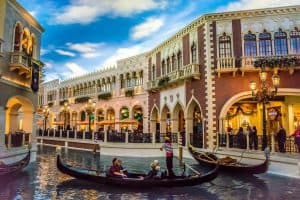 The sky in this picture really is painted on, and it does look that amazing in person.
The Venetian is a luxury resort based off of Venice Italy.  My favorite part of the Venetian is that they built canals throughout the ground floor and mall of the casino, and offer motorized gondola rides while you get serenaded by your very own gondolier.
Even though it makes my husband want to barf, I love how romantic these rides are.  Somehow they designed it so that you don't feel like you are floating through the middle of a casino.
6. Adventure Rides at the Stratosphere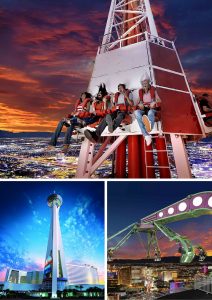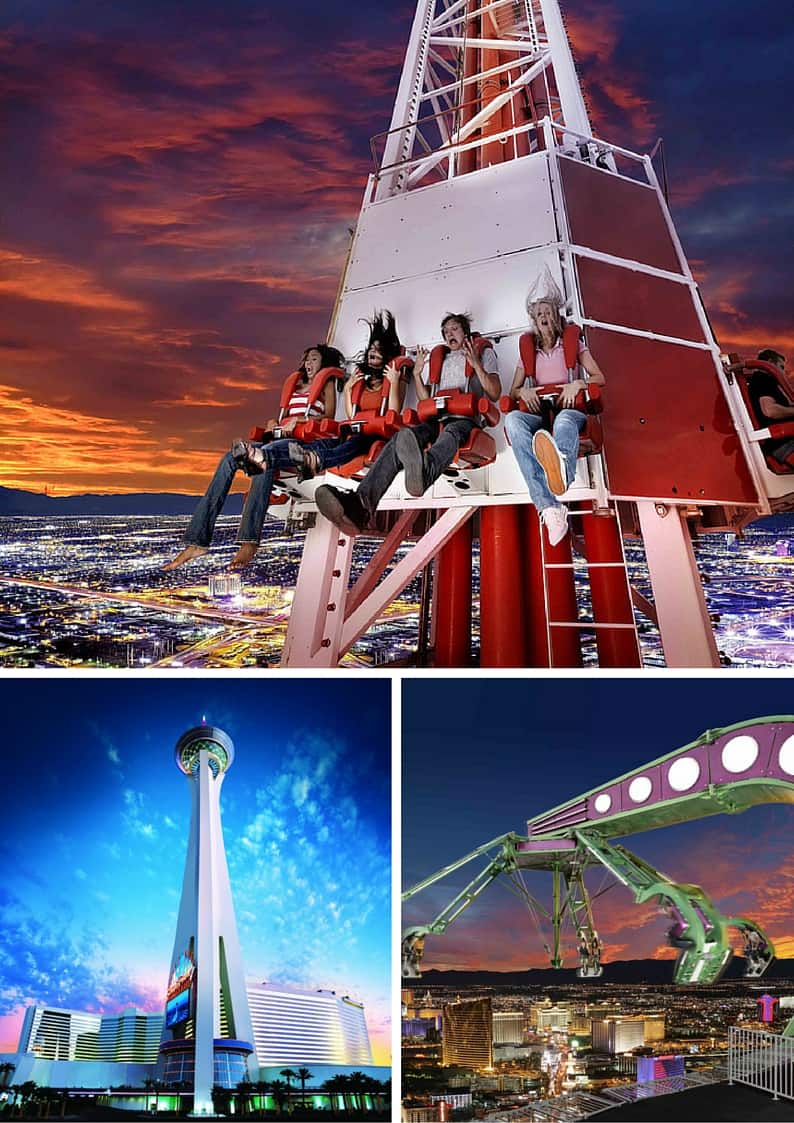 The Stratosphere is hotel and casino that towers overall on the North end of The Strip.  The Stratosphere is most famous for its views of The Strip and hair-raising rides.
It is by far the tallest building in Vegas, and the rides up top are NOT for someone who is afraid of heights. My favorite is the Big Shot, which shoots your seat straight up the top of the tower and into the sky.  It is the tallest thrill ride in the world.  If that isn't gutsy enough for you, you can jump off the top via controlled cables to the bottom.
7. The High Roller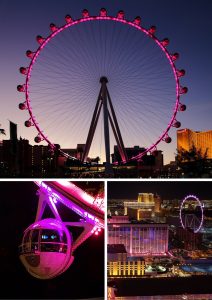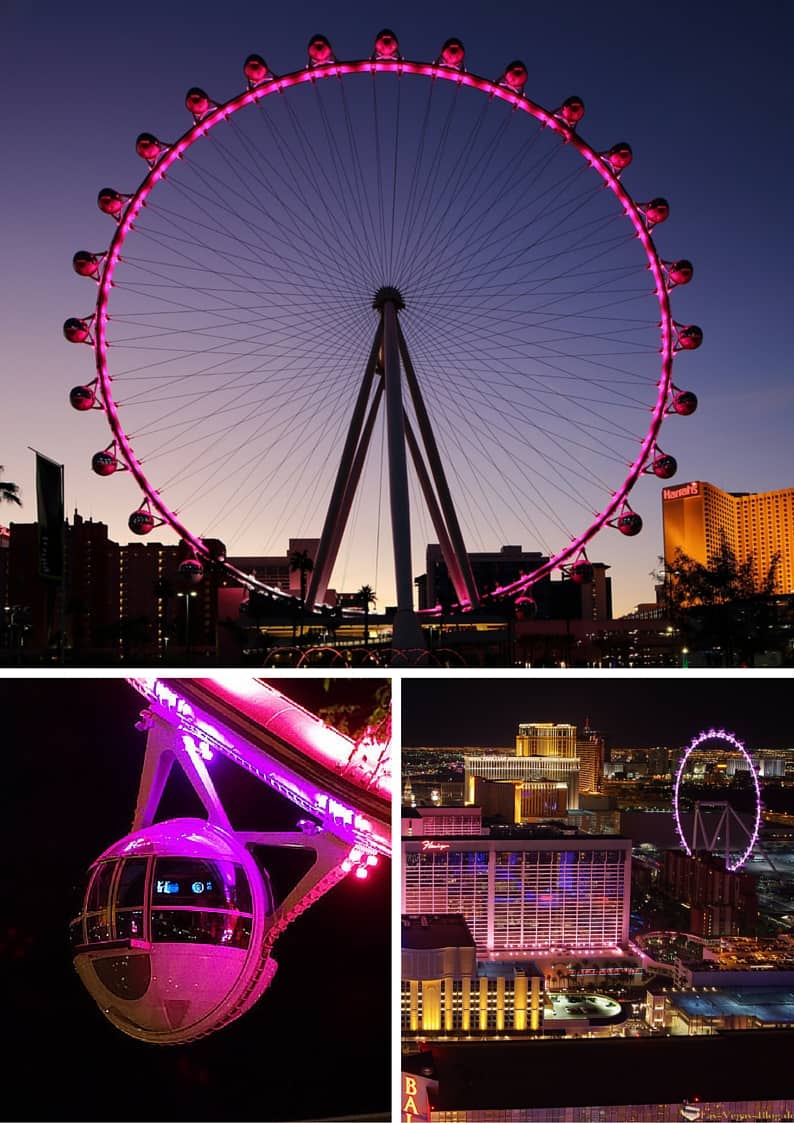 This gigantic observation/Ferris wheel is brand new to Las Vegas.  It is like the London Eye, but bigger.  Surprisingly it really is a fun ride as pods are big enough to feature whole groups of friends, and even your own bar and bartender.
Also Read: More Things To Do In Las Vegas 
8. Hoover Dam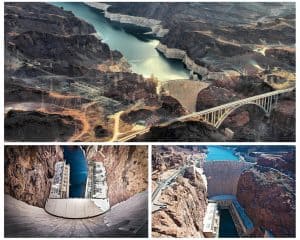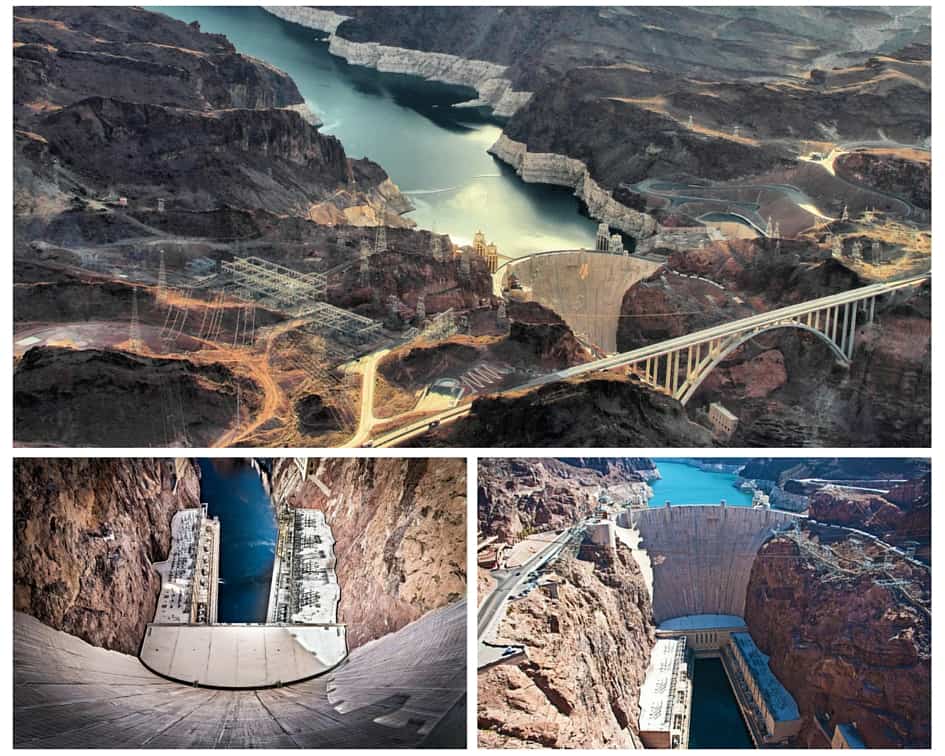 Not all the attractions in Vegas feature neon lights.  The Hoover Dam is a testament to modern engineering.  I found the tour showing how the dam generates power for Las Vegas fascinating.  Also, the lake made by the dam (Lake Mead) is great for boating.
9. Las Vegas Ski Resort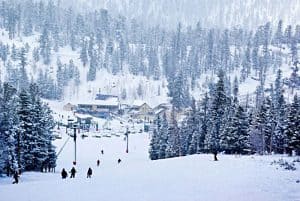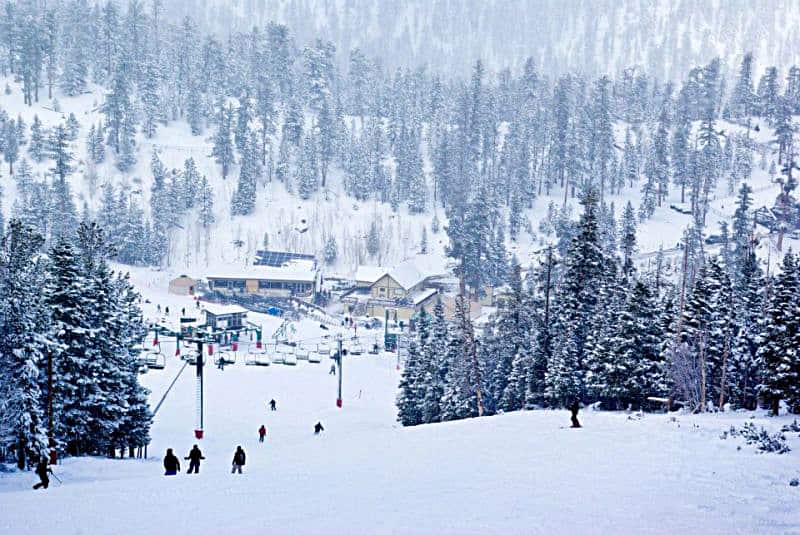 Yes, in the mountains just 45 minutes away from The Strip developers built a ski-resort.  It is not huge, and does not feature the world's best snow, but the novelty of being able to ski within 45 minutes of the scorching desert heat is unreal.
10. The Mob Museum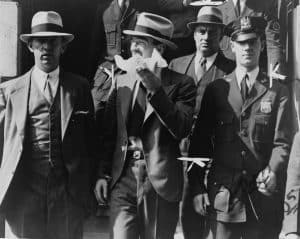 Part of the reason that Las Vegas is built the way it is today is that of the involvement of organized crime.  The mob used casinos to launder their money.  Supposedly organized crime is out of Vegas now, but a fascinating history remains.  The Mob Museum doesn't just explore Vegas' criminal history, but the characters that made this possible from around the country.  The museum does have some creepy elements as it allows visitors to hold a tommy gun, explore crime scene photos, and even see the bloody walls left from massacres.