President Admits Focus of Trump Tower Meeting Was Getting Dirt on Clinton
WASHINGTON — President Trump said on Sunday that a Trump Tower meeting between top campaign aides and a Kremlin-connected lawyer was designed to "get information on an opponent" — the starkest acknowledgment yet that a statement he dictated last year about the encounter was misleading.
Mr. Trump made the comment in a tweet on Sunday morning that was intended to be a defense of the June 2016 meeting and the role his son Donald Trump Jr. played in hosting it. The president claimed that it was "totally legal" and of the sort "done all the time in politics."
But the tweet also served as an admission that the Trump team had not been forthright when Donald Trump Jr. issued a statement in July 2017 saying that the meeting had been primarily about the adoption of Russian children.
That statement is being scrutinized by the special counsel, Robert S. Mueller III, who is examining a broad array of Mr. Trump's tweets and public statements to determine whether he made them as part of an effort to deceive investigators.
People close to the president believe that he may be increasing his legal jeopardy by continuing to speak publicly about sensitive matters even as his campaign is under investigation for possible collusion with Russia and he himself is under scrutiny for possible obstruction of justice. Just last week, Mr. Trump said in a tweet that Attorney General Jeff Sessions should shut down the special counsel investigation.
While the president tried again on Sunday to portray the Trump Tower meeting as routine, it is being examined as part of Mr. Mueller's investigation into whether Mr. Trump's campaign conspired with the Russians to undermine Hillary Clinton's campaign.
It is illegal for a campaign to accept help from a foreign individual or government. The president and his son have maintained that the campaign did not ultimately receive any damaging materials about Mrs. Clinton as a result of the meeting. But some legal experts contend that by simply sitting for the meeting, Donald Trump Jr. broke the law.
In his tweet on Sunday, the president denied a report in The Washington Post that he was worried about the legal exposure for Donald Trump Jr. While the president said that the meeting was legal, he also distanced himself from it, repeating his assertion that he knew nothing about it at the time.
Donald Trump Jr. issued his statement in July 2017 after The New York Times revealed the existence of the meeting. The meeting's true purpose was exposed a few days later when The Times published emails between Donald Trump Jr. and Rob Goldstone, a British-born former tabloid reporter and entertainment publicist who helped arrange it. Mr. Goldstone said he had "something very interesting" — sensitive information that "is part of Russia and its government's support for Mr. Trump."
After the meeting was revealed, Mr. Trump posted a tweet similar to the one he wrote on Sunday morning: "Most politicians would have gone to a meeting like the one Don jr attended in order to get info on an opponent. That's politics!" But his administration at the time was sticking to the adoption story line, with his press secretary, Sean Spicer, saying later that day that there was no evidence that anything but that topic had been discussed during the meeting.
Numerous White House aides and lawyers for the president aggressively denied at the time that the president had been involved in drafting the misleading statement. Jay Sekulow, one of the president's lawyers, said in 2017 that "the president was not involved in the drafting of that statement." Sarah Huckabee Sanders, the current press secretary, insisted that the president "certainly didn't dictate" the statement.
But The Post reported in July 2017 that Mr. Trump had in fact done so. And earlier this year, Mr. Trump's lawyers acknowledged in a memo to Mr. Mueller that the president had dictated the statement.
On Sunday, Mr. Sekulow admitted that his earlier statement had been erroneous, saying on ABC News's "This Week" that "I had bad information at that time and made a mistake in my statement."
In the interview, Mr. Sekulow said that it was not clear what laws the president's son and the other campaign officials at the Trump Tower meeting might have violated when they met with the Kremlin-connected lawyer.
"Well, the question is: H ow would it be illegal?" Mr. Sekulow said. "What law, statute or rule or regulation's been violated? Nobody's pointed to one."
Mr. Trump's tweet on Sunday was one in a series in which he renewed his attacks on Mr. Mueller, saying his inquiry was riddled with "lies and corruption."
It came as Mr. Trump's lawyers are continuing to try to come to terms on a presidential interview with the special counsel. While his lawyers — who believe that an interview would be a perjury trap — have argued against granting one, Mr. Trump wants to answer questions, and he has pushed his lawyers in recent days to continue negotiating the parameters of an interview.
Mr. Mueller's investigators have told Mr. Trump's lawyers that they want to ask him what he knew about the Trump Tower meeting at the time. The president believes that by answering the investigators' questions, he can explain to Mr. Mueller that he and his campaign did nothing wrong, and bring an end to the investigation.
But the president and his legal advisers have in recent weeks ratcheted up their attacks on Mr. Mueller personally. In other tweets on Sunday, Mr. Trump again called the inquiry a "Rigged Witch Hunt" and singled out Mr. Mueller by name — a step he had avoided until recently.
"Why aren't Mueller and the 17 Angry Democrats looking at the meetings concerning the Fake Dossier and all of the lying that went on in the FBI and DOJ?" Mr. Trump said, once again attacking his own law enforcement agencies.
"This is the most one sided Witch Hunt in the history of our country. Fortunately, the facts are all coming out, and fast!" he added.
Mr. Sekulow echoed the president in the interview on Sunday. Asked about the Trump Tower meeting, he repeatedly steered his answers back to attacks on Mr. Mueller's investigation.
"Let's be honest with the American people, there are irregularities in this investigation the likes of which we have not seen," Mr. Sekulow said, mimicking one of the president's favorite phrases.
10 Attractions You Can't Miss In Las Vegas
This desert oasis is a city that most people already know a decent amount about.  It is one of the biggest epicentres for gambling in the world.  When you get off a plane in Las Vegas airport you are immediately greeted by slot machines.  As you leave the airport you have amazing views of "The Strip", which is an incredibly long stretch of mega-casino and resorts lit up by glowing neon lights.  The gambling doesn't stop there as gas stations and even grocery stores feature slot machines (seriously, people hang out and gamble in grocery stores).
Las Vegas has done an excellent job of adding more than just gambling to its offerings.  It attempts to brand itself as the "entertainment capital of the world", and frankly they are doing a pretty good job of it.  There are musicians that take up permanent residency in Vegas (yes Britney, Backstreet Boys, and maybe Gaga), an incredible variety of shows (Cirque du Soleil to Blue Man Group), world-class dining options, phenomenal golf courses, mountain hikes, endless shopping (high end to outlet malls), pool parties and nightlife, and even a manmade beach and ski-resort.
As you visit Vegas you will be enthralled by everything "Sin City" has to offer.
This list is in no way inclusive of everything you could plan on a Vegas vacation but is designed to include some of the most iconic Las Vegas attractions that are perfect for the first timer, and things that you may not think to explore.
Also, check out these exclusive Las Vegas Timeshare Deals
Top 10 Must do's in Vegas
1. Welcome to Las Vegas Sign
Taking a picture at the Welcome to Las Vegas sign is a rite of passage for vacationers.  Whether you are here for a bachelor party, work convention, or just escaping cold winter temperatures this sign on the South end of The Strip is a perfect way to begin your trip.
2. Visit Foreign Cities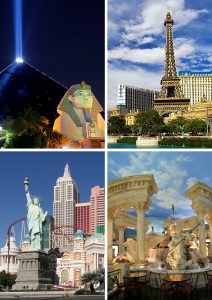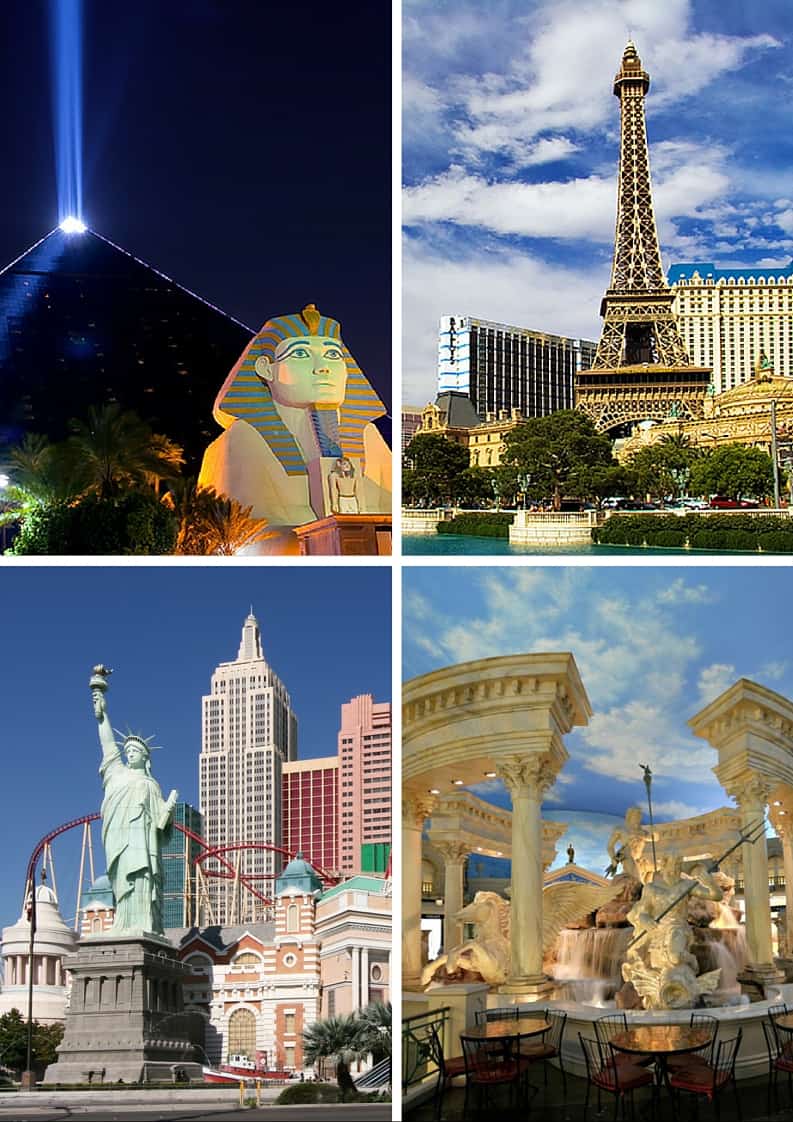 Okay not really, but lots of the casinos are based on a location or theme from somewhere else in the world.  The Paris features its own Eiffel Tower and really is reminiscent of Paris, the Venetian is based on Venice (discussed more below), the Luxor is based on ancient Egypt, Caesar's Palace is based off classic Rome, the Imperial Palace shouts out to Imperial Japan, and New York New York is pretty self-explanatory. Visiting a casino is not a substitute for seeing these places, but I recommend exploring more than just the one you stay in as it is fun to see what elements from around the world have implemented in Vegas.
3. Freemont Street (Old Vegas)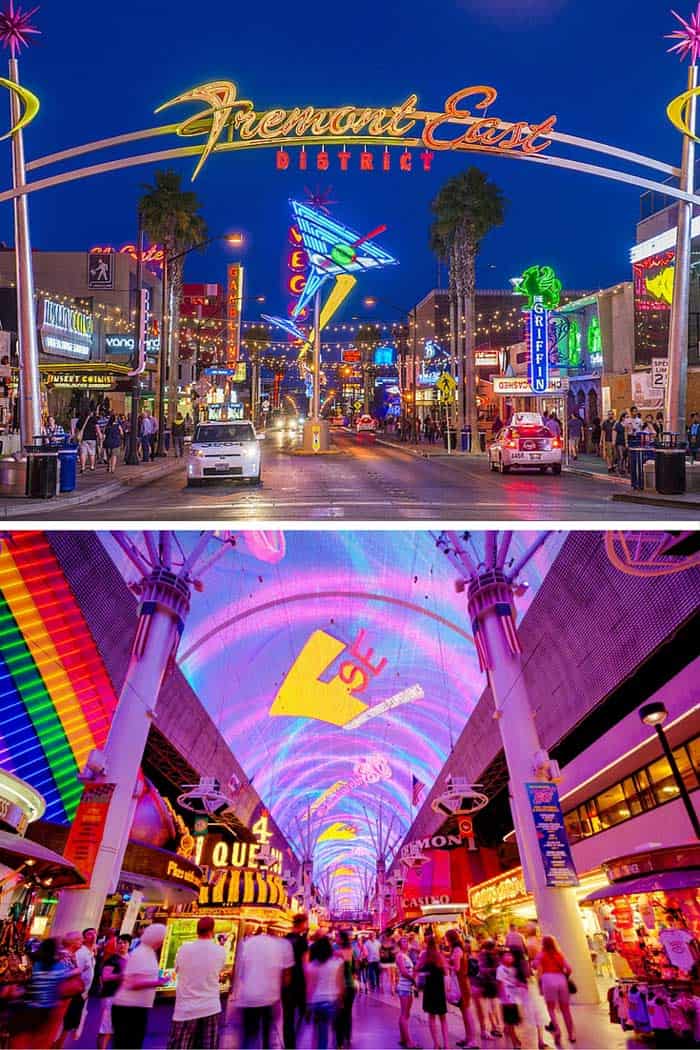 Freemont Street is where you will find the old school Vegas casinos like the 4 Queens and Golden Nugget (featuring a water slide through a shark tank). Even though it is old, it is not run down or left behind.
Freemont Street runs straight through most of the big classic casinos, and is a perfect spot to get a drink from an outdoor bar, see some of the most unique street performers in the world, experience free live music, as well as have strippers attempt to pull you in to see their shows (seriously, be careful).
4. Bellagio Fountain and Gardens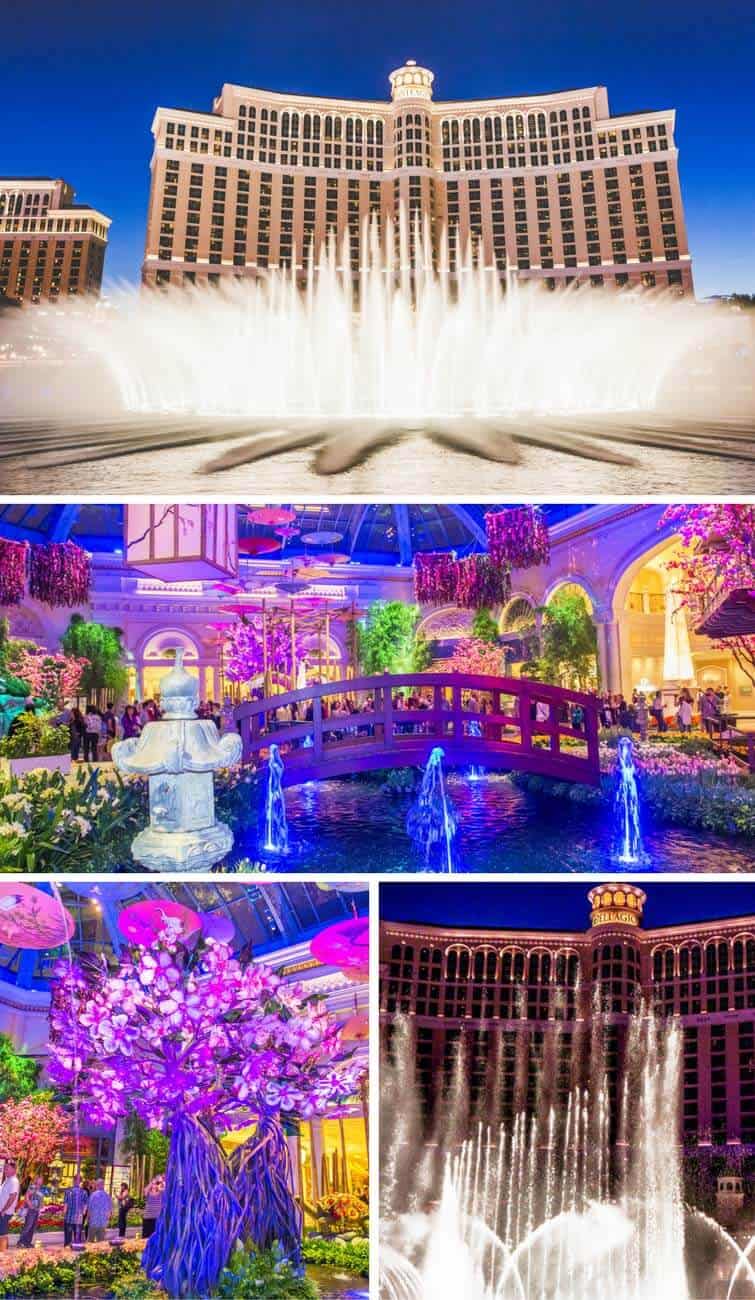 Even though each resort has fantastic things to see, the water show and botanical gardens at the Bellagio cannot be missed.  The 8-acre man-made lake features a dancing water fountain show choreographed to music.  The show is different every 15 minutes, and the results truly are beautiful.  This is the spot that was glorified in Oceans 11 (Brad Pitt and George Clooney could make anything glorious).
The gardens in the lobby are exquisitely decorated and maintained for each season with some of the unique plants and flowers in the world.  Even as a local I make a point to go down each year to see the gardens decorated with a Christmas theme.
5. Gondola Ride at the Venetian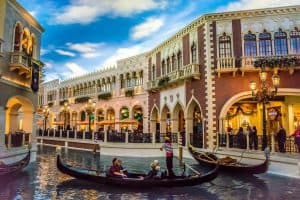 The sky in this picture really is painted on, and it does look that amazing in person.
The Venetian is a luxury resort based off of Venice Italy.  My favorite part of the Venetian is that they built canals throughout the ground floor and mall of the casino, and offer motorized gondola rides while you get serenaded by your very own gondolier.
Even though it makes my husband want to barf, I love how romantic these rides are.  Somehow they designed it so that you don't feel like you are floating through the middle of a casino.
6. Adventure Rides at the Stratosphere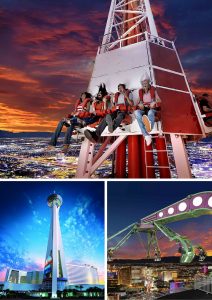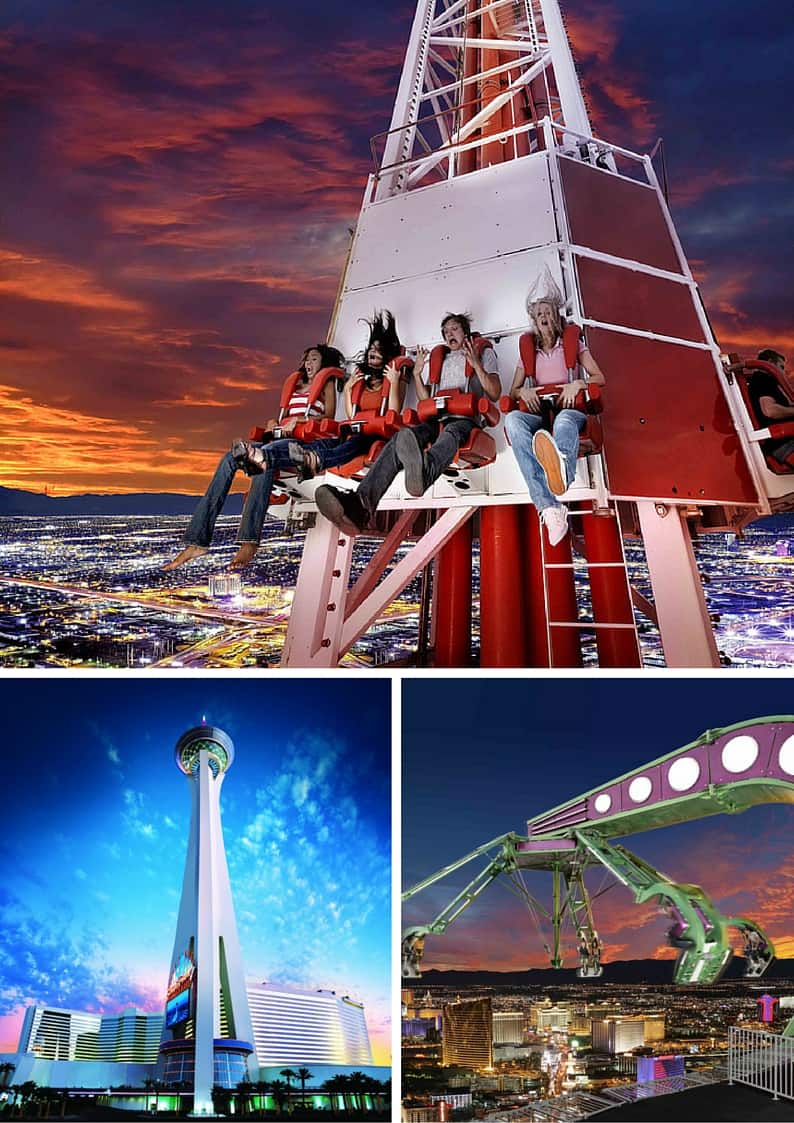 The Stratosphere is hotel and casino that towers overall on the North end of The Strip.  The Stratosphere is most famous for its views of The Strip and hair-raising rides.
It is by far the tallest building in Vegas, and the rides up top are NOT for someone who is afraid of heights. My favorite is the Big Shot, which shoots your seat straight up the top of the tower and into the sky.  It is the tallest thrill ride in the world.  If that isn't gutsy enough for you, you can jump off the top via controlled cables to the bottom.
7. The High Roller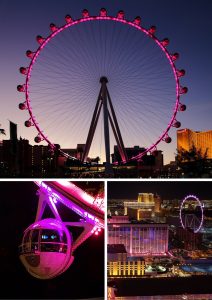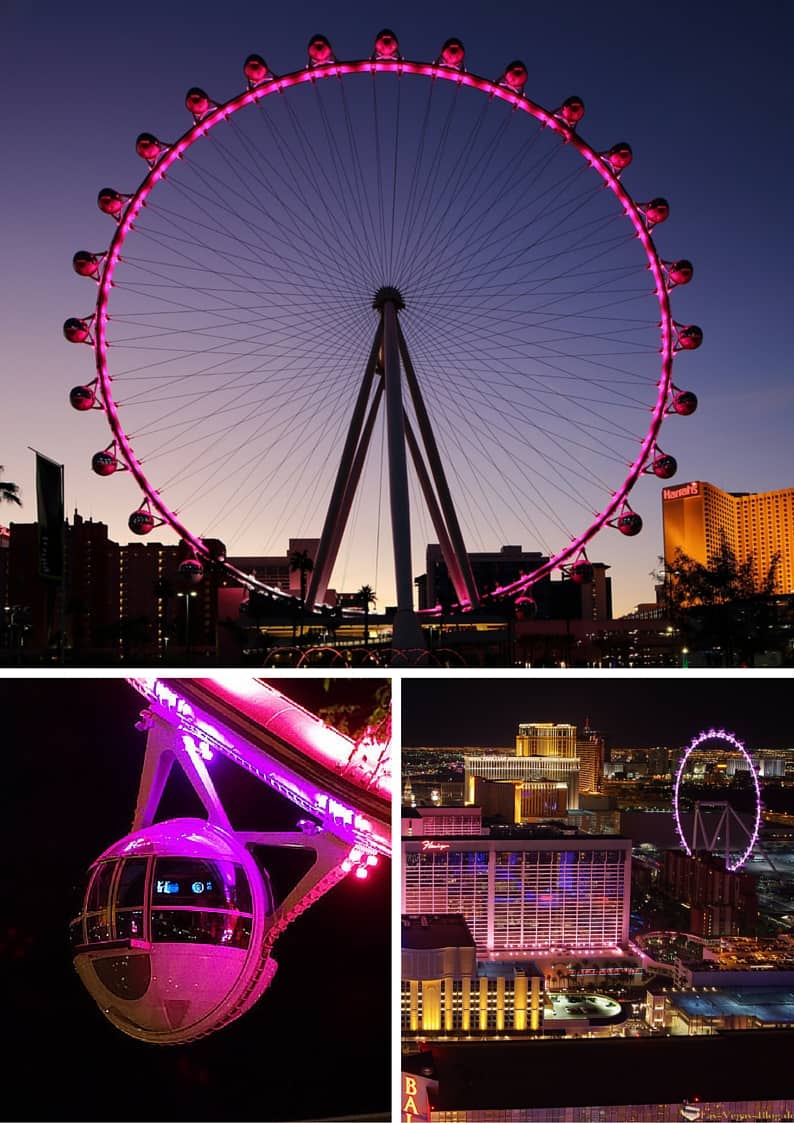 This gigantic observation/Ferris wheel is brand new to Las Vegas.  It is like the London Eye, but bigger.  Surprisingly it really is a fun ride as pods are big enough to feature whole groups of friends, and even your own bar and bartender.
Also Read: More Things To Do In Las Vegas 
8. Hoover Dam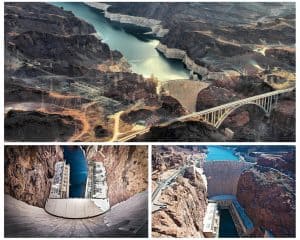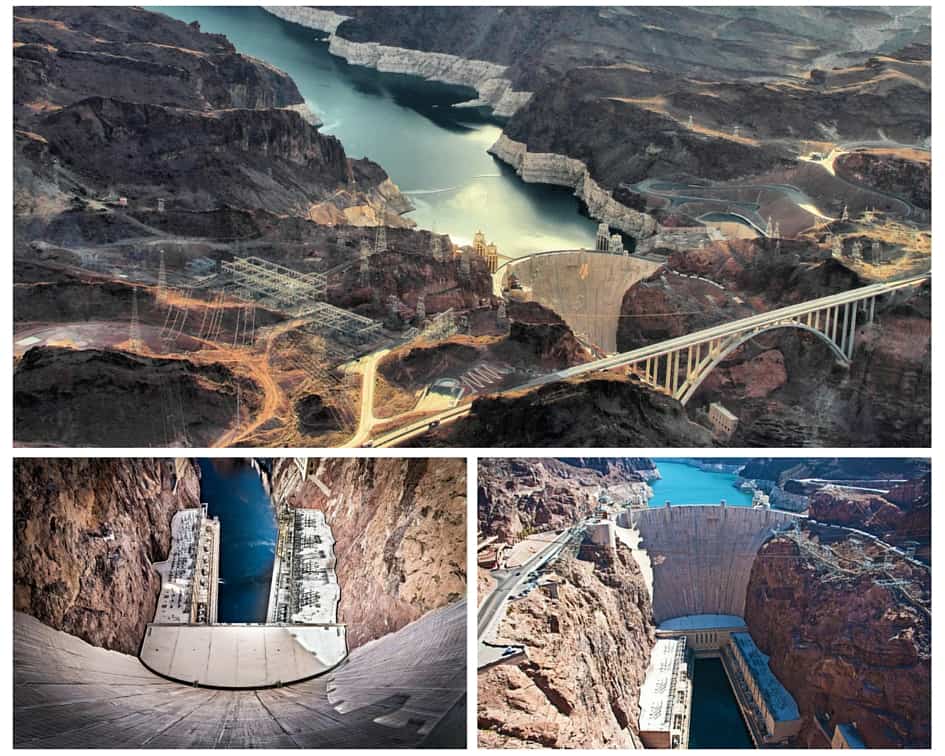 Not all the attractions in Vegas feature neon lights.  The Hoover Dam is a testament to modern engineering.  I found the tour showing how the dam generates power for Las Vegas fascinating.  Also, the lake made by the dam (Lake Mead) is great for boating.
9. Las Vegas Ski Resort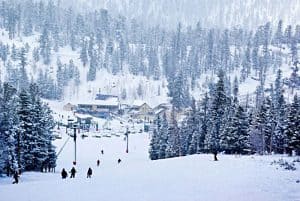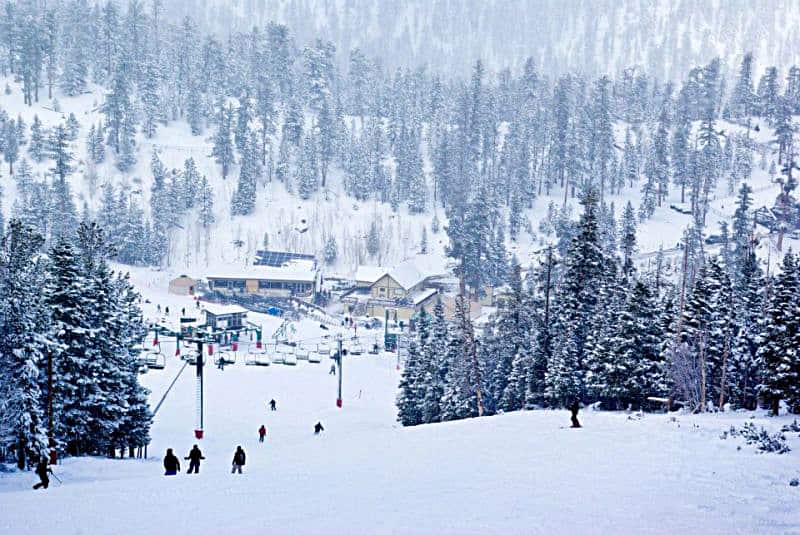 Yes, in the mountains just 45 minutes away from The Strip developers built a ski-resort.  It is not huge, and does not feature the world's best snow, but the novelty of being able to ski within 45 minutes of the scorching desert heat is unreal.
10. The Mob Museum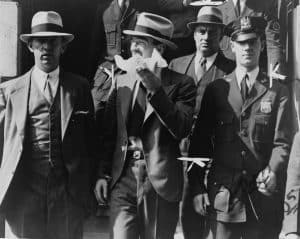 Part of the reason that Las Vegas is built the way it is today is that of the involvement of organized crime.  The mob used casinos to launder their money.  Supposedly organized crime is out of Vegas now, but a fascinating history remains.  The Mob Museum doesn't just explore Vegas' criminal history, but the characters that made this possible from around the country.  The museum does have some creepy elements as it allows visitors to hold a tommy gun, explore crime scene photos, and even see the bloody walls left from massacres.