Paul Manafort Trial Live Updates: After a $215,000 Tax Bill, Manafort Writes 'This Is a Disaster'
The prosecution is relying heavily on Mr. Gates to show that Mr. Manafort directed a multiyear financial fraud scheme, even if Mr. Gates helped him execute it. Mr. Gates, 46, President Trump's former deputy campaign chairman, has figured more prominently than Mr. Manafort in the documents that prosecutors have presented as evidence.
But the prosecution's witnesses have also testified that they generally believed that Mr. Gates was carrying out Mr. Manafort's wishes when he gave false information to Mr. Manafort's accountants. Prosecutors claim that information helped Mr. Manafort evade taxes on tens of millions of dollars in income and fraudulently obtain millions of dollars in bank loans.
Hiding income to avoid taxes
Mr. Gates described how he helped Mr. Manafort conceal the amount of taxes he owed. According to Mr. Gates, Mr. Manafort preferred to report income as loans. This, Mr. Gates said, "enabled Mr. Manafort to reduce his overall tax liability."
In one instance, Mr. Gates disclosed that they had received money from an oligarch and politician from Ukraine, Serhiy Lyovochkin. Mr. Manafort instructed his bookkeeper to classify it as a loan for tax purposes, though Mr. Gates admitted in court that it was not one and Mr. Manafort had never received a loan from Mr. Lyovochkin.
Mr. Gates admitted that at Mr. Manafort's behest, they later created a loan agreement for Mr. Lyovochkin's payment, though no loan existed.
Mr. Manafort disliked paying a lot of taxes, Mr. Gates said.
With his income drying up in 2015, Mr. Manafort was upset when he learned how much he apparently owed in federal taxes; one estimate showed that Mr. Manafort would owe $215,000 in taxes for income he reported in 2014. He wrote to Mr. Gates: "How could I be blindsided like this. You told me you were on top of this. We need to discuss options. This is a disaster."
Documents introduced showed the two men routinely discussed a range of financial issues, from an existing mortgage on one of Mr. Manafort's homes to Mr. Manafort's season tickets to his favorite sports teams. A March 2013 memo documenting one of their discussions noted: "Yankees tickets never received. Tickets going to Trump next week."
How their scheme worked
When one of the defense lawyers tried to suggest to Mr. Manafort's tax accountant Monday that Mr. Gates had kept Mr. Manafort in the dark about his own finances, the accountant, Cynthia Laporta, pushed back.
"In most instances, it was clear that Mr. Manafort was aware what was going on," she testified.
Mr. Gates's statements reinforced that picture. He said that Mr. Manafort knew it was illegal not to report his foreign bank accounts to the Treasury Department but asked Mr. Gates to help him deceive his accountants so he could conceal income and pay less in taxes.
"I assisted Mr. Manafort in filing false tax returns," Mr. Gates testified. "We didn't report the income or the fact that the accounts existed."
He said that some of Mr. Manafort's income was disguised as loans from 15 shell companies that Mr. Manafort controlled, most of them in Cyprus.
Four Ukrainian oligarchs funneled money to Mr. Manafort's accounts from their own shell companies in Cyprus, Mr. Gates testified. Once that income dried up, the government alleges, Mr. Manafort, with Mr. Gates's help, falsified financial records so he could obtain bank loans to maintain his opulent lifestyle.
In late 2015 and 2016, Mr. Manafort's political consulting firm had no clients. Mr. Gates said that in March 2016, when he and Mr. Manafort joined a "presidential campaign" in the United States — he did not name Mr. Trump's bid for office — the firm had no clients. He said vendors and accountants were dunning Mr. Manafort about his unpaid bills.
How the money moved
Mr. Gates's testimony was a clinical examination of their business dealings as Greg D. Andres, the lead prosecutor, walked him through thick binders of financial documents and emails. Under questioning, Mr. Gates described how he and Mr. Manafort set up companies in Cyprus that concealed their identities and true ownership. Mr. Gates and Mr. Manafort used a Cypriot lawyer nicknamed "Dr. K." to establish these companies.
Mr. Gates testified that the money they earned for the political consultancy work in Ukraine passed through bank accounts in Cyprus that they controlled. Mr. Gates also said that they sometimes characterized payments as loans to mask income. He described how they also transferred money from their Cypriot bank accounts to a bank in the Caribbean.
What they did for the money
The accusations against Mr. Manafort and Mr. Gates mostly stem from their work helping to elect Viktor F. Yanukovych, the former president of Ukraine, and other pro-Russia forces in Ukraine, and to secure business ventures with the oligarchs backing those politicians.
But on Tuesday, Mr. Gates testified that Mr. Manafort also was paid $4 million a year to help Mr. Yanukovych govern after he was elected president in 2010.
It is unclear how long the arrangement extended.
But the revelation could be notable, because, while Mr. Yanukovych ran on a platform of integrating with the European Union, while also maintaining good relations with Russia, he eventually pivoted toward Moscow, which helped prompt mass street protests that drove him from power in early 2014.
Mr. Gates also said that two American lobbying firms — the Podesta Group and Mercury Public Affairs — assisted with their policy consulting efforts. Mr. Mueller's team has referred cases related to the firms' work to federal investigators in the Southern District of New York.
Manafort sought inaugural tickets, administration jobs for banker
Mr. Manafort asked Mr. Gates to help arrange inauguration tickets and administration posts — including secretary of the Army — for a banker from whom Mr. Manafort is accused of fraudulently seeking loans, Mr. Gates testified.
Emails presented during Mr. Manafort's trial showed that he sought the favors for Stephen M. Calk, the founder and CEO of The Federal Savings Bank of Chicago. The bank began issuing loans that eventually totaled $16 million to Mr. Manafort in the days after Mr. Trump's election based on false information provided by Mr. Manafort.
The special counsel is reportedly investigating whether the loans were issued in exchange for helping Mr. Calk land a post in Mr. Trump's nascent administration.
In one email sent during the presidential transition, when Mr. Gates was serving on the inaugural committee, Mr. Manafort said "we need to discuss Steve Calk for Secretary of Army."
It is unclear whether Mr. Gates responded or tried to push Mr. Calk's prospective nomination, which did not advance.
In another email, Mr. Gates he was involved in discussions about nominating Mr. Calk to an economic advisory council. And in a third email just before Christmas 2016, Mr. Manafort included the names of Mr. Calk and his son on a list of people he would like to invite to the inauguration.
Work extended to Ukraine's current leader
Mr. Gates testified about how he and Mr. Manafort continued working in Ukraine after their primary client, Viktor F. Yanukovych, fled the country in February 2014.
The men signed a consulting contract with a new party called Opposition Bloc, which was created and funded partly by the same Russia-aligned oligarchs who backed Mr. Yanukovych, Mr. Gates said. The party won seats in an October 2014 parliamentary election; Mr. Gates testified that the work ended then.
He also revealed that he and Mr. Manafort assisted Petro Poroshenko, the current president of Ukraine, in an unpaid capacity. Dmytro Shymkiv, an official in Mr. Poroshenko's administration, said in an email that he was "not aware" of any such relationship.
It would be notable if there had been any ties between Mr. Manafort and Mr. Poroshenko, because Mr. Poroshenko's administration was criticized by Mr. Trump's supporters for targeting Mr. Manafort during the presidential campaign in an effort to help Hillary Clinton.
Doctoring invoices
Mr. Gates detailed during his testimony how he doctored invoices for many of Mr. Manafort's expenditures — including purchases from luxury men's clothing boutiques, landscaping and home improvements — to ensure that the invoices were sent to the companies owned by Mr. Manafort and not Mr. Manafort himself.
The doctored invoices were first described by the vendors of the companies seeking payment last week, and Mr. Gates confirmed that he was responsible for editing the templates based on information Mr. Manafort gave him.
Why Gates is so important to the prosecutors' case
The outcome of the trial, the first to be mounted by prosecutors working for the special counsel, Robert S. Mueller III, may well hinge on whether or not the jury finds Mr. Gates to be credible. The trial is separate from the special counsel's investigation into Russia's election interference, though Mr. Mueller's mandate allows him to pursue any crimes uncovered as part of his inquiry.
Mr. Gates and Mr. Manafort worked together for roughly two decades, including on the Trump campaign. Mr. Manafort served as campaign chairman for three months before he was forced out in August 2016. Mr. Gates served as his deputy, then worked as the campaign's liaison to the Republican National Committee after Mr. Manafort's departure.
Mr. Gates, 46, admitted Monday that he was guilty of a long list of crimes, including stealing hundreds of thousands of dollars from Mr. Manafort's accounts by inflating his business expenses. He said that while he was helping Mr. Manafort hide income to evade taxes, and later to inflate his income to obtain bank loans, he was doing essentially the same on his own behalf.
He said he concealed some of his own income in overseas accounts, evading taxes, and lied on applications for a mortgage and for a credit card. In exchange for his cooperation, the government in February agreed to dismiss 22 criminal charges stemming from his involvement in the scheme for which Mr. Manafort is now on trial.
Mr. Gates pleaded guilty to lying to federal authorities and conspiracy to commit fraud but has yet to be sentenced. Although sentencing guidelines recommend a prison term of up to six years, he testified that prosecutors have agreed not to object if his defense attorney argues that he should receive probation.
A newly named Manafort client
Mr. Gates revealed an intriguing new name as a client of Mr. Manafort at his trial on Tuesday — the Ukrainian oligarch Victor Pinchuk.
Mr. Pinchuk's relationship with Mr. Trump has drawn the interest of the special counsel. In response to a subpoena for records, the Trump Organization provided details of a $150,000 donation in 2015 to Mr. Trump's foundation in exchange for Mr. Trump doing a 20-minute video call into a conference organized by Mr. Pinchuk in Kiev that year.
Mr. Gates revealed that Mr. Pinchuk paid Mr. Manafort through a company called Plymouth Consultants Limited for what he described as a legal project. He did not provide details about how much was paid or when.
Mr. Pinchuk's representatives did not respond to a request for comment. Mr. Pinchuk, a steel magnate who is generally regarded as pro-Western, has donated far more money — $13 million since 2006 — to the Clinton Foundation, according to its website.
10 Attractions You Can't Miss In Las Vegas
This desert oasis is a city that most people already know a decent amount about.  It is one of the biggest epicentres for gambling in the world.  When you get off a plane in Las Vegas airport you are immediately greeted by slot machines.  As you leave the airport you have amazing views of "The Strip", which is an incredibly long stretch of mega-casino and resorts lit up by glowing neon lights.  The gambling doesn't stop there as gas stations and even grocery stores feature slot machines (seriously, people hang out and gamble in grocery stores).
Las Vegas has done an excellent job of adding more than just gambling to its offerings.  It attempts to brand itself as the "entertainment capital of the world", and frankly they are doing a pretty good job of it.  There are musicians that take up permanent residency in Vegas (yes Britney, Backstreet Boys, and maybe Gaga), an incredible variety of shows (Cirque du Soleil to Blue Man Group), world-class dining options, phenomenal golf courses, mountain hikes, endless shopping (high end to outlet malls), pool parties and nightlife, and even a manmade beach and ski-resort.
As you visit Vegas you will be enthralled by everything "Sin City" has to offer.
This list is in no way inclusive of everything you could plan on a Vegas vacation but is designed to include some of the most iconic Las Vegas attractions that are perfect for the first timer, and things that you may not think to explore.
Also, check out these exclusive Las Vegas Timeshare Deals
Top 10 Must do's in Vegas
1. Welcome to Las Vegas Sign
Taking a picture at the Welcome to Las Vegas sign is a rite of passage for vacationers.  Whether you are here for a bachelor party, work convention, or just escaping cold winter temperatures this sign on the South end of The Strip is a perfect way to begin your trip.
2. Visit Foreign Cities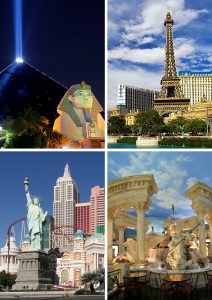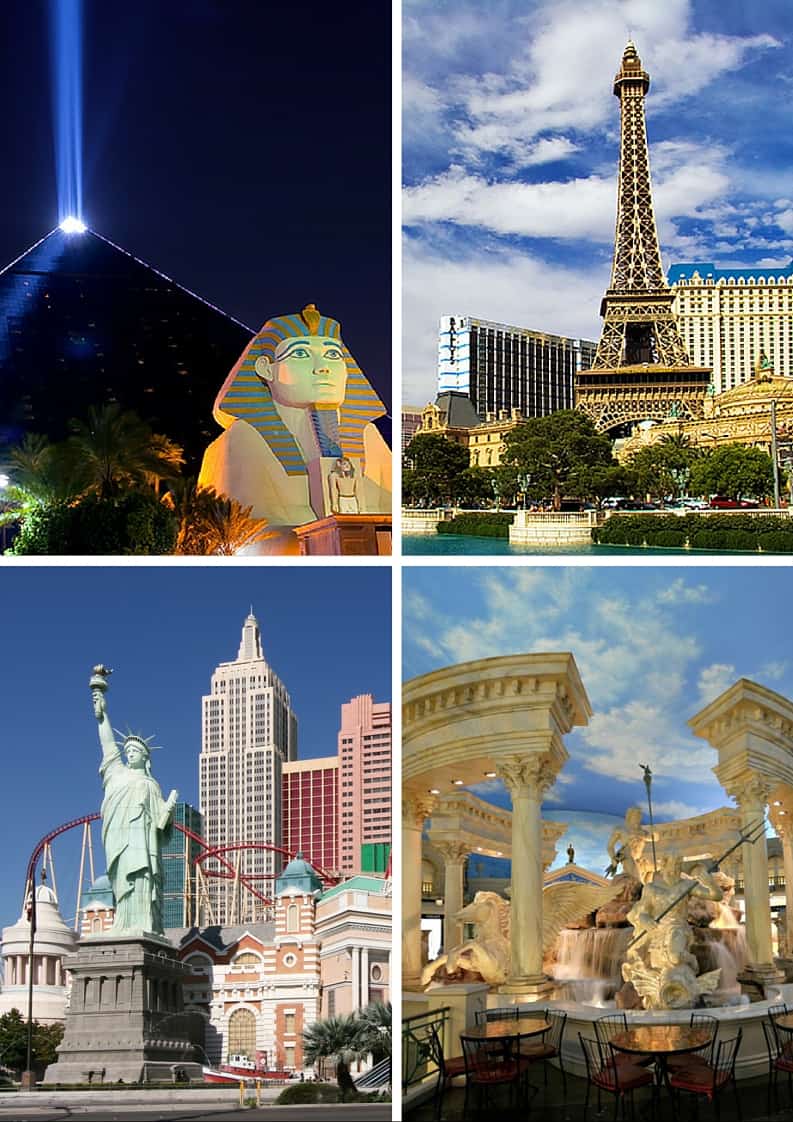 Okay not really, but lots of the casinos are based on a location or theme from somewhere else in the world.  The Paris features its own Eiffel Tower and really is reminiscent of Paris, the Venetian is based on Venice (discussed more below), the Luxor is based on ancient Egypt, Caesar's Palace is based off classic Rome, the Imperial Palace shouts out to Imperial Japan, and New York New York is pretty self-explanatory. Visiting a casino is not a substitute for seeing these places, but I recommend exploring more than just the one you stay in as it is fun to see what elements from around the world have implemented in Vegas.
3. Freemont Street (Old Vegas)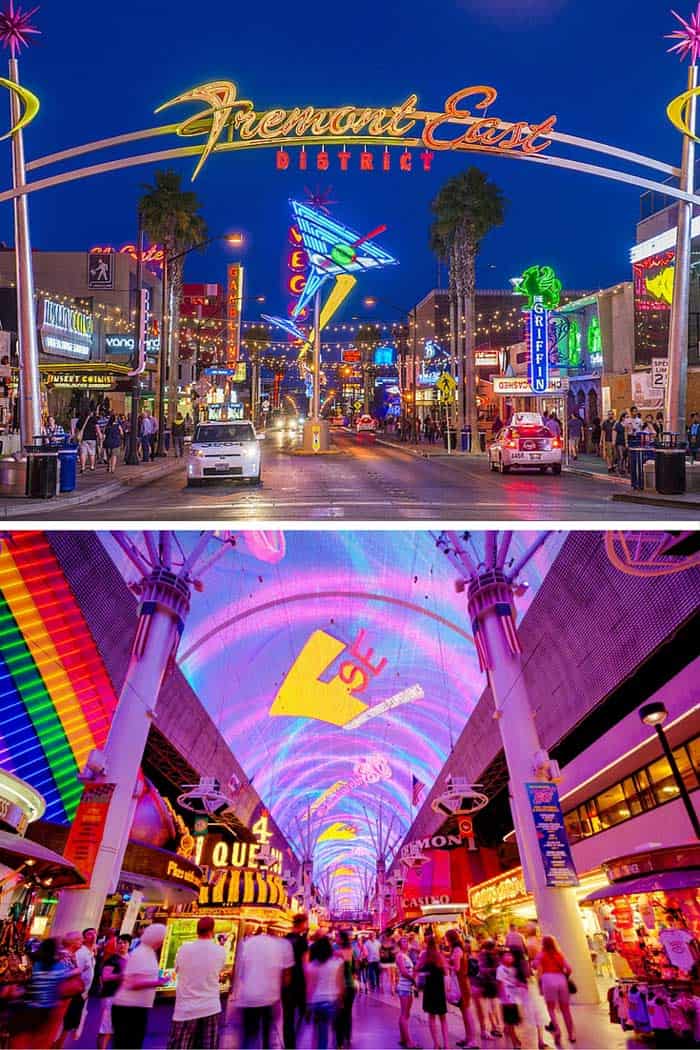 Freemont Street is where you will find the old school Vegas casinos like the 4 Queens and Golden Nugget (featuring a water slide through a shark tank). Even though it is old, it is not run down or left behind.
Freemont Street runs straight through most of the big classic casinos, and is a perfect spot to get a drink from an outdoor bar, see some of the most unique street performers in the world, experience free live music, as well as have strippers attempt to pull you in to see their shows (seriously, be careful).
4. Bellagio Fountain and Gardens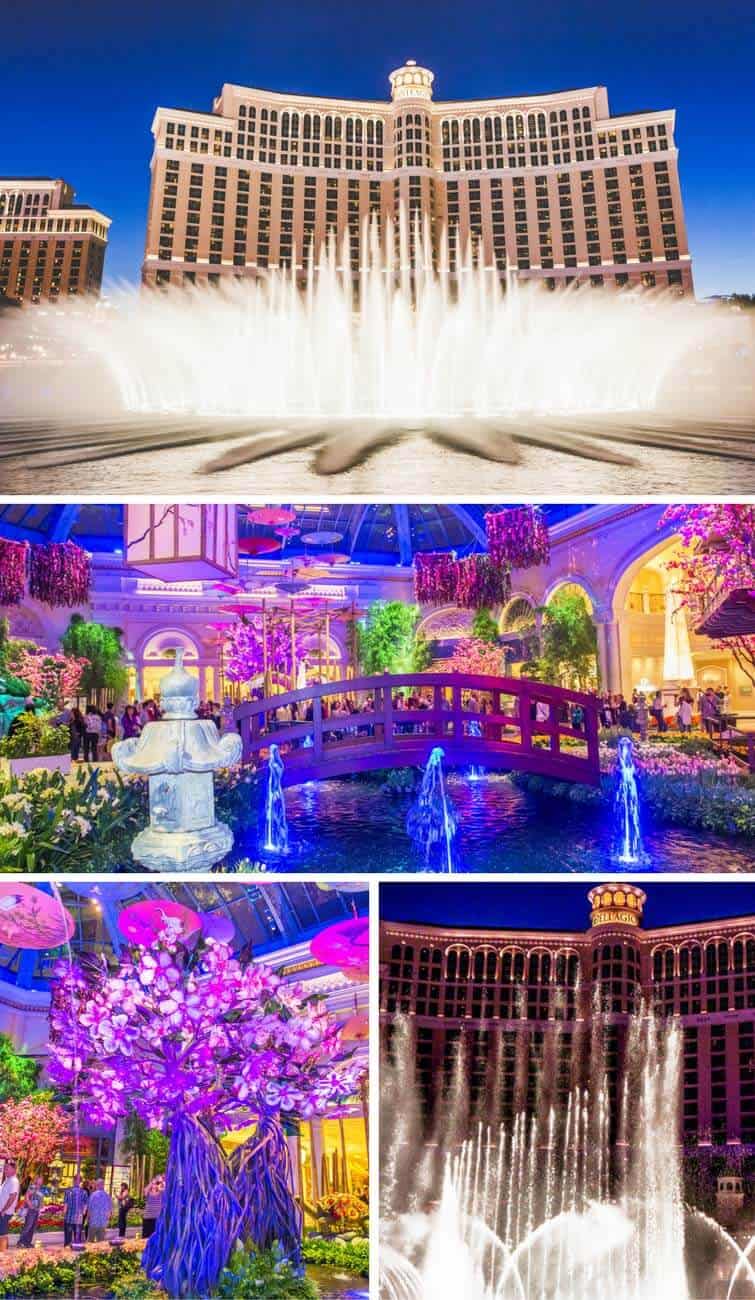 Even though each resort has fantastic things to see, the water show and botanical gardens at the Bellagio cannot be missed.  The 8-acre man-made lake features a dancing water fountain show choreographed to music.  The show is different every 15 minutes, and the results truly are beautiful.  This is the spot that was glorified in Oceans 11 (Brad Pitt and George Clooney could make anything glorious).
The gardens in the lobby are exquisitely decorated and maintained for each season with some of the unique plants and flowers in the world.  Even as a local I make a point to go down each year to see the gardens decorated with a Christmas theme.
5. Gondola Ride at the Venetian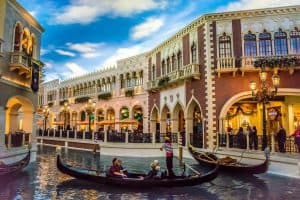 The sky in this picture really is painted on, and it does look that amazing in person.
The Venetian is a luxury resort based off of Venice Italy.  My favorite part of the Venetian is that they built canals throughout the ground floor and mall of the casino, and offer motorized gondola rides while you get serenaded by your very own gondolier.
Even though it makes my husband want to barf, I love how romantic these rides are.  Somehow they designed it so that you don't feel like you are floating through the middle of a casino.
6. Adventure Rides at the Stratosphere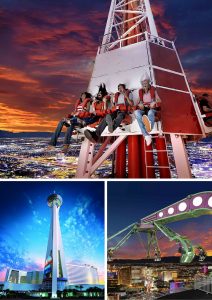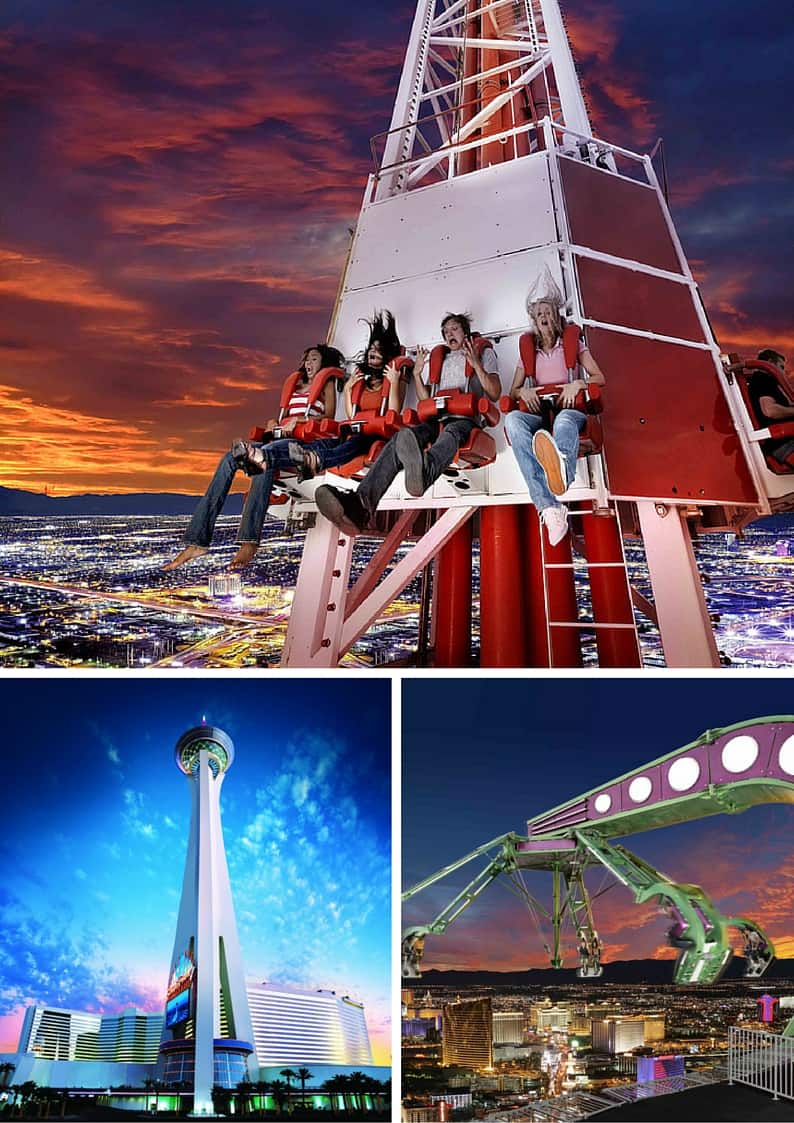 The Stratosphere is hotel and casino that towers overall on the North end of The Strip.  The Stratosphere is most famous for its views of The Strip and hair-raising rides.
It is by far the tallest building in Vegas, and the rides up top are NOT for someone who is afraid of heights. My favorite is the Big Shot, which shoots your seat straight up the top of the tower and into the sky.  It is the tallest thrill ride in the world.  If that isn't gutsy enough for you, you can jump off the top via controlled cables to the bottom.
7. The High Roller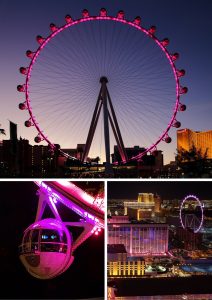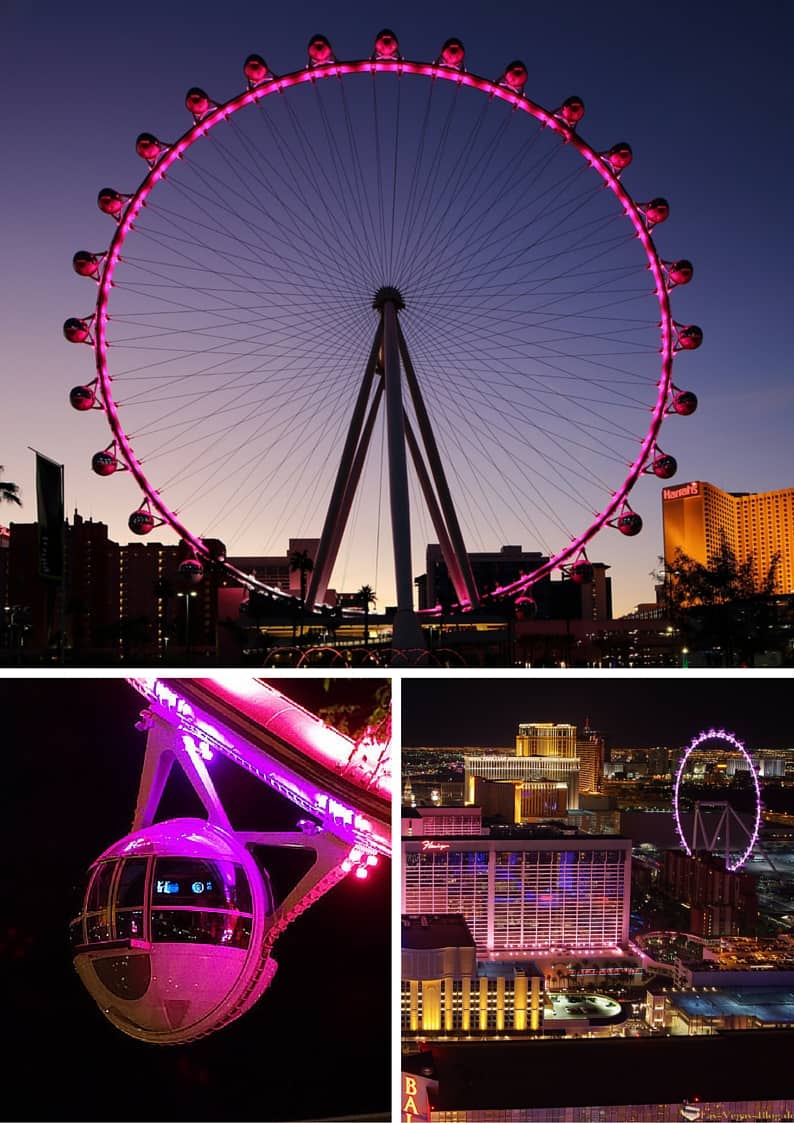 This gigantic observation/Ferris wheel is brand new to Las Vegas.  It is like the London Eye, but bigger.  Surprisingly it really is a fun ride as pods are big enough to feature whole groups of friends, and even your own bar and bartender.
Also Read: More Things To Do In Las Vegas 
8. Hoover Dam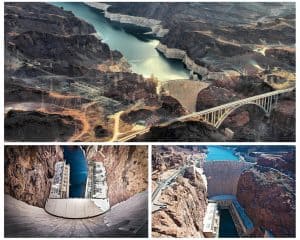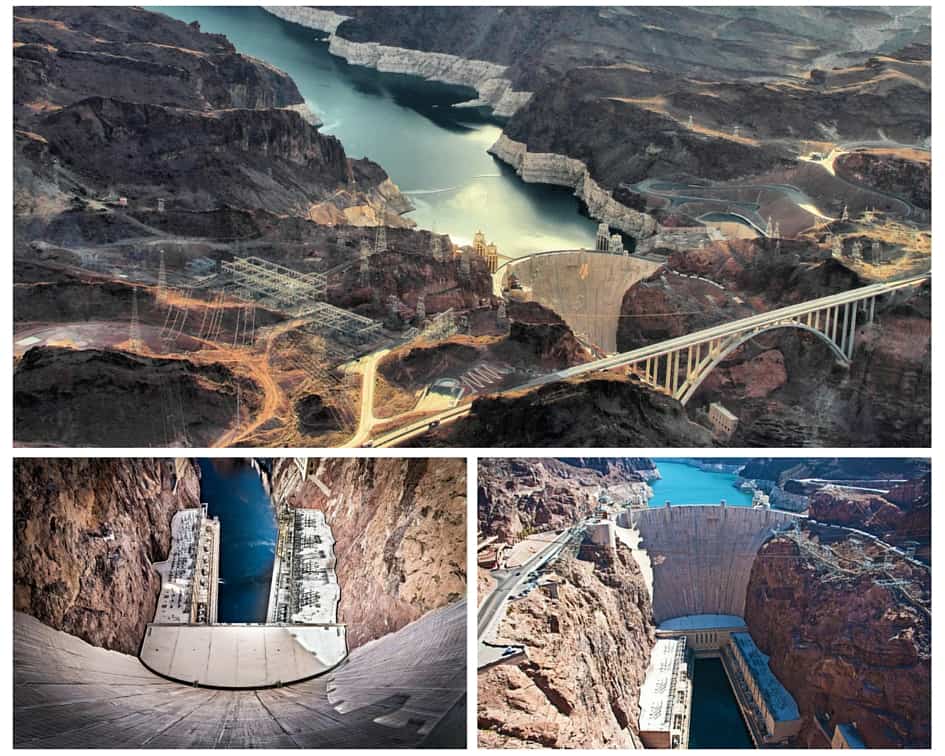 Not all the attractions in Vegas feature neon lights.  The Hoover Dam is a testament to modern engineering.  I found the tour showing how the dam generates power for Las Vegas fascinating.  Also, the lake made by the dam (Lake Mead) is great for boating.
9. Las Vegas Ski Resort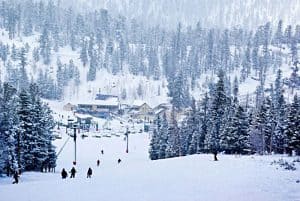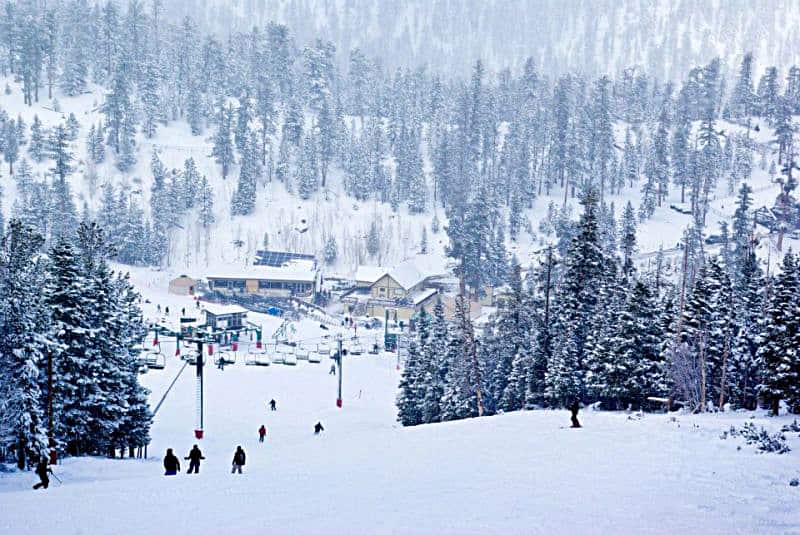 Yes, in the mountains just 45 minutes away from The Strip developers built a ski-resort.  It is not huge, and does not feature the world's best snow, but the novelty of being able to ski within 45 minutes of the scorching desert heat is unreal.
10. The Mob Museum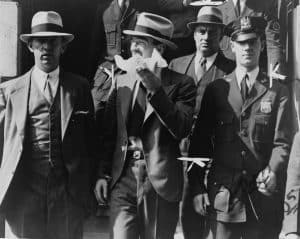 Part of the reason that Las Vegas is built the way it is today is that of the involvement of organized crime.  The mob used casinos to launder their money.  Supposedly organized crime is out of Vegas now, but a fascinating history remains.  The Mob Museum doesn't just explore Vegas' criminal history, but the characters that made this possible from around the country.  The museum does have some creepy elements as it allows visitors to hold a tommy gun, explore crime scene photos, and even see the bloody walls left from massacres.