New York Today: Making Surfboards
Good morning on this hot and humid Monday.
In a shipping container at a sleepy marina in the Rockaways, Queens, Paul J. Schmidt is really living the dream.
In 2013, Mr. Schmidt did something some of us have considered: He quit his job (prepping handblown glass chandeliers in SoHo) and moved to the beach.
These days, sandwiched between surfing sessions, Mr. Schmidt "shapes" surfboards by hand. He's one of a half-dozen or so full-time surfboard makers in New York City who design custom boards for a growing local clientele.
We stopped by his workshop at Marina 59 on a recent morning to learn about his craft.
To make his boards, Mr. Schmidt shapes "blanks" — or long pieces of unshaped foam with a planer — or an electric shaver.
"There are no straight lines on the board, so shaping is done all by light and by feel," he said.
He then layers on sheets of fiberglass and a coating of epoxy resin in a room heated to between 95 and 100 degrees, which helps keep the syrupy resin malleable. Finally, he sands out any imperfections.
The process is similar to woodworking, said Mr. Schmidt, who spent time as a young man working for a carpenter in "landlocked" Richmond, Va., where he's from. Shaping a board also reminds him of surfing.
"The work is done quietly, by yourself," he said. "You're connected to an object and the rhythm in your body, and you have time to think and recalibrate."
It takes him about two or three days to make a custom board, which he sells for between $600 and $1,500.
"The best is when people I make boards for tell me, 'Dude, I just had the best session of my life,' or 'I caught the longest wave of my life,'" he said. "I get to create something with my own hands that connects people to the ocean and water. It feels great to be able to connect people with nature, through the surfing craft."
Here's what else is happening:
Weather
It's a great day to shred some salt.
The waves around the Rockaways may be small — around two feet — but the sun will be shining and the high near 93 degrees.
It will stay warm through the night, with lows in the mid-70s.
In the News
• The Bronx bodega where gang members stabbed a teenager to death has become the center of a heated debate over how to memorialize the young man. [New York Times]
• Investigators are trying to determine how a 54-year-old man wound up in the freezer of a Sarabeth's restaurant on the Upper West Side. [New York Times]
• The police are trying to identify the body of an infant found floating in the East River. [New York Times]
• Senator Robert Menendez, a Democrat of New Jersey who is running for re-election in November, is still dogged by ethics questions even after his federal corruption trial ended in a hung jury. [New York Times]
• The artist Tauba Auerbach painted a former fireboat with a nod to dazzle painting, a technique developed during World War I to help Allied ships fool German submarines. [New York Times]
• Hundreds of volunteers are participating in an ambitious project to photograph all the wild plants in the city. [The Auburn Citizen]
• Manufacturers, landlords, designers and lawmakers have come together to preserve what's left of a dwindling garment district. [Washington Post]
• A garden in the Bronx is the only participant in Culture Pass in the entire borough. [Riverdale Press]
• Black women face a higher wage gap than white women — and the disparity is larger in New York City than elsewhere across the country, a new report has found. [AM New York]
• Today's Metropolitan Diary: "Bayside to Penn Station."
• For a global look at what's happening, see Your Morning Briefing.
Coming Up Today
• The "Speak Up, Rise Up" storytelling festival kicks off, with more than 40 shows that highlight marginalized voices, at the Tank in Lower Manhattan. Prices and times very. Through Aug. 12.
• The New York (City) State of Mind series of lectures about the lives of average New Yorkers continues with a discussion "In Transit — Getting Around in New York City," with the WNYC reporter Stephen Nessen at the Mid-Manhattan library in Midtown. 6:30 p.m. [Free]
• Watch selected Vimeo shorts, chosen by Meghan Oretsky, the online channel's staff picks editor, at the "Ladies With Lenses" festival at Videology in Williamsburg, Brooklyn. 6:45 p.m. [$10]
• Tour an exhibition of 100-year-old architectural terra-cotta ornaments in a garden setting at the H. H. Biddle House in Conference House Park in Staten Island. 7 a.m. to 7 p.m. [Free]
• Mets host Reds, 7:10 p.m. (SNY). Yankees at White Sox, 8:10 p.m. (YES).
• Alternate-side parking remains in effect until Aug. 15.
• For more events, see The New York Times's Arts & Entertainment guide.
And Finally…
Today would have been Andy Warhol's 90th birthday.
The founder of Pop Art, who died at age 58 in 1987, was a New York staple, creating some of his most famous work in the Factory, — his name for the studio that moved from Midtown to near Union Square.
To celebrate Warhol's birthday, the Whitney Museum is throwing a birthday party at noon — with cupcakes — in the museum's lobby.
Or you can take a Warhol tour on your own to remember the pop artist.
The Museum of Modern Art holds some of his most famous works, including the iconic "Campbell's Soup Cans," "Gold Marilyn Monroe" and "Double Elvis."
Then head to the Guggenheim Museum to see more of his work, including his "Self-Portrait in Drag" and "Flowers."
And if you have a few hours to spend, watch perhaps his most influential film, "Empire," an eight-hour shot of the Empire State Building filmed in 1964.
Tickets will also go on sale today for the Whitney Museum's upcoming exhibition this fall, "Andy Warhol — From A to B and Back Again," the largest single-artist show since the museum moved to its new location downtown in 2015.
New York Today is a morning roundup that is published weekdays at 6 a.m. If you don't get it in your inbox already, you can sign up to receive it by email here.
For New York Today updates throughout the day, like us on Facebook.
What would you like to see here to start your day? Post a comment, email us at nytoday@nytimes.com, or reach us via Twitter using #NYToday.
Follow the New York Today columnists, Alexandra S. Levine and Jonathan Wolfe, on Twitter.
You can find the latest New York Today at nytoday.com.
10 Attractions You Can't Miss In Las Vegas
This desert oasis is a city that most people already know a decent amount about.  It is one of the biggest epicentres for gambling in the world.  When you get off a plane in Las Vegas airport you are immediately greeted by slot machines.  As you leave the airport you have amazing views of "The Strip", which is an incredibly long stretch of mega-casino and resorts lit up by glowing neon lights.  The gambling doesn't stop there as gas stations and even grocery stores feature slot machines (seriously, people hang out and gamble in grocery stores).
Las Vegas has done an excellent job of adding more than just gambling to its offerings.  It attempts to brand itself as the "entertainment capital of the world", and frankly they are doing a pretty good job of it.  There are musicians that take up permanent residency in Vegas (yes Britney, Backstreet Boys, and maybe Gaga), an incredible variety of shows (Cirque du Soleil to Blue Man Group), world-class dining options, phenomenal golf courses, mountain hikes, endless shopping (high end to outlet malls), pool parties and nightlife, and even a manmade beach and ski-resort.
As you visit Vegas you will be enthralled by everything "Sin City" has to offer.
This list is in no way inclusive of everything you could plan on a Vegas vacation but is designed to include some of the most iconic Las Vegas attractions that are perfect for the first timer, and things that you may not think to explore.
Also, check out these exclusive Las Vegas Timeshare Deals
Top 10 Must do's in Vegas
1. Welcome to Las Vegas Sign
Taking a picture at the Welcome to Las Vegas sign is a rite of passage for vacationers.  Whether you are here for a bachelor party, work convention, or just escaping cold winter temperatures this sign on the South end of The Strip is a perfect way to begin your trip.
2. Visit Foreign Cities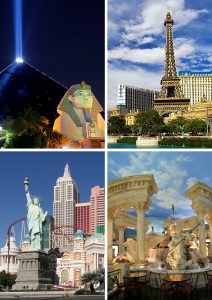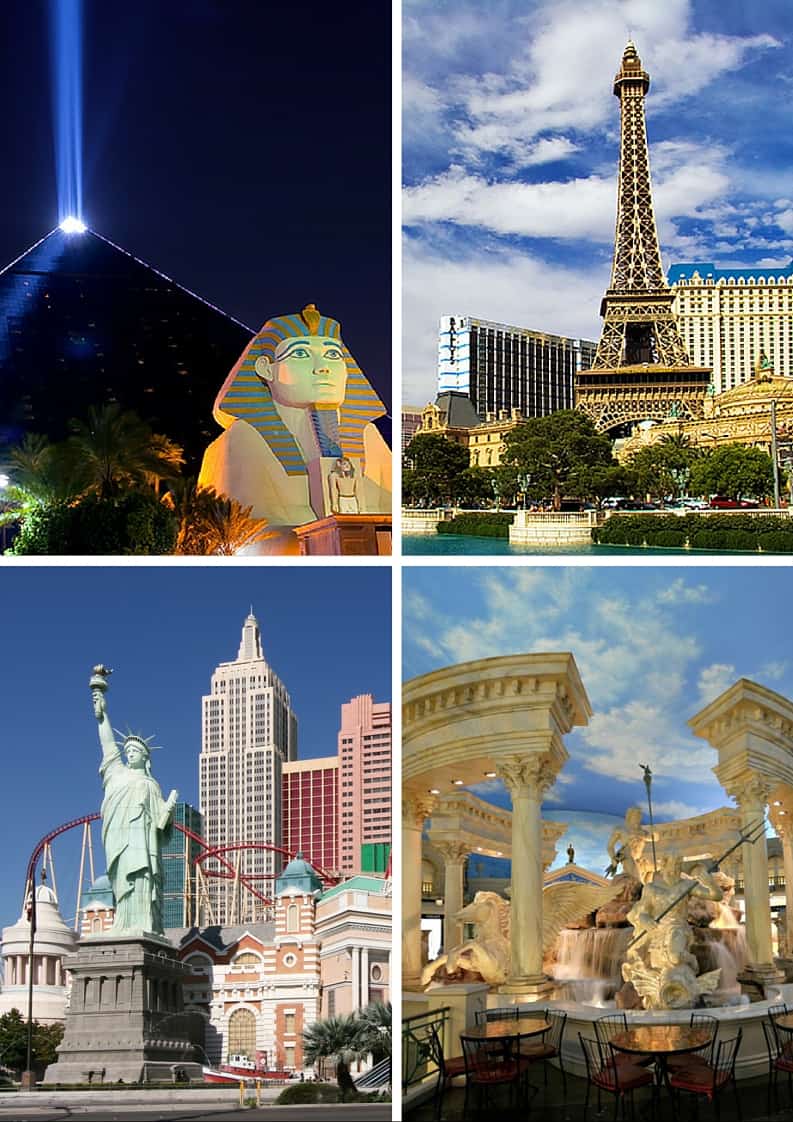 Okay not really, but lots of the casinos are based on a location or theme from somewhere else in the world.  The Paris features its own Eiffel Tower and really is reminiscent of Paris, the Venetian is based on Venice (discussed more below), the Luxor is based on ancient Egypt, Caesar's Palace is based off classic Rome, the Imperial Palace shouts out to Imperial Japan, and New York New York is pretty self-explanatory. Visiting a casino is not a substitute for seeing these places, but I recommend exploring more than just the one you stay in as it is fun to see what elements from around the world have implemented in Vegas.
3. Freemont Street (Old Vegas)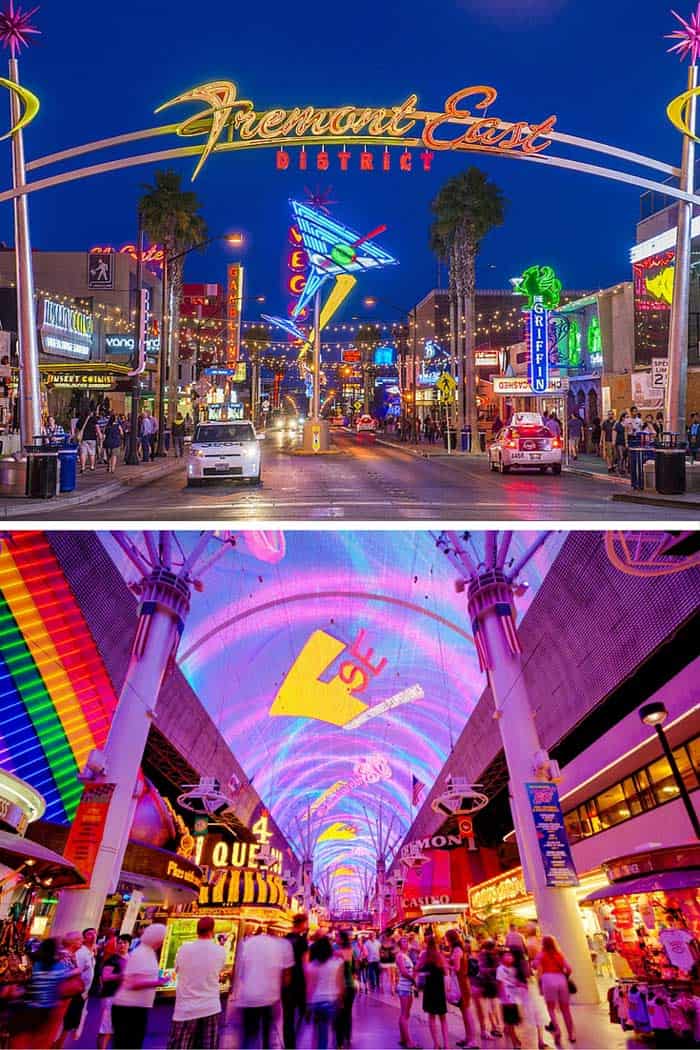 Freemont Street is where you will find the old school Vegas casinos like the 4 Queens and Golden Nugget (featuring a water slide through a shark tank). Even though it is old, it is not run down or left behind.
Freemont Street runs straight through most of the big classic casinos, and is a perfect spot to get a drink from an outdoor bar, see some of the most unique street performers in the world, experience free live music, as well as have strippers attempt to pull you in to see their shows (seriously, be careful).
4. Bellagio Fountain and Gardens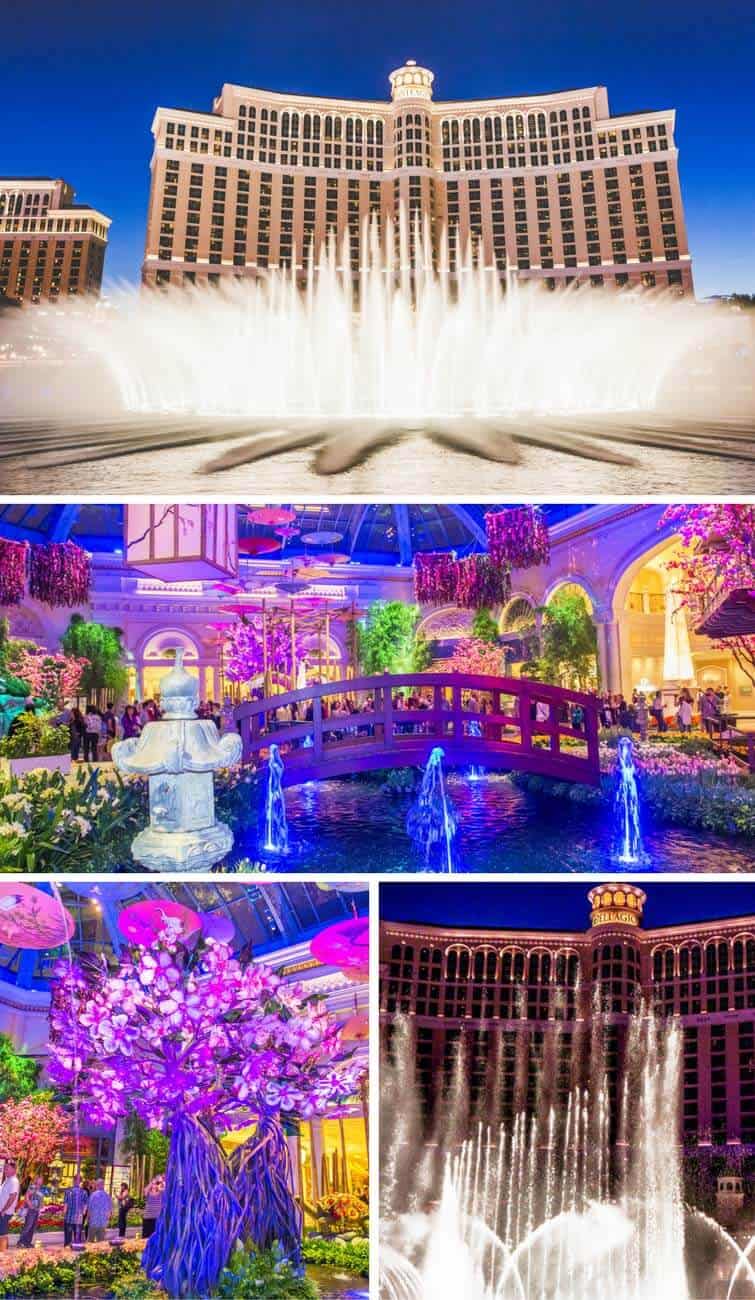 Even though each resort has fantastic things to see, the water show and botanical gardens at the Bellagio cannot be missed.  The 8-acre man-made lake features a dancing water fountain show choreographed to music.  The show is different every 15 minutes, and the results truly are beautiful.  This is the spot that was glorified in Oceans 11 (Brad Pitt and George Clooney could make anything glorious).
The gardens in the lobby are exquisitely decorated and maintained for each season with some of the unique plants and flowers in the world.  Even as a local I make a point to go down each year to see the gardens decorated with a Christmas theme.
5. Gondola Ride at the Venetian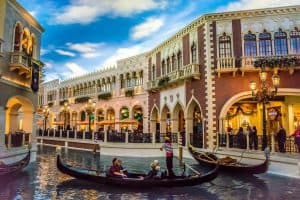 The sky in this picture really is painted on, and it does look that amazing in person.
The Venetian is a luxury resort based off of Venice Italy.  My favorite part of the Venetian is that they built canals throughout the ground floor and mall of the casino, and offer motorized gondola rides while you get serenaded by your very own gondolier.
Even though it makes my husband want to barf, I love how romantic these rides are.  Somehow they designed it so that you don't feel like you are floating through the middle of a casino.
6. Adventure Rides at the Stratosphere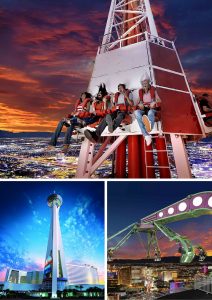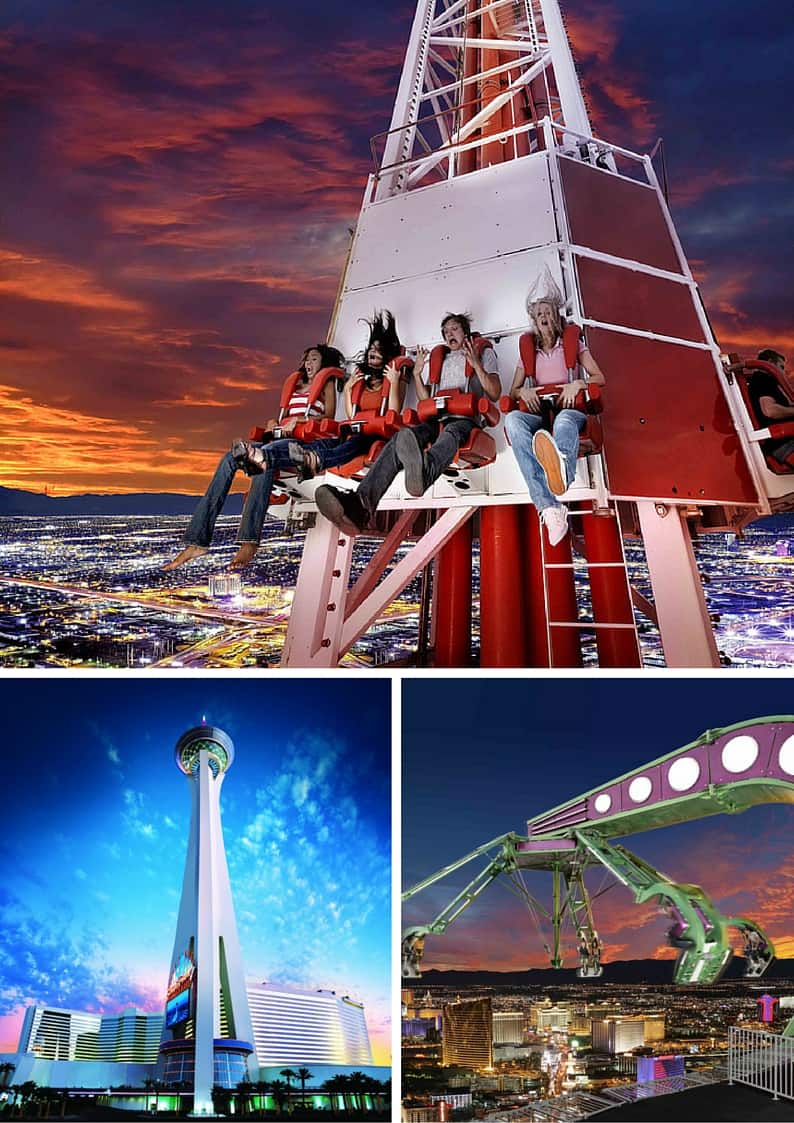 The Stratosphere is hotel and casino that towers overall on the North end of The Strip.  The Stratosphere is most famous for its views of The Strip and hair-raising rides.
It is by far the tallest building in Vegas, and the rides up top are NOT for someone who is afraid of heights. My favorite is the Big Shot, which shoots your seat straight up the top of the tower and into the sky.  It is the tallest thrill ride in the world.  If that isn't gutsy enough for you, you can jump off the top via controlled cables to the bottom.
7. The High Roller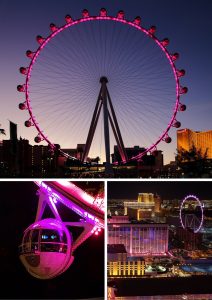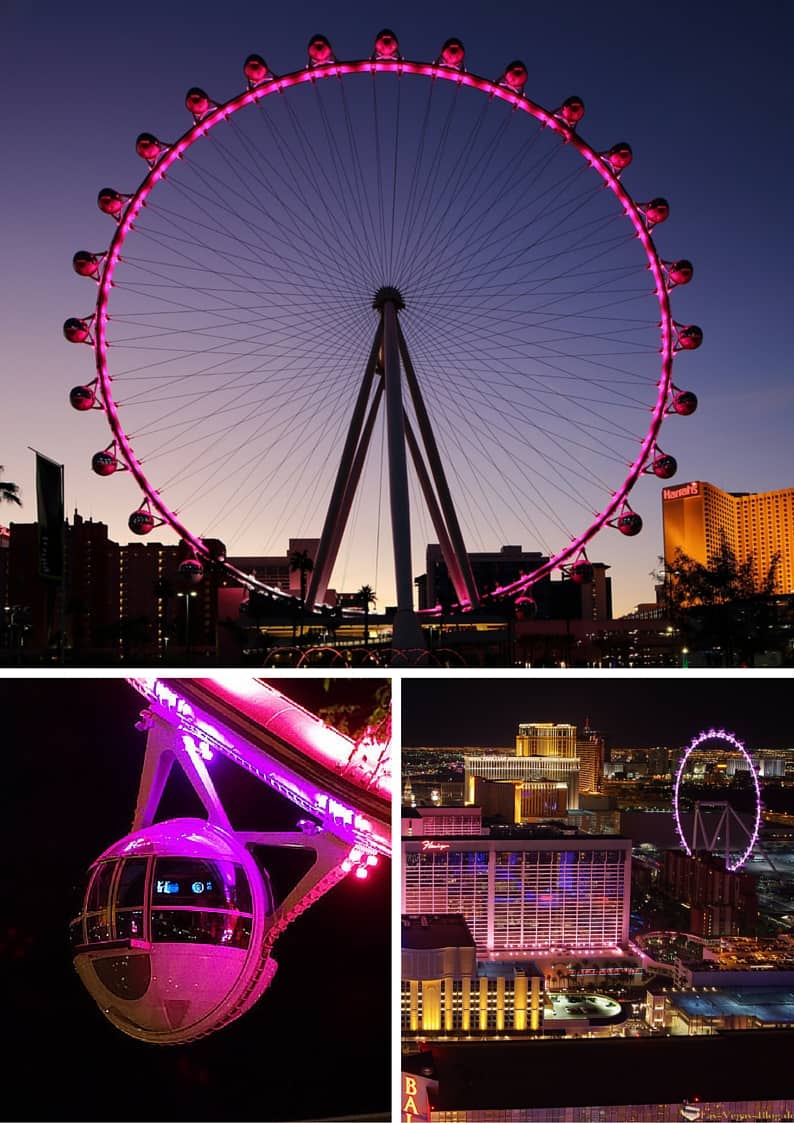 This gigantic observation/Ferris wheel is brand new to Las Vegas.  It is like the London Eye, but bigger.  Surprisingly it really is a fun ride as pods are big enough to feature whole groups of friends, and even your own bar and bartender.
Also Read: More Things To Do In Las Vegas 
8. Hoover Dam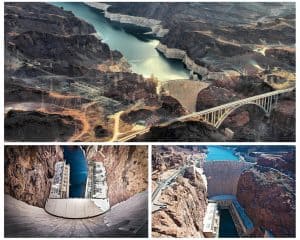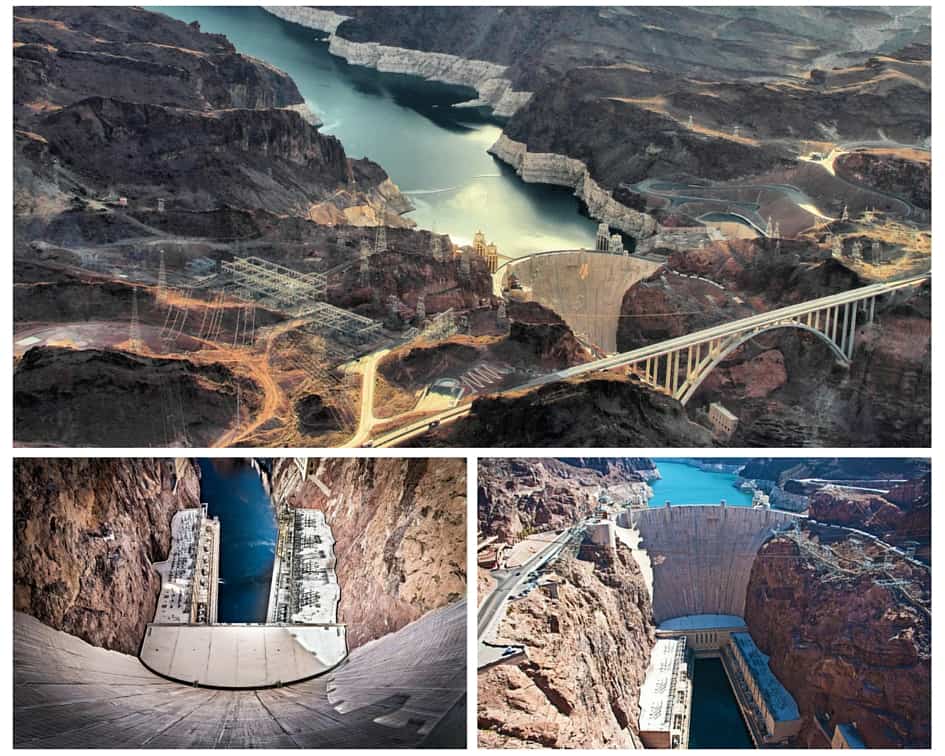 Not all the attractions in Vegas feature neon lights.  The Hoover Dam is a testament to modern engineering.  I found the tour showing how the dam generates power for Las Vegas fascinating.  Also, the lake made by the dam (Lake Mead) is great for boating.
9. Las Vegas Ski Resort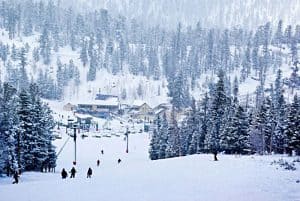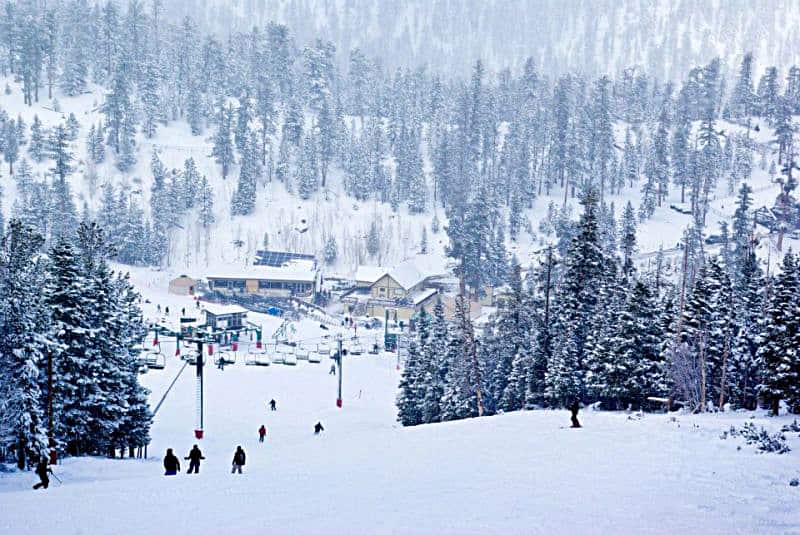 Yes, in the mountains just 45 minutes away from The Strip developers built a ski-resort.  It is not huge, and does not feature the world's best snow, but the novelty of being able to ski within 45 minutes of the scorching desert heat is unreal.
10. The Mob Museum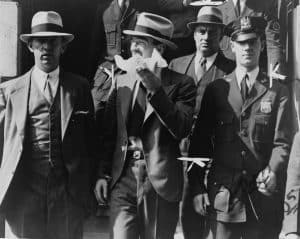 Part of the reason that Las Vegas is built the way it is today is that of the involvement of organized crime.  The mob used casinos to launder their money.  Supposedly organized crime is out of Vegas now, but a fascinating history remains.  The Mob Museum doesn't just explore Vegas' criminal history, but the characters that made this possible from around the country.  The museum does have some creepy elements as it allows visitors to hold a tommy gun, explore crime scene photos, and even see the bloody walls left from massacres.