New York Today: Eating in a Heat Wave
Good Wednesday morning.
It will be mercilessly hot again today.
The mercury may reach a mere 89, but with the humidity, it could feel as stifling as 97. (Thunderstorms may roll in, mainly after 2 p.m., but they won't cool us off.)
A heat advisory is in effect until this evening, which means you should turn on your air conditioner or get to a place that has one.
During our current heat wave, we noticed that we've been drinking tons of iced coffee and haven't felt as hungry. Curious about the relationship between our guts and the weather, we spoke to a few nutrition experts.
Can hot weather affect your appetite?
Yes.
Extreme weather of any kind can change appetite, said Marion Nestle, a professor emerita of nutrition, food studies and public health at New York University. "While it's difficult to generalize, many people, myself included, don't feel as hungry in hot weather," she said. The reason? Overeating generates a lot of heat. "If you eat a large amount of concentrated calories, you're going to generate heat from metabolizing them," Ms. Nestle said. "And when it's hot outside, you don't want to be generating extra heat in the body."
Does hot weather change the types of foods we eat?
Probably not.
While there are consumer surveys and anecdotal evidence that suggest we may pass up beef stew in favor of a salad on a hot day, there is little hard scientific evidence. "Cycles in our diet may have mattered more at other times in history," said Sharon R. Akabas, professor of pediatrics and nutrition at the Columbia University Irving Medical Center. "But the availability and convenience of food today probably overrides that."
What are the best foods to eat in hot weather?
Fruits and vegetables.
"Hydration is key during hot weather," said Ms. Akabas. "Fruits and vegetables provide lots of water and are loaded with potassium."
Is spicy food helpful?
It depends on where you eat it.
It's true that spicy foods make some people sweat, which can help cool you down, Ms. Nestle said. But outside in really hot and humid weather, like today's, she said, "It just makes things worse because you're sweating, but the sweat is not evaporating." So, if you're in an air-conditioned restaurant then go for the extra-hot guac, but if you're having lunch outside or in the sun, that extra-spicy pad thai may make you more uncomfortable.
Tomorrow, temperatures drop — into the high 80s — and it will stay warm until the weekend. As you pack your lunch this week, here are 55 recipes for 90-degree days from The New York Times Cooking.
Here's what else is happening:
In the News
• Anti-racist protesters forced a Brooklyn nail salon to temporarily close its doors on Monday after a video went viral that showed its workers attacking African-Americans. [New York Times]
• Police say the 8-month-old boy whose body was found in the East River was left there by his father. [New York Times]
• What role does Kristin M. Davis, known as the "Manhattan Madam," play in Robert Mueller's investigation? Here's an explainer. [New York Times]
• A convicted murderer and counselor who worked with foster children faces criminal charges for allegedly assaulting a 6-year-old boy. [New York Times]
• Inwood residents fear that Mayor Bill de Blasio's plan to rezone neighborhoods across the city will jeopardize their community. [New York Times]
• New Jersey Senator Robert Menendez announced the passage of his bill creating a commendation for war dogs. [New York Times]
• Mandy Gonzalez of "Hamilton" will star in a solo show in Lower Manhattan. [New York Times]
• Robert Silman, an engineer who helped restore and preserve many New York landmarks, has died. [New York Times]
• After games resumed in the wake of 9/11, stadiums and arenas allowed fans to temporarily forget the tragedies at the World Trade Center, the Pentagon and Shanksville, Pa. [New York Times]
• The Bangladeshi man from Brooklyn arrested for allegedly detonating a pipe bomb under Times Square last December chanted "more is coming" to a correctional officer. [AMNY]
• Amid new high-rise condominiums, a waterfront park opens this week in Greenpoint. [Bklyner]
• Today's Metropolitan Diary: "Bar Mitzvah in May"
• For a global look at what's happening, see Your Morning Briefing.
Coming Up Today
• More than 40 performances from puppetry companies from around the world are on offer during the International Puppet Fringe Festival at the Clemente Cultural Center on the Lower East Side. Prices and times vary. Through Aug. 12.
• A performance by the pop musician Sinkane, part of Carnegie Hall Citywide, at Bryant Park in Midtown Manhattan. 5:30 p.m. [Free]
• A discussion, "Charlottesville: One Year Later," moderated by Aaron Morrison, a writer at Mic, at the Brooklyn Historical Society in Brooklyn Heights. 6:30 p.m. [$5]
• Discussions on this edition of the monthly Astronomy on Tap lecture series include searching for life among the stars, summer space vacations and landslides in space, at the Way Station in Prospect Heights, Brooklyn. 7:30 p.m. [Free]
• Mets host Reds, 12:10 p.m. (SNY). Yankees at White Sox, 8:10 p.m. (YES).
• Alternate-side parking remains in effect until Aug. 15.
• For more events, see The New York Times's Arts & Entertainment guide.
And Finally…
Our city is getting a new park.
Later today, Mayor Bill de Blasio will announce that the city has secured financing for an extension of the Hudson Park and Boulevard at Hudson Yards in Midtown West.
The three-acre park will run over the Amtrak rail cut from 36th Street to 39th Street between 10th and 11th Avenues.
While the current park serves as a popular lunch spot for the area's commercial workers, the extension will create a space that's greener and more lush, according to a spokesman for City Hall.
But don't make any picnic plans just yet.
Groundbreaking is set to begin in late 2020, and the park isn't scheduled to be open until the winter of 2023.
Until then, you can visit one of these new parks that have opened in the city this summer.
New York Today is a morning roundup that is published weekdays at 6 a.m. If you don't get it in your inbox already, you can sign up to receive it by email here.
For New York Today updates throughout the day, like us on Facebook.
What would you like to see here to start your day? Post a comment, email us at nytoday@nytimes.com, or reach us via Twitter using #NYToday.
Follow the New York Today columnists, Alexandra S. Levine and Jonathan Wolfe, on Twitter.
You can find the latest New York Today at nytoday.com.
10 Attractions You Can't Miss In Las Vegas
This desert oasis is a city that most people already know a decent amount about.  It is one of the biggest epicentres for gambling in the world.  When you get off a plane in Las Vegas airport you are immediately greeted by slot machines.  As you leave the airport you have amazing views of "The Strip", which is an incredibly long stretch of mega-casino and resorts lit up by glowing neon lights.  The gambling doesn't stop there as gas stations and even grocery stores feature slot machines (seriously, people hang out and gamble in grocery stores).
Las Vegas has done an excellent job of adding more than just gambling to its offerings.  It attempts to brand itself as the "entertainment capital of the world", and frankly they are doing a pretty good job of it.  There are musicians that take up permanent residency in Vegas (yes Britney, Backstreet Boys, and maybe Gaga), an incredible variety of shows (Cirque du Soleil to Blue Man Group), world-class dining options, phenomenal golf courses, mountain hikes, endless shopping (high end to outlet malls), pool parties and nightlife, and even a manmade beach and ski-resort.
As you visit Vegas you will be enthralled by everything "Sin City" has to offer.
This list is in no way inclusive of everything you could plan on a Vegas vacation but is designed to include some of the most iconic Las Vegas attractions that are perfect for the first timer, and things that you may not think to explore.
Also, check out these exclusive Las Vegas Timeshare Deals
Top 10 Must do's in Vegas
1. Welcome to Las Vegas Sign
Taking a picture at the Welcome to Las Vegas sign is a rite of passage for vacationers.  Whether you are here for a bachelor party, work convention, or just escaping cold winter temperatures this sign on the South end of The Strip is a perfect way to begin your trip.
2. Visit Foreign Cities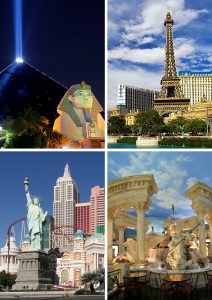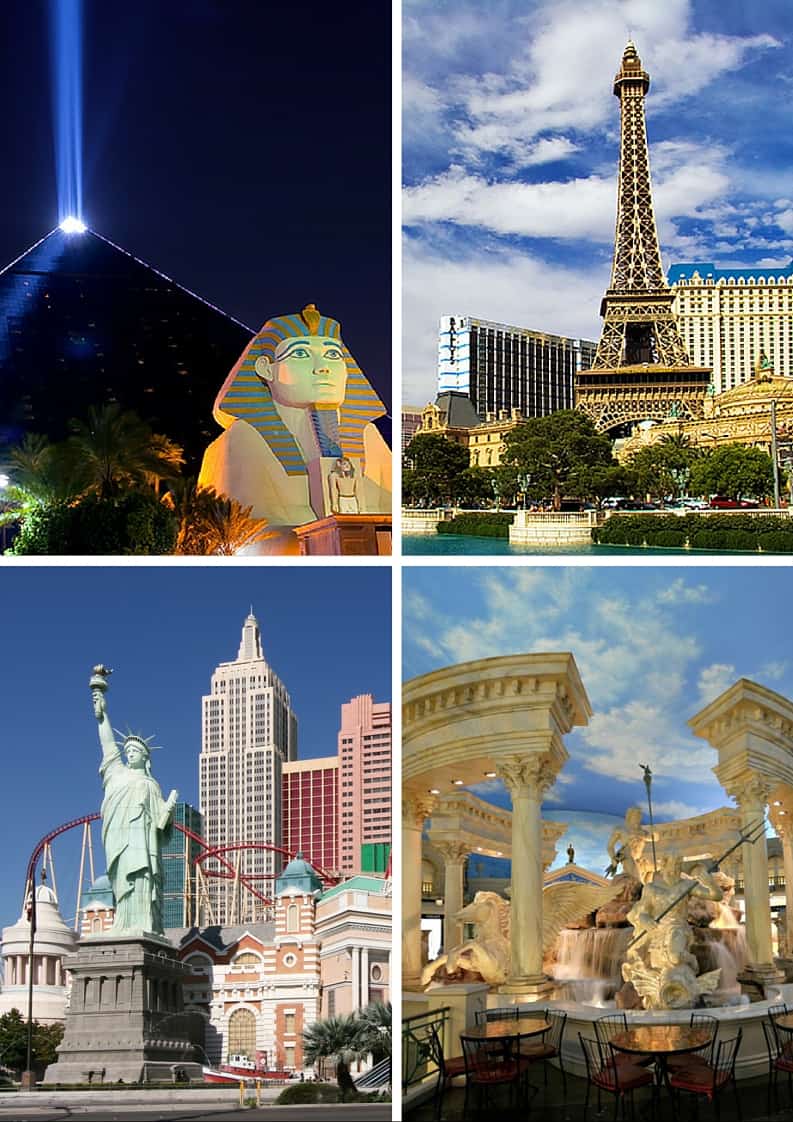 Okay not really, but lots of the casinos are based on a location or theme from somewhere else in the world.  The Paris features its own Eiffel Tower and really is reminiscent of Paris, the Venetian is based on Venice (discussed more below), the Luxor is based on ancient Egypt, Caesar's Palace is based off classic Rome, the Imperial Palace shouts out to Imperial Japan, and New York New York is pretty self-explanatory. Visiting a casino is not a substitute for seeing these places, but I recommend exploring more than just the one you stay in as it is fun to see what elements from around the world have implemented in Vegas.
3. Freemont Street (Old Vegas)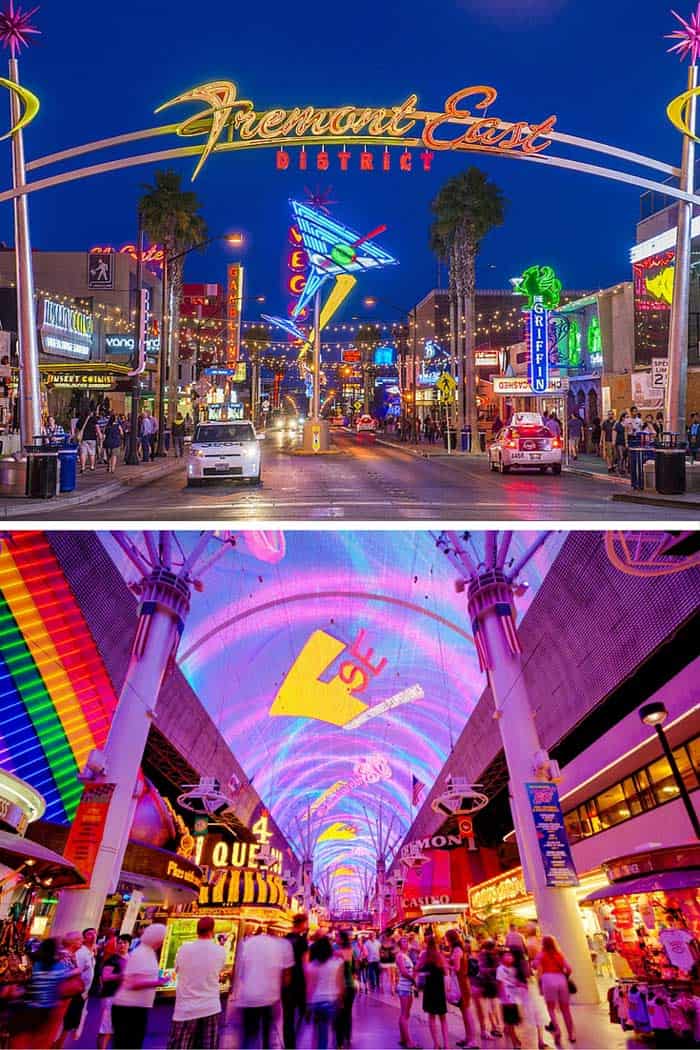 Freemont Street is where you will find the old school Vegas casinos like the 4 Queens and Golden Nugget (featuring a water slide through a shark tank). Even though it is old, it is not run down or left behind.
Freemont Street runs straight through most of the big classic casinos, and is a perfect spot to get a drink from an outdoor bar, see some of the most unique street performers in the world, experience free live music, as well as have strippers attempt to pull you in to see their shows (seriously, be careful).
4. Bellagio Fountain and Gardens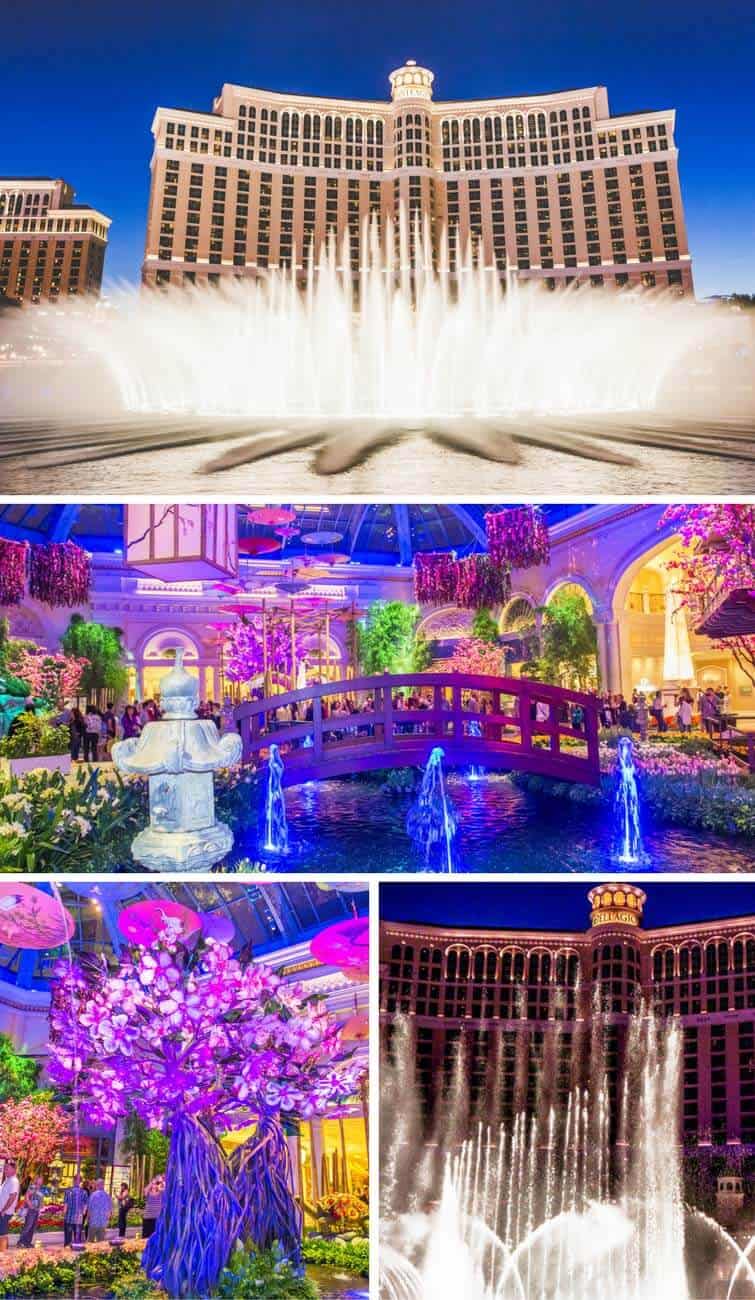 Even though each resort has fantastic things to see, the water show and botanical gardens at the Bellagio cannot be missed.  The 8-acre man-made lake features a dancing water fountain show choreographed to music.  The show is different every 15 minutes, and the results truly are beautiful.  This is the spot that was glorified in Oceans 11 (Brad Pitt and George Clooney could make anything glorious).
The gardens in the lobby are exquisitely decorated and maintained for each season with some of the unique plants and flowers in the world.  Even as a local I make a point to go down each year to see the gardens decorated with a Christmas theme.
5. Gondola Ride at the Venetian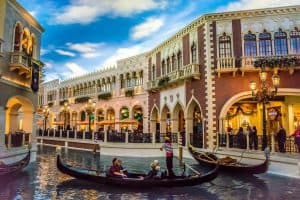 The sky in this picture really is painted on, and it does look that amazing in person.
The Venetian is a luxury resort based off of Venice Italy.  My favorite part of the Venetian is that they built canals throughout the ground floor and mall of the casino, and offer motorized gondola rides while you get serenaded by your very own gondolier.
Even though it makes my husband want to barf, I love how romantic these rides are.  Somehow they designed it so that you don't feel like you are floating through the middle of a casino.
6. Adventure Rides at the Stratosphere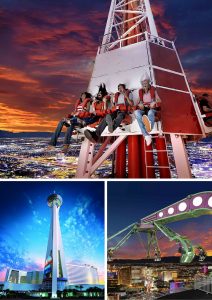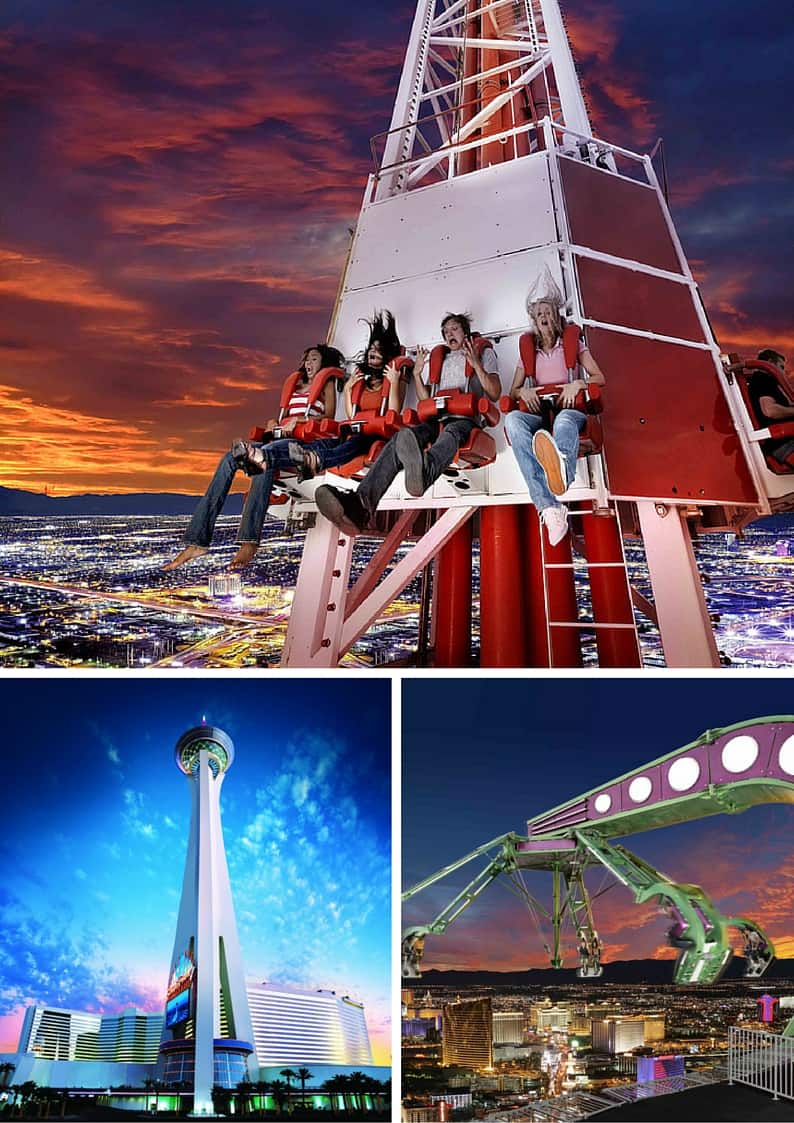 The Stratosphere is hotel and casino that towers overall on the North end of The Strip.  The Stratosphere is most famous for its views of The Strip and hair-raising rides.
It is by far the tallest building in Vegas, and the rides up top are NOT for someone who is afraid of heights. My favorite is the Big Shot, which shoots your seat straight up the top of the tower and into the sky.  It is the tallest thrill ride in the world.  If that isn't gutsy enough for you, you can jump off the top via controlled cables to the bottom.
7. The High Roller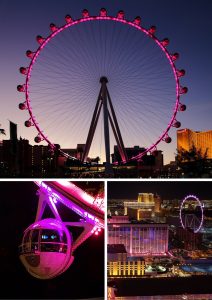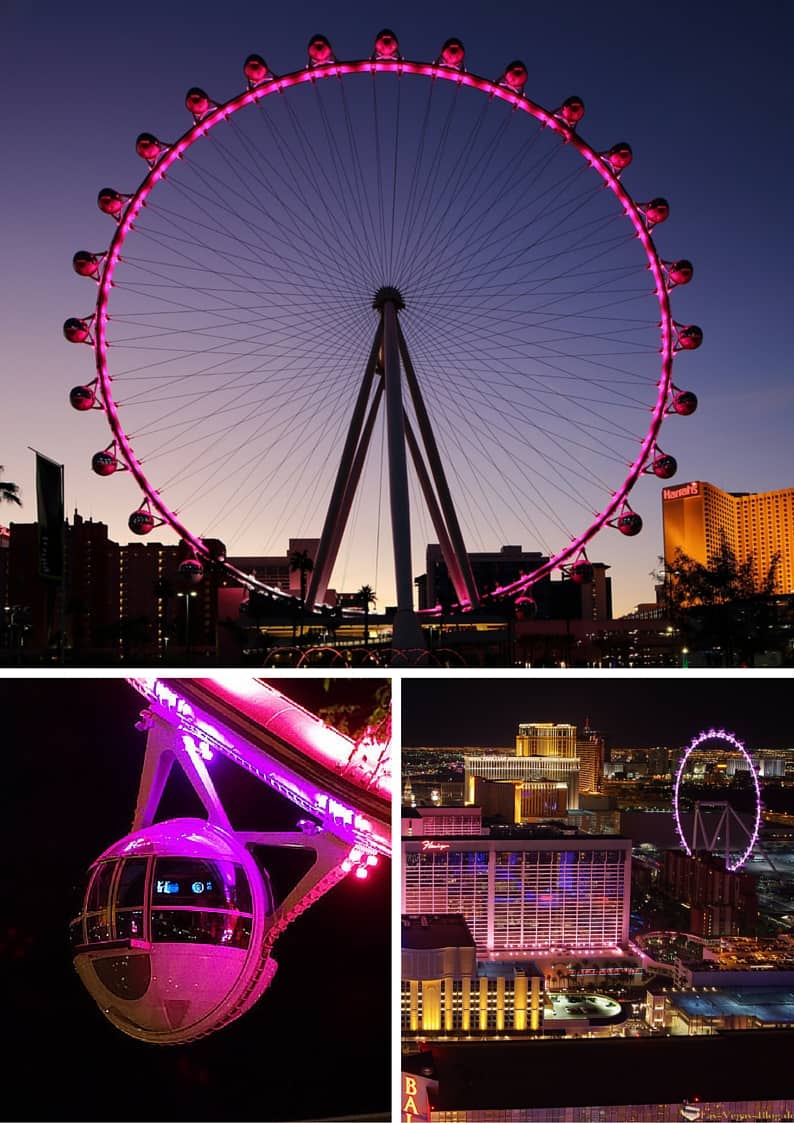 This gigantic observation/Ferris wheel is brand new to Las Vegas.  It is like the London Eye, but bigger.  Surprisingly it really is a fun ride as pods are big enough to feature whole groups of friends, and even your own bar and bartender.
Also Read: More Things To Do In Las Vegas 
8. Hoover Dam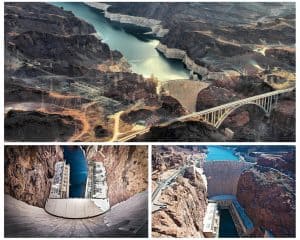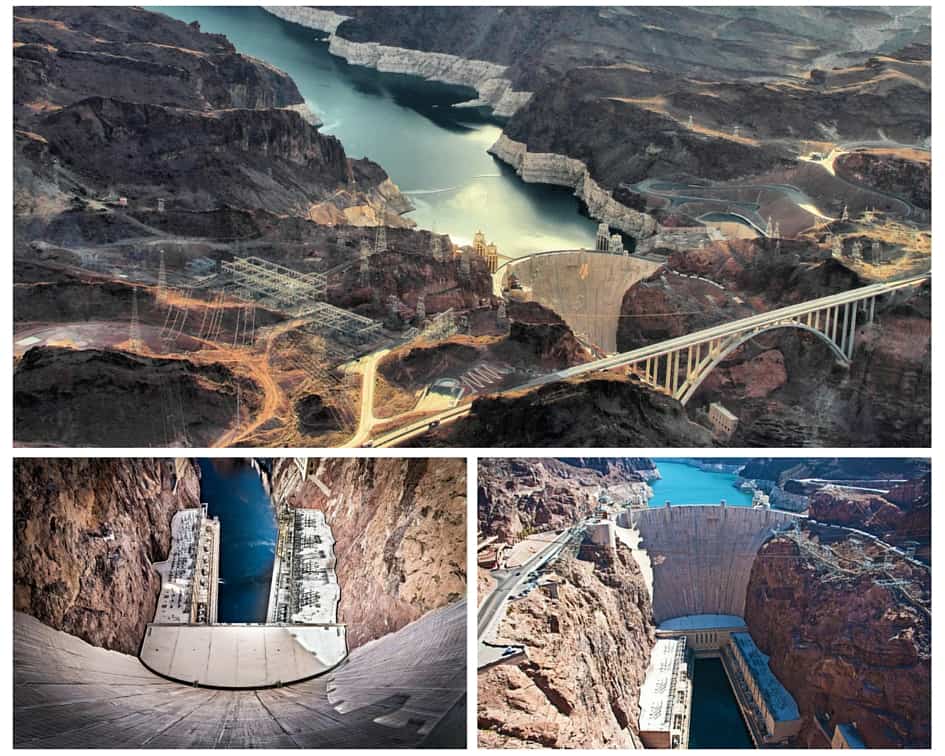 Not all the attractions in Vegas feature neon lights.  The Hoover Dam is a testament to modern engineering.  I found the tour showing how the dam generates power for Las Vegas fascinating.  Also, the lake made by the dam (Lake Mead) is great for boating.
9. Las Vegas Ski Resort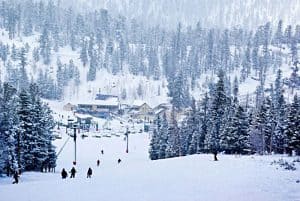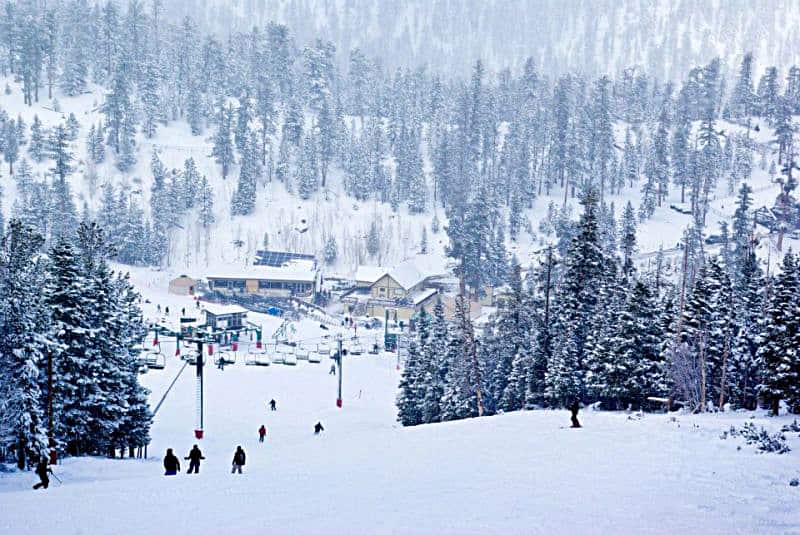 Yes, in the mountains just 45 minutes away from The Strip developers built a ski-resort.  It is not huge, and does not feature the world's best snow, but the novelty of being able to ski within 45 minutes of the scorching desert heat is unreal.
10. The Mob Museum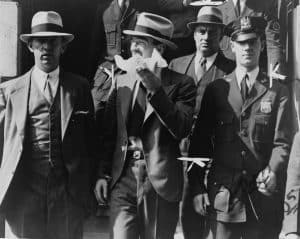 Part of the reason that Las Vegas is built the way it is today is that of the involvement of organized crime.  The mob used casinos to launder their money.  Supposedly organized crime is out of Vegas now, but a fascinating history remains.  The Mob Museum doesn't just explore Vegas' criminal history, but the characters that made this possible from around the country.  The museum does have some creepy elements as it allows visitors to hold a tommy gun, explore crime scene photos, and even see the bloody walls left from massacres.