Kavanaugh Had Role in a Bush White House Debate About Terrorism Suspects, Email Shows
WASHINGTON — Brett M. Kavanaugh was involved in the Bush administration's internal deliberations over the government's monitoring of conversations between certain terrorism suspects and their lawyers after the Sept. 11 attacks, a newly disclosed White House email shows.
The email appeared likely to become a focus at Judge Kavanaugh's Supreme Court confirmation hearing later this year. Democratic senators have raised questions about whether he misled the Senate at his 2006 appeals court confirmation hearing, when he flatly denied any involvement in "questions about the rules governing detention of combatants" during his tenure in the George W. Bush administration.
The email, released on Thursday, was part of a trove of about 5,700 pages of documents involving Judge Kavanaugh's time as an associate White House counsel in the administration.
Republicans portrayed the release as the start of an effort to be transparent about Judge Kavanaugh's work in the Bush administration, while Democrats complained that the vast majority of such files remained hidden from public view.
Most of the files released on Thursday appeared to carry little significance, consisting mainly of Bush White House staff members circulating news and opinion articles or setting up meetings. But the email about the monitoring of terrorism suspects' attorney-client communications stood out, and — anticipating controversy — the White House had prepared a detailed explanation about its context.
The email was a response to a Justice Department request that the White House help prepare Attorney General John Ashcroft for a December 2001 oversight hearing about several post-Sept. 11 actions by the department, including "military tribunals, monitoring of atty/client conversations, racial profiling, etc."
Judge Kavanaugh referred any work on matters relating to military commissions to a colleague in the White House Counsel's Office who handled terrorism detainee issues, Bradford Berenson, but said he was "happy to help out" on "the attorney-client issue."
At the time, the Justice Department had attracted controversy by informing a small number of federal prisoners that their conversations with lawyers were subject to monitoring to ensure they would not pass on messages to terrorists.
Judge Kavanaugh's 2006 denial that he had been involved in terrorism detainee policies first became an issue in 2007, when The Washington Post published an anecdote mentioning that Judge Kavanaugh had been consulted about how Justice Anthony M. Kennedy — for whom he had clerked — would most likely rule on the question of whether American citizens being held as "enemy combatants" had a right to consult with lawyers.
At the time, Senators Richard J. Durbin, Democrat of Illinois, and Patrick J. Leahy, Democrat of Vermont, suggested that Judge Kavanaugh may have lied during his confirmation hearing the previous year. A spokesman for the judge insisted at the time that his testimony had been accurate, and the Justice Department's public integrity section decided not to bring charges.
This summer, after President Trump nominated Judge Kavanaugh to fill the seat left vacant by Justice Kennedy's retirement, Mr. Durbin and Mr. Leahy renewed their questions about his 2006 testimony. Judge Kavanaugh's former colleagues have defended him, saying that terrorism detainee policy was not part of his portfolio and that he had been asked consulted on that particular question only for insight into Justice Kennedy's thinking.
The Trump White House stressed on Thursday that Judge Kavanaugh's denial of involvement in detention policy arose in a different context: He was responding to questions by Mr. Durbin at the hearing about the torture of terrorism detainees in C.I.A. or military custody.
"At no point did Senator Durbin ask the judge about other legal issues pertaining to the war on terrorism, such as detainees' legal rights," said Raj Shah, a White House spokesman.
The email does not indicate whether Judge Kavanaugh went on to brief Mr. Ashcroft about the attorney-client issue in late 2001. But two weeks later, Mr. Ashcroft testified that it was appropriate for the government to monitor attorney-client conversations of "16 of the 158,000 federal inmates," so long as it did not use the information for prosecuting them, because they were suspected of terrorism offenses.
The release of the 5,700 pages was a first trickle from a larger trove of about 125,000 pages that a Republican lawyer working for Mr. Bush, William A. Burck, provided to the committee late last week.
The National Archives is separately working through Bush-era White House documents to decide what to turn over, but has said it will take months to complete the review. Mr. Bush, who as the former president has a right to access and disclose files from his administration that are not yet public, has voluntarily begun providing some to the Senate in a parallel process.
In a letter to the committee on Wednesday clearing the public release of the 5,700 pages, Mr. Burck portrayed the set as the first in a series that will be approved for disclosure on a "rolling basis."
Democrats have complained that Mr. Burck should not be involved at all. They have also complained that Republicans — who control the Senate — are asking the National Archives only for Judge Kavanaugh's files as a White House lawyer from 2001 to 2003, and not for his files as Mr. Bush's staff secretary from 2003 to 2006.
Mr. Burck — who was Mr. Kavanaugh's deputy as staff secretary in the Bush White House — provided the 125,000 pages of files to the committee on the condition that it would treat them all as "confidential" and not make them public, a condition he lifted for the 5,700 pages made public on Thursday.
"Not only is a massively conflicted Republican lawyer, who previously worked for Judge Kavanaugh, cherry-picking what documents the Senate Judiciary Committee can see, he is now telling the committee what the rest of the Senate and the American public can see — and Republicans are playing along," said Senator Chuck Schumer of New York, the Democratic leader.
But a Republican Judiciary Committee staff member said the release was just the beginning of making public the files the committee received last week, and that more would be forthcoming.
10 Attractions You Can't Miss In Las Vegas
This desert oasis is a city that most people already know a decent amount about.  It is one of the biggest epicentres for gambling in the world.  When you get off a plane in Las Vegas airport you are immediately greeted by slot machines.  As you leave the airport you have amazing views of "The Strip", which is an incredibly long stretch of mega-casino and resorts lit up by glowing neon lights.  The gambling doesn't stop there as gas stations and even grocery stores feature slot machines (seriously, people hang out and gamble in grocery stores).
Las Vegas has done an excellent job of adding more than just gambling to its offerings.  It attempts to brand itself as the "entertainment capital of the world", and frankly they are doing a pretty good job of it.  There are musicians that take up permanent residency in Vegas (yes Britney, Backstreet Boys, and maybe Gaga), an incredible variety of shows (Cirque du Soleil to Blue Man Group), world-class dining options, phenomenal golf courses, mountain hikes, endless shopping (high end to outlet malls), pool parties and nightlife, and even a manmade beach and ski-resort.
As you visit Vegas you will be enthralled by everything "Sin City" has to offer.
This list is in no way inclusive of everything you could plan on a Vegas vacation but is designed to include some of the most iconic Las Vegas attractions that are perfect for the first timer, and things that you may not think to explore.
Also, check out these exclusive Las Vegas Timeshare Deals
Top 10 Must do's in Vegas
1. Welcome to Las Vegas Sign
Taking a picture at the Welcome to Las Vegas sign is a rite of passage for vacationers.  Whether you are here for a bachelor party, work convention, or just escaping cold winter temperatures this sign on the South end of The Strip is a perfect way to begin your trip.
2. Visit Foreign Cities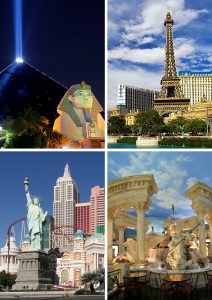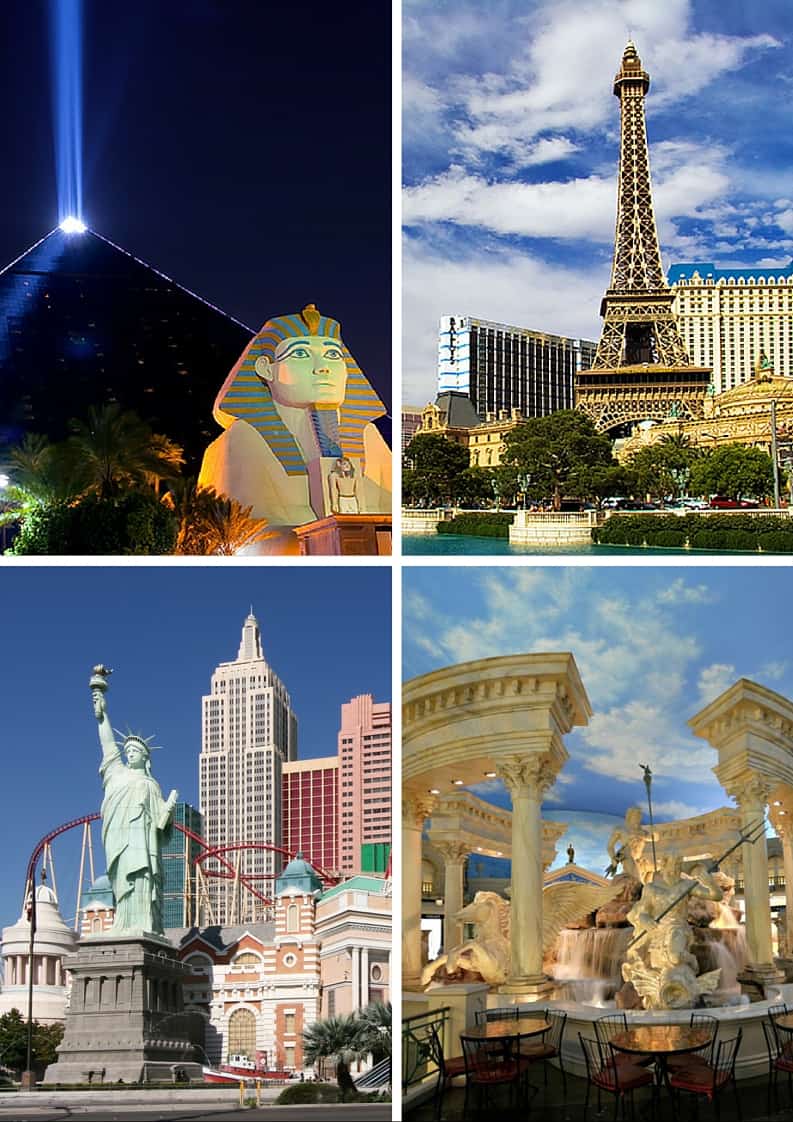 Okay not really, but lots of the casinos are based on a location or theme from somewhere else in the world.  The Paris features its own Eiffel Tower and really is reminiscent of Paris, the Venetian is based on Venice (discussed more below), the Luxor is based on ancient Egypt, Caesar's Palace is based off classic Rome, the Imperial Palace shouts out to Imperial Japan, and New York New York is pretty self-explanatory. Visiting a casino is not a substitute for seeing these places, but I recommend exploring more than just the one you stay in as it is fun to see what elements from around the world have implemented in Vegas.
3. Freemont Street (Old Vegas)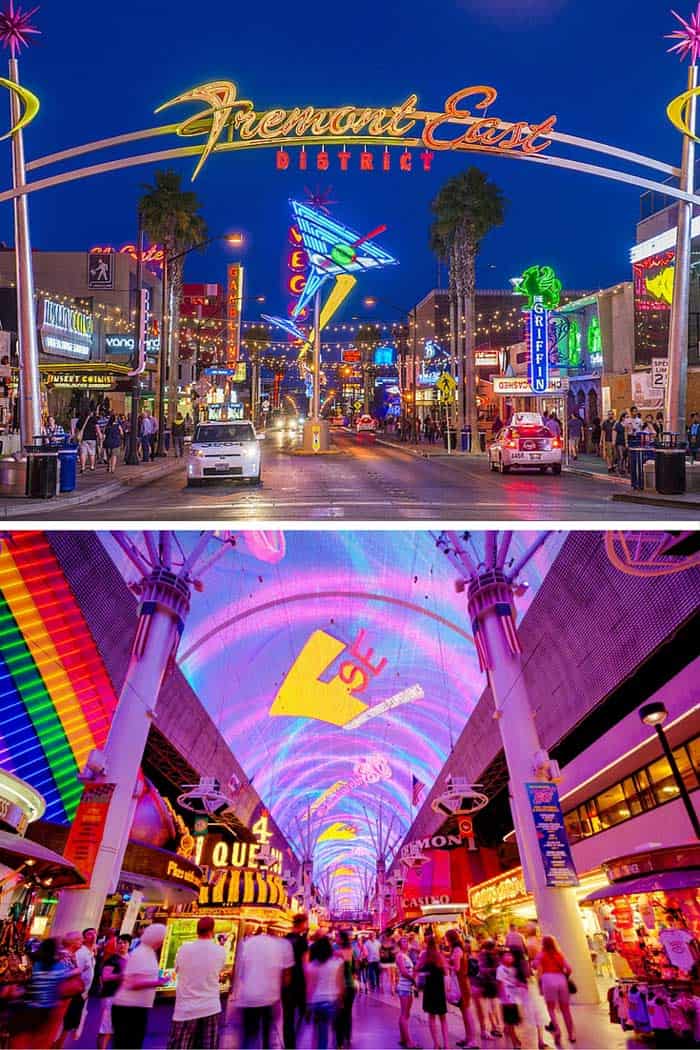 Freemont Street is where you will find the old school Vegas casinos like the 4 Queens and Golden Nugget (featuring a water slide through a shark tank). Even though it is old, it is not run down or left behind.
Freemont Street runs straight through most of the big classic casinos, and is a perfect spot to get a drink from an outdoor bar, see some of the most unique street performers in the world, experience free live music, as well as have strippers attempt to pull you in to see their shows (seriously, be careful).
4. Bellagio Fountain and Gardens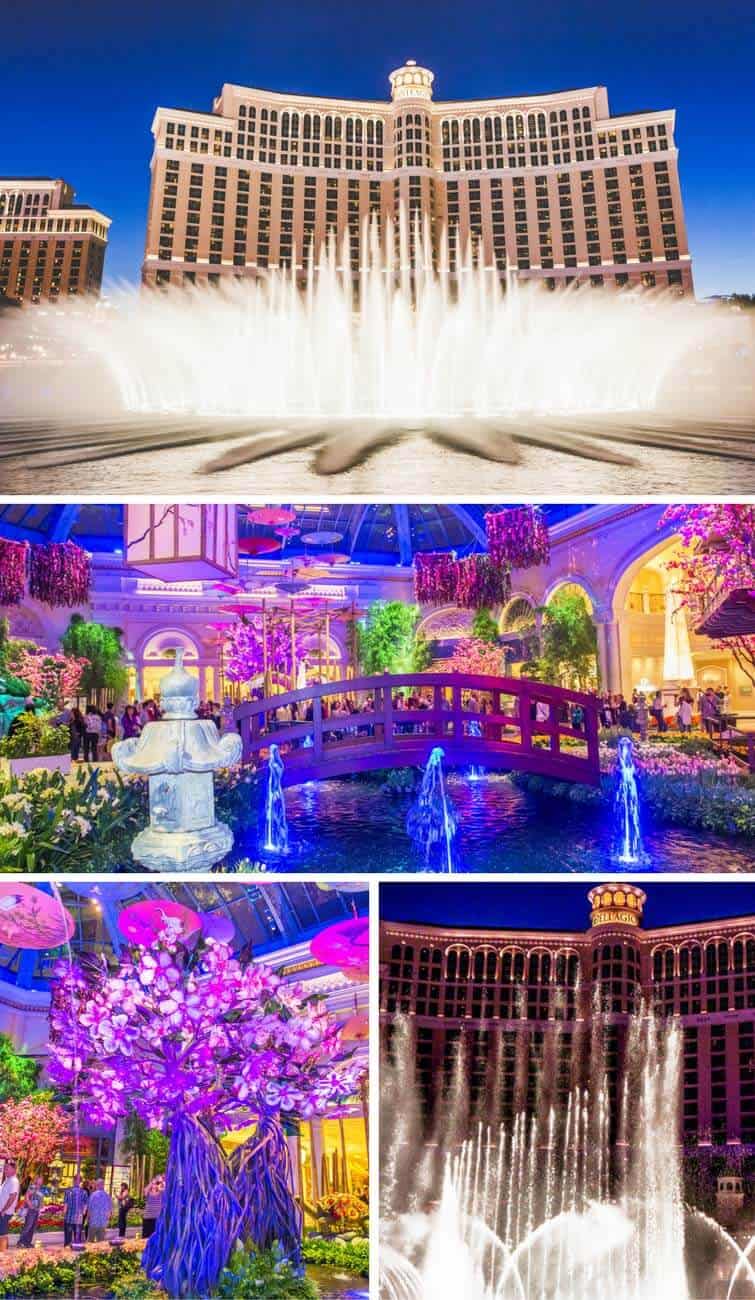 Even though each resort has fantastic things to see, the water show and botanical gardens at the Bellagio cannot be missed.  The 8-acre man-made lake features a dancing water fountain show choreographed to music.  The show is different every 15 minutes, and the results truly are beautiful.  This is the spot that was glorified in Oceans 11 (Brad Pitt and George Clooney could make anything glorious).
The gardens in the lobby are exquisitely decorated and maintained for each season with some of the unique plants and flowers in the world.  Even as a local I make a point to go down each year to see the gardens decorated with a Christmas theme.
5. Gondola Ride at the Venetian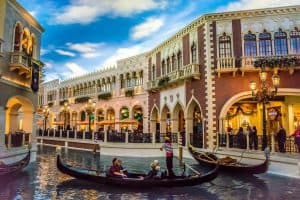 The sky in this picture really is painted on, and it does look that amazing in person.
The Venetian is a luxury resort based off of Venice Italy.  My favorite part of the Venetian is that they built canals throughout the ground floor and mall of the casino, and offer motorized gondola rides while you get serenaded by your very own gondolier.
Even though it makes my husband want to barf, I love how romantic these rides are.  Somehow they designed it so that you don't feel like you are floating through the middle of a casino.
6. Adventure Rides at the Stratosphere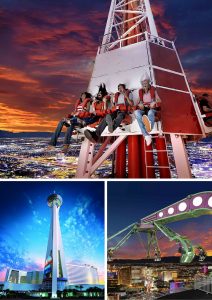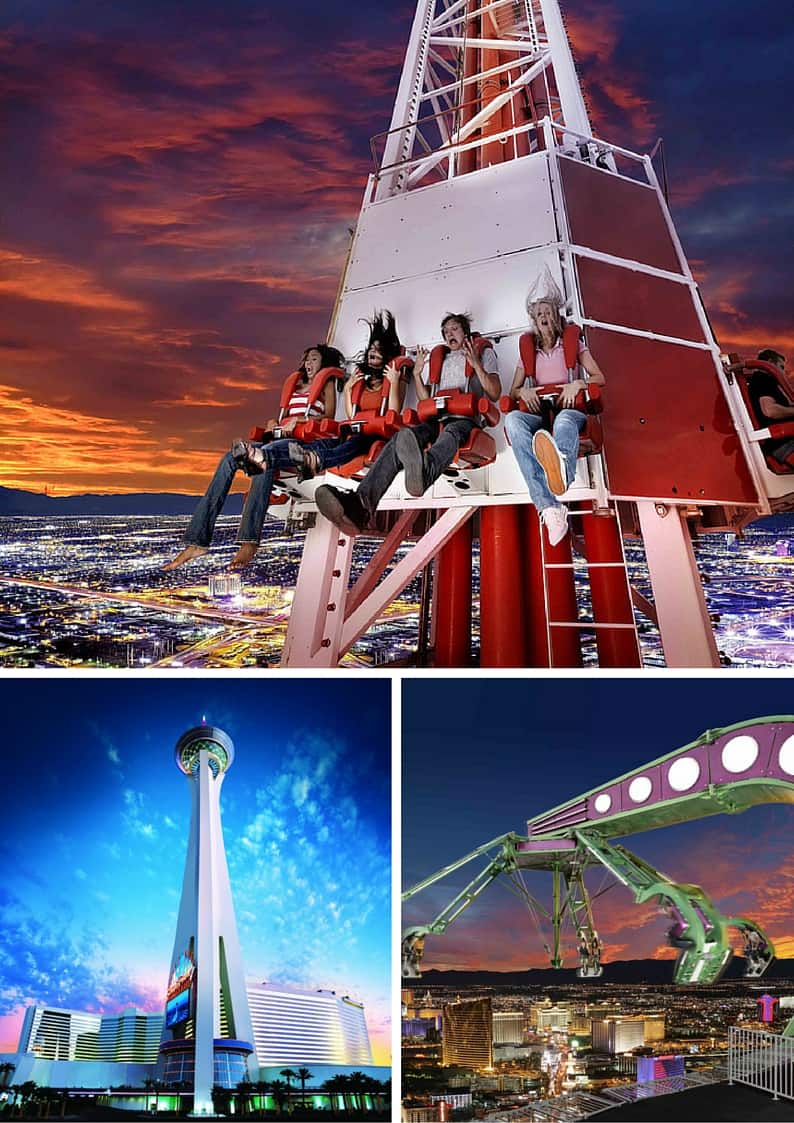 The Stratosphere is hotel and casino that towers overall on the North end of The Strip.  The Stratosphere is most famous for its views of The Strip and hair-raising rides.
It is by far the tallest building in Vegas, and the rides up top are NOT for someone who is afraid of heights. My favorite is the Big Shot, which shoots your seat straight up the top of the tower and into the sky.  It is the tallest thrill ride in the world.  If that isn't gutsy enough for you, you can jump off the top via controlled cables to the bottom.
7. The High Roller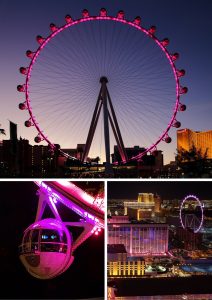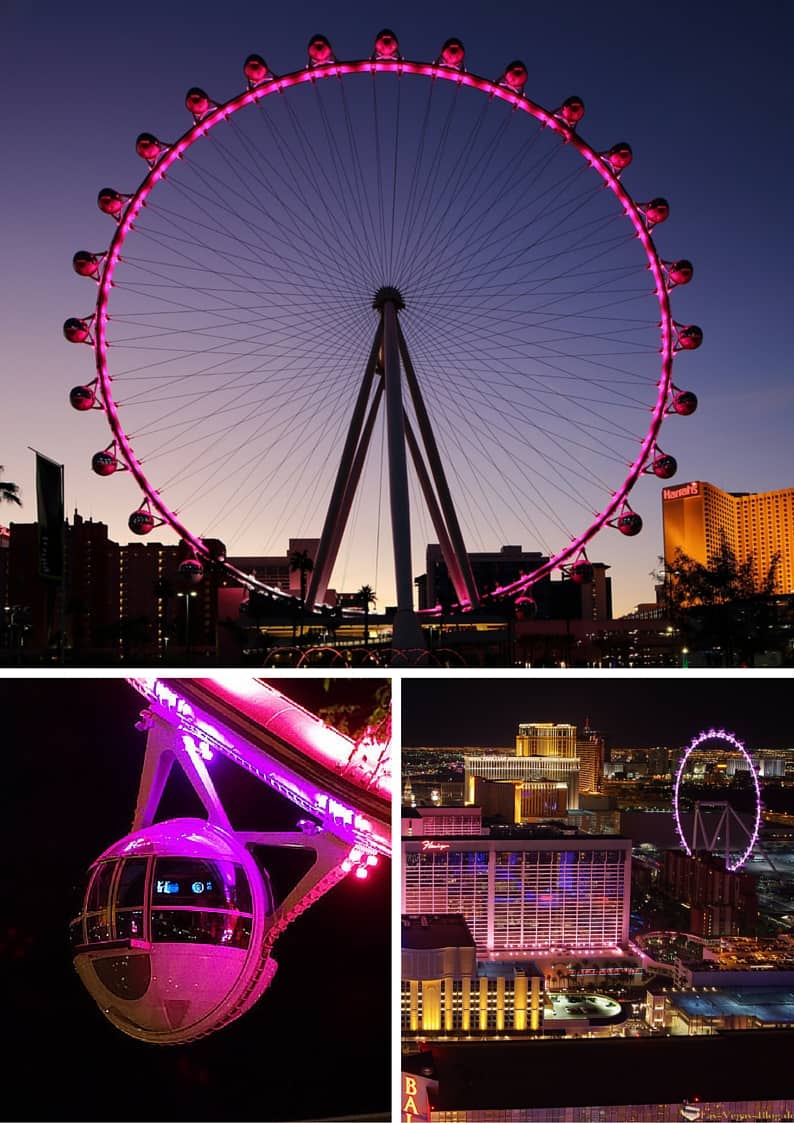 This gigantic observation/Ferris wheel is brand new to Las Vegas.  It is like the London Eye, but bigger.  Surprisingly it really is a fun ride as pods are big enough to feature whole groups of friends, and even your own bar and bartender.
Also Read: More Things To Do In Las Vegas 
8. Hoover Dam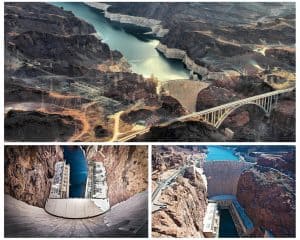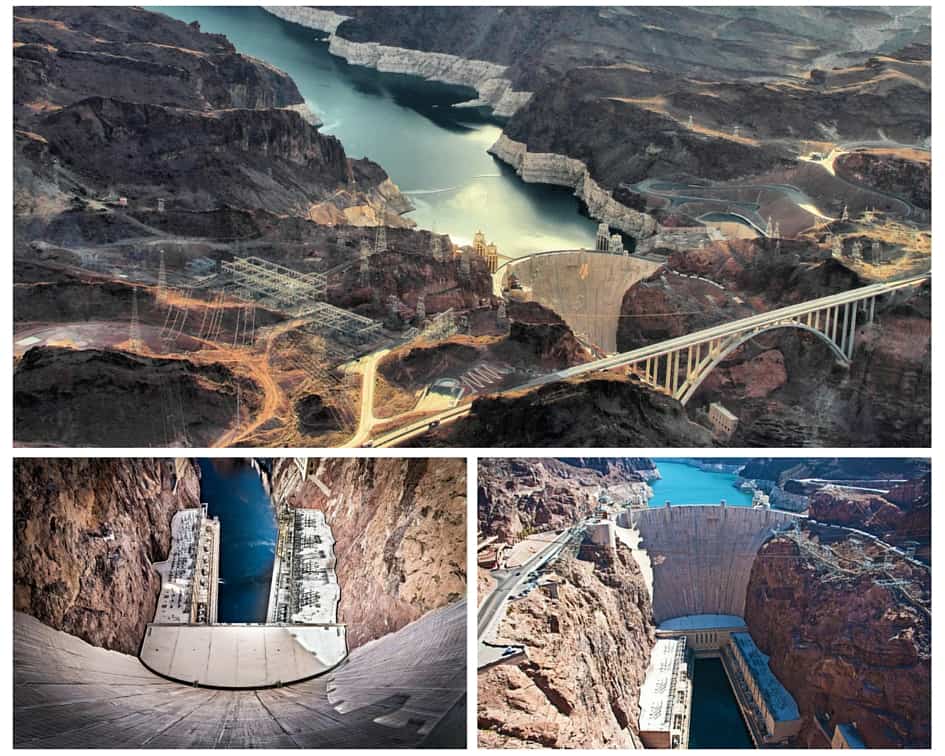 Not all the attractions in Vegas feature neon lights.  The Hoover Dam is a testament to modern engineering.  I found the tour showing how the dam generates power for Las Vegas fascinating.  Also, the lake made by the dam (Lake Mead) is great for boating.
9. Las Vegas Ski Resort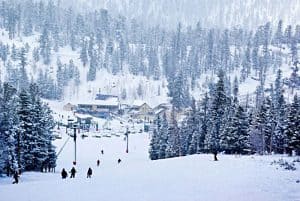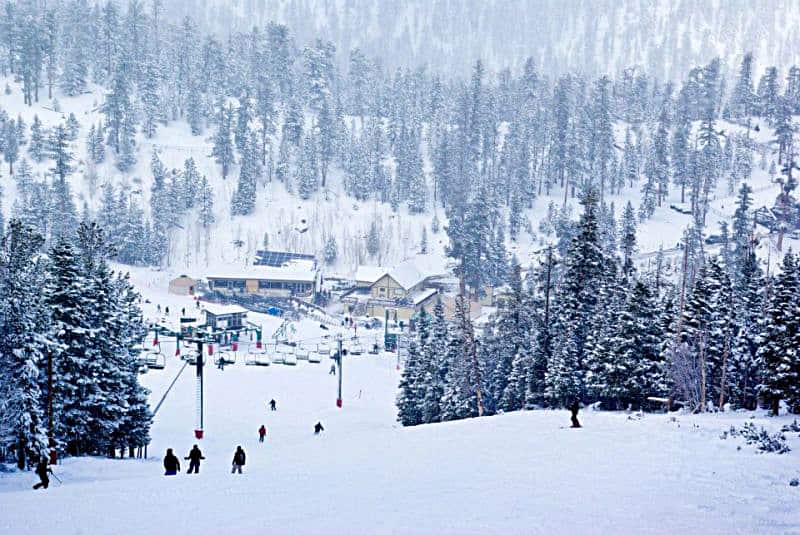 Yes, in the mountains just 45 minutes away from The Strip developers built a ski-resort.  It is not huge, and does not feature the world's best snow, but the novelty of being able to ski within 45 minutes of the scorching desert heat is unreal.
10. The Mob Museum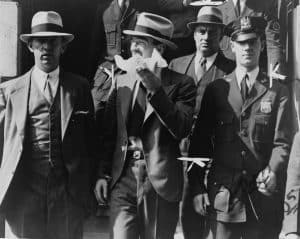 Part of the reason that Las Vegas is built the way it is today is that of the involvement of organized crime.  The mob used casinos to launder their money.  Supposedly organized crime is out of Vegas now, but a fascinating history remains.  The Mob Museum doesn't just explore Vegas' criminal history, but the characters that made this possible from around the country.  The museum does have some creepy elements as it allows visitors to hold a tommy gun, explore crime scene photos, and even see the bloody walls left from massacres.