In Kansas, Another Close Race, as Kobach and Colyer Remain Deadlocked
TOPEKA, Kan. — On the same night that a special congressional election in Ohio proved too tight to call, one of the most competitive Republican primaries for governor this summer was also deadlocked early Wednesday, as Kansas's most populous county struggled to tally its votes in the race between Kris W. Kobach and Gov. Jeff Colyer.
Mr. Kobach, a hard-right conservative endorsed by President Trump and known nationally for his grim warnings about voter fraud and illegal immigration, sent his supporters home from a watch party in Topeka just before 1 a.m. as he clung to a lead of a few hundred votes over Mr. Colyer, with 88 percent of precincts reporting.
"Try to get a good night's sleep," Mr. Kobach, the Kansas secretary of state, told the dozens of supporters who remained past midnight at a Topeka hotel as returns trickled in. "I don't know if I'll be sleeping much."
The long night came amid delays in counting the votes in Johnson County in suburban Kansas City, home to more than 500,000 people, where new voting machines were being used. Mr. Kobach, who in his current position oversees the state's elections, said the results might not be finalized for hours.
Mr. Colyer, a less polarizing but lesser-known conservative who ascended to the state's top post earlier this year, was polling ahead of Mr. Kobach in Johnson County with several hundred precincts there still uncounted.
The close results in Kansas came after Mr. Trump upended the race on Monday by endorsing Mr. Kobach against the advice of some of the party's top strategists.
A victory for Mr. Kobach would again demonstrate Mr. Trump's ability to influence Republican primaries. But it could also create a general election opening for Democrats, currently shut out of power in deeply Republican Kansas, who believe they can mobilize voters opposed to Mr. Kobach's strident policies and potentially flip the governorship and two or three congressional seats.
The Republican nominee for governor will face Greg Orman, a businessman running as an independent, and the Democratic nominee, projected by The Associated Press to be Laura Kelly, a state legislator.
Read more about Tuesday's results:
• Gretchen Whitmer won the Democratic nomination for governor of Michigan, joining women in Georgia, Texas, South Dakota and elsewhere who are competing in November to lead their states.

• In Missouri, voters rejected a legislative move to curb union power.

•A special electionfor an Ohio House seat was too close to call on Tuesday night.
Kansas has long been among the reddest of red states. Republicans hold all six congressional positions, have carried the state in every presidential election since 1964 and supported Mr. Trump in 2016 by a nearly 21-point margin. Under former Gov. Sam Brownback, a Republican who resigned early this year to become an ambassador, the state became synonymous with a conservative tax-slashing experiment that led to budget cuts and revenue shortfalls.
Mr. Kobach and Mr. Colyer are both politically conservative, though with far different styles and personalities. Mr. Kobach, a Yale-educated lawyer, has for years burnished a national profile by drafting voter I.D. legislation and helping states and cities enact and defend restrictions on voting and immigration. He served as vice chairman of Mr. Trump's voter fraud panel, which was disbanded after failing to find evidence of the widespread election rigging that the president claimed.
Mr. Colyer served seven years as Mr. Brownback's lieutenant governor. Since taking over as governor about six months ago, he has tried to broker compromise on a longstanding school funding debate and has signed a law allowing state-contracted adoption agencies to reject gay couples on religious grounds.
Mr. Trump waded into the race to support Mr. Kobach on Monday, a day before the election, against the wishes of many advisers and national Republicans who warned that Mr. Colyer was a safer general election candidate. But the president has had success picking winners in recent Republican primaries, including in South Carolina, Georgia and Alabama, and also felt loyalty to Mr. Kobach, an early supporter of his candidacy and ardent supporter of his immigration views.
Republicans are bracing for a competitive general election. Though rightward-leaning, Kansas is not monolithic, and has elected Democratic governors from time to time over the years.
Discontent with Mr. Brownback's policies, coupled with suburban skepticism of Mr. Trump, have led to a resurgence of sorts for centrists and liberals. Democrats and moderate Republicans won several seats in the State Legislature in 2016 and undid much of Mr. Brownback's signature tax policy. They also passed a Medicaid expansion bill, which Mr. Brownback vetoed.
Last year, Democrats came closer than expected to winning a special congressional election in the deeply conservative district that surrounds Wichita. And this year, Democrats believe they have at least a fighting chance in three of the state's four congressional districts, plus the governor's race. (The independent candidacy of Mr. Orman, a well-known moderate who ran unsuccessfully for the Senate in 2014 and who Democrats have urged to withdraw, could splinter the vote for governor and give Republicans an advantage.)
In the Second Congressional District, which includes Topeka and the liberal college city of Lawrence, Representative Lynn Jenkins decided to not seek re-election, leaving Republicans without an incumbent in a district that could swing left. Paul Davis, a former lawmaker who ran unsuccessfully for governor in 2014, won the Democratic nomination.
He will face Steve Watkins, a Republican former Army officer who has competed in the Iditarod sled dog race, in the general election.
In the traditionally Republican Fourth Congressional District that surrounds Wichita, Democrats nominated James Thompson, a lawyer and military veteran who lost last year's special election and who campaigned recently with Senator Bernie Sanders of Vermont and Alexandria Ocasio-Cortez, the surprise winner in a New York House primary in June.
Representative Ron Estes, who was elected last year to replace Mike Pompeo, won the Republican nomination for a full term.
Jonathan Martin contributed reporting from Columbus, Ohio.
10 Attractions You Can't Miss In Las Vegas
This desert oasis is a city that most people already know a decent amount about.  It is one of the biggest epicentres for gambling in the world.  When you get off a plane in Las Vegas airport you are immediately greeted by slot machines.  As you leave the airport you have amazing views of "The Strip", which is an incredibly long stretch of mega-casino and resorts lit up by glowing neon lights.  The gambling doesn't stop there as gas stations and even grocery stores feature slot machines (seriously, people hang out and gamble in grocery stores).
Las Vegas has done an excellent job of adding more than just gambling to its offerings.  It attempts to brand itself as the "entertainment capital of the world", and frankly they are doing a pretty good job of it.  There are musicians that take up permanent residency in Vegas (yes Britney, Backstreet Boys, and maybe Gaga), an incredible variety of shows (Cirque du Soleil to Blue Man Group), world-class dining options, phenomenal golf courses, mountain hikes, endless shopping (high end to outlet malls), pool parties and nightlife, and even a manmade beach and ski-resort.
As you visit Vegas you will be enthralled by everything "Sin City" has to offer.
This list is in no way inclusive of everything you could plan on a Vegas vacation but is designed to include some of the most iconic Las Vegas attractions that are perfect for the first timer, and things that you may not think to explore.
Also, check out these exclusive Las Vegas Timeshare Deals
Top 10 Must do's in Vegas
1. Welcome to Las Vegas Sign
Taking a picture at the Welcome to Las Vegas sign is a rite of passage for vacationers.  Whether you are here for a bachelor party, work convention, or just escaping cold winter temperatures this sign on the South end of The Strip is a perfect way to begin your trip.
2. Visit Foreign Cities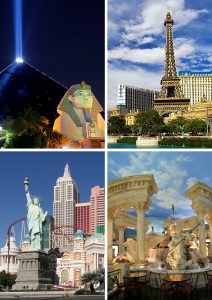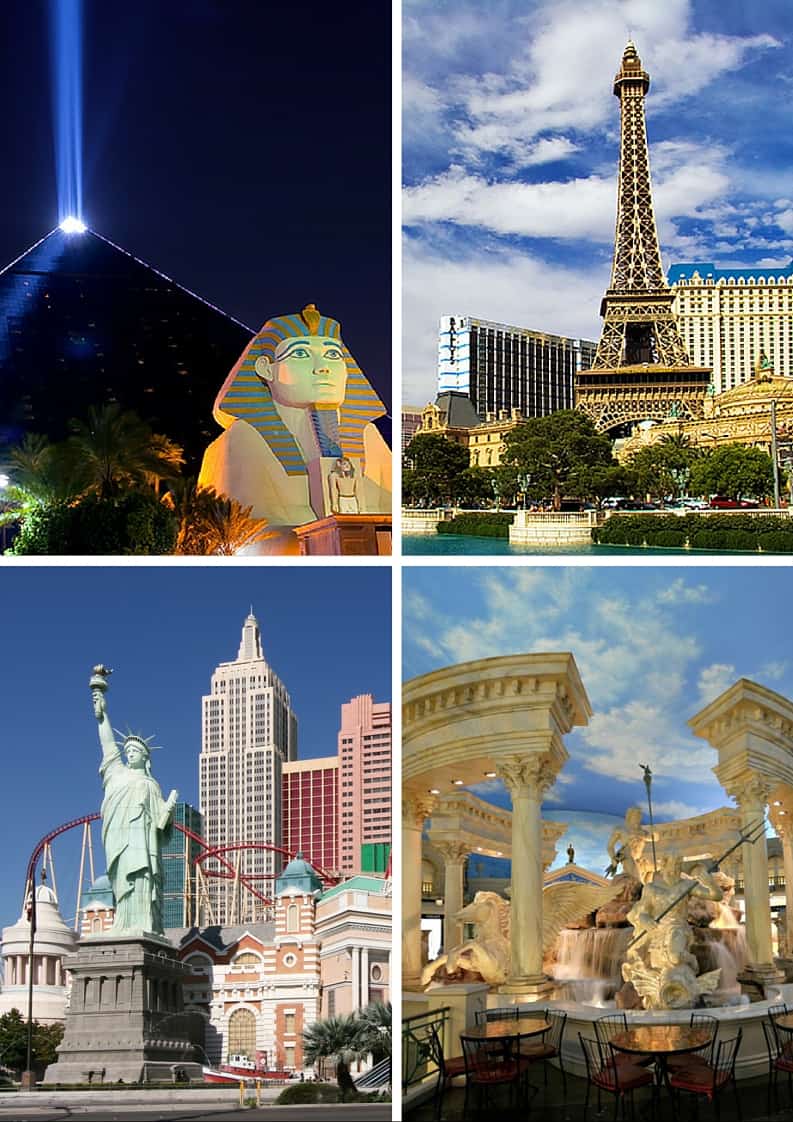 Okay not really, but lots of the casinos are based on a location or theme from somewhere else in the world.  The Paris features its own Eiffel Tower and really is reminiscent of Paris, the Venetian is based on Venice (discussed more below), the Luxor is based on ancient Egypt, Caesar's Palace is based off classic Rome, the Imperial Palace shouts out to Imperial Japan, and New York New York is pretty self-explanatory. Visiting a casino is not a substitute for seeing these places, but I recommend exploring more than just the one you stay in as it is fun to see what elements from around the world have implemented in Vegas.
3. Freemont Street (Old Vegas)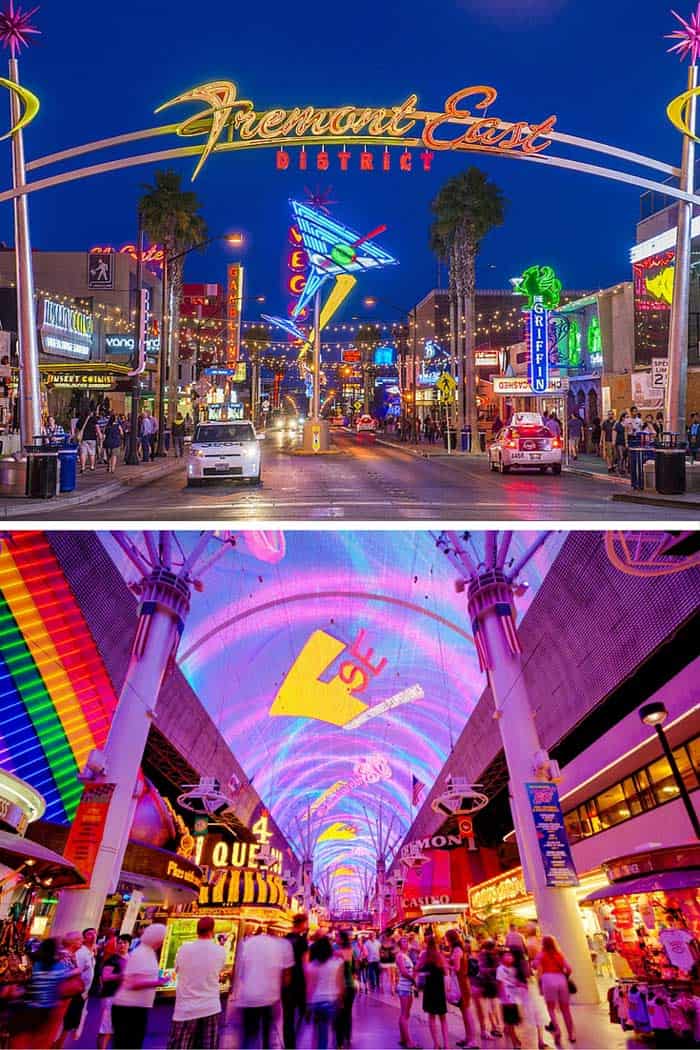 Freemont Street is where you will find the old school Vegas casinos like the 4 Queens and Golden Nugget (featuring a water slide through a shark tank). Even though it is old, it is not run down or left behind.
Freemont Street runs straight through most of the big classic casinos, and is a perfect spot to get a drink from an outdoor bar, see some of the most unique street performers in the world, experience free live music, as well as have strippers attempt to pull you in to see their shows (seriously, be careful).
4. Bellagio Fountain and Gardens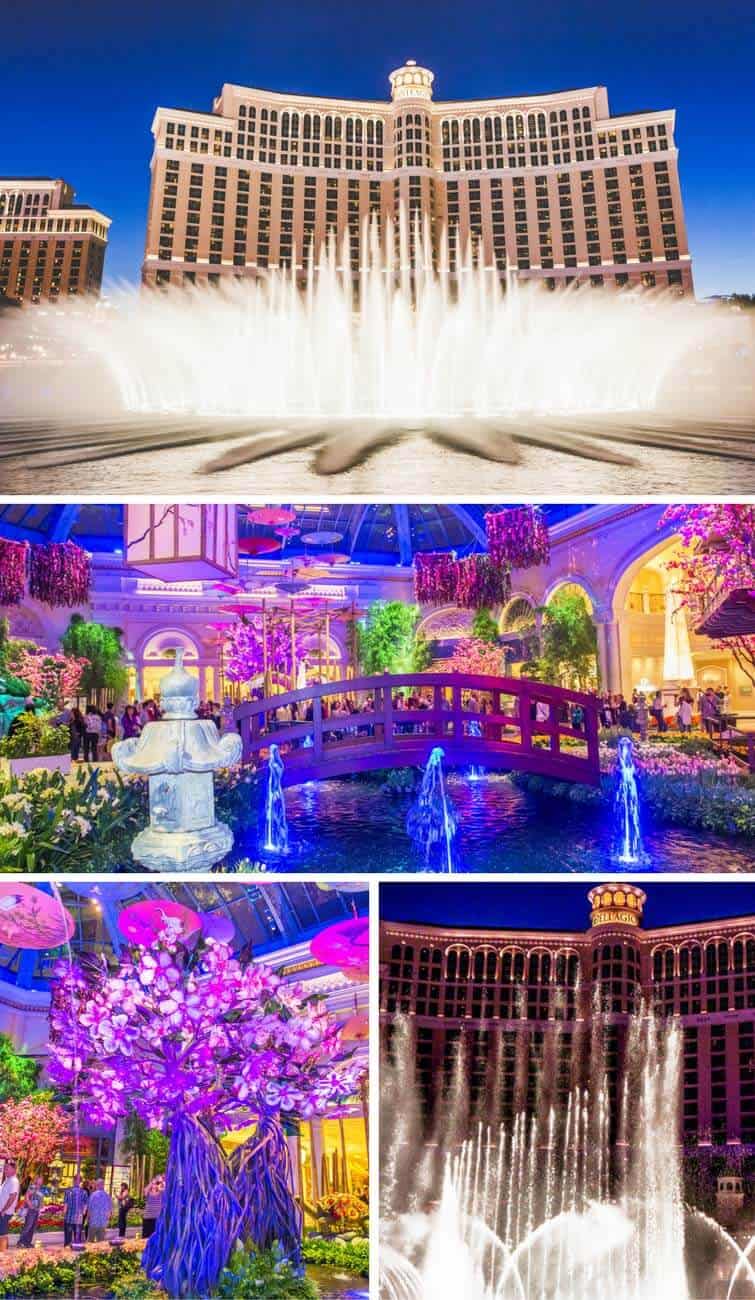 Even though each resort has fantastic things to see, the water show and botanical gardens at the Bellagio cannot be missed.  The 8-acre man-made lake features a dancing water fountain show choreographed to music.  The show is different every 15 minutes, and the results truly are beautiful.  This is the spot that was glorified in Oceans 11 (Brad Pitt and George Clooney could make anything glorious).
The gardens in the lobby are exquisitely decorated and maintained for each season with some of the unique plants and flowers in the world.  Even as a local I make a point to go down each year to see the gardens decorated with a Christmas theme.
5. Gondola Ride at the Venetian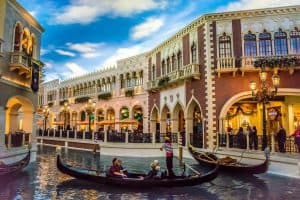 The sky in this picture really is painted on, and it does look that amazing in person.
The Venetian is a luxury resort based off of Venice Italy.  My favorite part of the Venetian is that they built canals throughout the ground floor and mall of the casino, and offer motorized gondola rides while you get serenaded by your very own gondolier.
Even though it makes my husband want to barf, I love how romantic these rides are.  Somehow they designed it so that you don't feel like you are floating through the middle of a casino.
6. Adventure Rides at the Stratosphere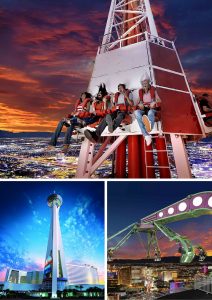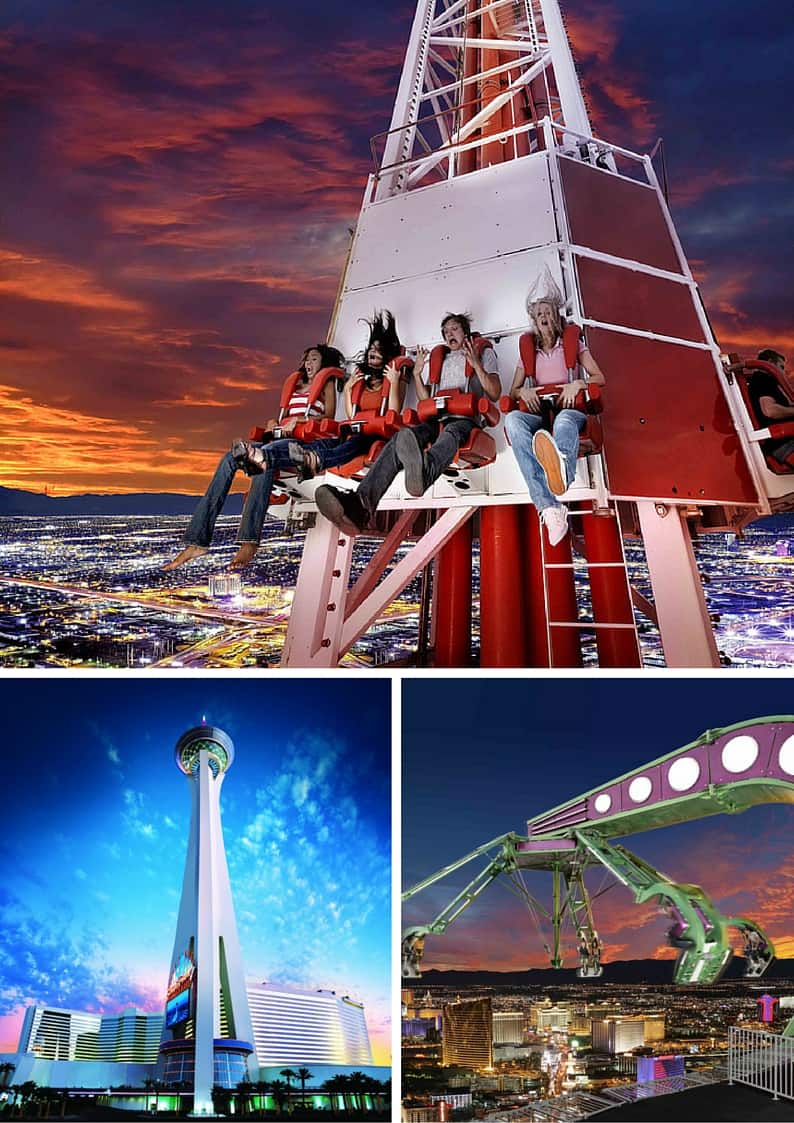 The Stratosphere is hotel and casino that towers overall on the North end of The Strip.  The Stratosphere is most famous for its views of The Strip and hair-raising rides.
It is by far the tallest building in Vegas, and the rides up top are NOT for someone who is afraid of heights. My favorite is the Big Shot, which shoots your seat straight up the top of the tower and into the sky.  It is the tallest thrill ride in the world.  If that isn't gutsy enough for you, you can jump off the top via controlled cables to the bottom.
7. The High Roller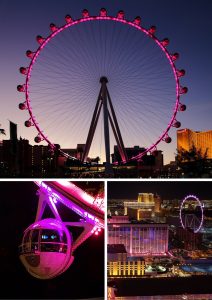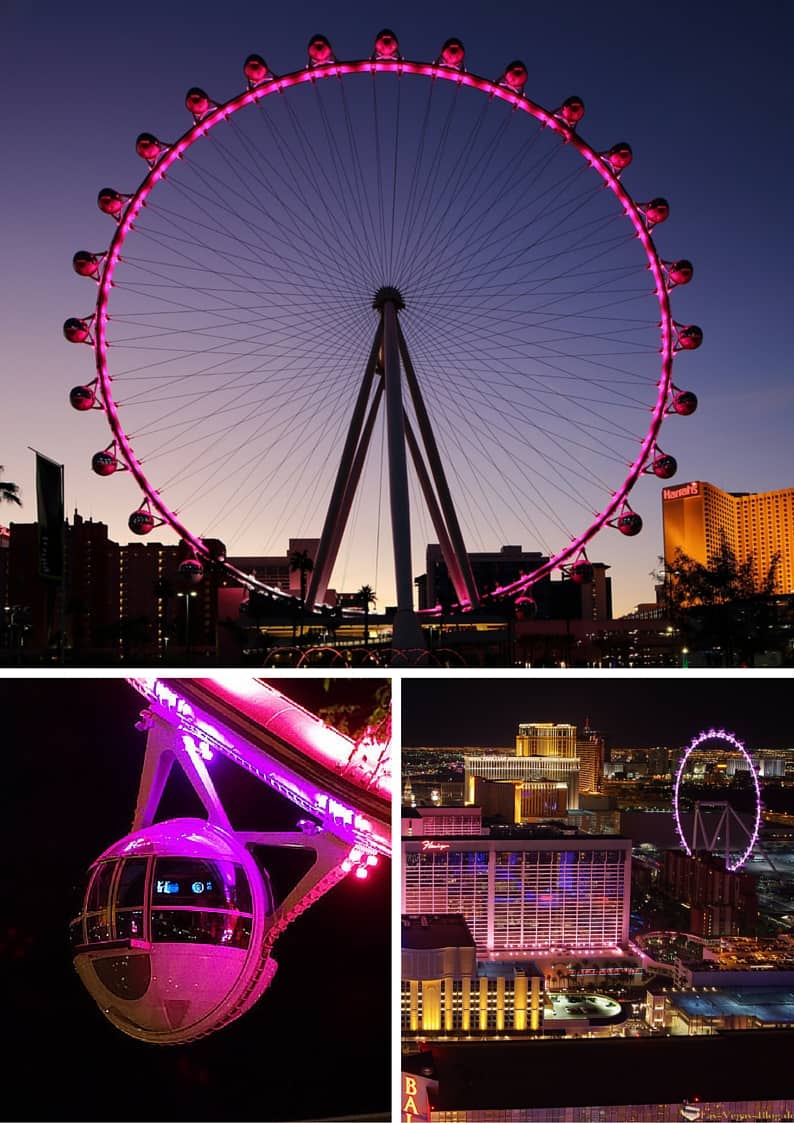 This gigantic observation/Ferris wheel is brand new to Las Vegas.  It is like the London Eye, but bigger.  Surprisingly it really is a fun ride as pods are big enough to feature whole groups of friends, and even your own bar and bartender.
Also Read: More Things To Do In Las Vegas 
8. Hoover Dam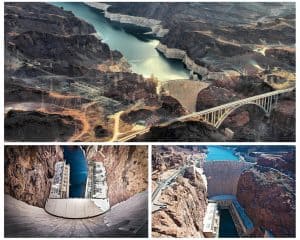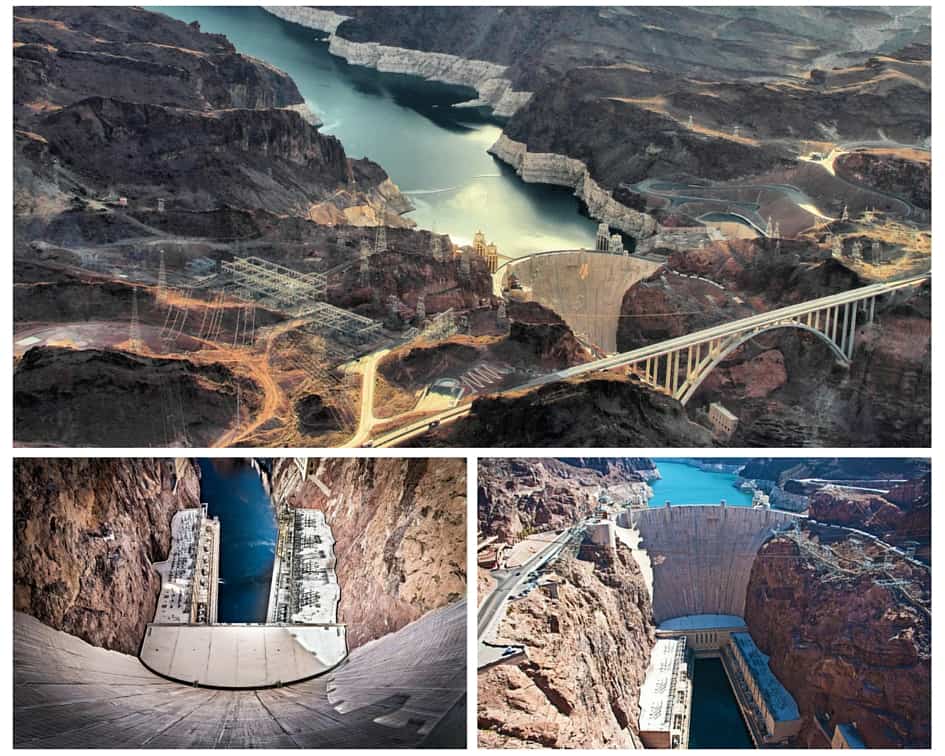 Not all the attractions in Vegas feature neon lights.  The Hoover Dam is a testament to modern engineering.  I found the tour showing how the dam generates power for Las Vegas fascinating.  Also, the lake made by the dam (Lake Mead) is great for boating.
9. Las Vegas Ski Resort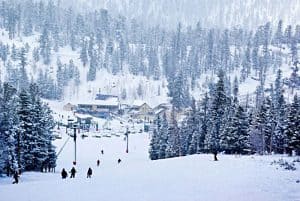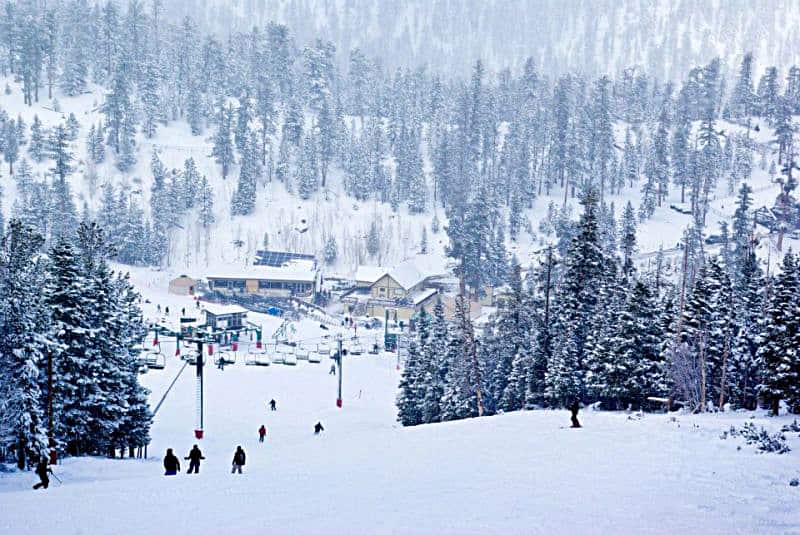 Yes, in the mountains just 45 minutes away from The Strip developers built a ski-resort.  It is not huge, and does not feature the world's best snow, but the novelty of being able to ski within 45 minutes of the scorching desert heat is unreal.
10. The Mob Museum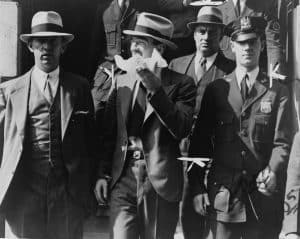 Part of the reason that Las Vegas is built the way it is today is that of the involvement of organized crime.  The mob used casinos to launder their money.  Supposedly organized crime is out of Vegas now, but a fascinating history remains.  The Mob Museum doesn't just explore Vegas' criminal history, but the characters that made this possible from around the country.  The museum does have some creepy elements as it allows visitors to hold a tommy gun, explore crime scene photos, and even see the bloody walls left from massacres.