Israeli PM Benjamin Netanyahu has said his military was acting in self defence during violence on the Gaza border that left dozens of Palestinians dead.
Some 55 were killed and 2,700 wounded by Israeli troops, Palestinian officials said, on the deadliest day of violence since the 2014 Gaza war.
The Palestinian Authority's leader condemned a "massacre". The UN spoke of "outrageous human rights violations".
The violence came as the US opened a controversial embassy in Jerusalem.
The move of the US embassy from Tel Aviv has incensed Palestinians, who claim eastern Jerusalem as the capital of a future Palestinian state.
They see the US move as backing Israeli control over the whole of the city, which Israel regards as its indivisible capital.
What happened at the Gaza border?
Palestinians were demonstrating on Monday as they have been for six weeks as part of a protest, orchestrated by Gaza's Islamist rulers Hamas, called the "Great March of Return".
However, Monday's protests – and more planned for Tuesday – are the culmination, as they mark the anniversary of Israel's creation in 1948 and what Palestinian's term the Nakba or Catastrophe, referring to the hundreds of thousands of their people who subsequently fled their homes or were displaced in the war that followed.
Monday also coincided with the dedication ceremony for the US embassy.
Israel said some 40,000 Palestinians had taken part in "violent riots" at 13 locations along the Gaza Strip security fence.
Palestinians hurled stones and incendiary devices, while the Israeli military used tear gas and live fire from snipers.
Mr Netanyahu defended his military, saying: "Every country has an obligation to defend its borders.
"The Hamas terrorist organisation declares its intention to destroy Israel and sends thousands to breach the border fence in order to achieve this goal. We will continue to act with determination to protect our sovereignty and our citizens."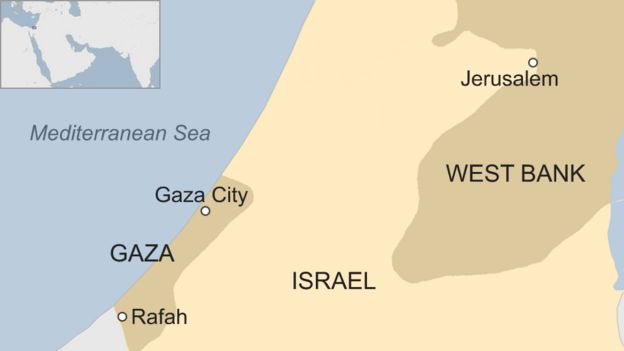 An Israel Defense Forces (IDF) spokesman said soldiers fired on those engaged in "terrorist activity and not on demonstrators, who were dispersed by usual means such as tear gas and according to the rules of engagement".
Announcing three days of mourning, Palestinian Authority President Mahmoud Abbas said: "Today once again, the massacres against our people continue."
What has the international reaction been?
There has been a sometimes fiercely conflicting response:
White House spokesman Raj Shah said: "The responsibility for these tragic deaths rests squarely with Hamas… Hamas is intentionally and cynically provoking this response"
EU foreign policy chief Federica Mogherini and the UK called for restraint
Germany said Israel had the right to defend itself but should do so proportionately
France's President Emmanuel Macron condemned violence by the Israeli military against the protesters
Turkey said the US shared responsibility with Israel for a "vile massacre" and that it was recalling its ambassadors from both the US and Israel
One of the strongest statements came from UN High Commissioner for Human Rights Zeid Ra'ad al-Hussein, who condemned the "shocking killing of dozens, injury of hundreds by Israeli live fire"
South Africa also recalled its ambassador to Israel, condemning "the indiscriminate and grave manner of the latest Israeli attack"
Was the violence linked to the opening of the embassy?
There were clashes between Israeli police and protesters who raised Palestinian flags outside the new embassy in Jerusalem and several protesters were detained.
Hamas had said the border protests were being stepped up for Monday and Tuesday anyway, but Mr Abbas's response to the US embassy move showed the anger among Palestinians.
He said: "We hear that they opened an embassy today. It is a settlement, not an embassy. A US settlement in East Jerusalem."
The atmosphere at the dedication ceremony was certainly in stark contrast to that at the Gaza border.
President Donald Trump sent a video message to the event, saying Israel had the "right to determine its own capital".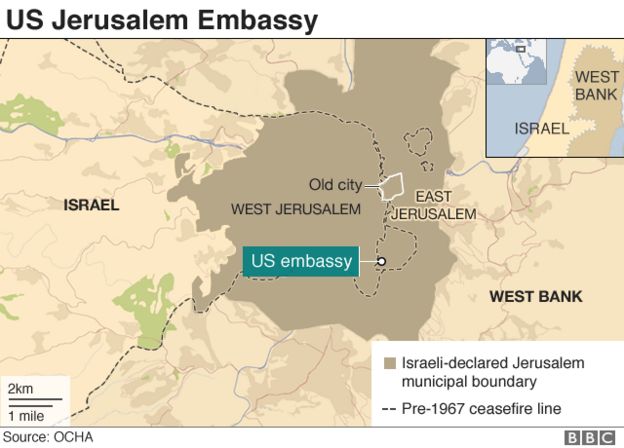 His daughter, Ivanka, unveiled the seal of the embassy, and her husband, Jared Kushner, said in his address: "When President Trump makes a promise he keeps it."
Mr Netanyahu said: "President Trump, by recognising history, you have made history."
Why is the embassy move so controversial?
The status of Jerusalem goes to the heart of the Israeli-Palestinian conflict.
Israeli sovereignty over Jerusalem is not recognised internationally and, according to the 1993 Israel-Palestinian peace accords, the final status of Jerusalem is meant to be discussed in the latter stages of peace talks.
Israel has occupied East Jerusalem since the 1967 Middle East war. It effectively annexed the sector, though this was not recognised by any countries until Mr Trump's declaration in December 2017.
Since 1967, Israel has built a dozen settlements, home to about 200,000 Jews, in East Jerusalem. These are considered illegal under international law, although Israel disputes this.
Various countries once had embassies based in Jerusalem but many moved after Israel passed a law in 1980 formally making Jerusalem its capital.
Facebook Stock Drops after Reports of FTC – Mark Zuckerberg Is Worried
It's no surprise that Zuckerberg's focusing his attention on improving Facebook. Since it's officially become the largest past time of the world, fake news has become a menace — something that the Russians allegedly exploited to influence the 2016 US election. Publisher pages cluttering up people's newsfeed is eclipsing updates from friends and loved ones — a growing complaint amongst Facebook users.
"The world feels anxious and divided, and Facebook has a lot of work to do — whether it's protecting our community from abuse and hate, defending against interference by nation states, or making sure that time spent on Facebook is time well spent," Zuckerberg wrote, before reiterating his personal challenge for 2018 is all about fixing these important issues.
Zuckerberg to sell almost $13 billion worth of shares by mid-2019
Facebook is facing its biggest test ever—and its lack of leadership could sink the company
Facebook in Congressional crosshairs amid data scandal
Facebook is facing an existential test, and its leadership is failing to address it.
Good leaders admit mistakes, apologize quickly, show up where they're needed and show their belief in the company by keeping skin in the game. Facebook executives, in contrast, react to negative news with spin and attempts to bury it. Throughout the last year, every time bad news has broken, executives have downplayed its significance. Look at its public statements last year about how many people had seen Russian-bought election ads — first it was 10 million, then it was 126 million. Top execs dodged Congress when it was asking questions about Russian interference. They are selling their shares at a record clip.
The actions of Facebook execs now recall how execs at Nokia and Blackberry reacted after the iPhone emerged. Their revenues kept growing for a couple years — and they dismissed the threats. By the time users started leaving in droves, it was too late.
There's no outside attacker bringing Facebook down. It's a circular firing squad that stems from the company's fundamental business model of collecting data from users, and using that data to sell targeted ads. For years, users went along with the bargain. But after almost a year of constant negative publicity, their patience may be waning.
Facebook did not initially respond to questions or a request for comment from CNBC.
Trump Plans To Have Death Penalty For Drug Traffickers
WASHINGTON — President Donald Trump's plan to combat opioid drug addiction calls for stiffer penalties for drug traffickers, including the death penalty where it's appropriate under the current law.
Administration officials say Trump also wants Congress to pass legislation reducing the number of drugs necessary to trigger mandatory minimum sentences on traffickers who knowingly distribute certain illicit opioids.
The president is scheduled to unveil his plan Monday in New Hampshire, a state hard-hit by the crisis. He'll be accompanied by first lady Melania Trump, who has shown an interest in the issue, particularly as it pertains to children.
Trump has mused openly in recent weeks about subjecting drug dealers to the "ultimate penalty."
His three-part plan includes multiple steps to raise awareness, cut the illicit drug flow and expand proven treatment options.