Are You an Entrepreneur? Take The Test to Find Out!
If you want to know if you are, or could be, a good entrepreneur, here I will leave this test for you to solve, so that you evaluate yourself based on your own performance, or discover what you can improve on within yourself. Get some paper and a pencil and get ready to get rolling!
You have a business idea but you do not know what to do:
A: I keep it in a drawer "for later".
B: I ask my friends to give me a hand to develop it.
C: I investigate how is the market with respect to the idea I want to develop: competitors, opportunities …
Choose among the three options that best define your ability to adapt.
A: I hate the changes. I like that everything is measured and controlled.
B: I am quite flexible, but I try to escape the changes.
C: I adapt to the changes and redo the plans without too many qualms.
You want to be autonomous and you pose …
A: I do not want to take risks, I am more than working for others assuring me a fixed earnings per month.
B: What if in the end I do not?
C: I'm afraid to take the leap, but I think my idea is worth the risk.
When choosing self-employment, you value:
A: I do not value anything, I think it has fewer advantages than opportunities.
B: The possibility of being my own boss and establishing my schedules.
C: The flexibility of schedules, creativity in the projects to develop and the ability to see my own company grow.
In business you define yourself as a person …
A: Traditional and passive. I do not leave my comfort zone.
B: I keep my schedules. I only go to events that are totally necessary.
C: I like to be in "all the sauces" and I sign up for all the fairs, events, meetings …
At the time of undertaking you choose a sector determined by …
A: I maintain the family business.
B: I prefer an affordable sector that does not require a lot of investment.
C: I prefer what I have knowledge and training for. I invest in something for which I take preparing time.
You think about training …
A: I think I already have enough training.
B: It never hurts to keep training.
C: It is essential to train to evolve with the growth of the market.
When looking for a training course …
A: I have never considered looking for courses that make my business grow.
B: Although I value the training, I do not even know where to start to locate courses of interest.
C: I take advantage of the free courses offered by the different institutions. I sign up to the bulletins to be informed promptly of everything.
To establish the price of your product (good or service):
A: I put the one that I think it deserves.
B: I analyze the competition to adjust the price of my product to the market.
C: I put the price that is profitable after analyzing the production costs. If it deserves it, I do not mind being above the market.
Once you fix the price of your product (good or service):
A: For selling I am able to modify it.
B: I am able to modify it by not losing certain clients.
C: The value of my product is not negotiated, I do not give in to the blackmail of potential clients.
In relationships with your clients …
A: Anyone is worth me. The case is to enter.
B: My clients are my family, although I know that it is not the most convenient, I accept them all.
C: I am critical of my clients, not everything goes. I inform myself and work only for those who can provide me an economic return.
Once your business has consolidated, what fitness do you maintain?
A: I enjoy it, I let myself go.
B: Not under guard.
C: Now that I've managed to consolidate myself, I think it's time to invest and keep growing.
You have achieved that your business stabilizes and your income grows. At that time they offer you a job as an employee, what do you do?
A: I take the job they offer me. The stability and the fixed salary compensate me.
B: I consult with my pillow because I'm not sure.
C: I have already passed the worst moment so now I want to enjoy my business and keep growing with it so I would reject the offer.
Imagine that you are given a prize for the evolution of your business, what option do you choose to celebrate it?
A: With a wine among friends.
B: Announcing it by word of mouth to my clients.
C: I put an image of the prize with a text thanking it on my social networks and I take advantage of the brand image of my product.
If something does not go as you expect …
A: I'll leave it and something else, butterfly!
B: I try to correct my mistakes, but my enthusiasm diminishes.
C: I think that mistakes are necessary to learn and grow.
What would you say to someone who has just failed?
A: "Manolete, if you do not know how to fight, what are you going for?"
B: Nothing happens, the failures are normal. Forget this.
C: Think about what you have done wrong and try again.
RESULT:
If you have chosen more A answers , your entrepreneurial capacity leaves much to be desired. You should consider yourself looking for a job as an employee. You need the security of having a fixed salary and you value stability above anything else. You do not like to take risks. The phrase that defines you is: "better a bird in hand than a hundred flying".

If you have chosen more answers, you are on the right track. You keep reasonable doubts and fears, but there is light at the end of your tunnel. You have ideas and you value the work on your own. You would be able to invest, train and take forward an entrepreneurial project. The phrase you define is: "the greatest risk is not to risk".

If you have chosen more answers CYou are the perfect entrepreneur. You are creative and you prefer to take risks to pass up the opportunities. You understand the values ​​that self-employment brings: time flexibility, being your own boss … Which does not mean that you are not critical and measure the consequences of your actions within your business. You learn from your mistakes and see in your failures an opportunity for growth. You are aware that entrepreneurship is not a path of roses and yet you are willing to continue investing time and money to continue growing. You have the capacity to develop a marketing idea that accompanies and enhances the image of your business. The phrase that defines you is: "Feet so I want you if I have wings to fly".

How to Grow Your Instagram Following: A Strategic Plan
Want to quickly grow your Instagram audience? Looking for a strategy that attracts the right kind of connections?
In this article, you'll discover how to combine an Instagram growth strategy with an ad sequence that can turn followers into customers.
How This Instagram Growth Strategy Works
On average, Instagram users share "more than 95 million photos and videos every single day," according to Reuters. That amounts to a lot of noise for Instagram marketers to break through to get their message in front of potential customers.
Simply focusing on run-of-the-mill Instagram growth tactics that you hear regurgitated time and again won't help you set yourself apart. You'll just be adding to the noise on the platform instead of building important assets for your brand.
A better approach is the $1.80 Instagram strategy for custom audience growth. Gary Vaynerchuk's $1.80 Instagram growth strategy to grow your business or brand is all about creating micro-connections that gradually accumulate into an active and engaged community on the platform.
Even though it's called the $1.80 strategy, it's completely free to implement. The only resource costs are your time and attention. Once a day, you'll:
Start by searching 10 relevant hashtags.
Locate the top 9 posts for each hashtag.
Leave a meaningful comment (your two cents [$0.02]).
The $1.80 Instagram growth strategy boils down to this equation: 10 hashtags multiplied by 9 posts where you leave your $0.02 = $1.80 in community-building effort.
Getting 2x, 5x, or 10x growth results with this strategy doesn't happen overnight. It requires you to stay consistent and make community-building a regular action for your brand.
As Gary states, "The number of Instagram followers you have means nothing if you can't build a community of like-minded people who care and engage." It's those people who then go on to become customers, brand evangelists, and significantly drive your brand goals forward. Finding this pocket of people is as simple as becoming part of the conversation.
In 2018, we used this strategy at The Ad Strategist to double the size of our Instagram following. More importantly, by implementing the $1.80 Instagram growth strategy, our Instagram engagement custom audience grew to almost 3x larger than our follower count.

Why is this important? The size of your warm custom audiences represents the number of users who've had a meaningful interaction with your brand. This includes everyone who liked, commented on, sent, and saved your content; DM'ed you; or clicked the link in your bio. Of course, just because someone interacts with you doesn't mean they follow you on Instagram. And if they're not following you, it's unlikely they'll see your organic content and posts in the future.
That doesn't mean those users are gone forever, though. You can create a dynamic Instagram ad sequence targeting your Instagram engagement custom audience that converts those non-followers into followers and then customers.
Running ads to this engagement custom audience resulted in 50%–100% cheaper lead costs in an ad spend study of over $45,000 with 349 ad set variations. So targeting this Instagram engagement custom audience creates costs per result that are significantly lower than if you were to target cold traffic.
#1: Create Your Instagram Engagement Custom Audience
To create an Instagram engagement custom audience, navigate to the Audience dashboard in Ads Manager.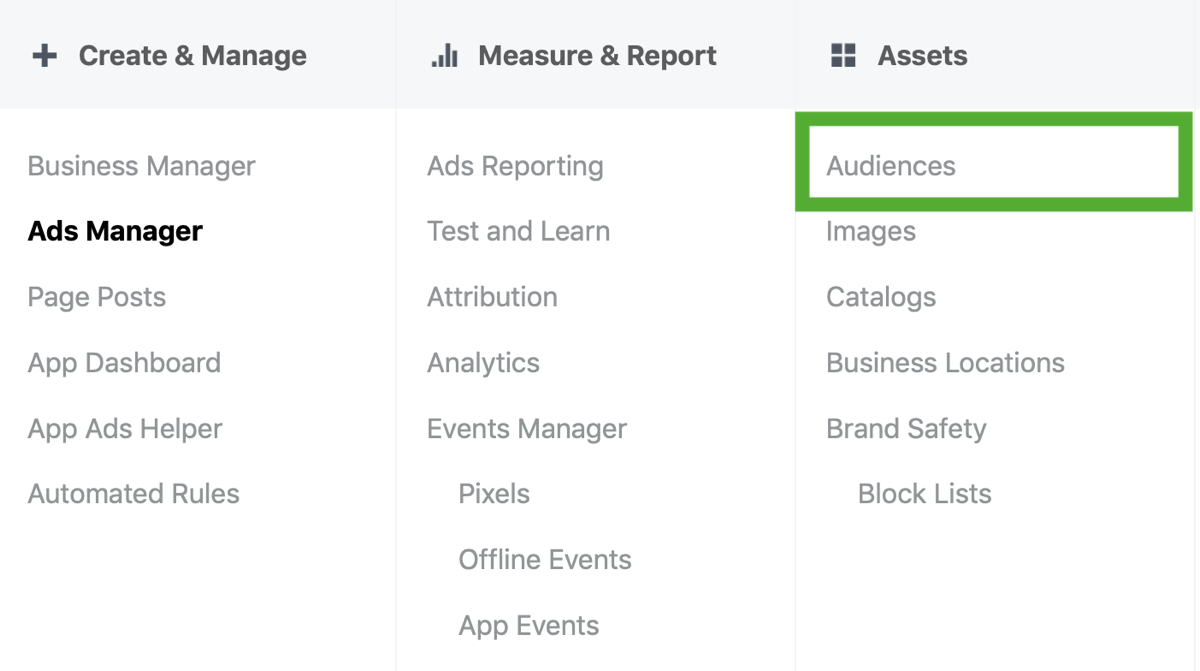 Then click Create Audience and select Custom Audience.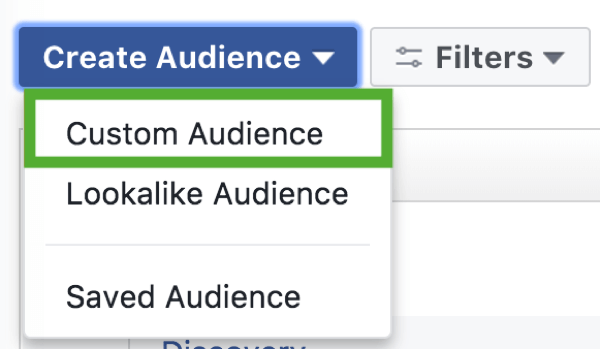 In the Create a Custom Audience window, choose Instagram Business Profile.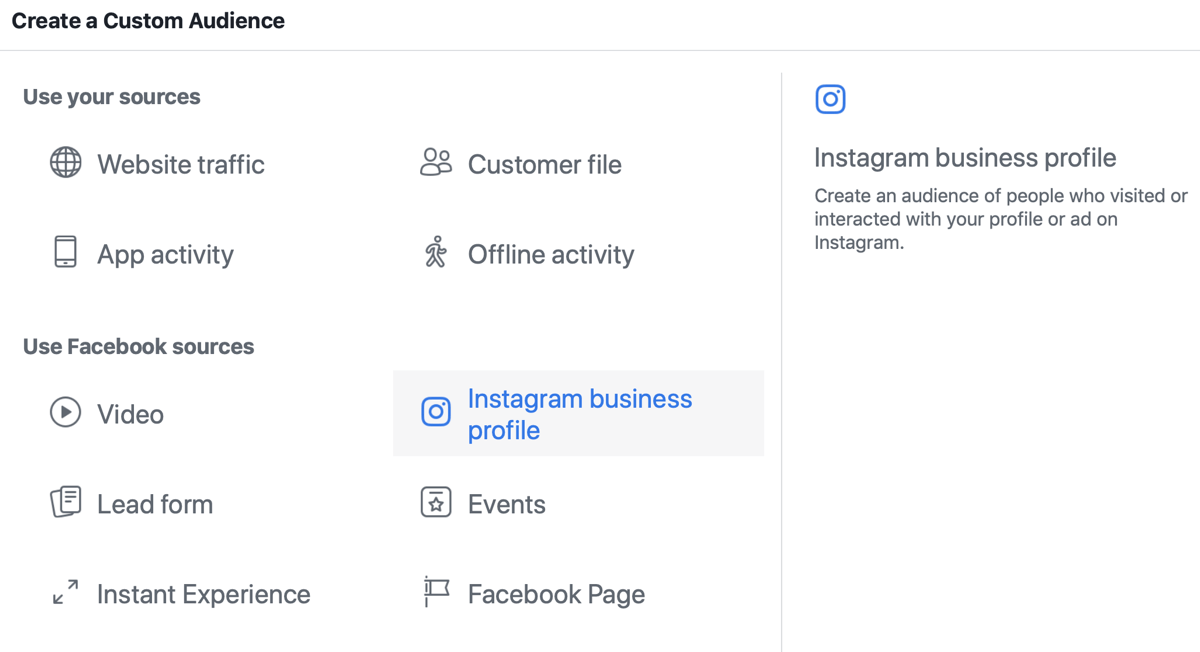 Next, select the correct Instagram profile and ensure Everyone Who Engaged With Your Business in the Past 365 Days is selected.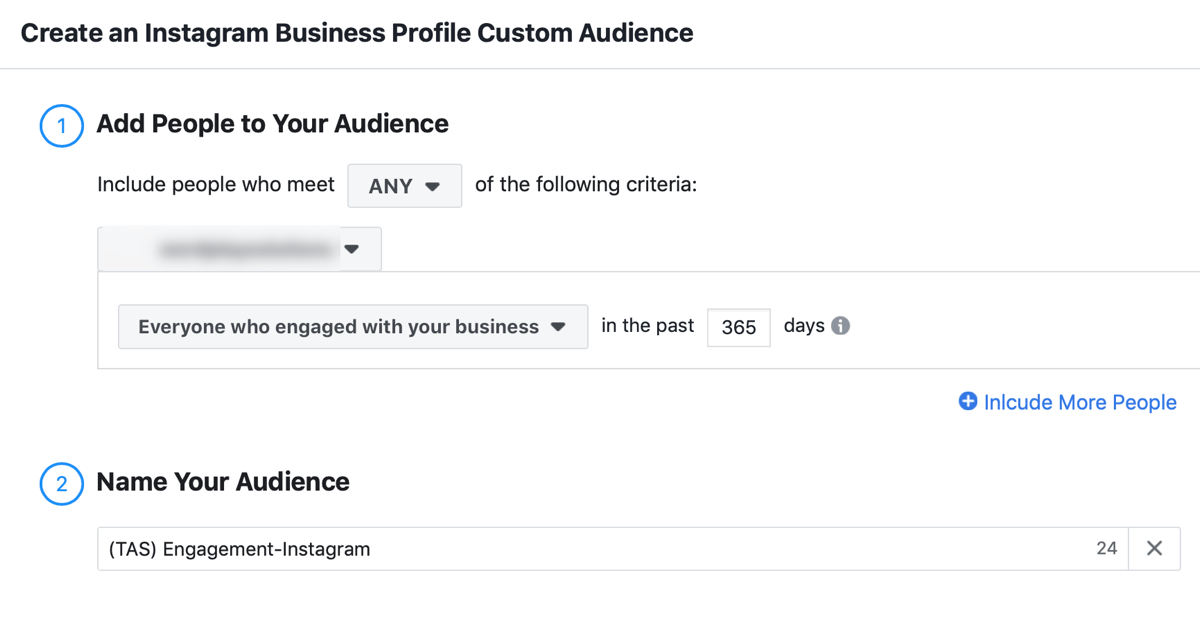 Choose a name for this audience that will be easily identifiable to you in the future and then click Create Audience. Remember that it takes up to 24 hours to reveal the size of your current Instagram engagement audience.
Now write down the current size of this audience to determine your starting point. I recommend that you track the growth of this custom audience weekly as you implement the rest of the $1.80 strategy consistently to assess your measurable growth.
Set Up a Spreadsheet to Track Instagram Growth
For fellow spreadsheet connoisseurs: Tracking this data in a notebook can feel like poking your eyes out, so here's how to structure your results tracking spreadsheet.
Set up your spreadsheet to track the total Instagram engagement custom audience with a separate column for each week.

Then use the formula =sum(D5-C5)/C5 to calculate your weekly growth rate.

Now expand the weekly growth rate calculation across all weeks.

The result is the growth rate of your retargetable custom audiences using the $1.80 Instagram growth strategy over time. Once you have this information for a larger range of weeks, you can assess what is and isn't working for you and then tailor the rest of your Instagram marketing strategy accordingly.
#2: Research and Incorporate Relevant Hashtags
Now that you're tracking your retargetable engagement, the next step is to find relevant hashtags for your business.
Open Instagram and navigate to the Search & Explore tab.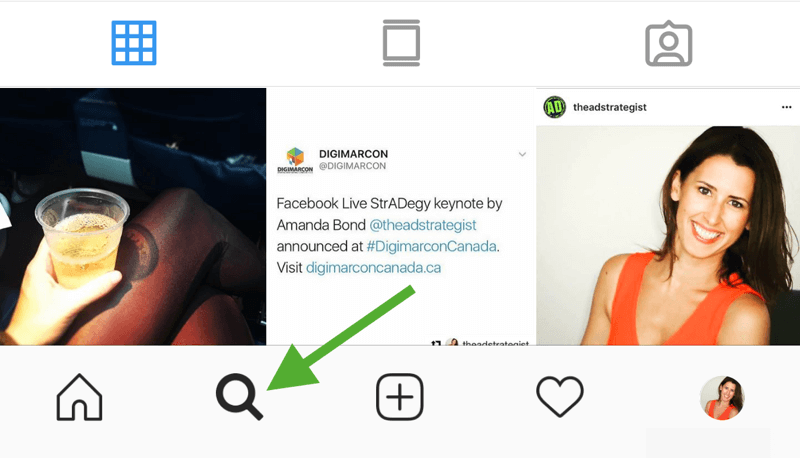 Start by searching for one hashtag such as #facebookads.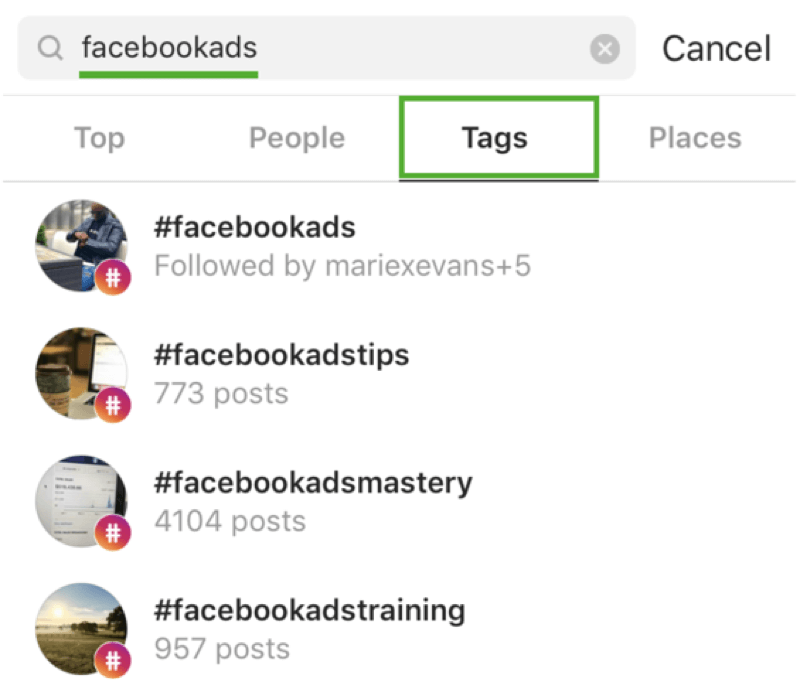 You likely have a core group of hashtags you're already using in your own posts. Because it's best to search and engage daily, I recommend that you set up a spreadsheet to track all of the relevant hashtags you're using because the list will quickly grow.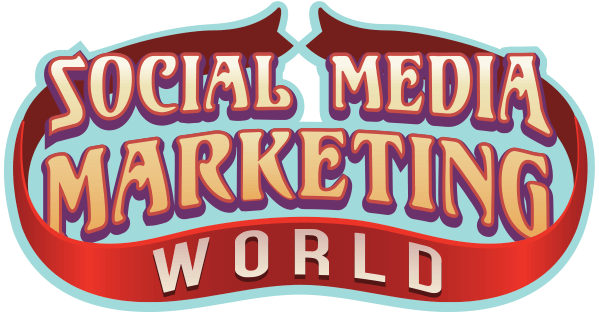 If you're a digital marketing agency, you might start with hashtags like these:

Here's the most surprising part of implementing this strategy: truly understanding the quality of a hashtag. As a Facebook advertising strategist, I'd assume that #facebookads would be an ideal hashtag for posts. However, upon closer inspection, the type of content being tagged with this particular hashtag is:
Extremely promotional (often for get-rich-quick–type schemes)
Unrelated to digital strategy
Entirely misleading
Often extremely spammy
This leads me to the conclusion that we won't use #facebookads in our own Instagram efforts going forward.
As you research hashtags and carry out your daily $1.80 growth strategy, make note of the highest-quality hashtags you find. Then use those in your organic content's written captions to give yourself the greatest opportunity to get in the Search & Explore tab of your ideal customers.
#3: Identify and Engage With 9 Relevant Instagram Posts
After you've found your Instagram hashtags, it's time to filter through the content you've found to determine whether it's relevant and valuable for you to leave your $0.02. Not every post is created equally—especially in a world full of spam bots and automation.
Take a few seconds to analyze each Instagram post you come across. I recommend clicking the full post to:
Read the caption.
Quickly measure the engagement rate (likes and comments vs. total followers).
Click the account profile image to check out their bio and the rest of their profile.
Remember, this strategy works across any vertical: B2B, B2C, SMB, etc. It's the process of culling through the noise to find the gems that most of your competitors aren't setting aside enough time to do.
Here's what to look for when analyzing accounts.
How Much Effort Is Being Put Into Writing an Informative Caption?
A lot of low-quality accounts tend to 'phone in' the caption description and jam as many hashtags into the caption as humanly possible—in the hopes that it will help them rank on the Search & Explore tab.
Well-written captions crafted with meaningful thought aren't an easy feat. The Instagram users who are putting in the time and effort to write their own story-driven captions tend to be active community members outside of their own profiles as well. They're invested in their own Instagram success and your $0.02 interaction helps them signal to the algorithm that their content is also relevant.
What Is the Engagement Rate?
In my algorithmic experience, engagement is king. If an account has 200,000 followers but barely hits 500 likes and comments on a post (0.2% engagement), what does that say about the quality of their community?
On the flipside, never discount an account for having a low follower count. If they have 200 followers and still have 30 likes and comments per post (a 15% engagement rate!), it shows they're building a small but mighty community. Engage away!
Is This Profile Something You Would Naturally Engage With?
Yes, you'll be deploying this strategy for your social media growth efforts. However, it's important to make sure the comments you're leaving have the potential to create strategic and long-term value for your brand and for your potential future community. Otherwise, as with anything, you'll be wasting your time and getting lost in the weeds.
The Anatomy of a Great Instagram Post
Most people want to skip this step (and the time it takes to properly assess the quality of the Instagram account where you're leaving your $0.02) and go straight to the end result—revenue growth. Taking your time to build relationships with the right profiles and people can help expedite your growth.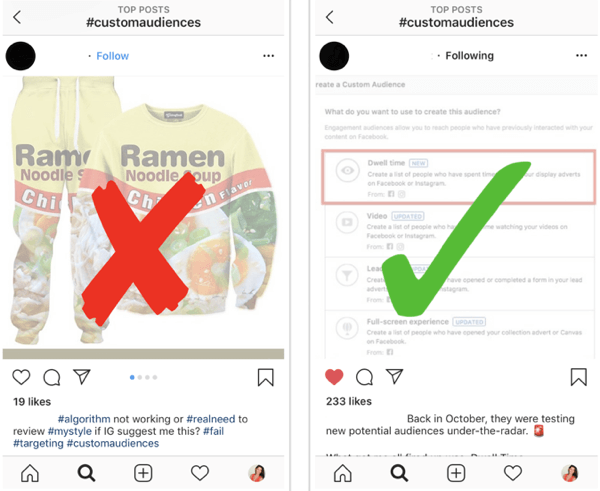 On the left:
The post engagement is lower than the one on the right (total number of likes aside).
The caption is stuffed with hashtags in an attempt to rank content vs. writing quality content to engage your audience.
The account has no bio or any other qualifying details.
On the right:
The content is relevant and educational.
The caption is well-written and informative.
The bio clearly states what they do and allows you to identify whether they belong in your community.
Now onto the fun stuff! This one's simple: Be social on social media. At this point in your efforts, all that's left is to leave your $0.02 on these newfound pieces of content.
Let's talk about leaving your $0.02 for a moment. There's a difference between crafting a meaningful comment that shows you want to be a part of the larger conversation vs. leaving a comment of three emoji hearts and then bouncing.
If all you do is leave emojis, don't use the $1.80 strategy. Spend your time elsewhere on actions/tasks that move the needle in your marketing.
Here are some best practices for being a human on social media:
Share your own experiences. Is there something in your life (or behind the scenes in your business) that's relatable to the original caption? Share that!

Ask open-ended questions. The goal here is to get people to come back to your Instagram profile and engage. If you only talk about yourself and your own experiences, it lessens your chance of developing a meaningful conversation with the other person.
Don't be a know-it-all. Let other people share their perspective and worldview. We, as humans, love to share about ourselves often. Remember that this exercise is not about YOU. It's about the incredible humans you serve in your marketing.

#4: Monetize Your Efforts With an Ad Sequence
After going through these steps, you've started to build two powerful marketing assets:
A captive community of current and future customers who drive real revenue
An engaged custom audience available for retargeting with paid advertising
The first of these two assets, a captive community, will fuel your organic Instagram efforts again and again. Next time you publish a post, these followers will be hungry for your new content. Because you've now engaged in conversations with these users, they're more ready to engage and respond than total strangers.
The second asset is an engaged custom audience that's retargetable by building a $5/day Instagram ad campaign.
When you pair a $5/day Instagram ad sequence with the $1.80 Instagram growth strategy, every image you post, DM you send, and heart you tap is automatically and effortlessly leading people toward becoming your customers. Having a low-cost Instagram ad sequence that's always running in the background is a simple way to turn followers into fanatical (read: paying!) customers.
Conclusion
Set aside time each day to execute this strategy. For me, it's only 15 minutes a day when I'm in an Uber or waiting for a meeting to begin. For you, it might be a consistent hour from 3–4 PM daily.
Your Instagram growth won't happen unless you put in the time and effort daily, track your results, tweak what isn't working, and continuously and relentlessly improve upon your efforts. A year from now, imagine your account at 2x, 10x, 100x growth and what that could mean for your business goals.
With a simple $1.80 Instagram growth strategy paired with a $5/day Facebook advertising strategy, you can rapidly grow your Instagram account with followers who turn into customers.
What do you think? Have you tried the $1.80 Instagram growth strategy? What were your results? Share your results and questions in the comments below.