Elon Musk Tops Himself in Suggesting That Tesla Go Private
Elon Musk has become one of the world's most prominent chief executives, and a billionaire several times over, by boldly making big bets on ideas that few others thought possible.
He started a private rocket company that sends materials into space, and plans to send astronauts soon. He is creating machines to bore giant tunnels through the earth. And Tesla Inc., where he serves as chief executive, has succeeded in creating an Apple-like brand of electric cars.
Through it all, he has shown a maverick — some would say arrogant — management style. On Tuesday, he may have outdone himself.
In a terse and cryptic Twitter post, he declared that he was ready to take Tesla private. The stock market that made his company worth over $60 billion wasn't worth the hassle.
"Am considering taking Tesla private at $420," he wrote. "Funding secured."
Tesla's stock was already up sharply on a report that Saudi Arabia was taking a sizable stake in the company. But investors were left to puzzle out the implications of Mr. Musk's proposition, its relationship to the Saudi report, and even the authenticity of the tweet. And so, starting at 12:48 p.m., the market that Mr. Musk threatened to forsake went into a frenzy.
At 2:08 p.m., with shares up more than 7 percent for the day, trading was halted pending news — news that finally came shortly before 3:30.
"As a public company, we are subject to wild swings in our stock price that can be a major distraction for everyone working at Tesla, all of whom are shareholders," Mr. Musk said in a statement to Tesla employees that was released by the company. He cited the demands of the quarterly earnings cycle and the damage wrought by investors who are betting against the company.
"I fundamentally believe that we are at our best when everyone is focused on executing, when we can remain focused on our long-term mission, and when there are not perverse incentives for people to try to harm what we're all trying to achieve," the statement said.
Mr. Musk said that no final decision had yet been made about taking the company private, and that any such proposal would have to be approved by shareholders.
He outlined a plan under which shareholders could be bought out for $420 a share — a 20 percent premium over the stock price after the company's second-quarter earnings call last week — or they could remain as private shareholders.
"This has nothing to do with accumulating control for myself," he wrote. "I own about 20 percent of the company now and don't envision that being substantially different after any deal is complete."
Tesla trading resumed 15 minutes before the end of the trading session, and the shares added to their gains, closing at $379.57, up 11 percent.
Mr. Musk did not elaborate on any sources of financing to take Tesla private. The announcement followed a report that the Public Investment Fund of Saudi Arabia had acquired a stake in the company.
A person briefed on the matter, who was not authorized to speak publicly about the deal, said the Saudi fund had taken a stake of less than 5 percent.
The Financial Times reported that the shares had been acquired for the fund in the secondary market with the help of JPMorgan Chase. The bank declined to comment.
If the transaction got done at $420 per share, Tesla would be valued at just over $70 billion, making it the biggest deal in which a company is taken private.
Although Tesla has become the most valuable American car company, it has yet to turn an annual profit since its founding in 2003. And its chief executive, a 47-year-old native of South Africa, has come under increasing pressure as he has scrambled to increase production of the Model 3, a midsize sedan that he is counting on to drive up revenue and enable the company to become profitable.
Still, this is not the way multibillion-dollar leveraged buyouts are typically announced. Companies would normally line up banks, private equity firms or other deep-pocketed investors to agree in advance to provide money to finance the purchase of shares.
Officials representing a number of large banks and investment funds said on Tuesday that they had not talked with Tesla about financing a buyout, although it is possible the company had secured funding from other sources.
Mr. Musk's comments on Tuesday — mentioning the specific price of a possible buyout and declaring that Tesla had already arranged funding — were virtually guaranteed to send the shares flying. Still, while it was unusual for a chief executive to make a market-moving announcement on Twitter, there is nothing improper about it on its face.
In 2013, the Securities and Exchange Commission said it was permissible for companies, and people acting on their behalf, to make announcements using social media platforms like Twitter and Facebook. It said companies had to alert investors in advance that those would be channels for important corporate news. And Tesla did so, in a filing in 2013.
But the S.E.C. has also advised that intentional releases of market-moving information on social media platforms or websites must be accompanied by a simultaneous release to the broader public. The delay between Mr. Musk's tweet and Tesla's corporate announcement could be of interest to the S.E.C., said Michael Liftik, a former deputy chief of staff at the commission who is now a partner at the law firm Quinn Emanuel Urquhart & Sullivan.
"Simultaneously really means simultaneously," he said. And he said a tweet would be held to the same standard of factuality as a news release.
Others pointed out that Mr. Musk's tweet could have opened his company up to legal exposure from investors with financial incentives to sue.
"What they have to show is there was a material misstatement, in these loose statements, by Mr. Musk," said John C. Coffee Jr., a professor at the Columbia Law School's Center on Corporate Governance. Mr. Coffee said the statement "funding secured" could be a legal gray area where plaintiffs' attorneys see an opportunity to make a case.
"That's a very broad statement about what is still an extraordinarily amorphous transaction," Mr. Coffee said.
The S.E.C. had no comment, and Tesla would not comment beyond what was in Mr. Musk's statement to employees.
In Twitter exchanges on Tuesday, Mr. Musk said becoming a private company would "save a lot of headaches" and noted that it was a move taken by Dell Technologies. The computer company, founded by Michael S. Dell, became a private enterprise in 2013, though it recently moved to sell shares to the public again.
Being a public company and reporting earnings every three months "puts enormous pressure on Tesla to make decisions that may be right for a given quarter, but not necessarily right for the long term," he said. Having its stock traded publicly also means that Tesla can attract short-sellers — investors who are betting against Tesla — whom he described as "people who have the incentive to attack the company."
Tesla has attracted more so-called short-sellers than any other publicly traded company, in part because many investors doubt the company can achieve the lofty targets that Mr. Musk has set.
Tesla's short-sellers on Tuesday racked up about $1.5 billion in losses, according to S3 Analytics, a technology and research firm. That brings their losses so far this year to $3 billion.
Going private "would definitely benefit Elon Musk and the way he'd like to run the company," said Efraim Levy, an analyst at CFRA Research. "It's clear he doesn't like the intrusion he gets as a public company."
In an earnings call in May, Mr. Musk lashed out at analysts who sought more detail on Tesla's financials and outlook, railing at their "boring, bonehead questions."
He has also objected to analysts' conclusions that the company may have to raise additional capital from investors later this year as it continues to post losses and use up hundreds of millions of dollars in cash each quarter.
After struggling for months to streamline two assembly lines inside its factory in Fremont, Calif., Tesla built a third line underneath a gigantic tent outside the plant's walls in a bid to meet its Model 3 goals. With that line in operation, Tesla was able to produce 5,000 Model 3 sedans in seven days in late June, the rate at which Mr. Musk has said Tesla can be profitable.
Last week, as Tesla reported a $743 million loss for the second quarter, on revenue of $4 billion, Mr. Musk said his goal was to produce quarterly profits going forward.
Mr. Levy, the analyst, said that even if Tesla went private, it would probably still need to borrow to pursue its plans for new models and new factories. "The question is whether they will have the same investor support," he said. "As a private company with a lot of debt, the risk goes up."
He characterized Mr. Musk's management style as "unique."
"There are a lot of unexpected surprises," he said.
Correction:
An earlier version of this article referred imprecisely to the ambitions of SpaceX, a company run by Tesla's chief executive, Elon Musk. It plans to send astronauts into space next year; it has not yet done so.
Michael J. de la Merced, Peter Eavis and Stanley Reed contributed reporting.
A version of this article appears in print on , on Page A1 of the New York edition with the headline: Stock Surges As Musk Floats A Private Tesla
. Order Reprints | Today's Paper | Subscribe
10 Attractions You Can't Miss In Las Vegas
This desert oasis is a city that most people already know a decent amount about.  It is one of the biggest epicentres for gambling in the world.  When you get off a plane in Las Vegas airport you are immediately greeted by slot machines.  As you leave the airport you have amazing views of "The Strip", which is an incredibly long stretch of mega-casino and resorts lit up by glowing neon lights.  The gambling doesn't stop there as gas stations and even grocery stores feature slot machines (seriously, people hang out and gamble in grocery stores).
Las Vegas has done an excellent job of adding more than just gambling to its offerings.  It attempts to brand itself as the "entertainment capital of the world", and frankly they are doing a pretty good job of it.  There are musicians that take up permanent residency in Vegas (yes Britney, Backstreet Boys, and maybe Gaga), an incredible variety of shows (Cirque du Soleil to Blue Man Group), world-class dining options, phenomenal golf courses, mountain hikes, endless shopping (high end to outlet malls), pool parties and nightlife, and even a manmade beach and ski-resort.
As you visit Vegas you will be enthralled by everything "Sin City" has to offer.
This list is in no way inclusive of everything you could plan on a Vegas vacation but is designed to include some of the most iconic Las Vegas attractions that are perfect for the first timer, and things that you may not think to explore.
Also, check out these exclusive Las Vegas Timeshare Deals
Top 10 Must do's in Vegas
1. Welcome to Las Vegas Sign
Taking a picture at the Welcome to Las Vegas sign is a rite of passage for vacationers.  Whether you are here for a bachelor party, work convention, or just escaping cold winter temperatures this sign on the South end of The Strip is a perfect way to begin your trip.
2. Visit Foreign Cities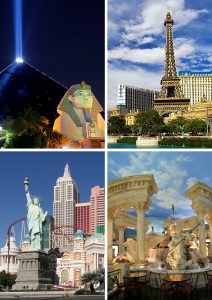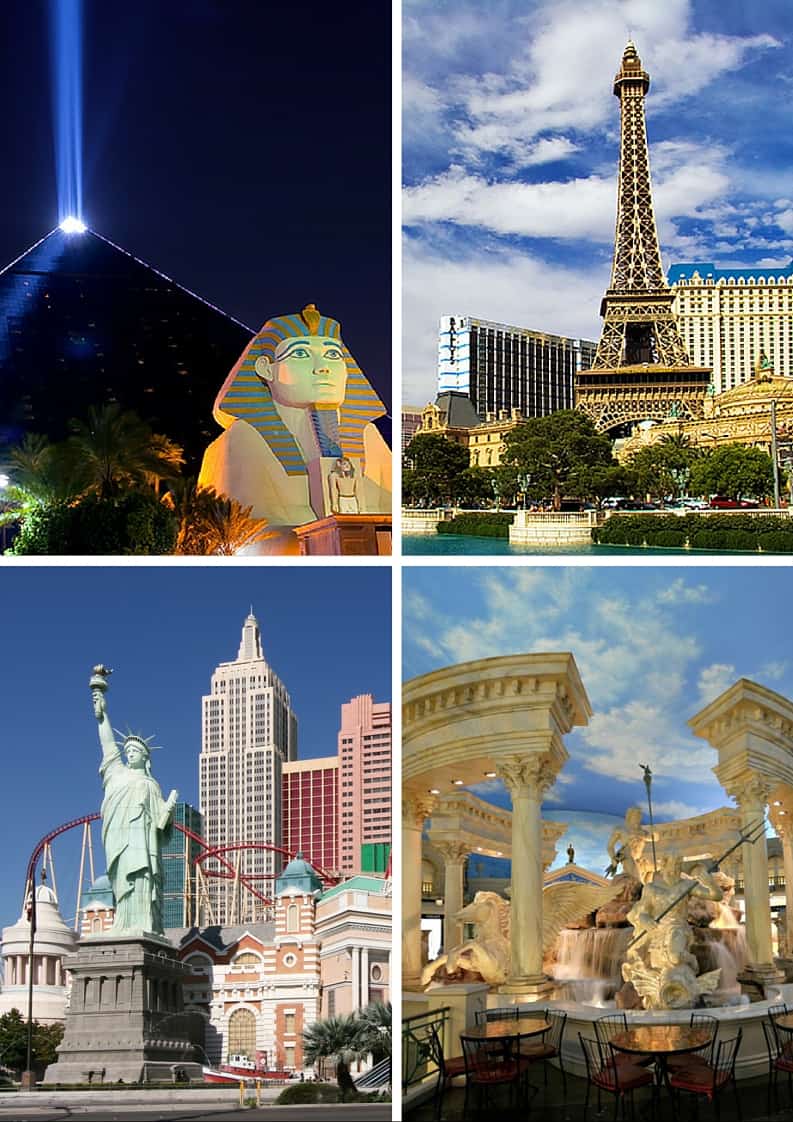 Okay not really, but lots of the casinos are based on a location or theme from somewhere else in the world.  The Paris features its own Eiffel Tower and really is reminiscent of Paris, the Venetian is based on Venice (discussed more below), the Luxor is based on ancient Egypt, Caesar's Palace is based off classic Rome, the Imperial Palace shouts out to Imperial Japan, and New York New York is pretty self-explanatory. Visiting a casino is not a substitute for seeing these places, but I recommend exploring more than just the one you stay in as it is fun to see what elements from around the world have implemented in Vegas.
3. Freemont Street (Old Vegas)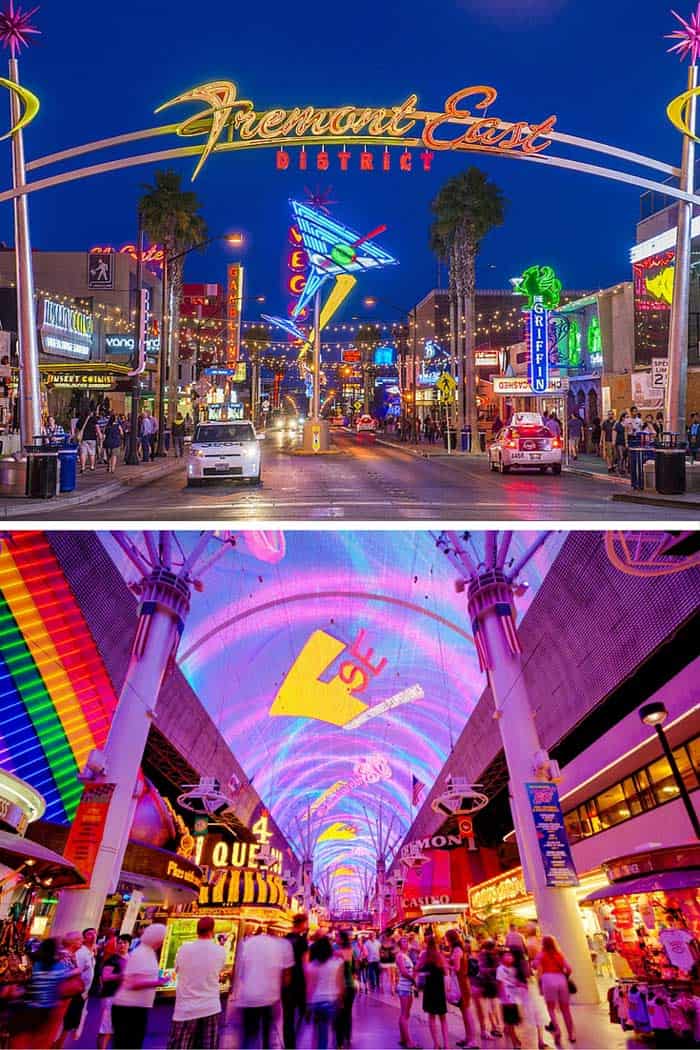 Freemont Street is where you will find the old school Vegas casinos like the 4 Queens and Golden Nugget (featuring a water slide through a shark tank). Even though it is old, it is not run down or left behind.
Freemont Street runs straight through most of the big classic casinos, and is a perfect spot to get a drink from an outdoor bar, see some of the most unique street performers in the world, experience free live music, as well as have strippers attempt to pull you in to see their shows (seriously, be careful).
4. Bellagio Fountain and Gardens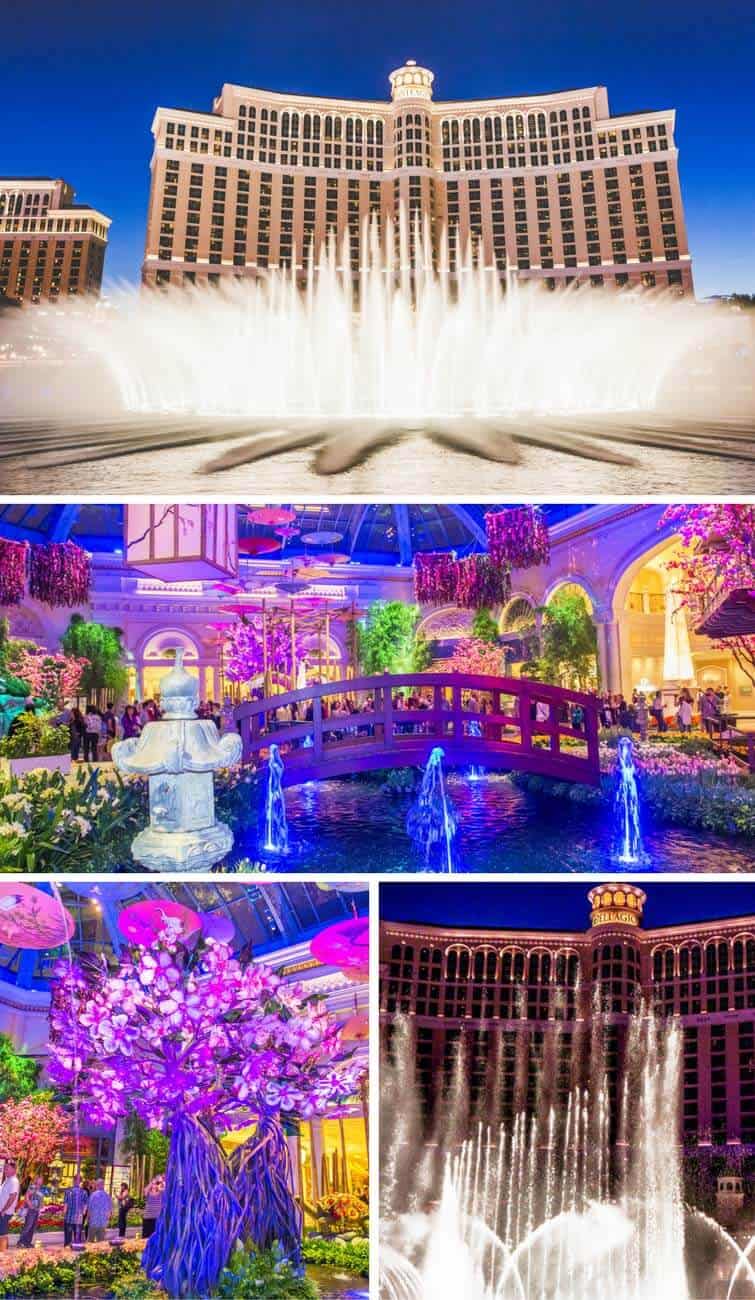 Even though each resort has fantastic things to see, the water show and botanical gardens at the Bellagio cannot be missed.  The 8-acre man-made lake features a dancing water fountain show choreographed to music.  The show is different every 15 minutes, and the results truly are beautiful.  This is the spot that was glorified in Oceans 11 (Brad Pitt and George Clooney could make anything glorious).
The gardens in the lobby are exquisitely decorated and maintained for each season with some of the unique plants and flowers in the world.  Even as a local I make a point to go down each year to see the gardens decorated with a Christmas theme.
5. Gondola Ride at the Venetian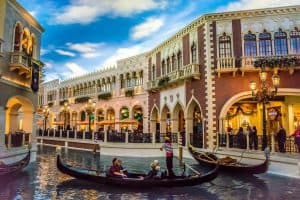 The sky in this picture really is painted on, and it does look that amazing in person.
The Venetian is a luxury resort based off of Venice Italy.  My favorite part of the Venetian is that they built canals throughout the ground floor and mall of the casino, and offer motorized gondola rides while you get serenaded by your very own gondolier.
Even though it makes my husband want to barf, I love how romantic these rides are.  Somehow they designed it so that you don't feel like you are floating through the middle of a casino.
6. Adventure Rides at the Stratosphere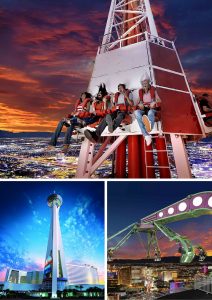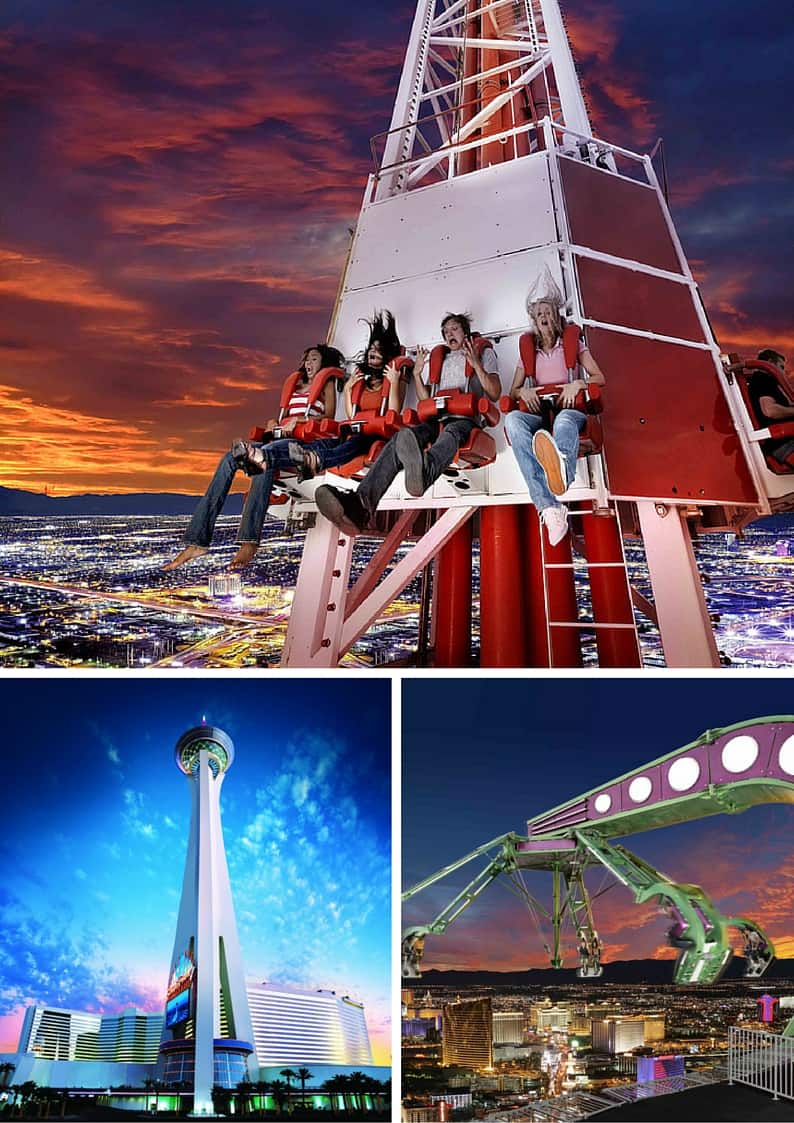 The Stratosphere is hotel and casino that towers overall on the North end of The Strip.  The Stratosphere is most famous for its views of The Strip and hair-raising rides.
It is by far the tallest building in Vegas, and the rides up top are NOT for someone who is afraid of heights. My favorite is the Big Shot, which shoots your seat straight up the top of the tower and into the sky.  It is the tallest thrill ride in the world.  If that isn't gutsy enough for you, you can jump off the top via controlled cables to the bottom.
7. The High Roller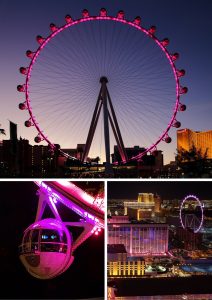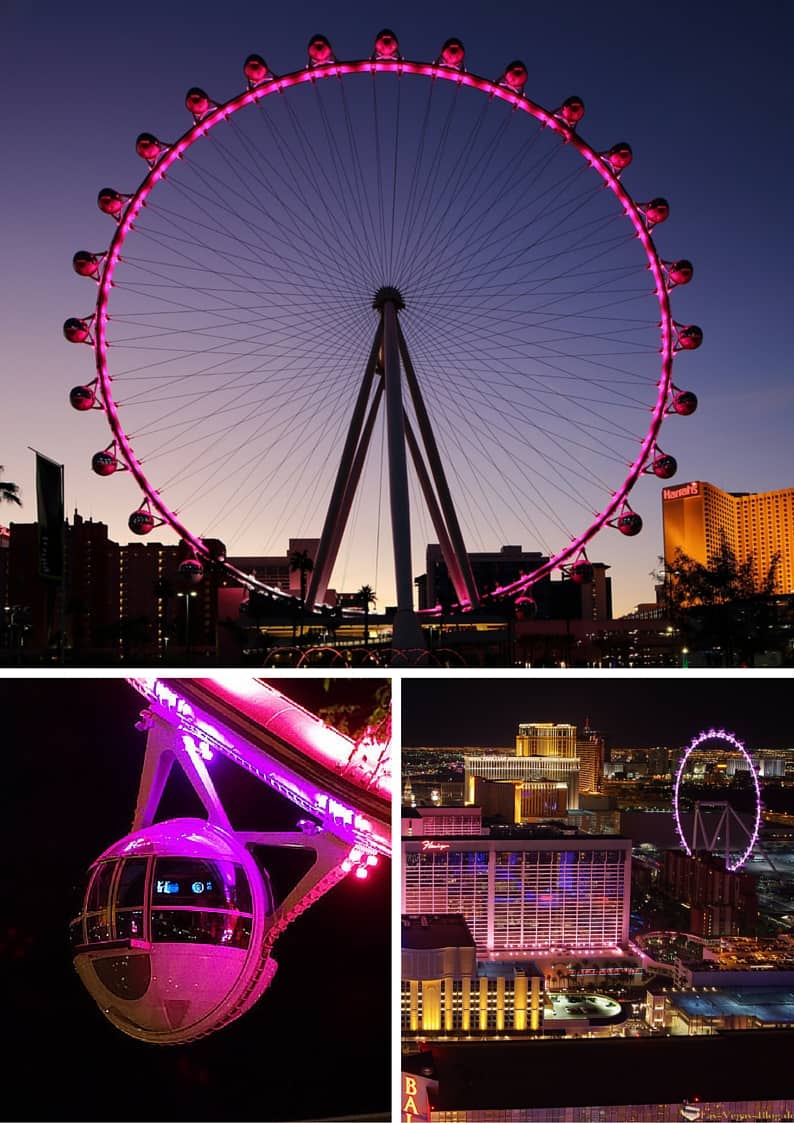 This gigantic observation/Ferris wheel is brand new to Las Vegas.  It is like the London Eye, but bigger.  Surprisingly it really is a fun ride as pods are big enough to feature whole groups of friends, and even your own bar and bartender.
Also Read: More Things To Do In Las Vegas 
8. Hoover Dam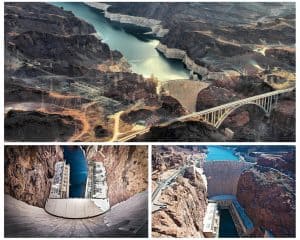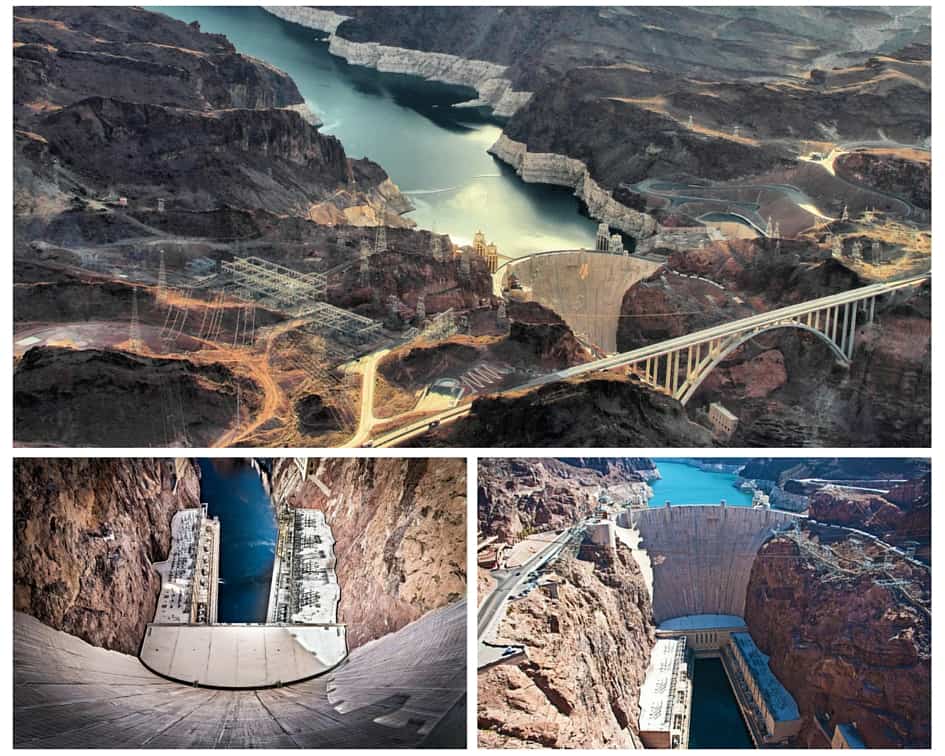 Not all the attractions in Vegas feature neon lights.  The Hoover Dam is a testament to modern engineering.  I found the tour showing how the dam generates power for Las Vegas fascinating.  Also, the lake made by the dam (Lake Mead) is great for boating.
9. Las Vegas Ski Resort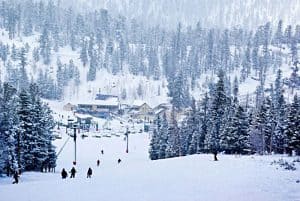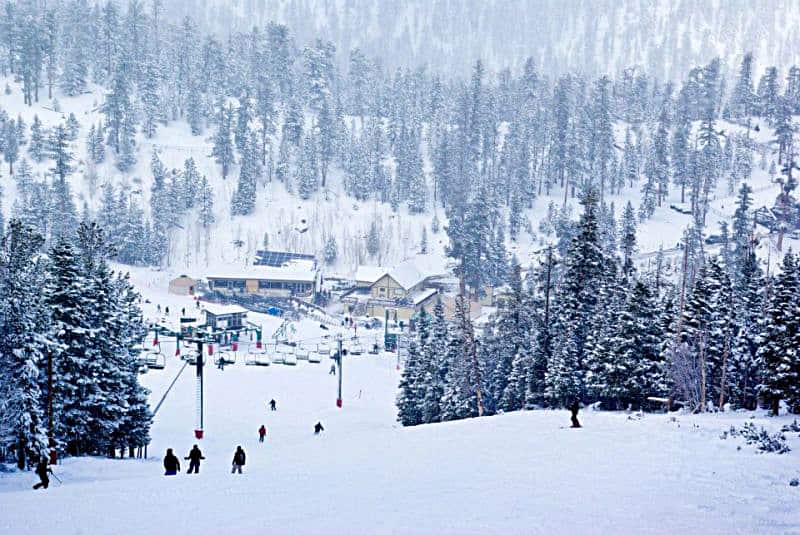 Yes, in the mountains just 45 minutes away from The Strip developers built a ski-resort.  It is not huge, and does not feature the world's best snow, but the novelty of being able to ski within 45 minutes of the scorching desert heat is unreal.
10. The Mob Museum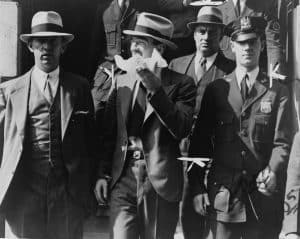 Part of the reason that Las Vegas is built the way it is today is that of the involvement of organized crime.  The mob used casinos to launder their money.  Supposedly organized crime is out of Vegas now, but a fascinating history remains.  The Mob Museum doesn't just explore Vegas' criminal history, but the characters that made this possible from around the country.  The museum does have some creepy elements as it allows visitors to hold a tommy gun, explore crime scene photos, and even see the bloody walls left from massacres.