Elon Musk, Aretha Franklin, 'Disenchantment': Your Friday Briefing
(Want to get this briefing by email? Here's the sign-up.)
Good morning.
Here's what you need to know:
An emotional interview with Elon Musk
• "This past year has been the most difficult and painful year of my career. It was excruciating."
That was the chief executive of Tesla, who alternated between laughter and tears on Thursday in speaking with The Times about a crushing workload that he said had sometimes stretched to 120 hours a week.
Mr. Musk said he didn't regret abruptly announcing on Twitter that he hoped to convert the electric-car maker into a private company. The declaration sent Tesla's shares soaring but also started a federal investigation and angered the company's board.
• "There were times when I didn't leave the factory for three or four days," Mr. Musk said, adding, "But from a personal pain standpoint, the worst is yet to come." Here are five takeaways from the interview.
Paying respect to the "Queen of Soul"
• Aretha Franklin took a love song by Otis Redding, "Respect," and turned it into one of the most empowering popular recordings ever made.
"Nothing that's over so soon should give you that much strength," our critic writes. "But that was Aretha Franklin: a quick trip to the emotional gym."
Ms. Franklin died on Thursday at the age of 76. Her storied musical career had its roots in gospel but expanded into soul, R&B, pop and opera. Read her obituary.
She placed more than 100 singles in the Billboard charts, received 18 competitive Grammy Awards, and was the first woman inducted into the Rock & Roll Hall of Fame.
• We compiled a playlist of 20 of her essential songs.
The power of the president
• President Trump said on Thursday that he had revoked the security clearance of John Brennan, the former C.I.A. director, because he was part of what Mr. Trump has called the "sham" Russia investigation.
Law enforcement officials, lawmakers and members of the intelligence community said the president's retaliation against one of his critics could have a chilling effect on U.S. law enforcement and intelligence officers. Read more here.
Separately, the fraud trial of Paul Manafort, Mr. Trump's former campaign chairman, has provided the first extended glimpse of Robert Mueller's investigators. It's not much of one though, as the tight-lipped group won't discuss even the most mundane details, such as their food orders.
• And the military parade ordered up by Mr. Trump and planned for Veterans Day could be postponed until next year, the Pentagon announced on Thursday. The decision came after Defense Department officials said the event could cost more than $90 million, at least three times more than previous estimates.
Remorse from the Vatican
• The Vatican said in a statement on Thursday that the widespread sexual abuse of children by priests, detailed in a grand jury report released this week in Pennsylvania, was "criminal and morally reprehensible."
"Victims should know that the pope is on their side," the statement said.
Pope Francis has faced mounting criticism that he had a blind spot in dealing with the abuse of minors by clergy.
• A top Roman Catholic Church official in the U.S. said that much of the blame lay on the shoulders of bishops and promised that there would be change.
Our column is taking the week off. It will return.
• Quiz time!
Did you keep up with this week's news? Test yourself.
• Ready for the weekend
At the movies, we review "Crazy Rich Asians" and "Minding the Gap," a documentary about skateboarding and life in America. You can find all of this week's film reviews here.
On TV, a new series from Matt Groening, the creator of "The Simpsons," debuts on Netflix today. "Disenchantment," a medieval fantasy satire, is completely different from what Mr. Groening has done before, our reviewer writes.
One of our art critics visited Los Angeles (and says, were he a young artist, he'd favor it over New York). He recommended three shows, including "one of the strongest and most cohesive biennials I've see anywhere in years" at the Hammer.
• Quotation of the day
"The message he's sending is: Don't cross me."
— Mary McCord, who helped run the Justice Department's national security division, referring to President Trump's decision to revoke the security clearance of John Brennan.
• The Times, in other words
Here's an image of today's front page, and links to our Opinion content and crossword puzzles.
• What we're reading
Tara Parker-Pope, a Times columnist, recommends this piece from Atlas Obscura: "I have always remembered reading a favorite children's book that involved a dragon-like creature with a silly, whimsical name, but I'm stumped as to what the title was. Now Atlas Obscura tells the story of librarians who help solve mysteries like this and reunite readers with long-lost books."
Back Story
On Aug. 18, 1872, Aaron Montgomery Ward, a Chicago businessman, set in motion an idea that seemed humble at the time but would go on to shape the retail industry.
On a sheet of paper, he listed about 150 items for sale. That one page turned into hundreds, and by 1888, annual sales from the catalog reached $1 million.
The catalog was popular with the largely rural population of the U.S., which suddenly gained access to everything from fur coats to washing machines. The success of Ward's creation was driven, in part, by a more efficient postal service that had started delivering packages door to door.
The earliest reported catalogs appeared in Venice in the 1400s. In the 18th century, Benjamin Franklin used the mail order concept to sell books.
Catalogs from Montgomery Ward and another mail order pioneer, Sears, Roebuck and Company, started an industry that vied for a spot in mailboxes for decades.
The rise of shopping malls and the internet eventually spelled the demise of the mail order catalog. In 1985, Montgomery Ward discontinued its catalog because of persistent losses.
But what's old is new again: Amazon is reportedly working on its own holiday catalog this year.
Alisha Haridasani Gupta wrote today's Back Story.
_____
Your Morning Briefing is published weekdays and updated all morning. Browse past briefings here.
Sign up here to get it by email in the Australian, Asian, European or American morning. To receive an Evening Briefing on U.S. weeknights, sign up here.
Check out our full range of free newsletters here.
What would you like to see here? Contact us at briefing@nytimes.com.
How to Grow Your Instagram Following: A Strategic Plan
Want to quickly grow your Instagram audience? Looking for a strategy that attracts the right kind of connections?
In this article, you'll discover how to combine an Instagram growth strategy with an ad sequence that can turn followers into customers.
How This Instagram Growth Strategy Works
On average, Instagram users share "more than 95 million photos and videos every single day," according to Reuters. That amounts to a lot of noise for Instagram marketers to break through to get their message in front of potential customers.
Simply focusing on run-of-the-mill Instagram growth tactics that you hear regurgitated time and again won't help you set yourself apart. You'll just be adding to the noise on the platform instead of building important assets for your brand.
A better approach is the $1.80 Instagram strategy for custom audience growth. Gary Vaynerchuk's $1.80 Instagram growth strategy to grow your business or brand is all about creating micro-connections that gradually accumulate into an active and engaged community on the platform.
Even though it's called the $1.80 strategy, it's completely free to implement. The only resource costs are your time and attention. Once a day, you'll:
Start by searching 10 relevant hashtags.
Locate the top 9 posts for each hashtag.
Leave a meaningful comment (your two cents [$0.02]).
The $1.80 Instagram growth strategy boils down to this equation: 10 hashtags multiplied by 9 posts where you leave your $0.02 = $1.80 in community-building effort.
Getting 2x, 5x, or 10x growth results with this strategy doesn't happen overnight. It requires you to stay consistent and make community-building a regular action for your brand.
As Gary states, "The number of Instagram followers you have means nothing if you can't build a community of like-minded people who care and engage." It's those people who then go on to become customers, brand evangelists, and significantly drive your brand goals forward. Finding this pocket of people is as simple as becoming part of the conversation.
In 2018, we used this strategy at The Ad Strategist to double the size of our Instagram following. More importantly, by implementing the $1.80 Instagram growth strategy, our Instagram engagement custom audience grew to almost 3x larger than our follower count.

Why is this important? The size of your warm custom audiences represents the number of users who've had a meaningful interaction with your brand. This includes everyone who liked, commented on, sent, and saved your content; DM'ed you; or clicked the link in your bio. Of course, just because someone interacts with you doesn't mean they follow you on Instagram. And if they're not following you, it's unlikely they'll see your organic content and posts in the future.
That doesn't mean those users are gone forever, though. You can create a dynamic Instagram ad sequence targeting your Instagram engagement custom audience that converts those non-followers into followers and then customers.
Running ads to this engagement custom audience resulted in 50%–100% cheaper lead costs in an ad spend study of over $45,000 with 349 ad set variations. So targeting this Instagram engagement custom audience creates costs per result that are significantly lower than if you were to target cold traffic.
#1: Create Your Instagram Engagement Custom Audience
To create an Instagram engagement custom audience, navigate to the Audience dashboard in Ads Manager.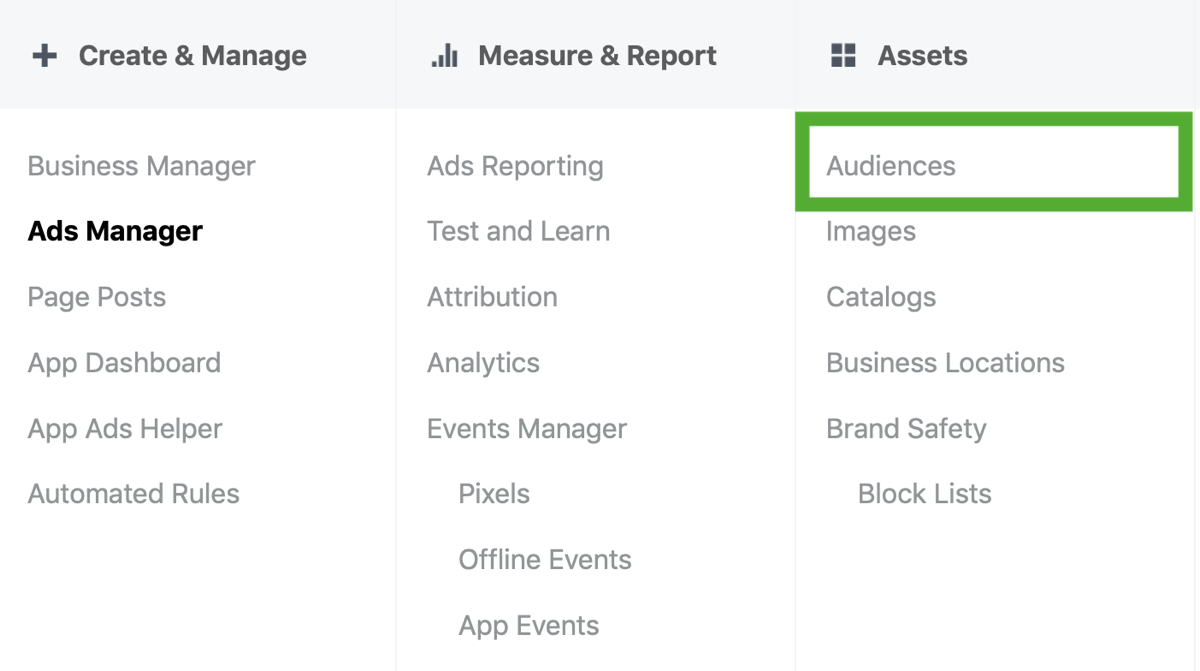 Then click Create Audience and select Custom Audience.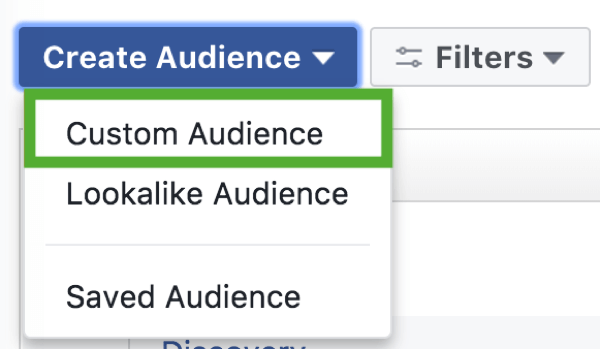 In the Create a Custom Audience window, choose Instagram Business Profile.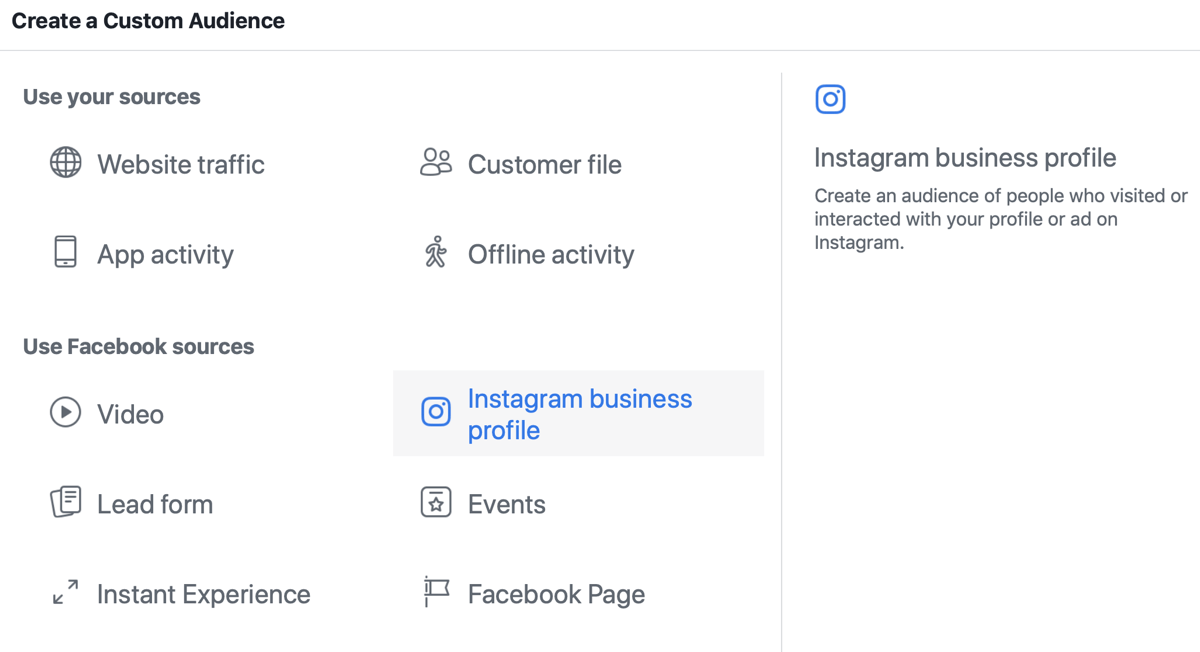 Next, select the correct Instagram profile and ensure Everyone Who Engaged With Your Business in the Past 365 Days is selected.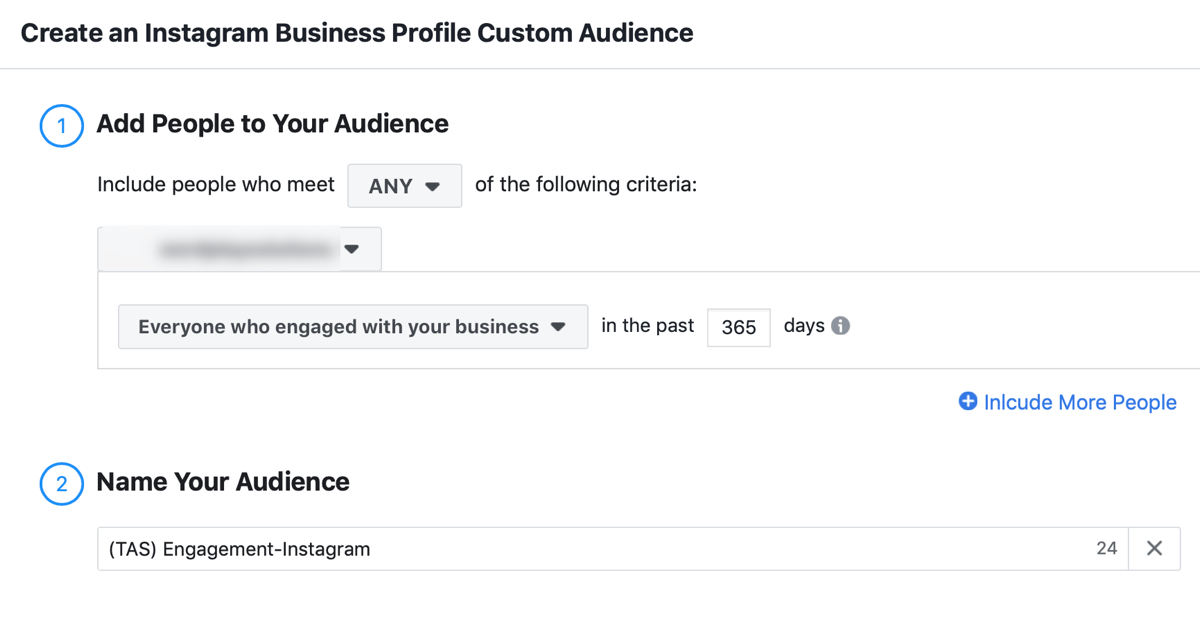 Choose a name for this audience that will be easily identifiable to you in the future and then click Create Audience. Remember that it takes up to 24 hours to reveal the size of your current Instagram engagement audience.
Now write down the current size of this audience to determine your starting point. I recommend that you track the growth of this custom audience weekly as you implement the rest of the $1.80 strategy consistently to assess your measurable growth.
Set Up a Spreadsheet to Track Instagram Growth
For fellow spreadsheet connoisseurs: Tracking this data in a notebook can feel like poking your eyes out, so here's how to structure your results tracking spreadsheet.
Set up your spreadsheet to track the total Instagram engagement custom audience with a separate column for each week.

Then use the formula =sum(D5-C5)/C5 to calculate your weekly growth rate.

Now expand the weekly growth rate calculation across all weeks.

The result is the growth rate of your retargetable custom audiences using the $1.80 Instagram growth strategy over time. Once you have this information for a larger range of weeks, you can assess what is and isn't working for you and then tailor the rest of your Instagram marketing strategy accordingly.
#2: Research and Incorporate Relevant Hashtags
Now that you're tracking your retargetable engagement, the next step is to find relevant hashtags for your business.
Open Instagram and navigate to the Search & Explore tab.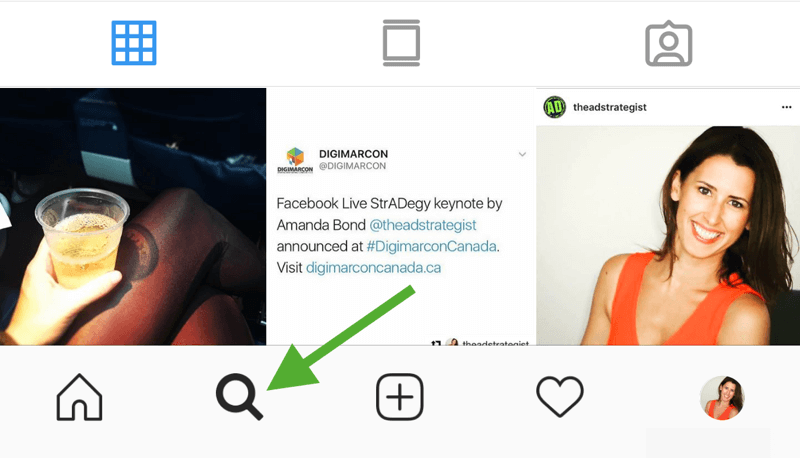 Start by searching for one hashtag such as #facebookads.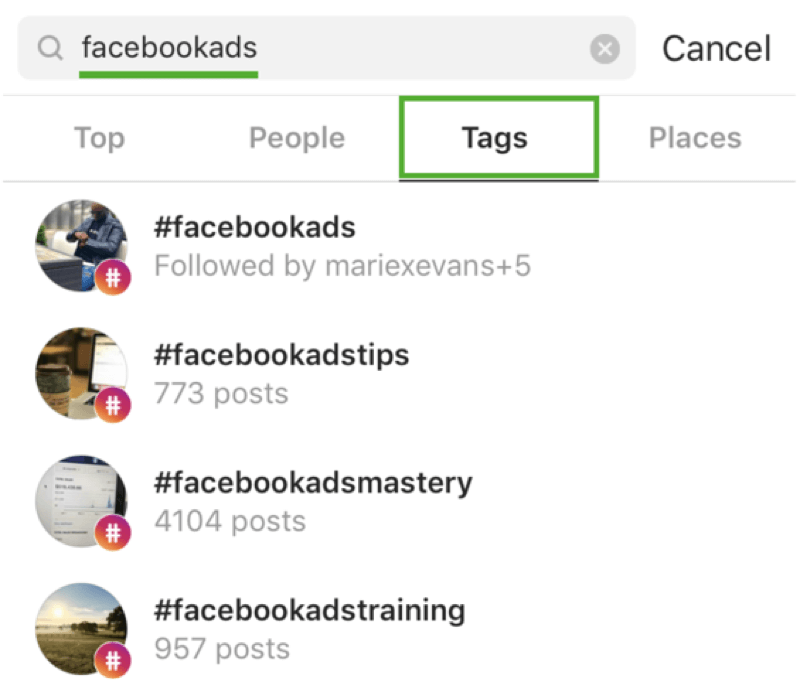 You likely have a core group of hashtags you're already using in your own posts. Because it's best to search and engage daily, I recommend that you set up a spreadsheet to track all of the relevant hashtags you're using because the list will quickly grow.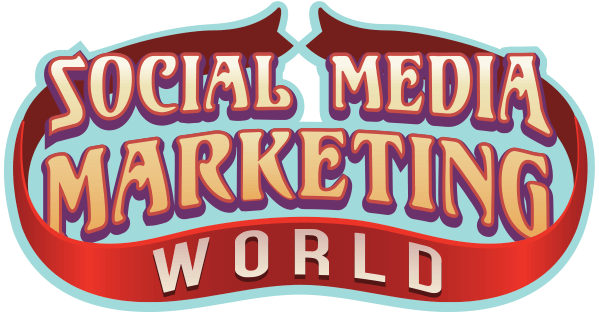 If you're a digital marketing agency, you might start with hashtags like these:

Here's the most surprising part of implementing this strategy: truly understanding the quality of a hashtag. As a Facebook advertising strategist, I'd assume that #facebookads would be an ideal hashtag for posts. However, upon closer inspection, the type of content being tagged with this particular hashtag is:
Extremely promotional (often for get-rich-quick–type schemes)
Unrelated to digital strategy
Entirely misleading
Often extremely spammy
This leads me to the conclusion that we won't use #facebookads in our own Instagram efforts going forward.
As you research hashtags and carry out your daily $1.80 growth strategy, make note of the highest-quality hashtags you find. Then use those in your organic content's written captions to give yourself the greatest opportunity to get in the Search & Explore tab of your ideal customers.
#3: Identify and Engage With 9 Relevant Instagram Posts
After you've found your Instagram hashtags, it's time to filter through the content you've found to determine whether it's relevant and valuable for you to leave your $0.02. Not every post is created equally—especially in a world full of spam bots and automation.
Take a few seconds to analyze each Instagram post you come across. I recommend clicking the full post to:
Read the caption.
Quickly measure the engagement rate (likes and comments vs. total followers).
Click the account profile image to check out their bio and the rest of their profile.
Remember, this strategy works across any vertical: B2B, B2C, SMB, etc. It's the process of culling through the noise to find the gems that most of your competitors aren't setting aside enough time to do.
Here's what to look for when analyzing accounts.
How Much Effort Is Being Put Into Writing an Informative Caption?
A lot of low-quality accounts tend to 'phone in' the caption description and jam as many hashtags into the caption as humanly possible—in the hopes that it will help them rank on the Search & Explore tab.
Well-written captions crafted with meaningful thought aren't an easy feat. The Instagram users who are putting in the time and effort to write their own story-driven captions tend to be active community members outside of their own profiles as well. They're invested in their own Instagram success and your $0.02 interaction helps them signal to the algorithm that their content is also relevant.
What Is the Engagement Rate?
In my algorithmic experience, engagement is king. If an account has 200,000 followers but barely hits 500 likes and comments on a post (0.2% engagement), what does that say about the quality of their community?
On the flipside, never discount an account for having a low follower count. If they have 200 followers and still have 30 likes and comments per post (a 15% engagement rate!), it shows they're building a small but mighty community. Engage away!
Is This Profile Something You Would Naturally Engage With?
Yes, you'll be deploying this strategy for your social media growth efforts. However, it's important to make sure the comments you're leaving have the potential to create strategic and long-term value for your brand and for your potential future community. Otherwise, as with anything, you'll be wasting your time and getting lost in the weeds.
The Anatomy of a Great Instagram Post
Most people want to skip this step (and the time it takes to properly assess the quality of the Instagram account where you're leaving your $0.02) and go straight to the end result—revenue growth. Taking your time to build relationships with the right profiles and people can help expedite your growth.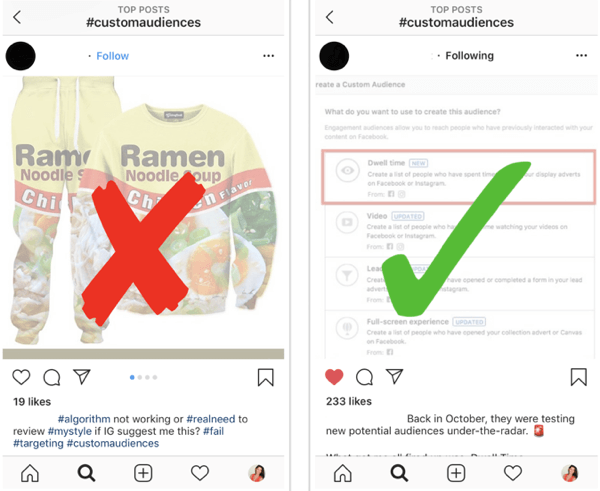 On the left:
The post engagement is lower than the one on the right (total number of likes aside).
The caption is stuffed with hashtags in an attempt to rank content vs. writing quality content to engage your audience.
The account has no bio or any other qualifying details.
On the right:
The content is relevant and educational.
The caption is well-written and informative.
The bio clearly states what they do and allows you to identify whether they belong in your community.
Now onto the fun stuff! This one's simple: Be social on social media. At this point in your efforts, all that's left is to leave your $0.02 on these newfound pieces of content.
Let's talk about leaving your $0.02 for a moment. There's a difference between crafting a meaningful comment that shows you want to be a part of the larger conversation vs. leaving a comment of three emoji hearts and then bouncing.
If all you do is leave emojis, don't use the $1.80 strategy. Spend your time elsewhere on actions/tasks that move the needle in your marketing.
Here are some best practices for being a human on social media:
Share your own experiences. Is there something in your life (or behind the scenes in your business) that's relatable to the original caption? Share that!

Ask open-ended questions. The goal here is to get people to come back to your Instagram profile and engage. If you only talk about yourself and your own experiences, it lessens your chance of developing a meaningful conversation with the other person.
Don't be a know-it-all. Let other people share their perspective and worldview. We, as humans, love to share about ourselves often. Remember that this exercise is not about YOU. It's about the incredible humans you serve in your marketing.

#4: Monetize Your Efforts With an Ad Sequence
After going through these steps, you've started to build two powerful marketing assets:
A captive community of current and future customers who drive real revenue
An engaged custom audience available for retargeting with paid advertising
The first of these two assets, a captive community, will fuel your organic Instagram efforts again and again. Next time you publish a post, these followers will be hungry for your new content. Because you've now engaged in conversations with these users, they're more ready to engage and respond than total strangers.
The second asset is an engaged custom audience that's retargetable by building a $5/day Instagram ad campaign.
When you pair a $5/day Instagram ad sequence with the $1.80 Instagram growth strategy, every image you post, DM you send, and heart you tap is automatically and effortlessly leading people toward becoming your customers. Having a low-cost Instagram ad sequence that's always running in the background is a simple way to turn followers into fanatical (read: paying!) customers.
Conclusion
Set aside time each day to execute this strategy. For me, it's only 15 minutes a day when I'm in an Uber or waiting for a meeting to begin. For you, it might be a consistent hour from 3–4 PM daily.
Your Instagram growth won't happen unless you put in the time and effort daily, track your results, tweak what isn't working, and continuously and relentlessly improve upon your efforts. A year from now, imagine your account at 2x, 10x, 100x growth and what that could mean for your business goals.
With a simple $1.80 Instagram growth strategy paired with a $5/day Facebook advertising strategy, you can rapidly grow your Instagram account with followers who turn into customers.
What do you think? Have you tried the $1.80 Instagram growth strategy? What were your results? Share your results and questions in the comments below.