Dream of a Better Life in Afghanistan Ends in a Hilltop Mass Grave for Students
KABUL, Afghanistan — The teenage students were lowered into a mass grave one after another, shoulder to shoulder — just as they had sat at their lecture hall the day before.
A suicide bomber, perhaps no older than they, had walked in as their algebra class ended and physics was about to begin, detonating his explosive vest and turning the university prep center into a scene of carnage.
On the whiteboard, basic algebraic equations were covered in blood. A nearby blackboard, where "Valentine day" was written in faded chalk, was riddled with holes from the ball bearings that were packed into the bomber's vest.
The lecture hall had been so packed, and the explosion so powerful that nearly half the 230 students were among the casualties. Health officials said at least 40 were killed and 67 others wounded. The mangled bodies were hard to identify.
At the hilltop burial site on Thursday, Roshan Ghaznavi, a human rights campaigner, wept over the coffin of a girl named Negina from a poor family; she had been their best hope for a better life.
"Today, it is Negina's casket, tomorrow it will be my casket, the day after it will be your casket," Ms. Ghaznavi said. "Humanity is dead here. It's been dead for a long time."
The attack was claimed by the Islamic State, its latest in a brutal string of bloody bombings against civilian targets, everything from mosques to schools, and even a midwife training center. The Islamic State's hold on Afghan territory was never large, and has been slipping, but its cruel brand of bloodshed has compounded Afghans' suffering during years of war against the Taliban.
The Kabul school's casualties were just a small fraction of the relentless bloodletting by a resurgent Taliban in the past week, when attacks took the lives of several hundred Afghans, security personnel and civilians.
Most of the students at the education center, called Mawoud Academy, had moved from villages in central Afghanistan to spend a year in Kabul preparing for the country's competitive university entrance exam. Their families had saved so the children, staying in $15-a-month hostels in Kabul, could pursue a universal dream: a good education as their ticket out of poverty and isolation.
For the families, the choice to send their children to the capital has become increasingly fraught. Seventeen years after the American invasion, foreign money still powers opportunities for advancement in the city. But the recent wave of violence has made the cost of those opportunities a heavy one.
Many of the dead from the school were transported back to their villages. But about a dozen, like Negina, were brought to the hilltop in the west of Kabul, close to another mass grave for the victims of an Islamic State bombing two years ago. An excavator did the initial digging, before local men — some in suits, their jackets neatly folded in the dirt — dug with shovels and pickaxes.
Some of the caskets were carried by fellow students or relatives who had made it to the burial. Others were shouldered by volunteers who had heard the news and arrived to help.
"Nobody knows where he was from," said Haji Abas, who was sitting next to a coffin marked Azizullah.
"He has no one here, no family," someone said.
"We are his family," Mr. Abas said. "Let's move him closer to the others."
Among the first to be buried were twins, Attaullah and Farzana, 19.
They were the first children of their parents, born and raised in Ghazni Province before their family moved to Kabul nine years ago. Their mother was a seamstress; she would often sew them matching clothes when they were babies, their cousin Abdul Qader Rahimi said.
"Attaullah was the first to be born, and he grew faster than Farzana," Mr. Rahimi said. "She would tease him that he drank her share of milk, that's why."
"One could not live without the other — that is why they left the world together," Mr. Rahimi said. "They were one soul, in two bodies."
Then there was Negina. No one at the cemetery really knew much about her.
Her only friend helped other women inch the coffin closer to the grave until its turn arrived. Then she fainted. Other women unbuckled her shoes and splashed her face with water.
Later, a university lecturer who had rented Negina a room filled in some of the blanks about her life. Two weeks ago, he said, a woman from Jaghori district, in restive Ghazni, had arrived in Kabul with a toddler and a high school graduate, Negina. The woman said her husband was ill, and her son was working as a laborer in Iran. She wished for Negina to enter university, and then get a well-paying job to lift the family.
Ali Farhang, the lecturer, said Negina and a roommate split the monthly rent for one room: $30.
He said Negina and her roommate had waved goodbye to him on their way to class around 2:20 p.m. The explosion hit at 3:45.
"I peeked into their empty room from the window last evening," Mr. Farhang said. "Their lunch bowl was still there — just a salad of tomatoes and onions."
The academy, down a narrow lane, remained closed on Thursday, except to the relatives who came to pick up the dozens of handbags and backpacks left behind. The roof was blown off. The chairs, covered in blood, were piled in corners.
Police officers guarding the premises sat in the dirt behind the walls, having their lunch of bread and potato curry.
"Gather your strength so you don't cry," one of the officers said, as reporters went inside. "We cried a lot."
Masuma, wearing a checkered shawl, came searching for the handbag her daughter, Atika, had left behind. Atika had been in the next-door classroom and had survived. Her bag held four books and four pens, Masuma said.
"There are a lot of bags like that — dozens," the guard answered, as he led her to rows of tables piled with bags. The contents had been pulled out so relatives could more easily identify their children's belongings.
As they searched, the guard asked how her daughter was doing.
"She is not normal," Ms. Masuma said. "When she sees the photos, she cries a lot."
They found the bag in the lecture hall where she had been seated.
"Yes, this is hers," Ms. Masuma said. "It has four books and four pens."
For some, the end of their search was sadder still.
Hamid Omer had spent much of the evening of the bombing going hospital to hospital to find his sister Rahilla, 17. The night before, they had talked about a potential wife for him. In the morning she ironed his work pants before heading to class.
He finally found her at the government morgue.
"There were two bodies: a boy and a girl." Mr. Omer said. "I was numb, but I had to check the girl. When I checked, her head was shattered, not recognizable."
Then he noticed a watch he thought was his sister's. He called home, somehow hoping that someone else had the same watch and hers would be there. It was not.
A version of this article appears in print on , on Page A1 of the New York edition with the headline: Suicide Attack Ends Afghan Dream of Better Life
. Order Reprints | Today's Paper | Subscribe
How to Grow Your Instagram Following: A Strategic Plan
Want to quickly grow your Instagram audience? Looking for a strategy that attracts the right kind of connections?
In this article, you'll discover how to combine an Instagram growth strategy with an ad sequence that can turn followers into customers.
How This Instagram Growth Strategy Works
On average, Instagram users share "more than 95 million photos and videos every single day," according to Reuters. That amounts to a lot of noise for Instagram marketers to break through to get their message in front of potential customers.
Simply focusing on run-of-the-mill Instagram growth tactics that you hear regurgitated time and again won't help you set yourself apart. You'll just be adding to the noise on the platform instead of building important assets for your brand.
A better approach is the $1.80 Instagram strategy for custom audience growth. Gary Vaynerchuk's $1.80 Instagram growth strategy to grow your business or brand is all about creating micro-connections that gradually accumulate into an active and engaged community on the platform.
Even though it's called the $1.80 strategy, it's completely free to implement. The only resource costs are your time and attention. Once a day, you'll:
Start by searching 10 relevant hashtags.
Locate the top 9 posts for each hashtag.
Leave a meaningful comment (your two cents [$0.02]).
The $1.80 Instagram growth strategy boils down to this equation: 10 hashtags multiplied by 9 posts where you leave your $0.02 = $1.80 in community-building effort.
Getting 2x, 5x, or 10x growth results with this strategy doesn't happen overnight. It requires you to stay consistent and make community-building a regular action for your brand.
As Gary states, "The number of Instagram followers you have means nothing if you can't build a community of like-minded people who care and engage." It's those people who then go on to become customers, brand evangelists, and significantly drive your brand goals forward. Finding this pocket of people is as simple as becoming part of the conversation.
In 2018, we used this strategy at The Ad Strategist to double the size of our Instagram following. More importantly, by implementing the $1.80 Instagram growth strategy, our Instagram engagement custom audience grew to almost 3x larger than our follower count.

Why is this important? The size of your warm custom audiences represents the number of users who've had a meaningful interaction with your brand. This includes everyone who liked, commented on, sent, and saved your content; DM'ed you; or clicked the link in your bio. Of course, just because someone interacts with you doesn't mean they follow you on Instagram. And if they're not following you, it's unlikely they'll see your organic content and posts in the future.
That doesn't mean those users are gone forever, though. You can create a dynamic Instagram ad sequence targeting your Instagram engagement custom audience that converts those non-followers into followers and then customers.
Running ads to this engagement custom audience resulted in 50%–100% cheaper lead costs in an ad spend study of over $45,000 with 349 ad set variations. So targeting this Instagram engagement custom audience creates costs per result that are significantly lower than if you were to target cold traffic.
#1: Create Your Instagram Engagement Custom Audience
To create an Instagram engagement custom audience, navigate to the Audience dashboard in Ads Manager.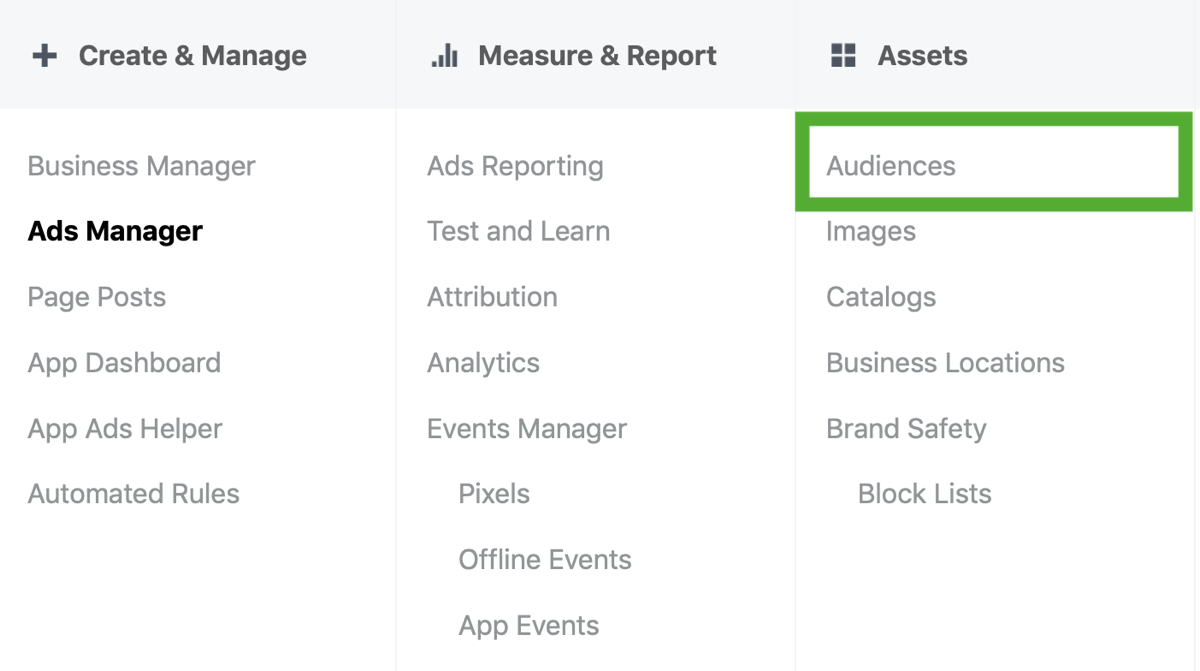 Then click Create Audience and select Custom Audience.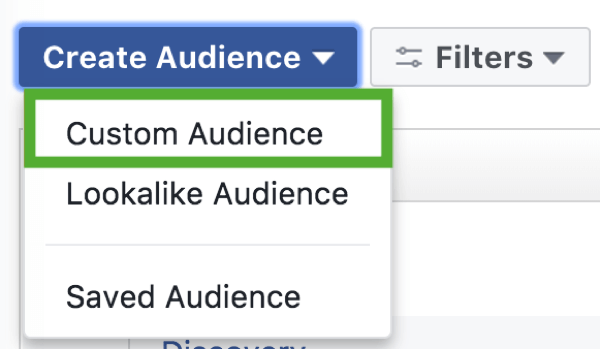 In the Create a Custom Audience window, choose Instagram Business Profile.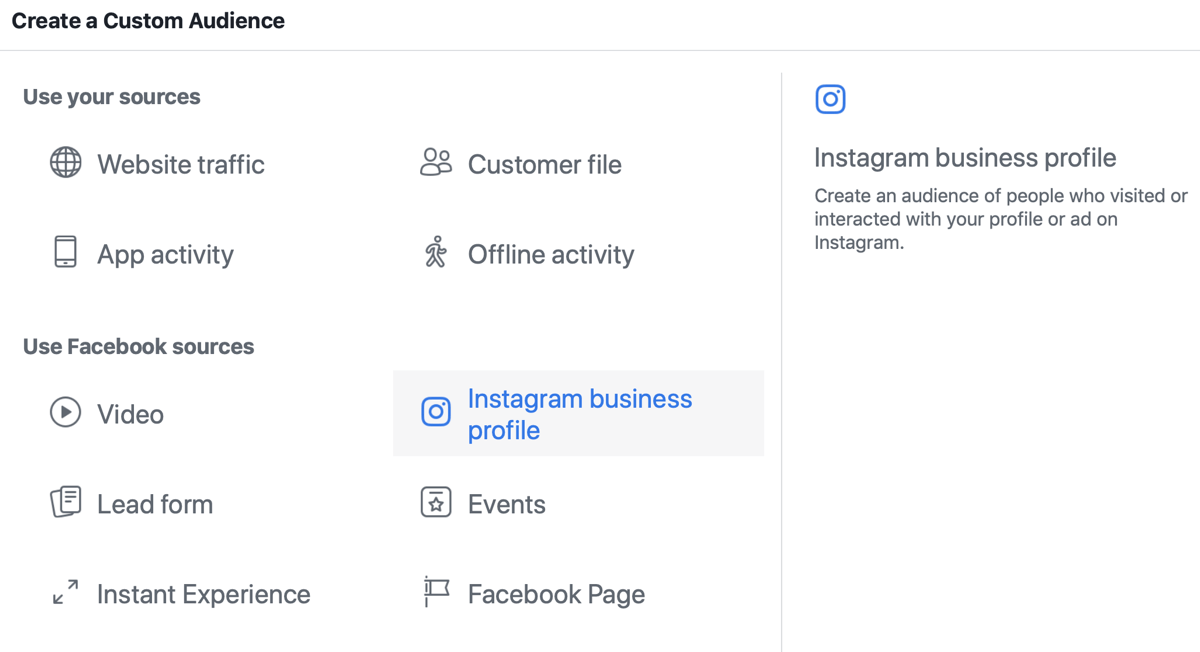 Next, select the correct Instagram profile and ensure Everyone Who Engaged With Your Business in the Past 365 Days is selected.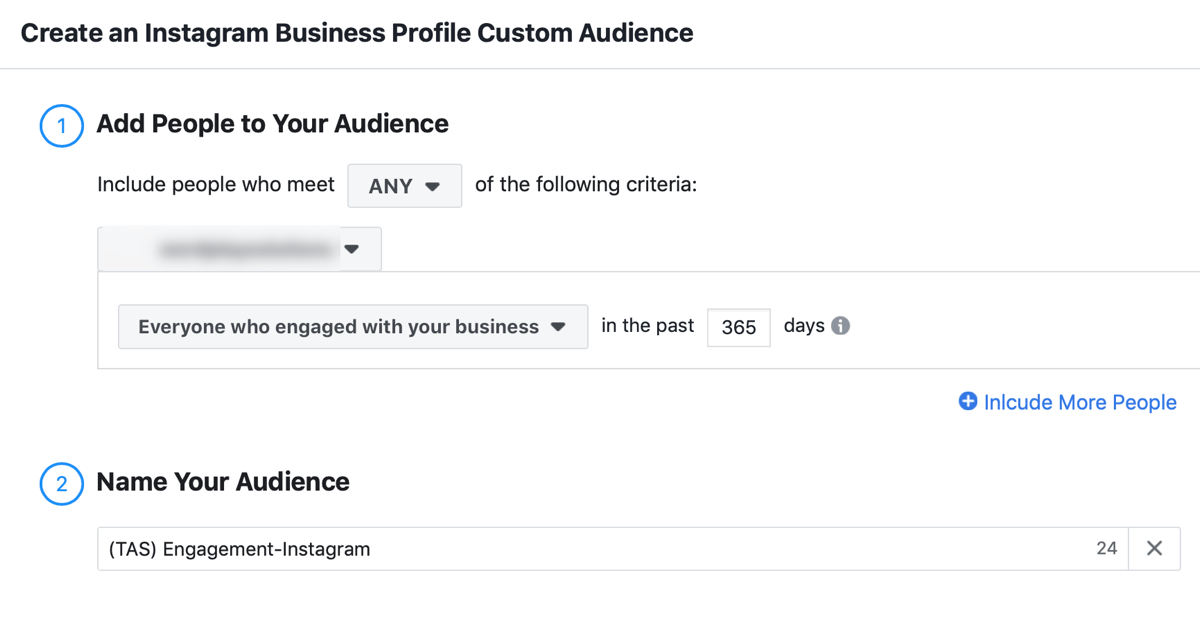 Choose a name for this audience that will be easily identifiable to you in the future and then click Create Audience. Remember that it takes up to 24 hours to reveal the size of your current Instagram engagement audience.
Now write down the current size of this audience to determine your starting point. I recommend that you track the growth of this custom audience weekly as you implement the rest of the $1.80 strategy consistently to assess your measurable growth.
Set Up a Spreadsheet to Track Instagram Growth
For fellow spreadsheet connoisseurs: Tracking this data in a notebook can feel like poking your eyes out, so here's how to structure your results tracking spreadsheet.
Set up your spreadsheet to track the total Instagram engagement custom audience with a separate column for each week.

Then use the formula =sum(D5-C5)/C5 to calculate your weekly growth rate.

Now expand the weekly growth rate calculation across all weeks.

The result is the growth rate of your retargetable custom audiences using the $1.80 Instagram growth strategy over time. Once you have this information for a larger range of weeks, you can assess what is and isn't working for you and then tailor the rest of your Instagram marketing strategy accordingly.
#2: Research and Incorporate Relevant Hashtags
Now that you're tracking your retargetable engagement, the next step is to find relevant hashtags for your business.
Open Instagram and navigate to the Search & Explore tab.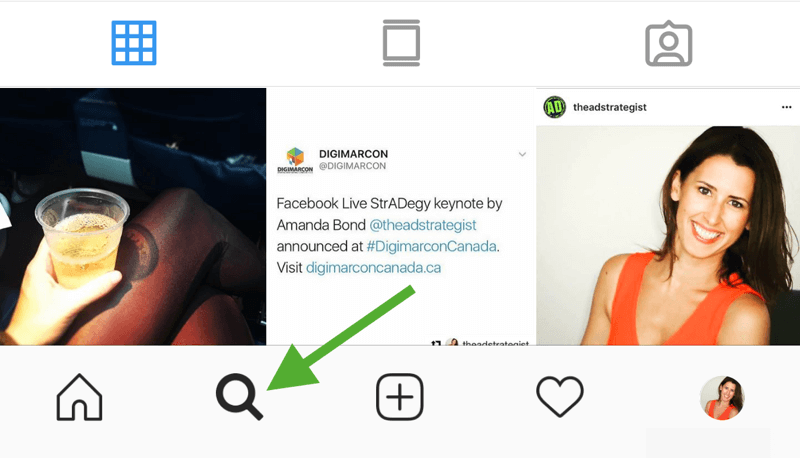 Start by searching for one hashtag such as #facebookads.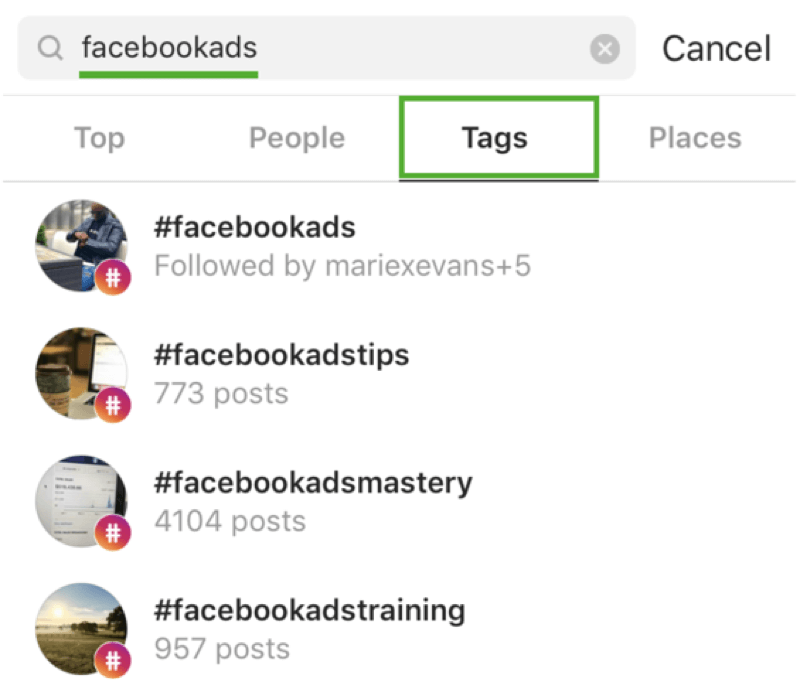 You likely have a core group of hashtags you're already using in your own posts. Because it's best to search and engage daily, I recommend that you set up a spreadsheet to track all of the relevant hashtags you're using because the list will quickly grow.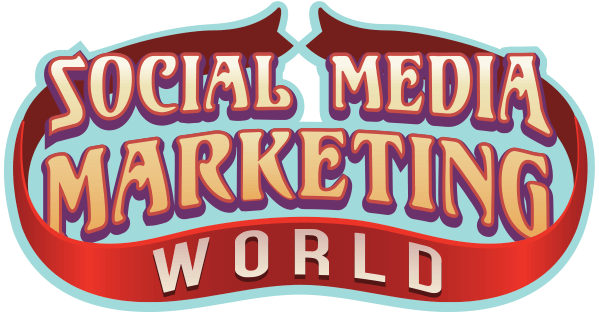 If you're a digital marketing agency, you might start with hashtags like these:

Here's the most surprising part of implementing this strategy: truly understanding the quality of a hashtag. As a Facebook advertising strategist, I'd assume that #facebookads would be an ideal hashtag for posts. However, upon closer inspection, the type of content being tagged with this particular hashtag is:
Extremely promotional (often for get-rich-quick–type schemes)
Unrelated to digital strategy
Entirely misleading
Often extremely spammy
This leads me to the conclusion that we won't use #facebookads in our own Instagram efforts going forward.
As you research hashtags and carry out your daily $1.80 growth strategy, make note of the highest-quality hashtags you find. Then use those in your organic content's written captions to give yourself the greatest opportunity to get in the Search & Explore tab of your ideal customers.
#3: Identify and Engage With 9 Relevant Instagram Posts
After you've found your Instagram hashtags, it's time to filter through the content you've found to determine whether it's relevant and valuable for you to leave your $0.02. Not every post is created equally—especially in a world full of spam bots and automation.
Take a few seconds to analyze each Instagram post you come across. I recommend clicking the full post to:
Read the caption.
Quickly measure the engagement rate (likes and comments vs. total followers).
Click the account profile image to check out their bio and the rest of their profile.
Remember, this strategy works across any vertical: B2B, B2C, SMB, etc. It's the process of culling through the noise to find the gems that most of your competitors aren't setting aside enough time to do.
Here's what to look for when analyzing accounts.
How Much Effort Is Being Put Into Writing an Informative Caption?
A lot of low-quality accounts tend to 'phone in' the caption description and jam as many hashtags into the caption as humanly possible—in the hopes that it will help them rank on the Search & Explore tab.
Well-written captions crafted with meaningful thought aren't an easy feat. The Instagram users who are putting in the time and effort to write their own story-driven captions tend to be active community members outside of their own profiles as well. They're invested in their own Instagram success and your $0.02 interaction helps them signal to the algorithm that their content is also relevant.
What Is the Engagement Rate?
In my algorithmic experience, engagement is king. If an account has 200,000 followers but barely hits 500 likes and comments on a post (0.2% engagement), what does that say about the quality of their community?
On the flipside, never discount an account for having a low follower count. If they have 200 followers and still have 30 likes and comments per post (a 15% engagement rate!), it shows they're building a small but mighty community. Engage away!
Is This Profile Something You Would Naturally Engage With?
Yes, you'll be deploying this strategy for your social media growth efforts. However, it's important to make sure the comments you're leaving have the potential to create strategic and long-term value for your brand and for your potential future community. Otherwise, as with anything, you'll be wasting your time and getting lost in the weeds.
The Anatomy of a Great Instagram Post
Most people want to skip this step (and the time it takes to properly assess the quality of the Instagram account where you're leaving your $0.02) and go straight to the end result—revenue growth. Taking your time to build relationships with the right profiles and people can help expedite your growth.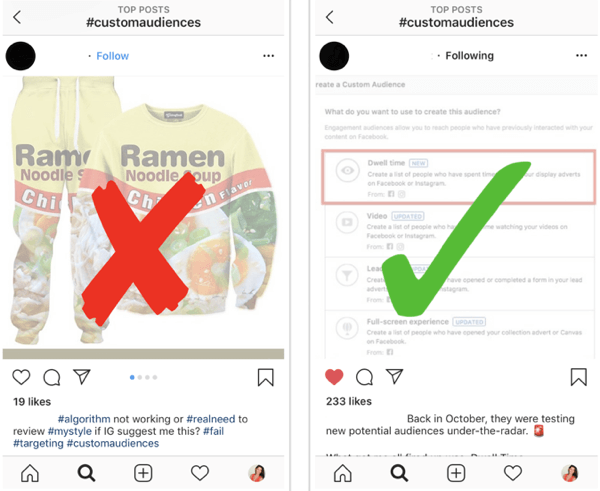 On the left:
The post engagement is lower than the one on the right (total number of likes aside).
The caption is stuffed with hashtags in an attempt to rank content vs. writing quality content to engage your audience.
The account has no bio or any other qualifying details.
On the right:
The content is relevant and educational.
The caption is well-written and informative.
The bio clearly states what they do and allows you to identify whether they belong in your community.
Now onto the fun stuff! This one's simple: Be social on social media. At this point in your efforts, all that's left is to leave your $0.02 on these newfound pieces of content.
Let's talk about leaving your $0.02 for a moment. There's a difference between crafting a meaningful comment that shows you want to be a part of the larger conversation vs. leaving a comment of three emoji hearts and then bouncing.
If all you do is leave emojis, don't use the $1.80 strategy. Spend your time elsewhere on actions/tasks that move the needle in your marketing.
Here are some best practices for being a human on social media:
Share your own experiences. Is there something in your life (or behind the scenes in your business) that's relatable to the original caption? Share that!

Ask open-ended questions. The goal here is to get people to come back to your Instagram profile and engage. If you only talk about yourself and your own experiences, it lessens your chance of developing a meaningful conversation with the other person.
Don't be a know-it-all. Let other people share their perspective and worldview. We, as humans, love to share about ourselves often. Remember that this exercise is not about YOU. It's about the incredible humans you serve in your marketing.

#4: Monetize Your Efforts With an Ad Sequence
After going through these steps, you've started to build two powerful marketing assets:
A captive community of current and future customers who drive real revenue
An engaged custom audience available for retargeting with paid advertising
The first of these two assets, a captive community, will fuel your organic Instagram efforts again and again. Next time you publish a post, these followers will be hungry for your new content. Because you've now engaged in conversations with these users, they're more ready to engage and respond than total strangers.
The second asset is an engaged custom audience that's retargetable by building a $5/day Instagram ad campaign.
When you pair a $5/day Instagram ad sequence with the $1.80 Instagram growth strategy, every image you post, DM you send, and heart you tap is automatically and effortlessly leading people toward becoming your customers. Having a low-cost Instagram ad sequence that's always running in the background is a simple way to turn followers into fanatical (read: paying!) customers.
Conclusion
Set aside time each day to execute this strategy. For me, it's only 15 minutes a day when I'm in an Uber or waiting for a meeting to begin. For you, it might be a consistent hour from 3–4 PM daily.
Your Instagram growth won't happen unless you put in the time and effort daily, track your results, tweak what isn't working, and continuously and relentlessly improve upon your efforts. A year from now, imagine your account at 2x, 10x, 100x growth and what that could mean for your business goals.
With a simple $1.80 Instagram growth strategy paired with a $5/day Facebook advertising strategy, you can rapidly grow your Instagram account with followers who turn into customers.
What do you think? Have you tried the $1.80 Instagram growth strategy? What were your results? Share your results and questions in the comments below.