California Today: Your Questions About Fires and Climate
Good morning.
(Want to get California Today by email? Here's the sign-up.)
As California firefighters battle historic wildfires across the state, our readers have reached out with questions about the role climate change plays in the intensity and frequency of these blazes. Others have expressed confusion over tweets by President Trump laying the blame on the state's forestry and water management policies.
The New York Times reporter Lisa Friedman, who covers climate and wrote about this topic, dug into her reporter's notebook to answer some of your top questions:
What exactly is the role of climate change in these intensifying wildfire seasons? Is it all climate change, or are there other factors as well?
Lisa: I put that question to Michael F. Wehner, a senior staff scientist at Lawrence Berkeley National Laboratory. He stressed that there is no question that warming temperatures have led to severe droughts, meaning more dry fuel, as well as more intense heat waves. Those are essentially the conditions that have made for wildfire seasons that start earlier, last longer and affect larger areas.
"To dismiss the role of climate change on these fires is simply incorrect," said Mr. Wehner, who was a lead author on a chapter of the Fourth National Climate Assessment, a series of federal summaries of climate change data. He made the point, as most climate scientists do, that the cause of the wildfires is multifold, like in any complex event.
And this trend promises to continue: According to the National Climate Assessment science report released last year, the number of large forest fires in the Western United States and Alaska is projected to rise as the climate continues to warm.
So did the president capture the causes of the California wildfires accurately?
Lisa: The president's tweet said that the California wildfires were worsened by "bad environmental laws which aren't allowing massive amounts of readily available water to be properly utilized." Virtually every scientist and forest management expert agreed that Mr. Trump's tweet was scientifically and factually inaccurate.
Mr. Trump's other admonition that California "must also tree clear to stop fire spreading!" raised fewer objections. But, state officials pointed out, California devoted more than $250 million in state funds this year alone on efforts to reduce the risk of wildfires.
How about the president's point about water policy? How is that related to wildfire management and firefighting? Is there any connection, as the president suggested?
Lisa: Mr. Trump in his tweet referred to the longstanding dispute between California farmers and environmentalists over the allocation of the state's precious water resources. Both sides want more and Mr. Trump has embraced the arguments of the agriculture community.
But William Stewart, a forestry specialist at the University of California, Berkeley said leaving less water for fish would have no impact on amount available for fighting fires. That water comes from local streams and rivers, where water-dropping helicopters drop their buckets. Neither he nor other scientists could point to a scenario in which California's environmental laws have prevented or curbed the use of water to fight wildfires.
President Trump, said Mr. Stewart, "conflates it all in a way that's about as nonsensical as I've ever seen."
California Online
(Please note: We regularly highlight articles on news sites that have limited access for nonsubscribers.)
• The Mendocino Complex Fire is now the largest in the state's history. [The New York Times]
• Explaining the Mendocino Complex fires, which are two separate fires and have not merged. [The Mendocino Voice]
• The University of Southern California on Tuesday appointed the retired aerospace executive Wanda Austin to temporarily run the university while the board finds a permanent replacement for the outgoing president C.L. Max Nikias. [The New York Times]
• Nearly 300,000 people in California work in industries that could be affected by Chinese tariffs. [The Fresno Bee]
• Tech companies often struggle with their roles as the arbiters of speech and leave false information, upset users and confusing decisions in their wake. [The New York Times]
• The National Weather Service released a map showing how smoke from California's wildfires is spreading across the west. [The East Bay Times]
• California's clean-air regulator blasted a Trump administration plan to relax car pollution rules, calling it "contrary to the facts and the law." [The New York Times]
• President Trump's tweet about California fires comes at the same time his administration is seeking to expand logging. [The Los Angeles Times]
• Data by insurance providers shows which California counties have the highest concentration of wildfire risk to homes. [The Sacramento Bee]
• A writer explores the "crisis of liberalism" he found on Berkeley's campus. [National Review]
• Accusations of slogan stealing take center stage in California's 10th Congressional District. [The San Francisco Chronicle]
• The air quality in the Central Valley due to surrounding wildfires has hit hazardous levels. [The Fresno Bee]
• Have you ever wondered how fires are named? An explainer. [The New York Times]
And Finally …
When news broke last month that LeBron James would move to Los Angeles to join the Lakers, it wasn't just Angeleno sports fans who were elated; cyclists across the city were delighted that Mr. James, a famous bike enthusiast, could help bring attention to the city's lackluster bike safety infrastructure.
"This could mean a lot to the cycling community. Anybody who has spoken as eloquently as LeBron James about what a bike has meant to him in his life, I think that potential and that platform is a huge deal," said Tamika Butler, a longtime cycling activist in Los Angeles.
Mr. James has evangelized about the freedom and positive opportunities that bicycles provide children; the school for at-risk children that Mr. James created in Akron through his family foundation promises to give each new student a bike.
Because Mr. James has been known to ride his bike to games in the past, there was speculation over whether he would do so in Los Angeles, where pedestrians and cyclists are frequent victims of hit-and-run collisions. One story in The Los Angeles Times had a headline that generated cheers and jeers, "Dear Los Angeles: LeBron James is an avid cyclist. Please don't run him over."
That excitement was kicked up again over the weekend when The Wall Street Journal published an interview with Mr. James, who sounded upbeat about the potential for cycling in and around the city.
"I've seen a few bike paths around Los Angeles," he told The Journal. "I know Santa Monica has a great bike path down there on the beach. I'm looking forward to that."
As for commuting to work: "That would be a hump," he said.
Ms. Butler said that communities in Los Angeles that are heavily minority or low-income have struggled with a lack of safe biking infrastructure; those areas tend to be places where people are particularly reliant on non-motor transportation because they cannot afford cars.
Mr. James, she said, could "shine a light" on these issues.
"Does he have the platform to get folks to finally listen? I hope so. And I hope that folks are also open to realizing that there have been folks in L.A. saying a lot of the same things for a long time," she said. "And I think it would be amazing if some of those advocates could ride with him."
California Today goes live at 6 a.m. Pacific time weekdays. Tell us what you want to see: CAtoday@nytimes.com.
California Today is edited by Julie Bloom, who grew up in Los Angeles and graduated from U.C. Berkeley.
10 Attractions You Can't Miss In Las Vegas
This desert oasis is a city that most people already know a decent amount about.  It is one of the biggest epicentres for gambling in the world.  When you get off a plane in Las Vegas airport you are immediately greeted by slot machines.  As you leave the airport you have amazing views of "The Strip", which is an incredibly long stretch of mega-casino and resorts lit up by glowing neon lights.  The gambling doesn't stop there as gas stations and even grocery stores feature slot machines (seriously, people hang out and gamble in grocery stores).
Las Vegas has done an excellent job of adding more than just gambling to its offerings.  It attempts to brand itself as the "entertainment capital of the world", and frankly they are doing a pretty good job of it.  There are musicians that take up permanent residency in Vegas (yes Britney, Backstreet Boys, and maybe Gaga), an incredible variety of shows (Cirque du Soleil to Blue Man Group), world-class dining options, phenomenal golf courses, mountain hikes, endless shopping (high end to outlet malls), pool parties and nightlife, and even a manmade beach and ski-resort.
As you visit Vegas you will be enthralled by everything "Sin City" has to offer.
This list is in no way inclusive of everything you could plan on a Vegas vacation but is designed to include some of the most iconic Las Vegas attractions that are perfect for the first timer, and things that you may not think to explore.
Also, check out these exclusive Las Vegas Timeshare Deals
Top 10 Must do's in Vegas
1. Welcome to Las Vegas Sign
Taking a picture at the Welcome to Las Vegas sign is a rite of passage for vacationers.  Whether you are here for a bachelor party, work convention, or just escaping cold winter temperatures this sign on the South end of The Strip is a perfect way to begin your trip.
2. Visit Foreign Cities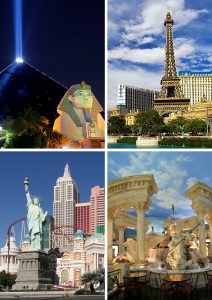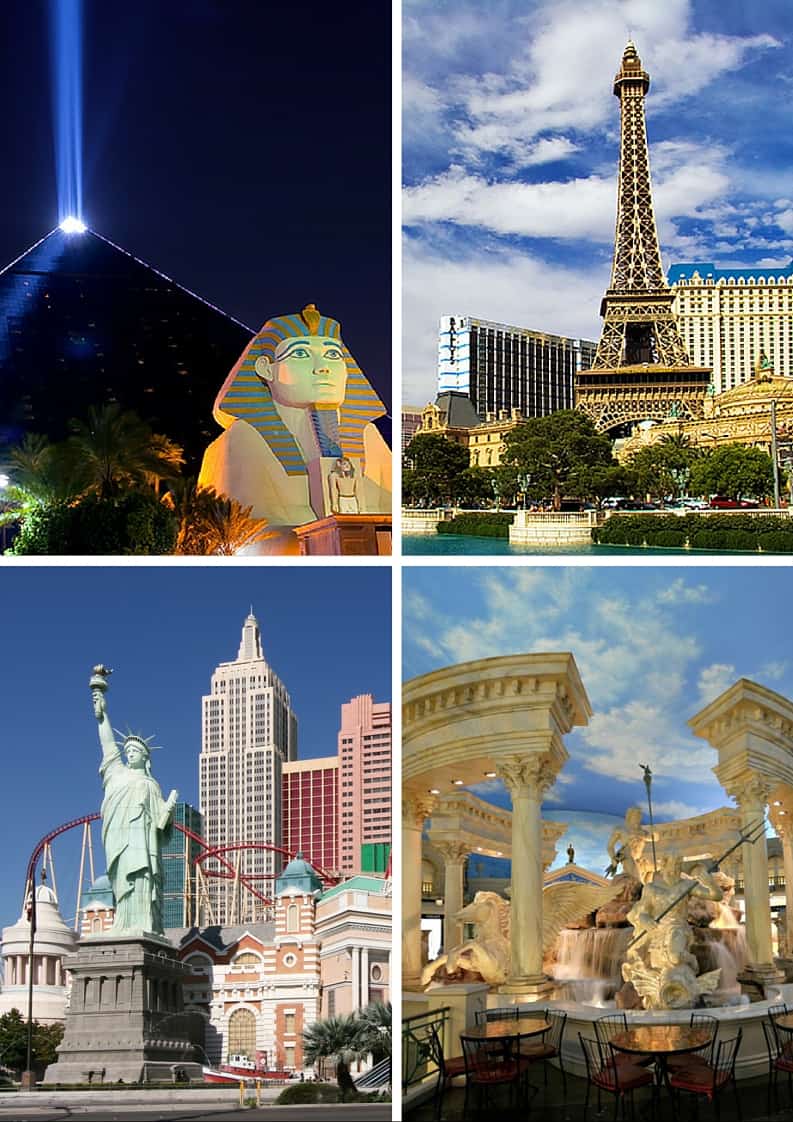 Okay not really, but lots of the casinos are based on a location or theme from somewhere else in the world.  The Paris features its own Eiffel Tower and really is reminiscent of Paris, the Venetian is based on Venice (discussed more below), the Luxor is based on ancient Egypt, Caesar's Palace is based off classic Rome, the Imperial Palace shouts out to Imperial Japan, and New York New York is pretty self-explanatory. Visiting a casino is not a substitute for seeing these places, but I recommend exploring more than just the one you stay in as it is fun to see what elements from around the world have implemented in Vegas.
3. Freemont Street (Old Vegas)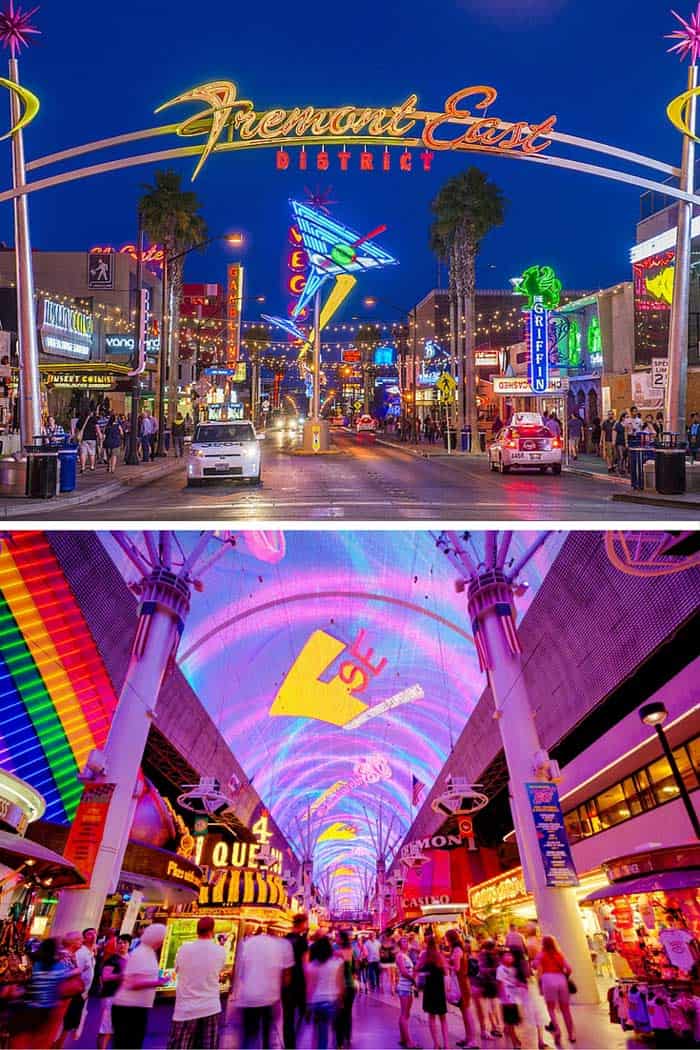 Freemont Street is where you will find the old school Vegas casinos like the 4 Queens and Golden Nugget (featuring a water slide through a shark tank). Even though it is old, it is not run down or left behind.
Freemont Street runs straight through most of the big classic casinos, and is a perfect spot to get a drink from an outdoor bar, see some of the most unique street performers in the world, experience free live music, as well as have strippers attempt to pull you in to see their shows (seriously, be careful).
4. Bellagio Fountain and Gardens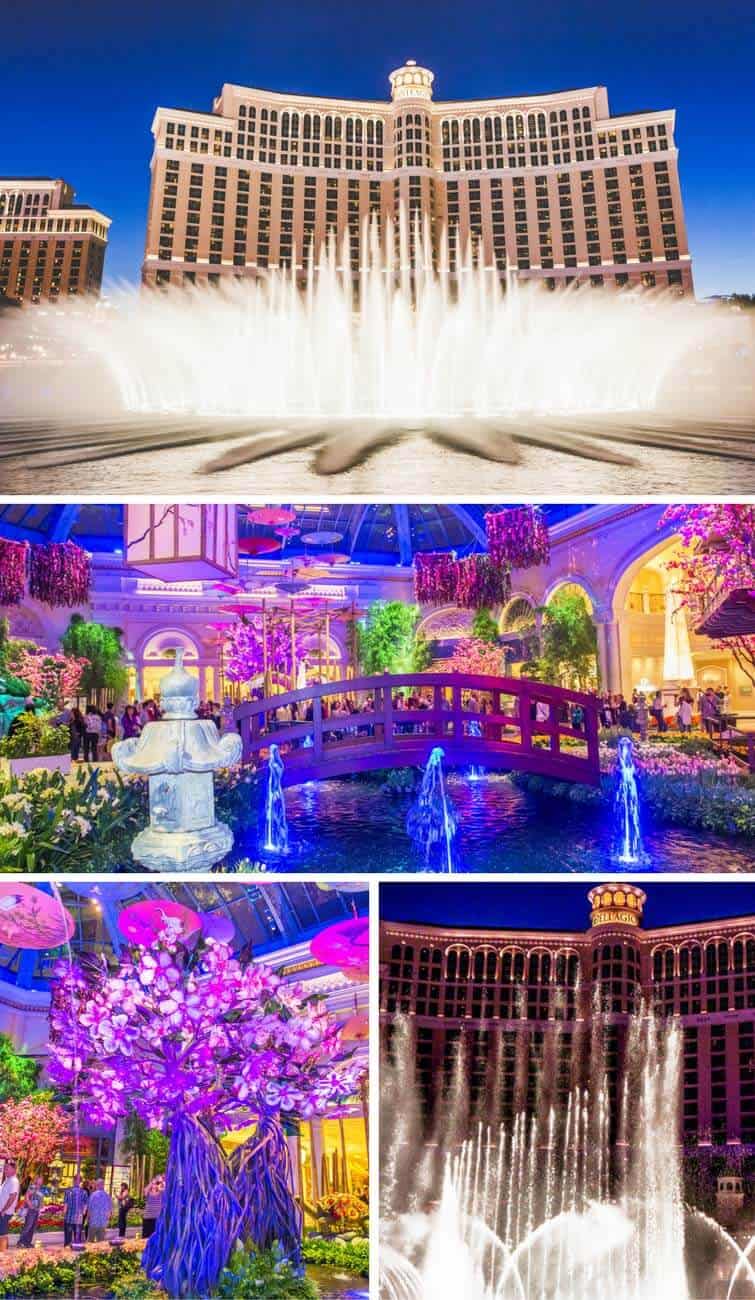 Even though each resort has fantastic things to see, the water show and botanical gardens at the Bellagio cannot be missed.  The 8-acre man-made lake features a dancing water fountain show choreographed to music.  The show is different every 15 minutes, and the results truly are beautiful.  This is the spot that was glorified in Oceans 11 (Brad Pitt and George Clooney could make anything glorious).
The gardens in the lobby are exquisitely decorated and maintained for each season with some of the unique plants and flowers in the world.  Even as a local I make a point to go down each year to see the gardens decorated with a Christmas theme.
5. Gondola Ride at the Venetian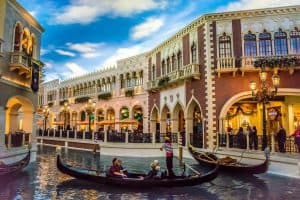 The sky in this picture really is painted on, and it does look that amazing in person.
The Venetian is a luxury resort based off of Venice Italy.  My favorite part of the Venetian is that they built canals throughout the ground floor and mall of the casino, and offer motorized gondola rides while you get serenaded by your very own gondolier.
Even though it makes my husband want to barf, I love how romantic these rides are.  Somehow they designed it so that you don't feel like you are floating through the middle of a casino.
6. Adventure Rides at the Stratosphere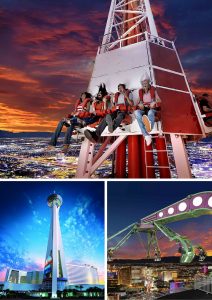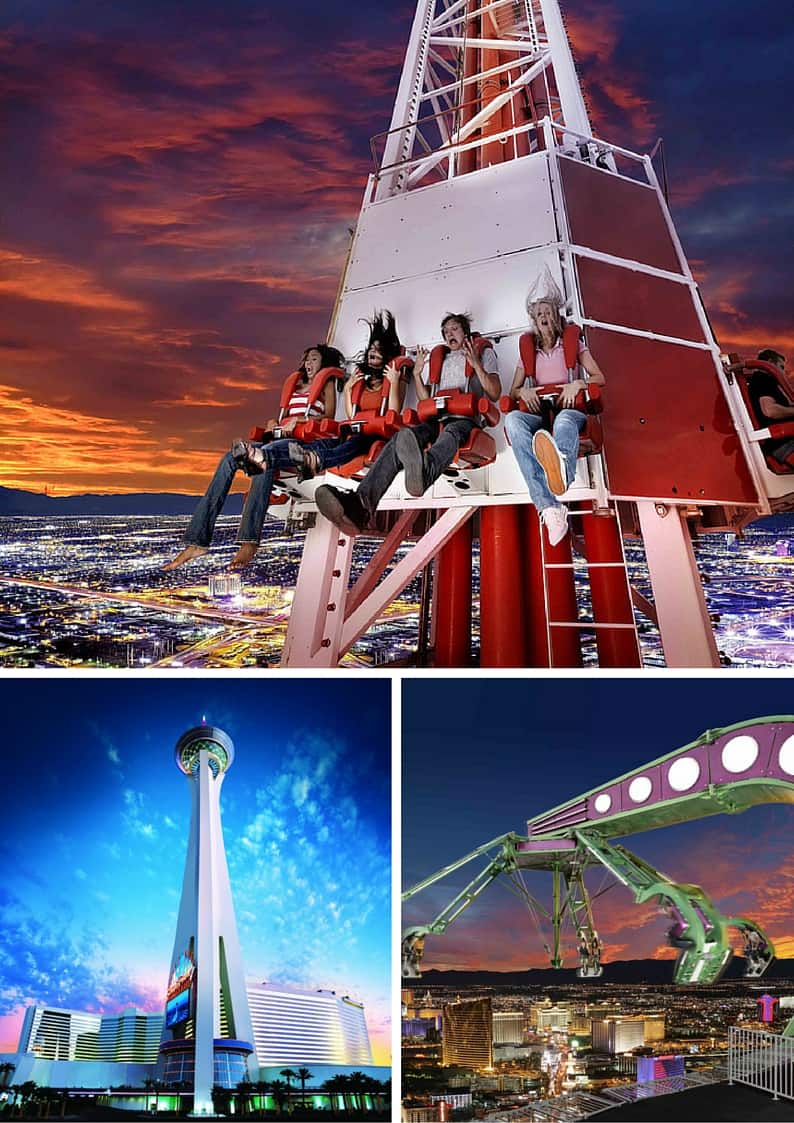 The Stratosphere is hotel and casino that towers overall on the North end of The Strip.  The Stratosphere is most famous for its views of The Strip and hair-raising rides.
It is by far the tallest building in Vegas, and the rides up top are NOT for someone who is afraid of heights. My favorite is the Big Shot, which shoots your seat straight up the top of the tower and into the sky.  It is the tallest thrill ride in the world.  If that isn't gutsy enough for you, you can jump off the top via controlled cables to the bottom.
7. The High Roller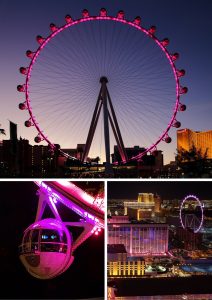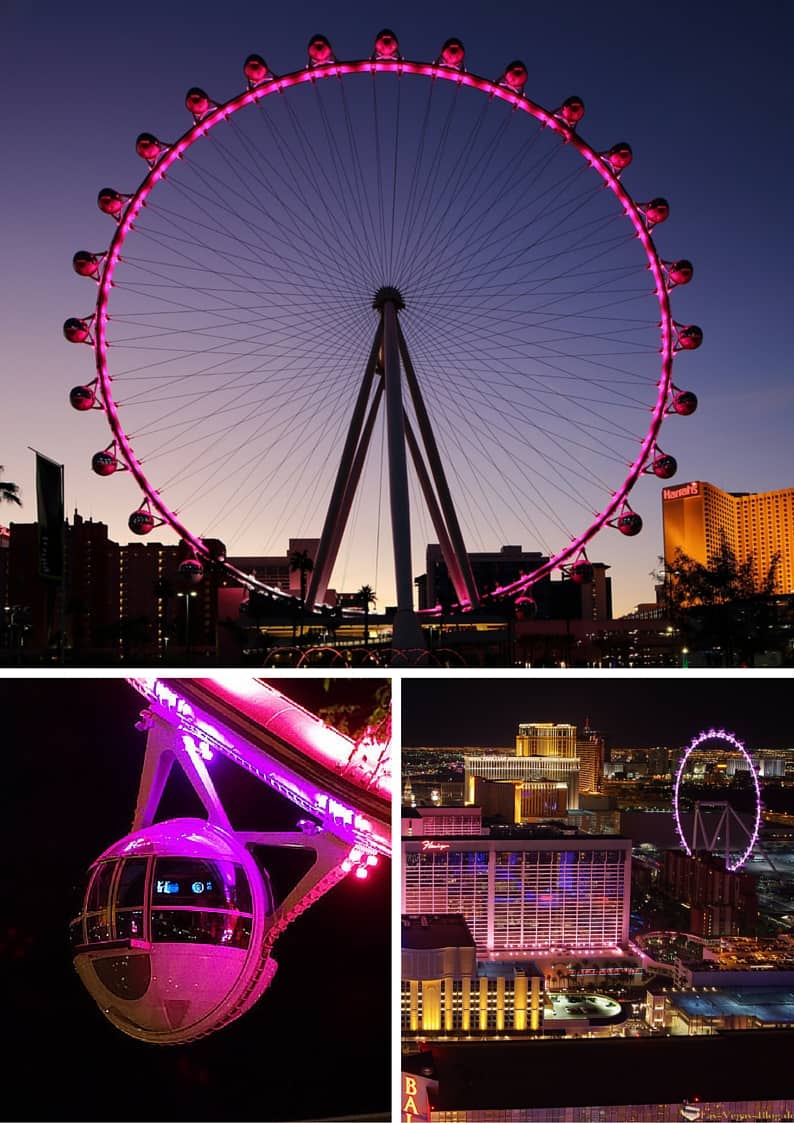 This gigantic observation/Ferris wheel is brand new to Las Vegas.  It is like the London Eye, but bigger.  Surprisingly it really is a fun ride as pods are big enough to feature whole groups of friends, and even your own bar and bartender.
Also Read: More Things To Do In Las Vegas 
8. Hoover Dam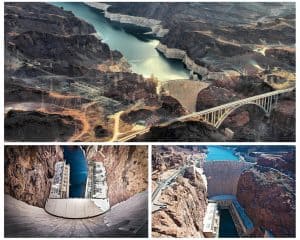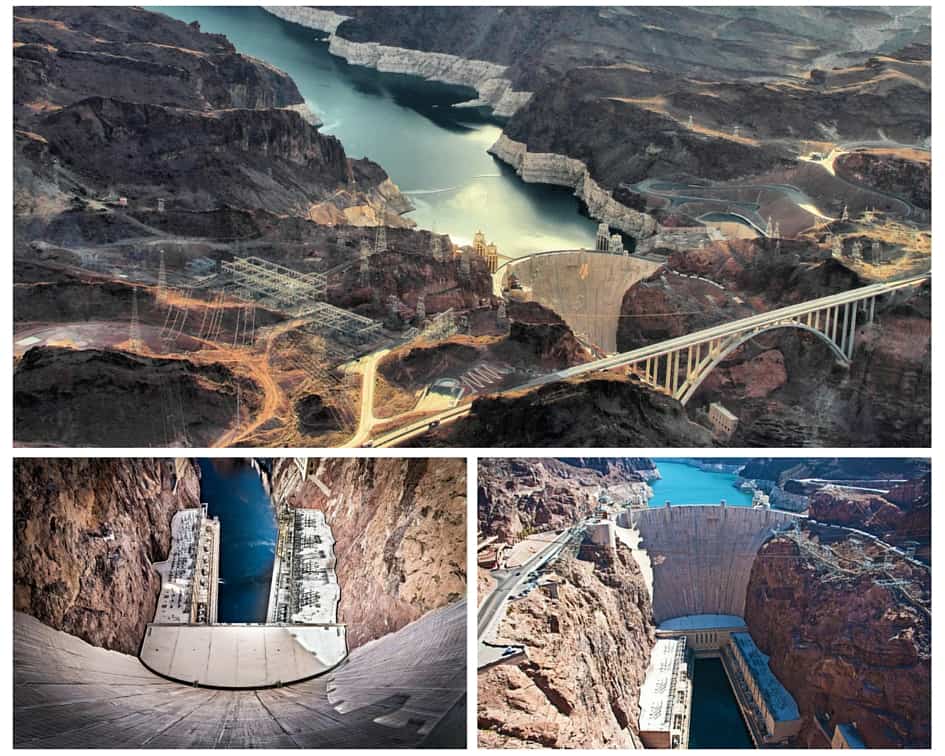 Not all the attractions in Vegas feature neon lights.  The Hoover Dam is a testament to modern engineering.  I found the tour showing how the dam generates power for Las Vegas fascinating.  Also, the lake made by the dam (Lake Mead) is great for boating.
9. Las Vegas Ski Resort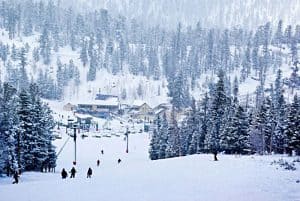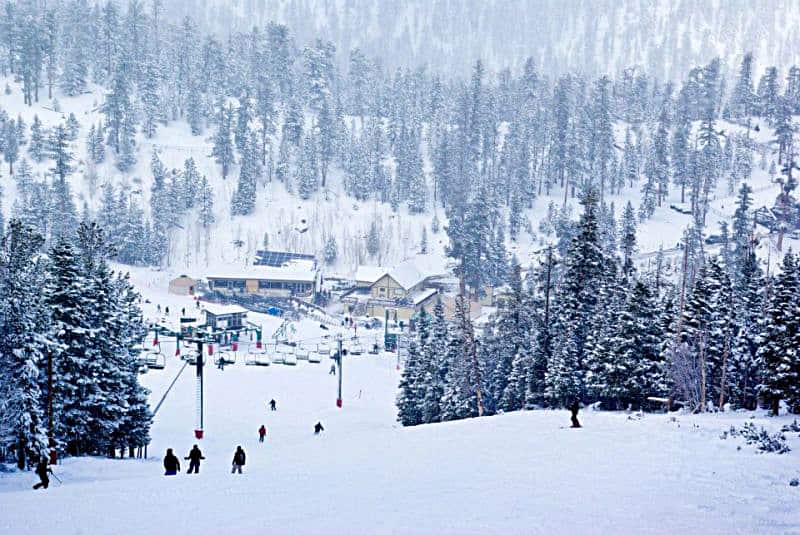 Yes, in the mountains just 45 minutes away from The Strip developers built a ski-resort.  It is not huge, and does not feature the world's best snow, but the novelty of being able to ski within 45 minutes of the scorching desert heat is unreal.
10. The Mob Museum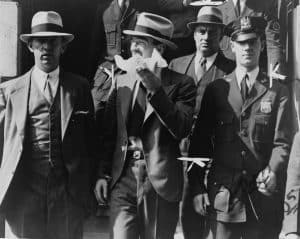 Part of the reason that Las Vegas is built the way it is today is that of the involvement of organized crime.  The mob used casinos to launder their money.  Supposedly organized crime is out of Vegas now, but a fascinating history remains.  The Mob Museum doesn't just explore Vegas' criminal history, but the characters that made this possible from around the country.  The museum does have some creepy elements as it allows visitors to hold a tommy gun, explore crime scene photos, and even see the bloody walls left from massacres.