California Today: Warmest Waters Ever on Record in San Diego
Good morning.
(Want to get California Today by email? Here's the sign-up.)
San Diego's ocean waters are warmer than usual. Last week, researchers recorded the warmest sea surface temperature in more than a century. Each day, researchers from the Scripps Institution of Oceanography at University of California San Diego collect data by hand from the Ellen Browning Scripps Memorial Pier. On Friday, the water reached 78.8 degrees Fahrenheit — the highest since record keeping began there in 1916. The previous record, 78.6 degrees, had been set just two days earlier. We spoke with Clarissa Anderson, a biological oceanographer, to explain the significance of the temperatures.
Her answers have been slightly edited and condensed for clarity:
How often is the water temperature measured and why?
We've done manual measurements on the waters near the pier since 1916, but we also have an automatic shore station and gliders that go further off the coast and buoys. All of those measurements tell us a comprehensive story about what's going on in the ocean as a whole. And we're seeing these high temperatures across the board.
While global warming was not an understood concept a century ago, even then there was an understanding that there's natural variability and that temperatures could change very abruptly. The understanding was you've got to get a baseline understanding. There was a basic understanding that human causes could impact the sea and this was scientific curiosity taking that further.
What does ocean temperature tell you?
Temperature is an incredibly important driver. Not only is it a fundamental property but we know it has a lot of impact on things that are always living in this dynamic system. We're really pushing against the edges of that variability. We had the blob and then we had El Niño of 2016 and we never really came back down from that. This can signal a tipping point of the environment that we need to be prepared for and we need to be looking at right now.
Is this a sign of global warming?
The oceans have been taking so much of carbon dioxide from the atmosphere and absorbing that — we would probably be a lot hotter on land if we didn't have this incredible response from the ocean. We have already seen that the temperatures are changing things. We've had algae blooms and a Dungeness crab industry that was really harmed. It is alarming.
California Online
(Please note: We regularly highlight articles on news sites that have limited access for nonsubscribers.)
• The Mendocino Complex Fire is now the largest wildlife fire in modern state history. [The New York Times]
• President Trump blamed the blazes on California's environmental policies and inaccurately claimed that water that could be used to fight the fires was "foolishly being diverted into the Pacific Ocean." [The New York Times]
• The president's tweet prompted widespread confusion, frustration and even outrage. A columnist for The Los Angeles Times called it "strikingly ignorant," and a fire chief directly contradicted the president. [The Los Angeles Times | The San Francisco Chronicle]
• A rapidly moving fire in the Cleveland National Forest forced evacuations from two Orange County Canyons. [The Orange County Register | The Los Angeles Times]
• This map shows where California's largest 10 fires have occurred since state officials began tracking in 1932. [The Mercury News]
• 249 — that's how many nights one firefighter spent away from his wife battling wildfires last year. How families are coping with the new normal. [The Sacramento Bee]
• "The paper is mine now, so the editorial voice will be mine," the new owner of The Santa Clarita Valley Signal recently said, prompting a new round of worry in the area. [The New York Times]
• A Sikh man was putting up signs for local Republicans when two men threw sand in his eyes, beat him and spray-painted a neo-Nazi symbol on his truck. The police are now looking for suspects, calling it a hate crime. [The New York Times]
• A shortage of charging stations for electric cars "threatens to become a critical bottleneck to mass adoption," according to one recent study. [The Fresno Bee]
• San Francisco has the oldest first-time mothers in the country. See how your own county compares in these interactive maps and charts. [The New York Times]
• One California company claims it has made a major breakthrough and created something that many thought was impossible: a marijuana breathalyzer. [National Public Radio]
• President Trump may be in danger of losing his star on the Hollywood Walk of Fame. The West Hollywood City Council voted unanimously to ask the Hollywood Chamber of Commerce to remove his star. [Vulture]
Should San Francisco force workers outside their offices for meals? We asked you to weigh in last week about the news that two members of the San Francisco Board of Supervisors proposed an ordinance to ban new corporate offices from including cafeterias.
Dozens of emails poured in and the response was a resounding no. Many criticized what they saw as a "nanny-state" law. Here are excerpts from some responses:
"If you had to pay $18 for an avocado salad at the corner restaurant or a free lunch at work as part of your compensation, which would you choose? San Francisco restaurants are ridiculously expensive as has become the norm in Los Angeles, San Diego, Portland and Seattle too. Consumers need to say no to restaurant's high prices. The San Francisco supervisors need to concentrate on rent control and homelessness."
Robert Worley
"I have worked for 35 years and can count on one hand the times I didn't bring lunch from home. Will that be the next rule, no home lunch? As for those businesses that popped up expecting a lunch crowd, perhaps they need to think out of the box and provide affordable food to those who need it during the day, and happy hour to those who work next door."
Cassandra Cline
"Vendors have no legal right to force people into their shops and restaurants. This is a slippery slope. What's next — school lunches?"
Anne Britt
But at least one reader supported the cafeteria ban:
"I have lived and worked in San Francisco for 50 years, and it is disheartening to see small local businesses including restaurants being driven out by techs who make very generous salaries then cry that it is so expensive to live in San Francisco that they need free food! Give me a break! Go spend the money you've earned in San Francisco in local businesses, such as restaurants, grocery stores, book stores, dry cleaners etc."
Marion Blumberg
California Today goes live at 6 a.m. Pacific time weekdays. Tell us what you want to see: CAtoday@nytimes.com.
California Today is edited by Julie Bloom, who grew up in Los Angeles and graduated from U.C. Berkeley.
10 Attractions You Can't Miss In Las Vegas
This desert oasis is a city that most people already know a decent amount about.  It is one of the biggest epicentres for gambling in the world.  When you get off a plane in Las Vegas airport you are immediately greeted by slot machines.  As you leave the airport you have amazing views of "The Strip", which is an incredibly long stretch of mega-casino and resorts lit up by glowing neon lights.  The gambling doesn't stop there as gas stations and even grocery stores feature slot machines (seriously, people hang out and gamble in grocery stores).
Las Vegas has done an excellent job of adding more than just gambling to its offerings.  It attempts to brand itself as the "entertainment capital of the world", and frankly they are doing a pretty good job of it.  There are musicians that take up permanent residency in Vegas (yes Britney, Backstreet Boys, and maybe Gaga), an incredible variety of shows (Cirque du Soleil to Blue Man Group), world-class dining options, phenomenal golf courses, mountain hikes, endless shopping (high end to outlet malls), pool parties and nightlife, and even a manmade beach and ski-resort.
As you visit Vegas you will be enthralled by everything "Sin City" has to offer.
This list is in no way inclusive of everything you could plan on a Vegas vacation but is designed to include some of the most iconic Las Vegas attractions that are perfect for the first timer, and things that you may not think to explore.
Also, check out these exclusive Las Vegas Timeshare Deals
Top 10 Must do's in Vegas
1. Welcome to Las Vegas Sign
Taking a picture at the Welcome to Las Vegas sign is a rite of passage for vacationers.  Whether you are here for a bachelor party, work convention, or just escaping cold winter temperatures this sign on the South end of The Strip is a perfect way to begin your trip.
2. Visit Foreign Cities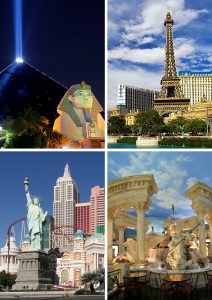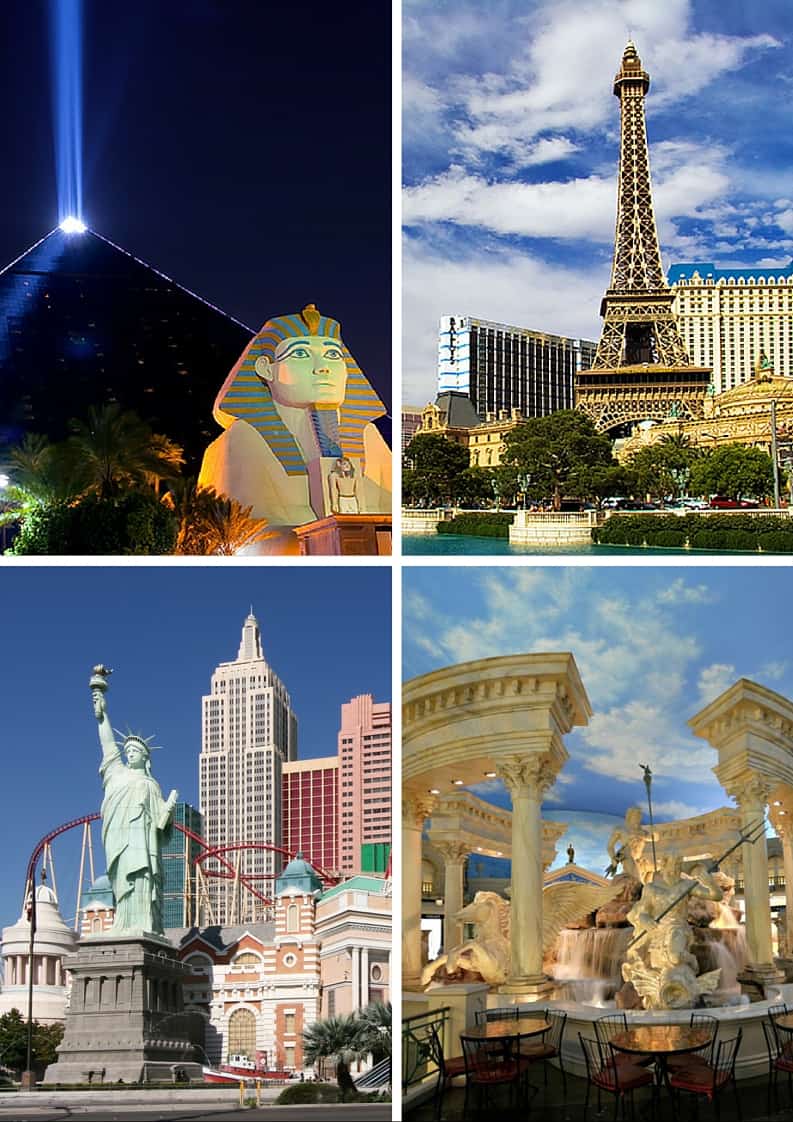 Okay not really, but lots of the casinos are based on a location or theme from somewhere else in the world.  The Paris features its own Eiffel Tower and really is reminiscent of Paris, the Venetian is based on Venice (discussed more below), the Luxor is based on ancient Egypt, Caesar's Palace is based off classic Rome, the Imperial Palace shouts out to Imperial Japan, and New York New York is pretty self-explanatory. Visiting a casino is not a substitute for seeing these places, but I recommend exploring more than just the one you stay in as it is fun to see what elements from around the world have implemented in Vegas.
3. Freemont Street (Old Vegas)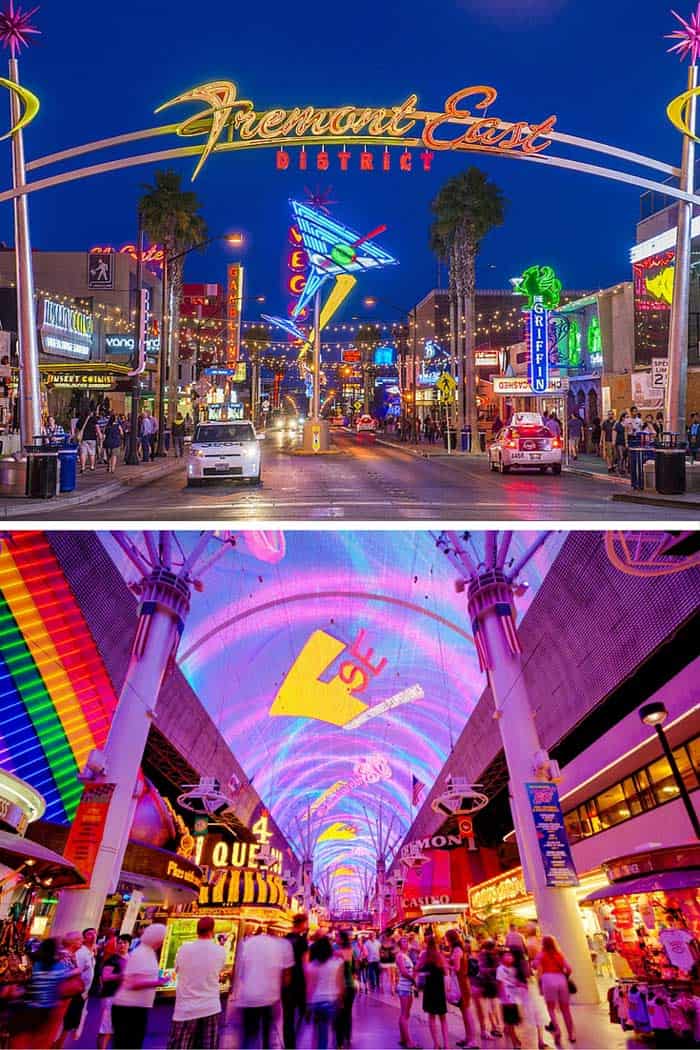 Freemont Street is where you will find the old school Vegas casinos like the 4 Queens and Golden Nugget (featuring a water slide through a shark tank). Even though it is old, it is not run down or left behind.
Freemont Street runs straight through most of the big classic casinos, and is a perfect spot to get a drink from an outdoor bar, see some of the most unique street performers in the world, experience free live music, as well as have strippers attempt to pull you in to see their shows (seriously, be careful).
4. Bellagio Fountain and Gardens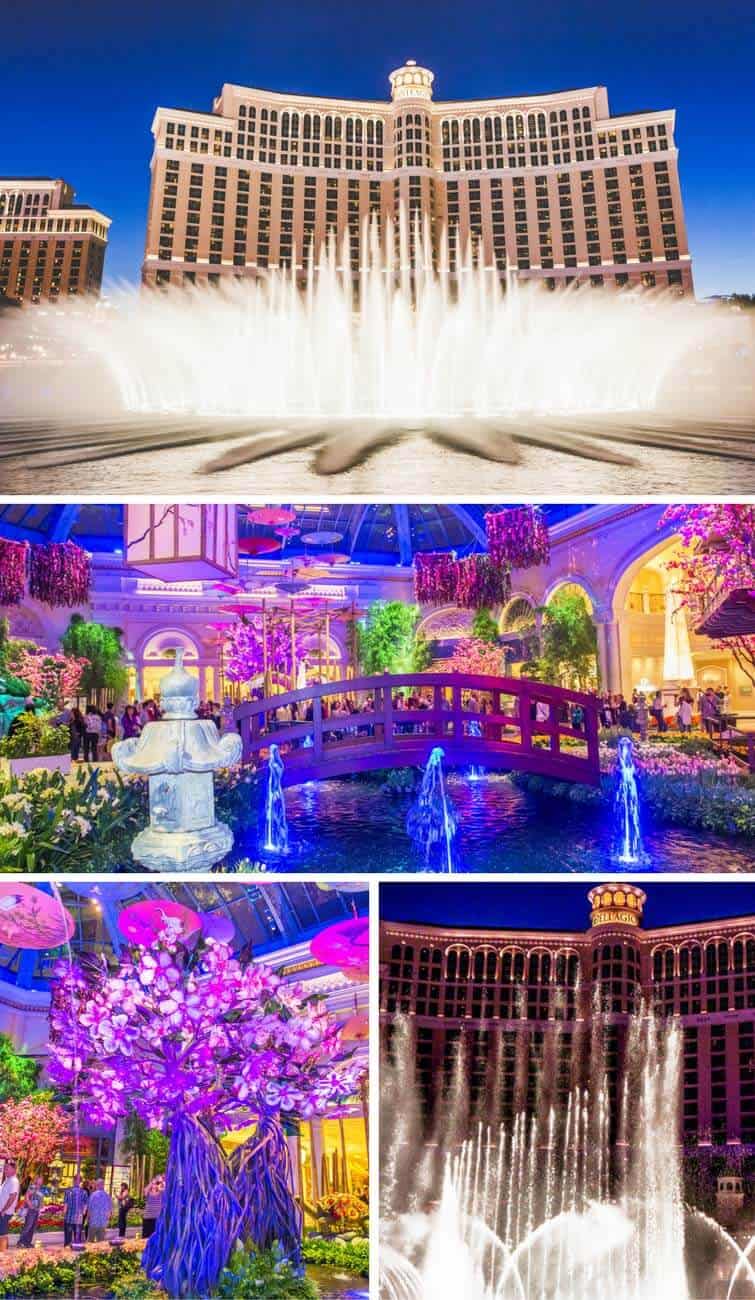 Even though each resort has fantastic things to see, the water show and botanical gardens at the Bellagio cannot be missed.  The 8-acre man-made lake features a dancing water fountain show choreographed to music.  The show is different every 15 minutes, and the results truly are beautiful.  This is the spot that was glorified in Oceans 11 (Brad Pitt and George Clooney could make anything glorious).
The gardens in the lobby are exquisitely decorated and maintained for each season with some of the unique plants and flowers in the world.  Even as a local I make a point to go down each year to see the gardens decorated with a Christmas theme.
5. Gondola Ride at the Venetian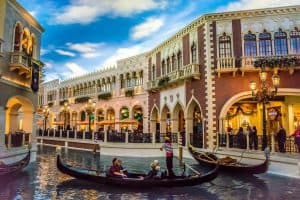 The sky in this picture really is painted on, and it does look that amazing in person.
The Venetian is a luxury resort based off of Venice Italy.  My favorite part of the Venetian is that they built canals throughout the ground floor and mall of the casino, and offer motorized gondola rides while you get serenaded by your very own gondolier.
Even though it makes my husband want to barf, I love how romantic these rides are.  Somehow they designed it so that you don't feel like you are floating through the middle of a casino.
6. Adventure Rides at the Stratosphere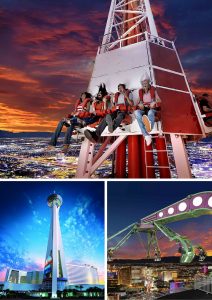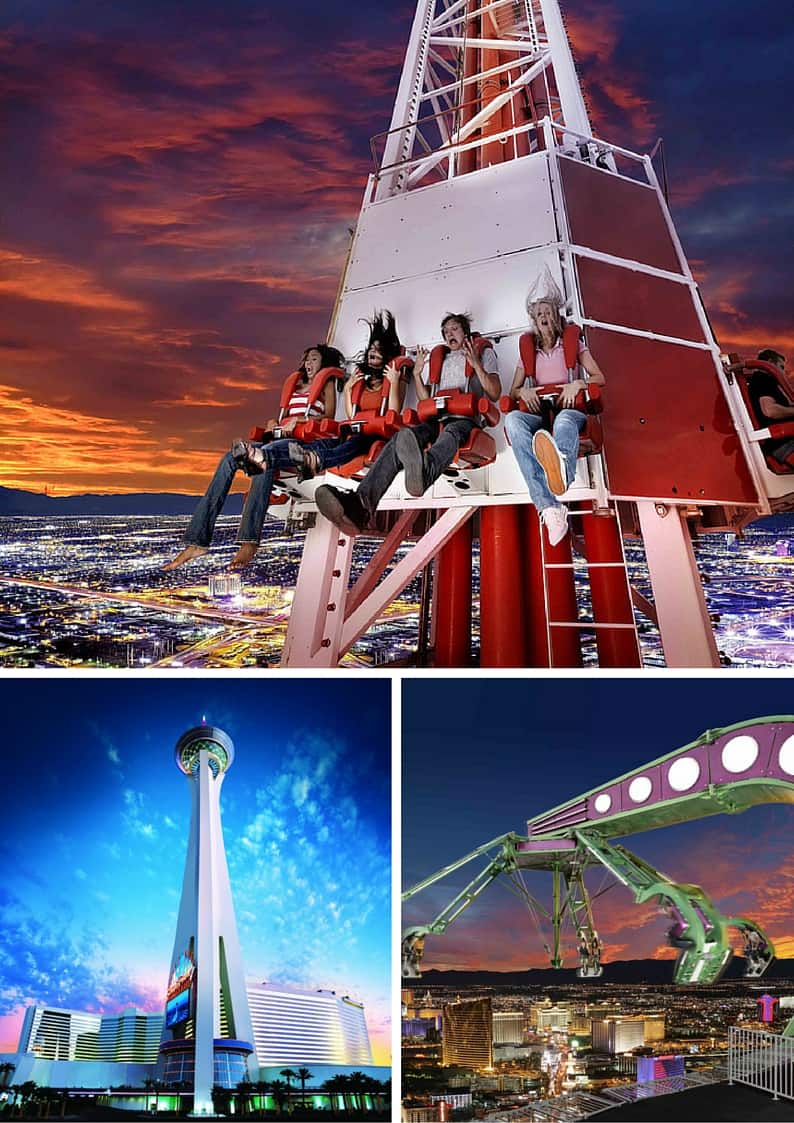 The Stratosphere is hotel and casino that towers overall on the North end of The Strip.  The Stratosphere is most famous for its views of The Strip and hair-raising rides.
It is by far the tallest building in Vegas, and the rides up top are NOT for someone who is afraid of heights. My favorite is the Big Shot, which shoots your seat straight up the top of the tower and into the sky.  It is the tallest thrill ride in the world.  If that isn't gutsy enough for you, you can jump off the top via controlled cables to the bottom.
7. The High Roller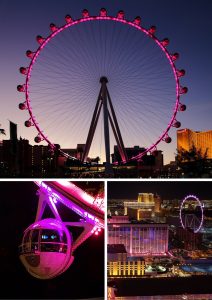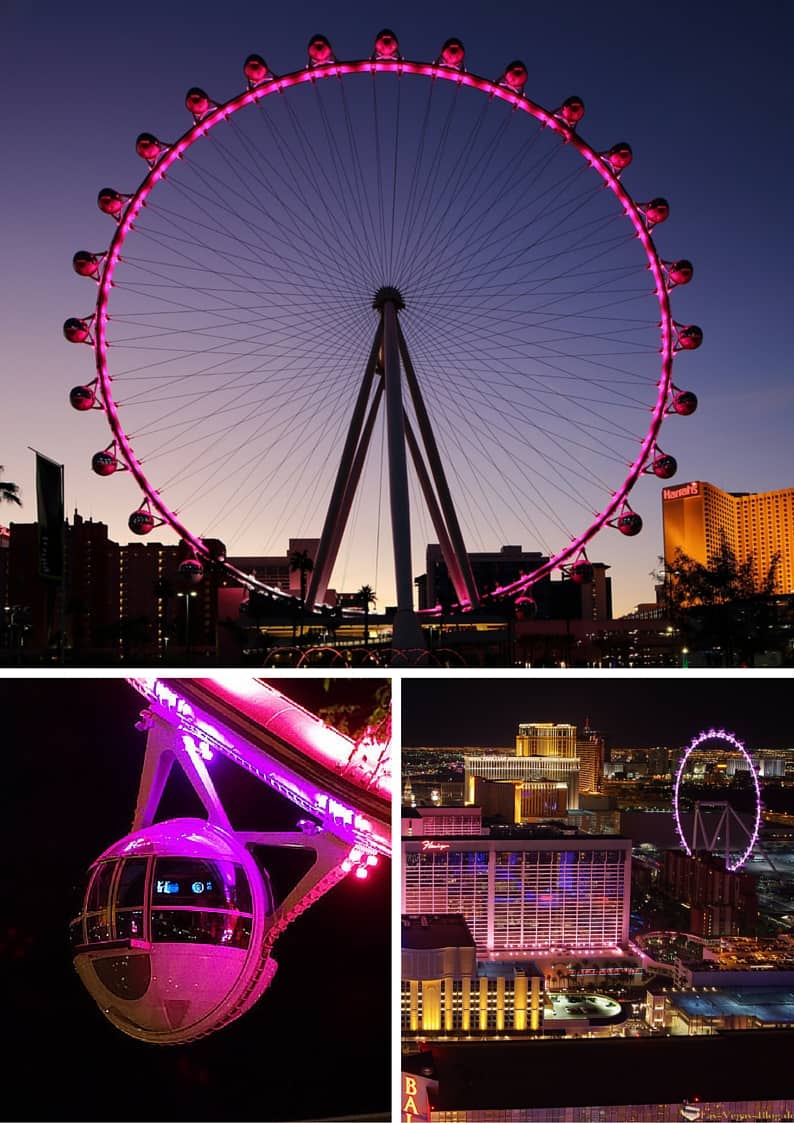 This gigantic observation/Ferris wheel is brand new to Las Vegas.  It is like the London Eye, but bigger.  Surprisingly it really is a fun ride as pods are big enough to feature whole groups of friends, and even your own bar and bartender.
Also Read: More Things To Do In Las Vegas 
8. Hoover Dam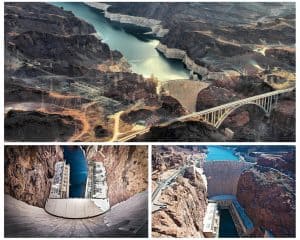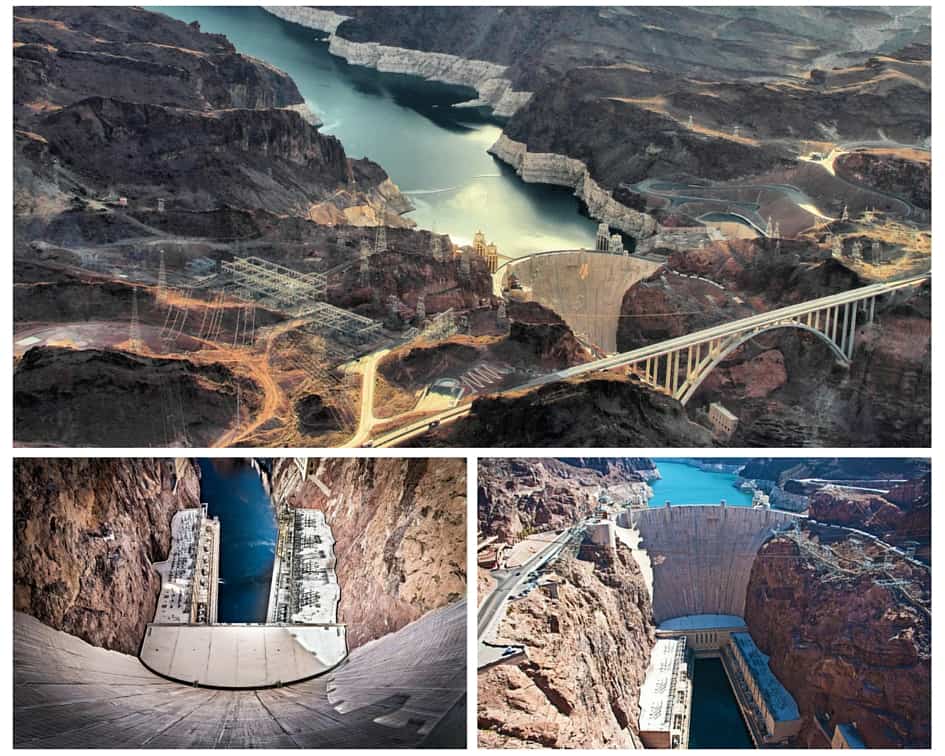 Not all the attractions in Vegas feature neon lights.  The Hoover Dam is a testament to modern engineering.  I found the tour showing how the dam generates power for Las Vegas fascinating.  Also, the lake made by the dam (Lake Mead) is great for boating.
9. Las Vegas Ski Resort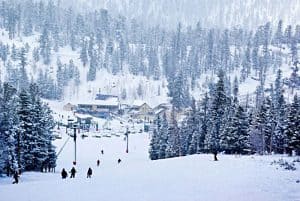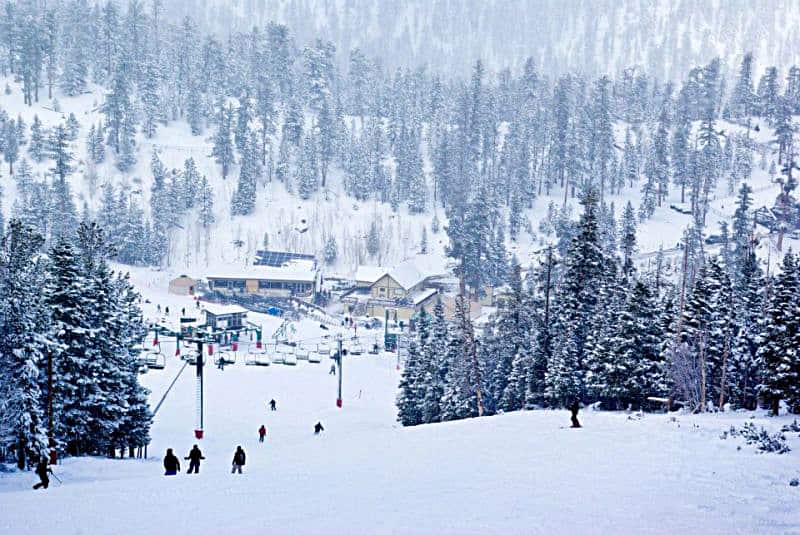 Yes, in the mountains just 45 minutes away from The Strip developers built a ski-resort.  It is not huge, and does not feature the world's best snow, but the novelty of being able to ski within 45 minutes of the scorching desert heat is unreal.
10. The Mob Museum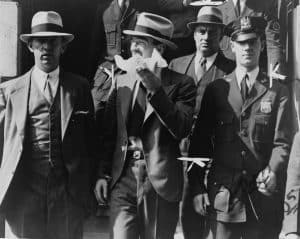 Part of the reason that Las Vegas is built the way it is today is that of the involvement of organized crime.  The mob used casinos to launder their money.  Supposedly organized crime is out of Vegas now, but a fascinating history remains.  The Mob Museum doesn't just explore Vegas' criminal history, but the characters that made this possible from around the country.  The museum does have some creepy elements as it allows visitors to hold a tommy gun, explore crime scene photos, and even see the bloody walls left from massacres.