California Today: Returning to Redding After the Carr Fire
Good morning.
(Want to get California Today by email? Here's the sign-up.)
Residents of the west Redding neighborhoods most devastated by the Carr Fire began returning to their damaged homes this weekend, marking the first steps of a long recovery ahead for the town and others throughout Shasta County affected by the blaze. Some made the familiar drives to their houses only to find empty lots piled with ash and debris.
Justin Sanchez, who lived in the Lake Keswick Estates neighborhood, described a chaotic scene the night he and his family pushed through bottlenecked traffic to escape a fire tornado that ripped through the area. Like many others, he said he did not initially believe the fire would jump the Sacramento River to reach his neighborhood. The situation escalated quickly, he said.
"I just knew this thing was going to take our whole neighborhood," he said. "I've never been so scared in my life."
All he was able to grab on his way out were some photos from the walls. Today, that's all his family has left; when he returned one week later, he found everything burned down.
In a follow-up interview, Mr. Sanchez said his family was still mapping out what comes next; his first steps included getting an identification card and securing a temporary place to live for himself and his two boys. He is looking for more permanent housing. In the meantime, he has also signed up as a volunteer to help families clean the debris from their burned-down homes.
"I lost it all, and if I can help clean up, then that will make me feel better," he said.
The fire continues to burn, though it has turned westward away from Redding. As of Sunday, it has burned 160,000 acres and is 43 percent contained.
Gov. Jerry Brown on Saturday toured the Lake Redding Estates neighborhood and urged Californians to come together as "one state and one country" to respond to these disasters.
"This is part of a trend, a new normal, and we've got to deal with it," Mr. Brown said. "These kind of horrible situations bring people together regardless of the lesser kind of ideologies and partisan considerations. It's tragic that tragedy brings us closer together, but out of that we learn to depend on each other and work together," he said.
President Trump on Saturday approved a disaster declaration for California, which will make federal assistance available for Shasta County residents affected by the Carr Fire. The White House, in conjunction with the Federal Emergency Management Agency, said that the assistance would take the form of grants and low-cost loans and that individuals can apply for them online; they did not specify a cap on the disaster assistance package.
Mayor Kristen Schreder of Redding said that city and county governments were going to be working with the state on a local assistance center where residents affected by the fire can go for information and services. "We just never thought this was going to happen," she said. "But I've lost track of the number of people, friends who I know who have lost their homes. It's heartbreaking."
California Online
(Please note: We regularly highlight articles on news sites that have limited access for nonsubscribers.)
• Areas of Redding are barely recognizable after the Carr Fire. In this interactive, examine the damage in augmented reality. [The New York Times]
• Not everyone was alerted of danger from the wildfires. Governor Brown responded to calls to improve the alert system, saying he would consider legislation. [The Sacramento Bee]
• The Ferguson Fire has left Yosemite National Park empty during peak tourist season, and visitors to Lake Tahoe are choking on smoke. [San Francisco Chronicle]
• John Cox, the Republican candidate for governor, earned more than $2.1 million last year, according to tax reports released by his campaign. [The San Diego Union-Tribune]
• Friends and family remembered Nia Wilson, who was killed at a BART station last month. Her family plans to sue the transit agency this week. [The New York Times]
• "I know you have a good heart, and I know you don't want to hurt anybody." This is how an artist negotiated with a gunman to end the Trader Joe's hostage standoff in L.A. [The Los Angeles Times]
• Five people were killed when their plane crashed in the parking lot of a strip mall in Orange County. [The New York Times]
• Sunnyvale has banned sales of semiautomatic weapons to anyone under 21. [The Mercury News]
• The construction of steel barriers to prevent suicides on the Golden Gate Bridge began over the weekend. [San Francisco Chronicle]
• The fitness company Peloton raised $4 billion in six years and is the toast of Silicon Valley. [The New York Times]
• The next great disruption: season tickets. The Oakland A's will allow fans to buy access to all 81 home games without committing to a seat. [The New York Times]
• One person is dead and two are hospitalized after a shooting on Bay Bridge. [The Mercury News]
• At this sleek San Diego hotel, the focus is on food. [The New York Times]
Coming Up This Week
A few weeks ago we told you about the latest famous property to hit the L.A. market: the "Brady Bunch" house.
The Studio City home, which was featured in the TV show, created quite a buzz when it was listed for nearly $1.9 million.
Among the eager bidders was Lance Bass of 'N Sync, who excitedly tweeted on Friday: "Super excited to announce they accepted my offer on the #BradyBunch house last night!!! This is going to be a fun project!"
But it was not meant to be. "I'm feeling heartbroken today," Mr. Bass posted on Instagram on Saturday, adding that a "corporate buyer (Hollywood studio)" wanted the house "at any cost."
The seller of the house has not yet made a final decision, The Los Angeles Times reported. For now it seems Mr. Bass must bid this real estate dream bye bye bye.
California Today goes live at 6 a.m. Pacific time weekdays. Tell us what you want to see: CAtoday@nytimes.com.
California Today is edited by Julie Bloom, who grew up in Los Angeles and graduated from U.C. Berkeley.
10 Attractions You Can't Miss In Las Vegas
This desert oasis is a city that most people already know a decent amount about.  It is one of the biggest epicentres for gambling in the world.  When you get off a plane in Las Vegas airport you are immediately greeted by slot machines.  As you leave the airport you have amazing views of "The Strip", which is an incredibly long stretch of mega-casino and resorts lit up by glowing neon lights.  The gambling doesn't stop there as gas stations and even grocery stores feature slot machines (seriously, people hang out and gamble in grocery stores).
Las Vegas has done an excellent job of adding more than just gambling to its offerings.  It attempts to brand itself as the "entertainment capital of the world", and frankly they are doing a pretty good job of it.  There are musicians that take up permanent residency in Vegas (yes Britney, Backstreet Boys, and maybe Gaga), an incredible variety of shows (Cirque du Soleil to Blue Man Group), world-class dining options, phenomenal golf courses, mountain hikes, endless shopping (high end to outlet malls), pool parties and nightlife, and even a manmade beach and ski-resort.
As you visit Vegas you will be enthralled by everything "Sin City" has to offer.
This list is in no way inclusive of everything you could plan on a Vegas vacation but is designed to include some of the most iconic Las Vegas attractions that are perfect for the first timer, and things that you may not think to explore.
Also, check out these exclusive Las Vegas Timeshare Deals
Top 10 Must do's in Vegas
1. Welcome to Las Vegas Sign
Taking a picture at the Welcome to Las Vegas sign is a rite of passage for vacationers.  Whether you are here for a bachelor party, work convention, or just escaping cold winter temperatures this sign on the South end of The Strip is a perfect way to begin your trip.
2. Visit Foreign Cities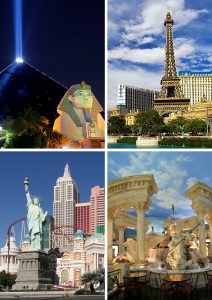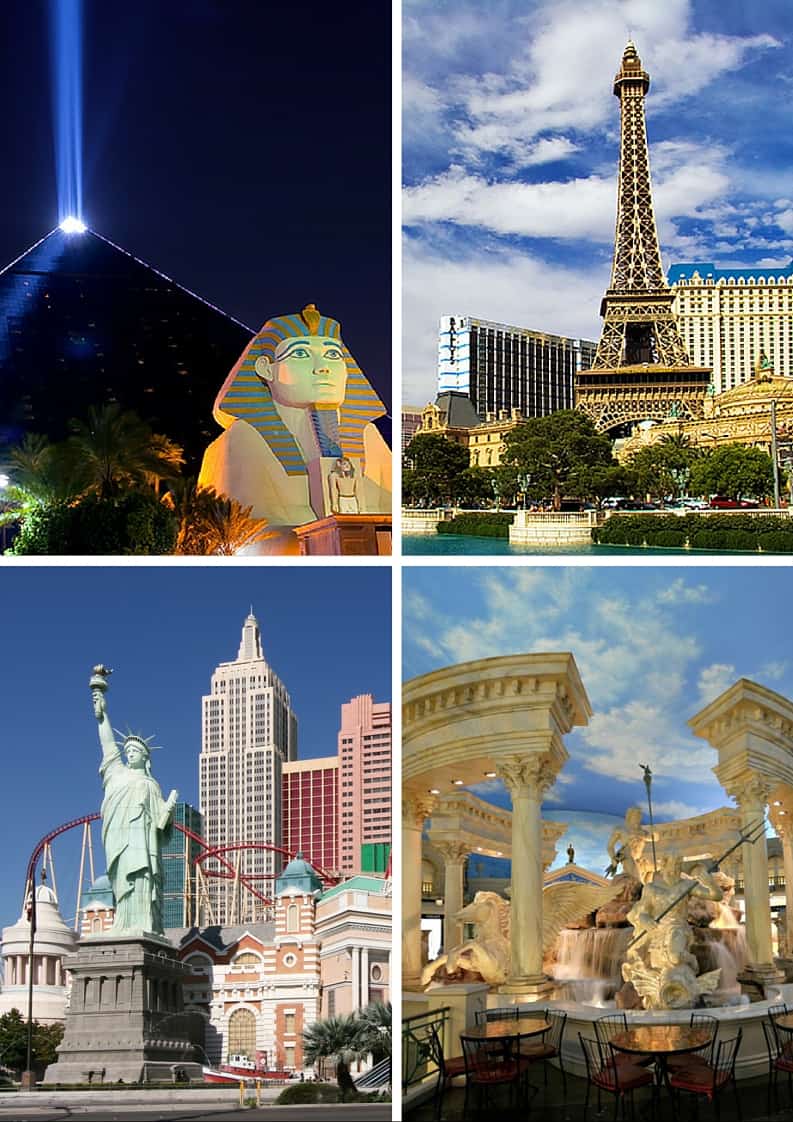 Okay not really, but lots of the casinos are based on a location or theme from somewhere else in the world.  The Paris features its own Eiffel Tower and really is reminiscent of Paris, the Venetian is based on Venice (discussed more below), the Luxor is based on ancient Egypt, Caesar's Palace is based off classic Rome, the Imperial Palace shouts out to Imperial Japan, and New York New York is pretty self-explanatory. Visiting a casino is not a substitute for seeing these places, but I recommend exploring more than just the one you stay in as it is fun to see what elements from around the world have implemented in Vegas.
3. Freemont Street (Old Vegas)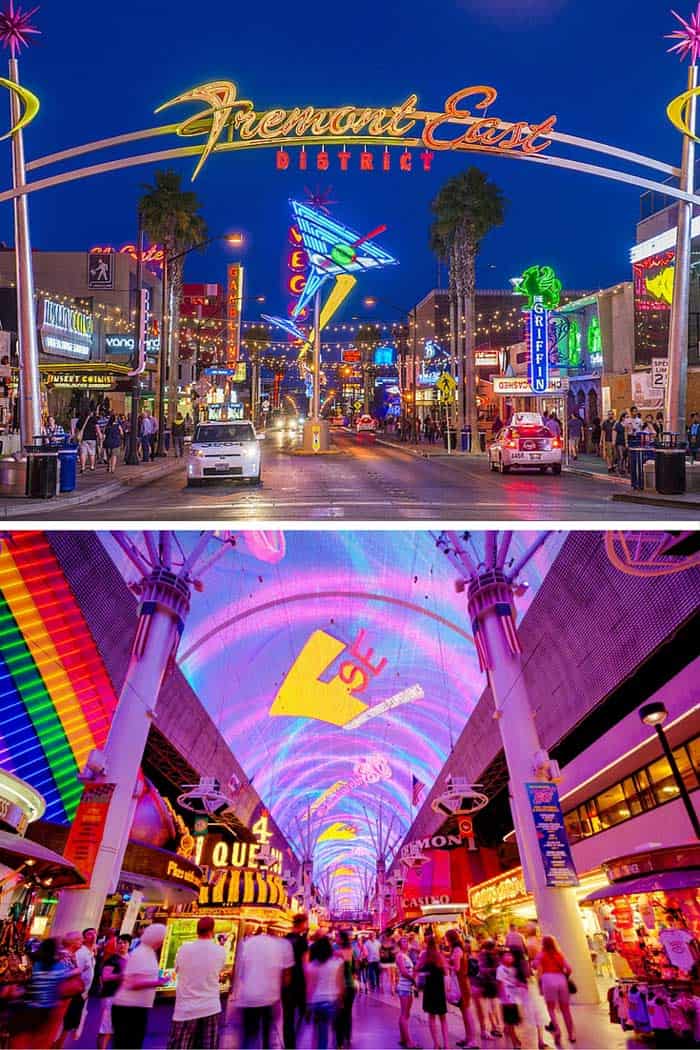 Freemont Street is where you will find the old school Vegas casinos like the 4 Queens and Golden Nugget (featuring a water slide through a shark tank). Even though it is old, it is not run down or left behind.
Freemont Street runs straight through most of the big classic casinos, and is a perfect spot to get a drink from an outdoor bar, see some of the most unique street performers in the world, experience free live music, as well as have strippers attempt to pull you in to see their shows (seriously, be careful).
4. Bellagio Fountain and Gardens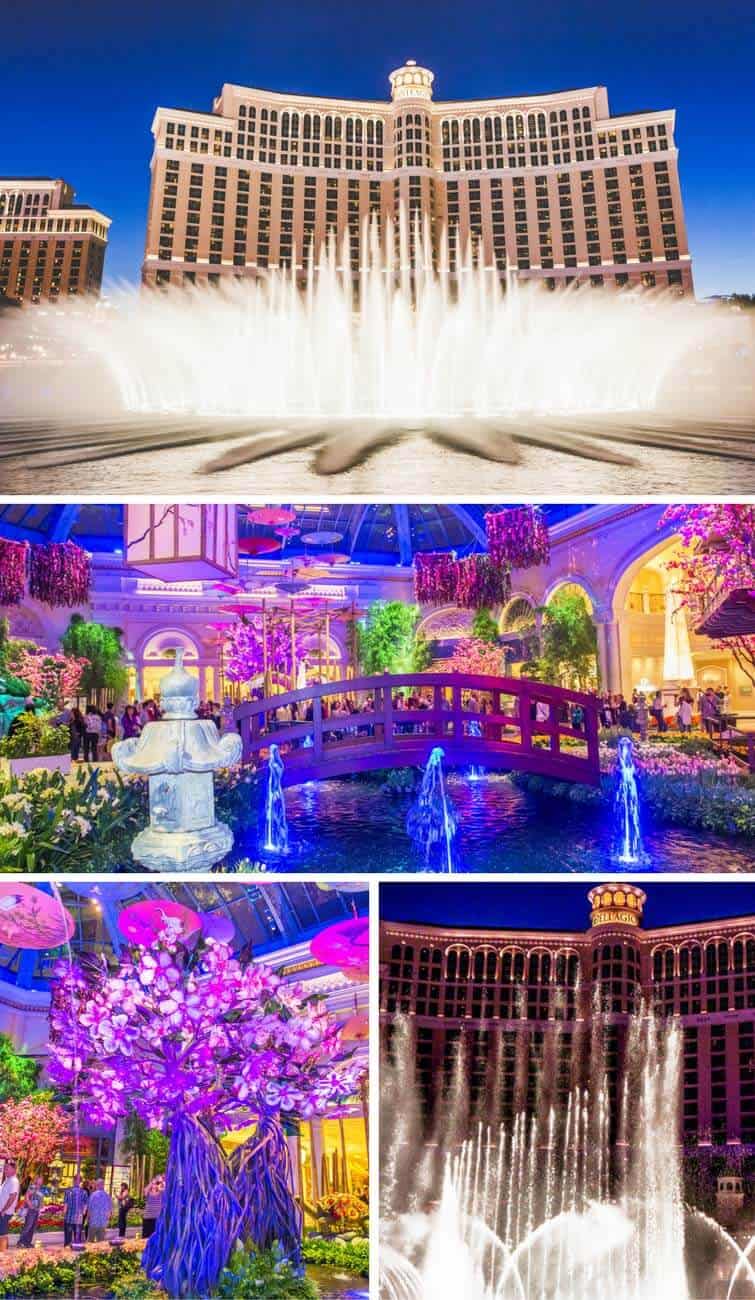 Even though each resort has fantastic things to see, the water show and botanical gardens at the Bellagio cannot be missed.  The 8-acre man-made lake features a dancing water fountain show choreographed to music.  The show is different every 15 minutes, and the results truly are beautiful.  This is the spot that was glorified in Oceans 11 (Brad Pitt and George Clooney could make anything glorious).
The gardens in the lobby are exquisitely decorated and maintained for each season with some of the unique plants and flowers in the world.  Even as a local I make a point to go down each year to see the gardens decorated with a Christmas theme.
5. Gondola Ride at the Venetian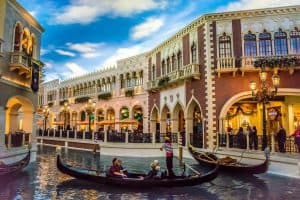 The sky in this picture really is painted on, and it does look that amazing in person.
The Venetian is a luxury resort based off of Venice Italy.  My favorite part of the Venetian is that they built canals throughout the ground floor and mall of the casino, and offer motorized gondola rides while you get serenaded by your very own gondolier.
Even though it makes my husband want to barf, I love how romantic these rides are.  Somehow they designed it so that you don't feel like you are floating through the middle of a casino.
6. Adventure Rides at the Stratosphere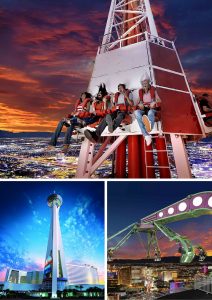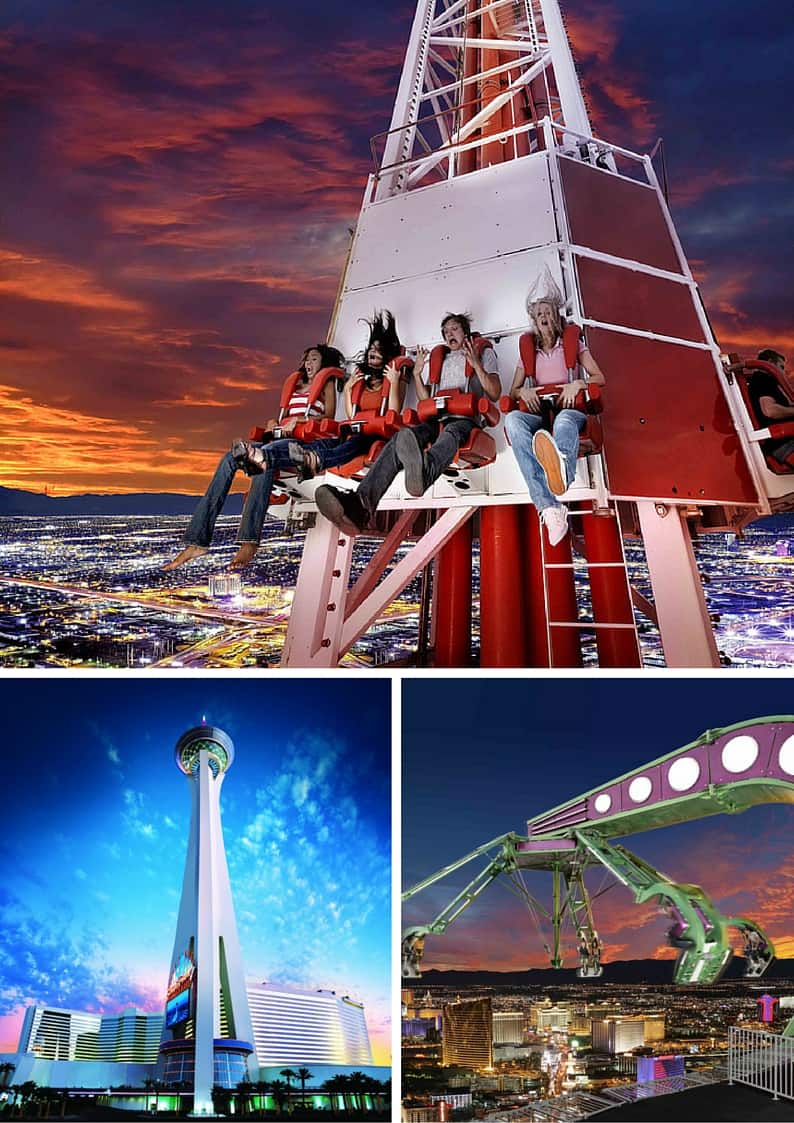 The Stratosphere is hotel and casino that towers overall on the North end of The Strip.  The Stratosphere is most famous for its views of The Strip and hair-raising rides.
It is by far the tallest building in Vegas, and the rides up top are NOT for someone who is afraid of heights. My favorite is the Big Shot, which shoots your seat straight up the top of the tower and into the sky.  It is the tallest thrill ride in the world.  If that isn't gutsy enough for you, you can jump off the top via controlled cables to the bottom.
7. The High Roller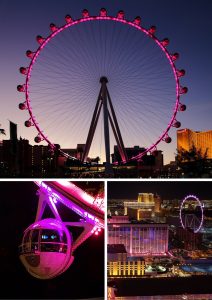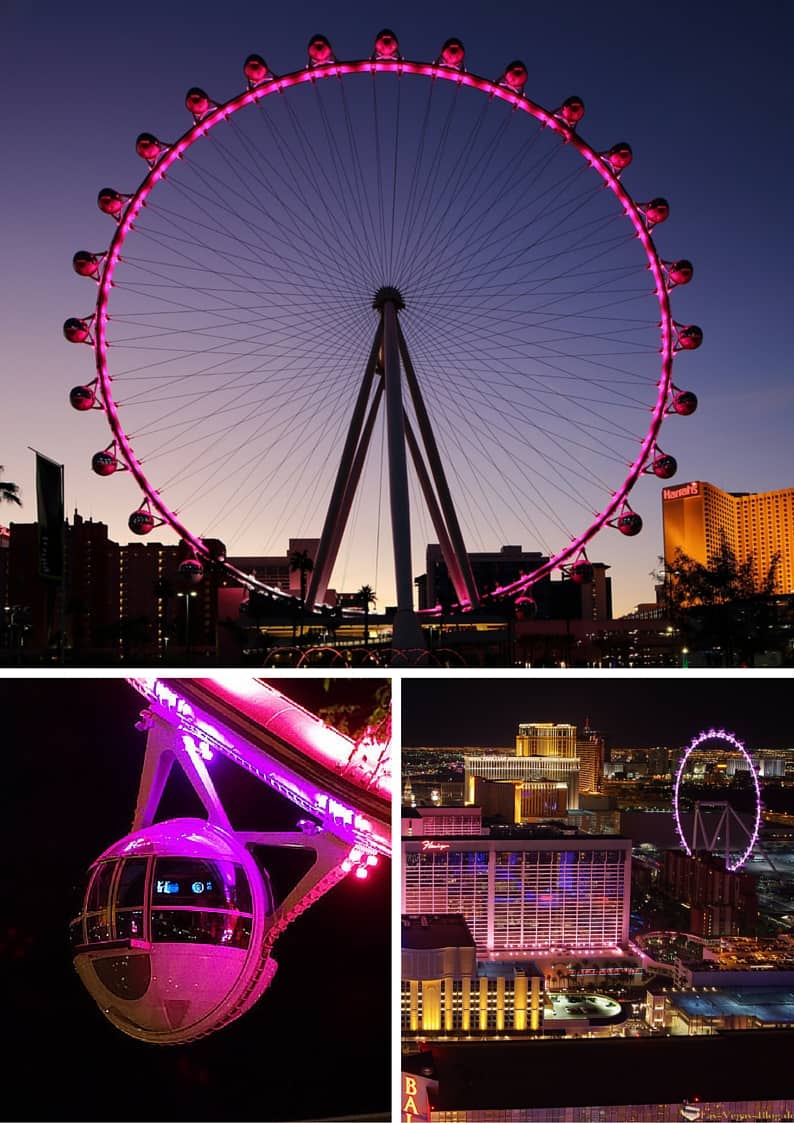 This gigantic observation/Ferris wheel is brand new to Las Vegas.  It is like the London Eye, but bigger.  Surprisingly it really is a fun ride as pods are big enough to feature whole groups of friends, and even your own bar and bartender.
Also Read: More Things To Do In Las Vegas 
8. Hoover Dam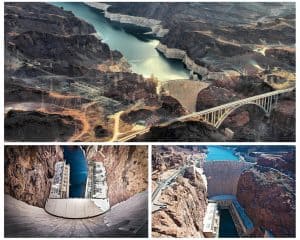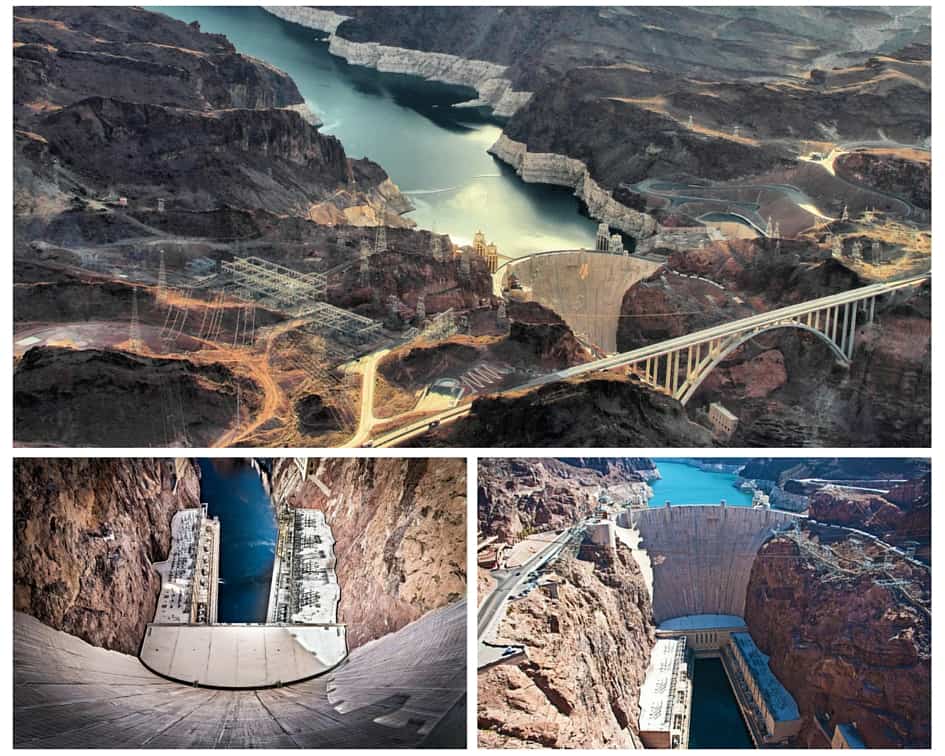 Not all the attractions in Vegas feature neon lights.  The Hoover Dam is a testament to modern engineering.  I found the tour showing how the dam generates power for Las Vegas fascinating.  Also, the lake made by the dam (Lake Mead) is great for boating.
9. Las Vegas Ski Resort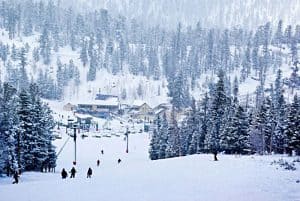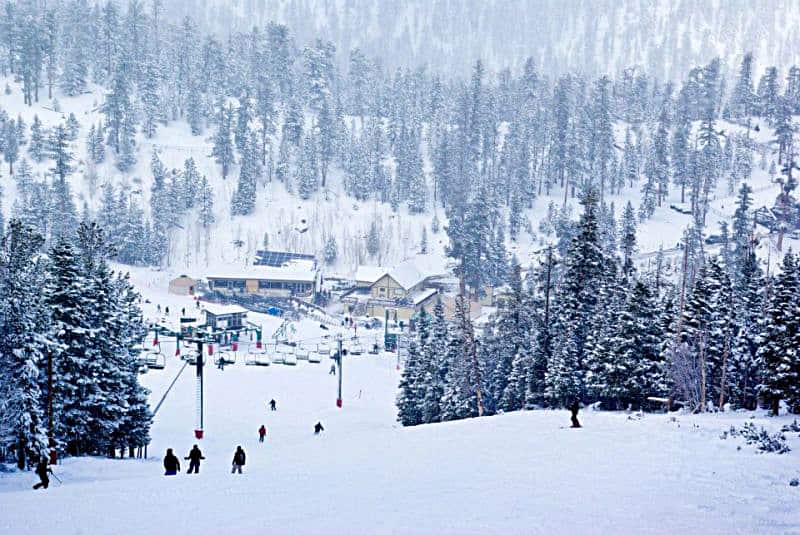 Yes, in the mountains just 45 minutes away from The Strip developers built a ski-resort.  It is not huge, and does not feature the world's best snow, but the novelty of being able to ski within 45 minutes of the scorching desert heat is unreal.
10. The Mob Museum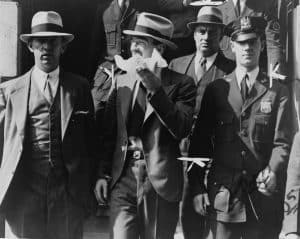 Part of the reason that Las Vegas is built the way it is today is that of the involvement of organized crime.  The mob used casinos to launder their money.  Supposedly organized crime is out of Vegas now, but a fascinating history remains.  The Mob Museum doesn't just explore Vegas' criminal history, but the characters that made this possible from around the country.  The museum does have some creepy elements as it allows visitors to hold a tommy gun, explore crime scene photos, and even see the bloody walls left from massacres.