California, N.F.L., 'Insatiable': Your Friday Briefing
(Want to get this briefing by email? Here's the sign-up.)
Good morning.
Here's what you need to know:
We're not ready for climate change
• Globally, 2018 is shaping up to be the fourth-hottest year on record. (The hotter years were the three previous ones.)
The disruptions to everyday life have been far-reaching: wildfires in California, dozens of heat-related deaths in Japan, a heat wave on four continents that has taken a toll on crops and the electricity grid.
For many scientists, this is the year they started living climate change rather than just studying it.
"It's not a wake-up call anymore," a scientist at the NASA Goddard Institute for Space Studies said of global warming. "It's now absolutely happening to millions of people around the world."
Nailing down a NATO deal
• U.S. national security officials were so concerned that President Trump might upend a policy agreement at last month's NATO meeting that they pushed the military alliance's ambassadors to finish the deal beforehand.
John Bolton, the national security adviser, directed the effort to reach the agreement, which achieved several crucial NATO goals, including a pledge to build up a force to quickly respond to any attack on an alliance member.
• The summit meeting occurred weeks after a Group of 7 event at which Mr. Trump refused to sign a joint communiqué, escalated a trade war and publicly derided Prime Minister Justin Trudeau of Canada.
A new push by the Taliban
• Insurgents said they had taken control of the southeastern Afghan city of Ghazni early today. If confirmed, the move would represent the militant group's most important strategic gain in years.
Government officials denied that the city, a provincial capital, had fallen but conceded that the insurgents were close.
• Ghazni sits on an important north-south highway. If the Taliban control the city, they would essentially cut off the south.
Mystery at a New Mexico compound
• The authorities are piecing together what happened in a decrepit trailer in the desert outside the village of Amalia, where the remains of a 3-year-old boy were found.
Eleven other children and five adults were living at the compound, which was well supplied with guns and ammunition but had little food. Sheriff's officers searched the property last week.
• The dead child is believed to be that of a man who was arrested at the site. Prosecutors said he was training one of the other children in the use of an assault rifle "in preparation for future school shootings," the child's foster parent reported.
Trump's in-laws become U.S. citizens
• The parents of Melania Trump, Viktor and Amalija Knavs, obtained U.S. citizenship on Thursday through a system that President Trump has repeatedly denounced and called "chain migration."
The immigration program allows adult American citizens to obtain residency for their relatives. Mrs. Trump and her parents are from Slovenia.
• Mr. Trump often rails against family-based immigration at his rallies, calling it a pathway for terrorists to enter the U.S. We explain the controversy behind "chain migration."
Noteworthy
• N.F.L., and protests, resume
The preseason began in earnest Thursday night, and the question of whether players would continue their social justice protests during the national anthem was answered loud and clear.
• The week in good news
Scientists are creating plastics that can break down on command. It's one of the seven stories that inspired us.
• Quiz time!
Did you keep up with this week's news? Test yourself.
• Ready for the weekend
At the movies, we review Spike Lee's "BlacKkKlansman" and the monster-shark film "The Meg," which "doesn't seem to know how dumb it is."
On TV, a trailer for "Insatiable," a Netflix series released today, spurred fierce criticism and charges of body-shaming. But that might be the least of its problems.
Our architecture critic visited three new or expanded parks along the Brooklyn and Queens shorelines that offer a little breathing room.
The Rubin Museum of Art in Manhattan is one of the biggest-thinking small museums in town, our critic writes. Its six floors are currently dedicated to exploring the concept of time.
Last, we suggest eight new books and, if you're in New York, a slate of cultural events.
• Best of late-night TV
Kanye West told Jimmy Kimmel why he supports President Trump. "What it represented to me is not about policies, because I'm not a politician like that," he said. "But it represented overcoming fear and doing what you felt, no matter what anyone said."
• Quotation of the day
"In our increasingly muggy and smoky discomfort, it's now rote science to pinpoint how heat-trapping gases have cranked up the risks. It's a shift we all are living together."
— Katherine Mach, a Stanford University climate scientist.
• The Times, in other words
Here's an image of today's front page, and links to our Opinion content and crossword puzzles.
• What we're reading
Lauren Katzenberg, our At War editor, recommends this piece from ProPublica: "Isaac Arnsdorf's investigation reveals the disturbing influence of three private sector executives, known as the Mar-a-Lago crowd, on Veterans Affairs. (One is the Marvel Entertainment chairman, Ike Perlmutter.) These 'shadow rulers,' as the headline calls them, are close allies of President Trump who have been bombarding V.A. officials with demands, and who have intervened in and stalled overhauls in veteran policy for their own personal benefit."
Back Story
The Sarajevo Film Festival begins today in the capital of Bosnia and Herzegovina.
The red carpets, more than 200 screenings and hundreds of thousands of euros in prizes are a far cry from the festival's origins during the siege of Sarajevo and the Bosnian War in the 1990s.
In 1993, Haris Pasovic, a Bosnian director, helped organize a gathering called "Beyond the End of the World," a title inspired by one of the screened films: "Until the End of the World," by the German director Wim Wenders.
At the time, a reporter asked Mr. Pasovic, "Why are you holding a film festival in the middle of a war?"
"Why are they holding a war in the middle of a film festival?" he replied. In an interview the next year, he said, "People have to have food for their souls."
The gathering lasted 10 days, but screenings continued through a separate organization, culminating in the inaugural Sarajevo Film Festival in 1995. About 15,000 people risked their safety to watch 37 films from over 15 countries, some of which were smuggled in by their own directors.
Soon after the first festival closed, the Dayton peace accord was signed, ending the Bosnian War.
Matthew Sedacca wrote today's Back Story.
_____
Your Morning Briefing is published weekdays and updated all morning. Browse past briefings here.
Sign up here to get it by email in the Australian, Asian, European or American morning. To receive an Evening Briefing on U.S. weeknights, sign up here.
Check out our full range of free newsletters here.
What would you like to see here? Contact us at briefing@nytimes.com.
10 Attractions You Can't Miss In Las Vegas
This desert oasis is a city that most people already know a decent amount about.  It is one of the biggest epicentres for gambling in the world.  When you get off a plane in Las Vegas airport you are immediately greeted by slot machines.  As you leave the airport you have amazing views of "The Strip", which is an incredibly long stretch of mega-casino and resorts lit up by glowing neon lights.  The gambling doesn't stop there as gas stations and even grocery stores feature slot machines (seriously, people hang out and gamble in grocery stores).
Las Vegas has done an excellent job of adding more than just gambling to its offerings.  It attempts to brand itself as the "entertainment capital of the world", and frankly they are doing a pretty good job of it.  There are musicians that take up permanent residency in Vegas (yes Britney, Backstreet Boys, and maybe Gaga), an incredible variety of shows (Cirque du Soleil to Blue Man Group), world-class dining options, phenomenal golf courses, mountain hikes, endless shopping (high end to outlet malls), pool parties and nightlife, and even a manmade beach and ski-resort.
As you visit Vegas you will be enthralled by everything "Sin City" has to offer.
This list is in no way inclusive of everything you could plan on a Vegas vacation but is designed to include some of the most iconic Las Vegas attractions that are perfect for the first timer, and things that you may not think to explore.
Also, check out these exclusive Las Vegas Timeshare Deals
Top 10 Must do's in Vegas
1. Welcome to Las Vegas Sign
Taking a picture at the Welcome to Las Vegas sign is a rite of passage for vacationers.  Whether you are here for a bachelor party, work convention, or just escaping cold winter temperatures this sign on the South end of The Strip is a perfect way to begin your trip.
2. Visit Foreign Cities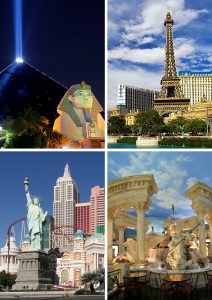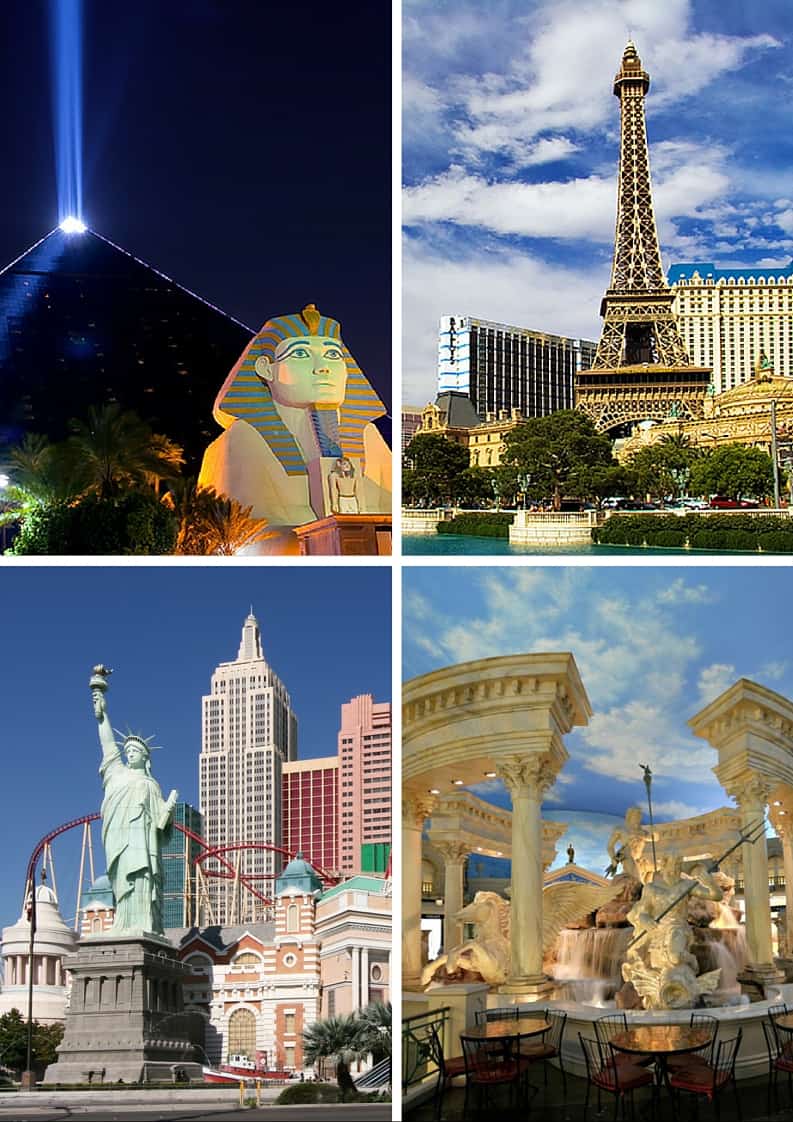 Okay not really, but lots of the casinos are based on a location or theme from somewhere else in the world.  The Paris features its own Eiffel Tower and really is reminiscent of Paris, the Venetian is based on Venice (discussed more below), the Luxor is based on ancient Egypt, Caesar's Palace is based off classic Rome, the Imperial Palace shouts out to Imperial Japan, and New York New York is pretty self-explanatory. Visiting a casino is not a substitute for seeing these places, but I recommend exploring more than just the one you stay in as it is fun to see what elements from around the world have implemented in Vegas.
3. Freemont Street (Old Vegas)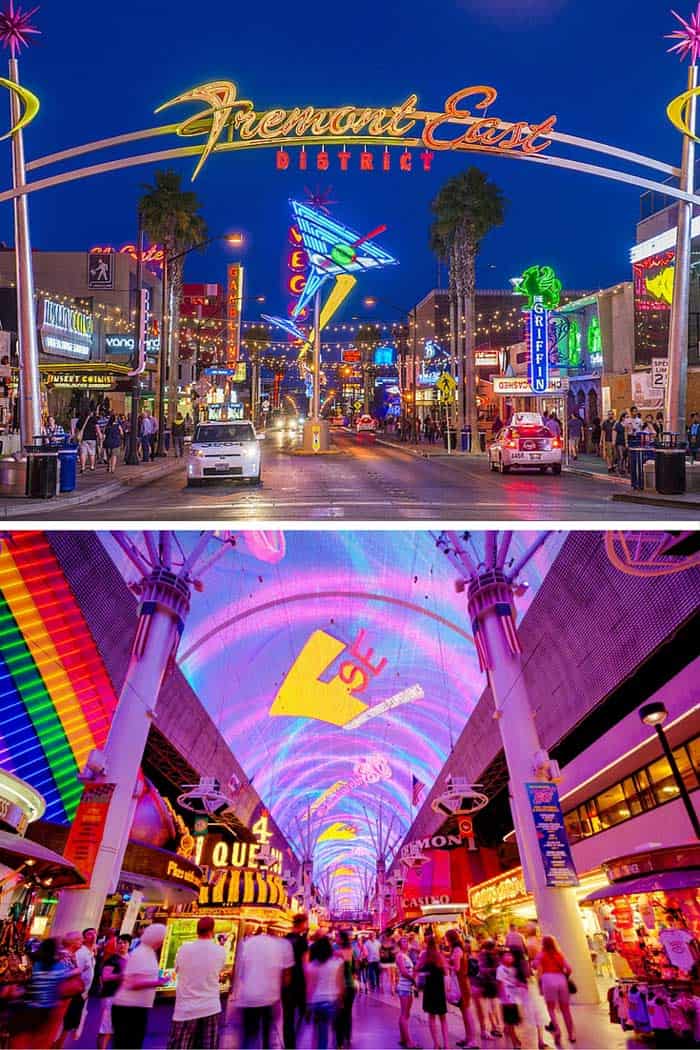 Freemont Street is where you will find the old school Vegas casinos like the 4 Queens and Golden Nugget (featuring a water slide through a shark tank). Even though it is old, it is not run down or left behind.
Freemont Street runs straight through most of the big classic casinos, and is a perfect spot to get a drink from an outdoor bar, see some of the most unique street performers in the world, experience free live music, as well as have strippers attempt to pull you in to see their shows (seriously, be careful).
4. Bellagio Fountain and Gardens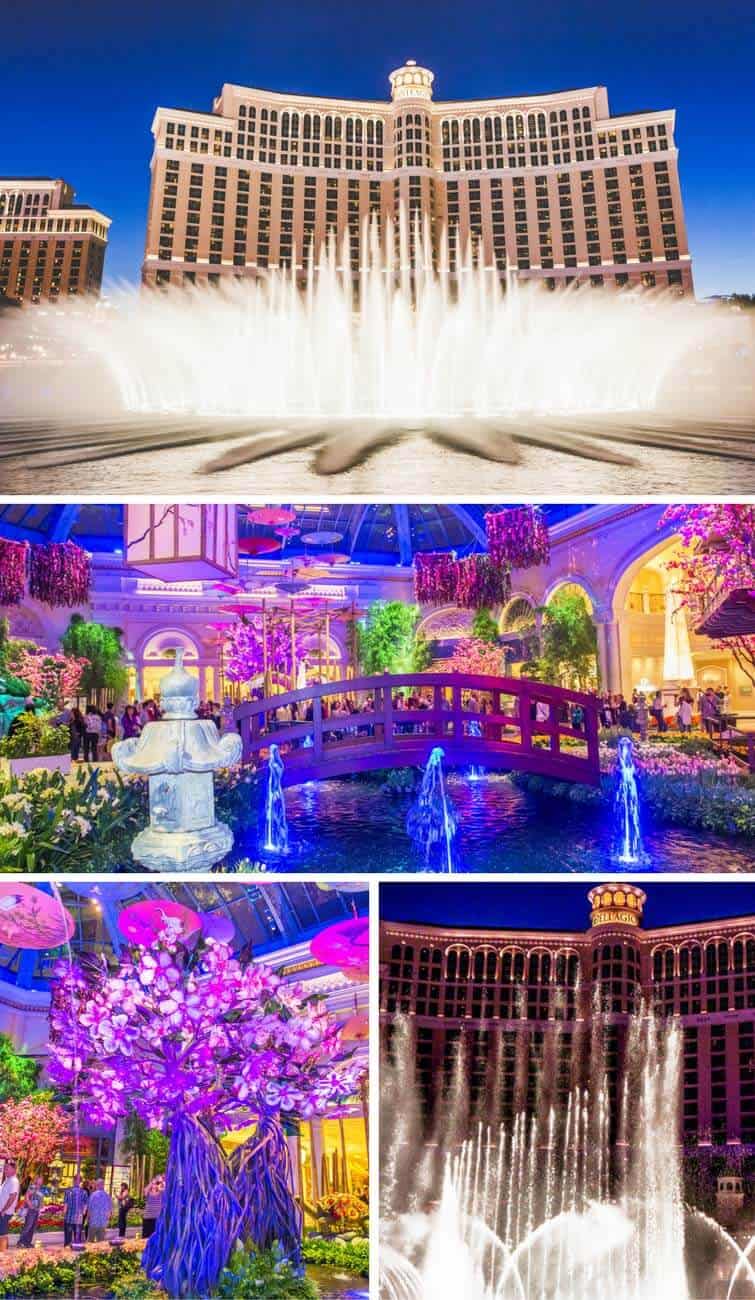 Even though each resort has fantastic things to see, the water show and botanical gardens at the Bellagio cannot be missed.  The 8-acre man-made lake features a dancing water fountain show choreographed to music.  The show is different every 15 minutes, and the results truly are beautiful.  This is the spot that was glorified in Oceans 11 (Brad Pitt and George Clooney could make anything glorious).
The gardens in the lobby are exquisitely decorated and maintained for each season with some of the unique plants and flowers in the world.  Even as a local I make a point to go down each year to see the gardens decorated with a Christmas theme.
5. Gondola Ride at the Venetian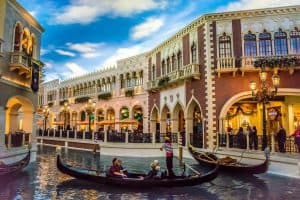 The sky in this picture really is painted on, and it does look that amazing in person.
The Venetian is a luxury resort based off of Venice Italy.  My favorite part of the Venetian is that they built canals throughout the ground floor and mall of the casino, and offer motorized gondola rides while you get serenaded by your very own gondolier.
Even though it makes my husband want to barf, I love how romantic these rides are.  Somehow they designed it so that you don't feel like you are floating through the middle of a casino.
6. Adventure Rides at the Stratosphere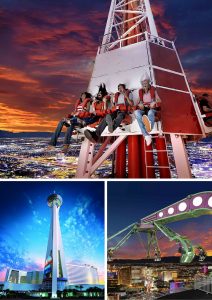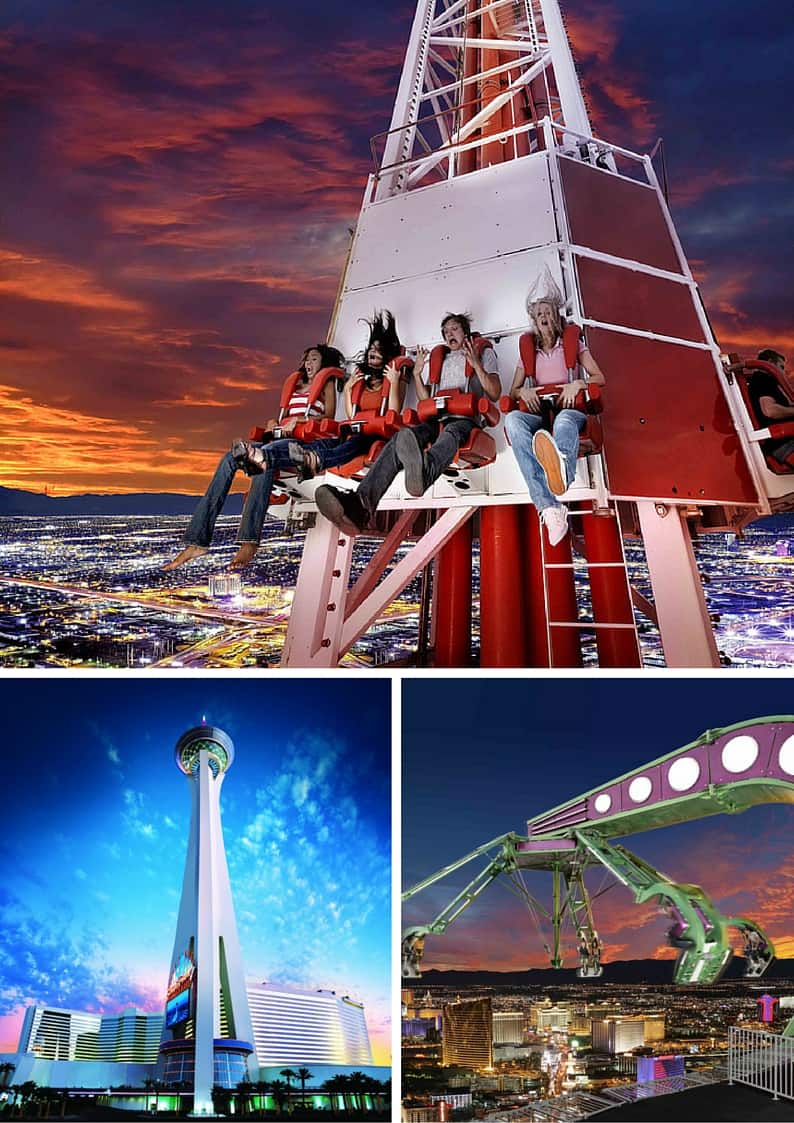 The Stratosphere is hotel and casino that towers overall on the North end of The Strip.  The Stratosphere is most famous for its views of The Strip and hair-raising rides.
It is by far the tallest building in Vegas, and the rides up top are NOT for someone who is afraid of heights. My favorite is the Big Shot, which shoots your seat straight up the top of the tower and into the sky.  It is the tallest thrill ride in the world.  If that isn't gutsy enough for you, you can jump off the top via controlled cables to the bottom.
7. The High Roller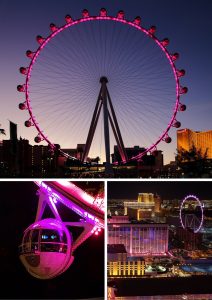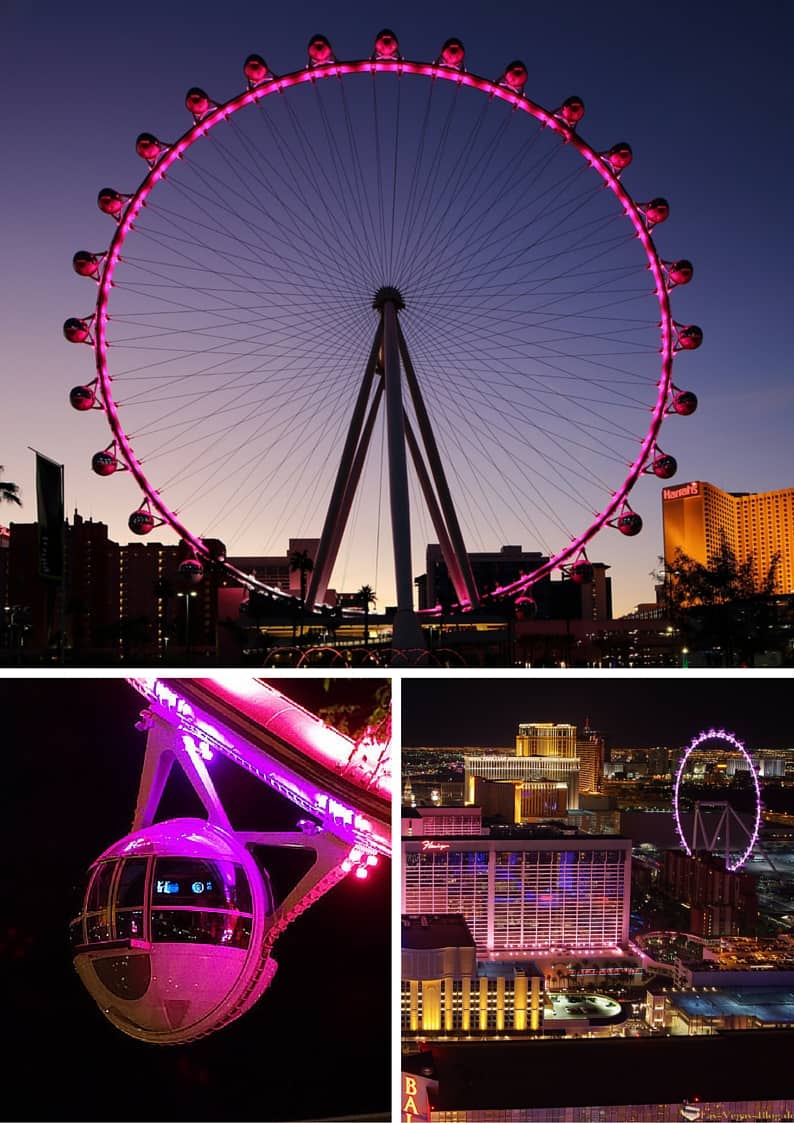 This gigantic observation/Ferris wheel is brand new to Las Vegas.  It is like the London Eye, but bigger.  Surprisingly it really is a fun ride as pods are big enough to feature whole groups of friends, and even your own bar and bartender.
Also Read: More Things To Do In Las Vegas 
8. Hoover Dam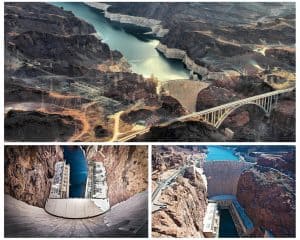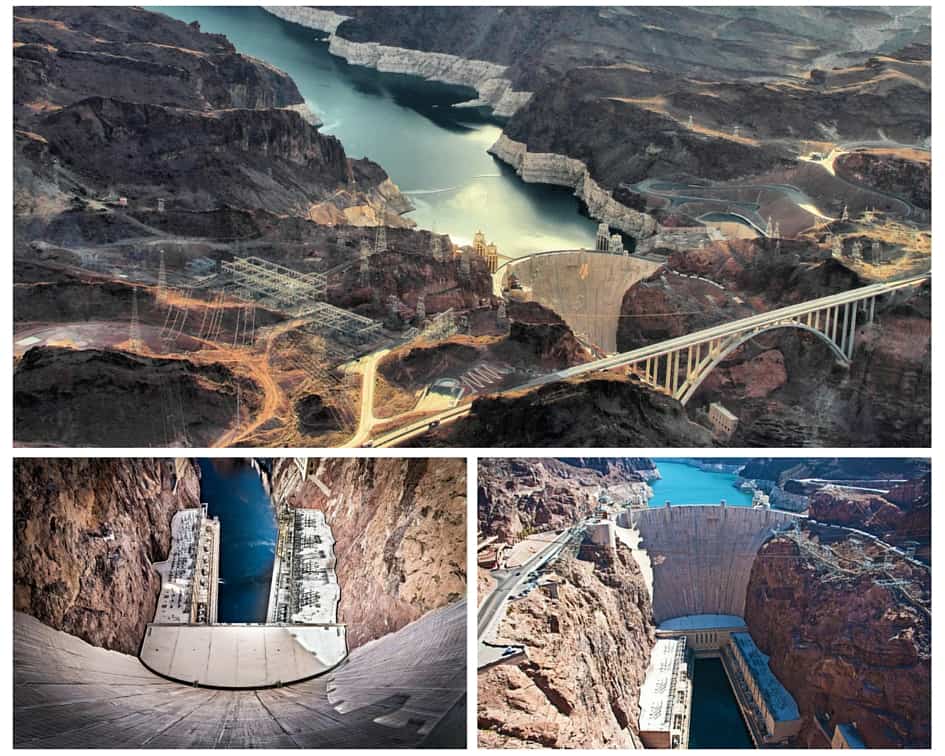 Not all the attractions in Vegas feature neon lights.  The Hoover Dam is a testament to modern engineering.  I found the tour showing how the dam generates power for Las Vegas fascinating.  Also, the lake made by the dam (Lake Mead) is great for boating.
9. Las Vegas Ski Resort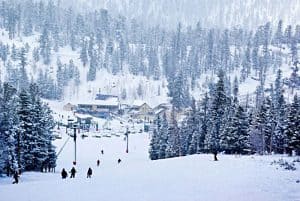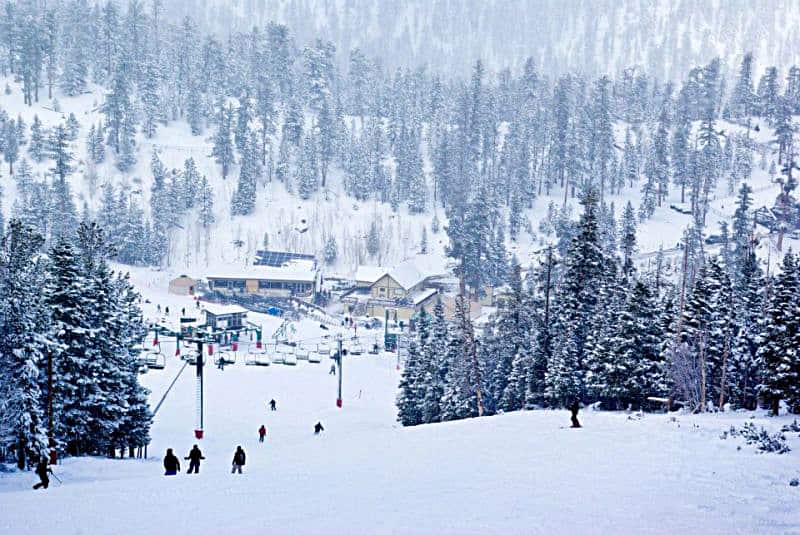 Yes, in the mountains just 45 minutes away from The Strip developers built a ski-resort.  It is not huge, and does not feature the world's best snow, but the novelty of being able to ski within 45 minutes of the scorching desert heat is unreal.
10. The Mob Museum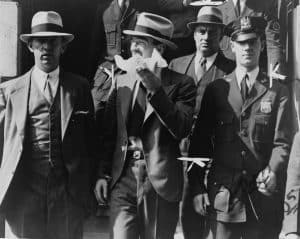 Part of the reason that Las Vegas is built the way it is today is that of the involvement of organized crime.  The mob used casinos to launder their money.  Supposedly organized crime is out of Vegas now, but a fascinating history remains.  The Mob Museum doesn't just explore Vegas' criminal history, but the characters that made this possible from around the country.  The museum does have some creepy elements as it allows visitors to hold a tommy gun, explore crime scene photos, and even see the bloody walls left from massacres.