Building an Inexpensive And (Probably) Effective AR-15
Bing! A text message came through on my phone. "Dude, is this a good deal?"
I looked at the incoming photo – it was a screenshot from a local armory's sales mailing list. It was one I knew well; the mailer also shows up in my inbox on a frequent basis. This particular photo showed a bargain that would have been inconceivable a year and a half ago. A complete flat top M4-pattern AR-15, sans lower receiver, rear sight, and magazine(s) for $299.99 – with free shipping. The kit included:
a completely assembled upper receiver (with 16" M4-pattern 1/7 twist barrel, fixed tower front sight with bayonet lug)
charging handle
full-auto bolt carrier group
complete lower parts kit
buffer tube
collapsible stock
For three hundred bucks.
To his door.
Heck yeah, it was a good deal for a first-time AR guy.
Before we get started: for those of you looking for high-quality AR15 kits and 80% lowers at great prices, make sure to visit Thunder Tactical today and check out their amazing range of parts, kits, and accessories.
A Closer Look
Before long, my research turned up a local dealer who had stripped lower receivers for $48 each. I had a spare flip-up rear sight I loaned him until he could find a suitable replacement. All added up, my buddy had a brand-new M4 for a shade over $350.00, with added sales tax. Factor in the $50 for a flip-up rear sight, and he'll have a perfectly serviceable AR-15 for roughly $400.
Now, said buddy falls firmly into the "just wanted an AR to have one" category. Granted, he may shoot some coyotes with it, but mostly, this particular rifle will probably mostly be a range toy; something to dig out and show buddies, maybe blow off rounds at the sandpit. For these reasons, I felt 100% comfortable green-lighting the project for him; it was perfect for what he wanted to do. The suppliers are also often maligned by AR snobs looking down their noses. But these budget offerings are perfect for what my buddy will realistically end up doing with his AR.
My question was: how would an AR-15, pieced together at absolutely-rock-bottom-AR-market-glut prices stand up in the accuracy, reliability, and usefulness departments?
The "Peak AR" Phenomenon
"Peak AR" is a play on words referring to the concept of Peak Oil, in which the oil production capacity of the global community reaches its maximum production capacity, at which time demand and consequent production drop (or almost stop) due to maximum supply and minimal demand. It applies well to the AR gun community.
As of right now, we have got to be close to Peak AR. After the tragic 2012 Newtown school shooting, many feared high-capacity firearms were soon to be outlawed. The gun world, needless to say, started snapping up anything AR related. I remember being in the middle of an AR-15 build at that time, and suddenly all the parts I'd planned and budgeted for simply vanished, or had prices gouged out of proportion. Everyone wanted some, and manufacturers who would never have considered building an AR jumped on board the train and started cranking out AR-platform rifles to meet the onrush of demand and cash in on the phenomenon.
It didn't help when it looked like Hillary Clinton would become president in 2016. Again, everyone feared outright gun bans, so people who already had one or two ARs bought some more, possibly to bury or plan to sell at a profit later. AR output was cranked up even more. Fast forward to mid-2018. Trump is in office, there is no severe danger of another firearms ban in the next year. Nobody is really buying ARs, since everyone who could already has two or three.
On The Question Of Demand
Demand has crashed. Anyone who makes AR-15s is trying to get rid of overstock. Prices have fallen on almost everything AR-related. It's a magical time, and we're at or close to Peak AR. Even after a couple of "scares", there will probably be no better time to build an AR platform rifle than right now, if you've ever wanted to.
As Cheap As It Gets?
When the rifle kit arrived on his door, my buddy wasted no time getting the lower and hoofing the parts to my door for assembly. We brought the kit down to my man-cave, put on some tunes, and I proceeded to school him on the ways of the AR lower assembly.
Yes, he launched some detents – I fortunately had spares. I got to show him the workings of the AR, describe differences between entry-level kit parts and higher-end parts I had on a couple of my rifles, and discuss which upgrades were useful and not over-the top-outright wastes of money. I had an STR stock and single-point sling adapter kicking around, and we threw them on while we were there. We had a great time, and he was positively thrilled with the end product and total experience. His words, "I never thought it would be so easy!"
And really, building AR-15 lowers is extremely easy if you have the right tools and pay attention to detail. These lower parts kits are a great way for the beginner to get started in the AR-15 build world for not much money. They can also use the rifle as a baseline to figure out what improvements to make.
That Whole "Reliability" Thing
But will a less expensive gun fail before a more expensive gun? Aye, there's the rub. It's nothing you can answer definitively "yes" or "no" based on a sum of a gun's parts. You have to remember that (let's be honest here) almost nobody running one of these guns in any scenario will: A) have it on a full-auto lower with a giant pile of pre-loaded mags kicking around, and B) run through those magazines as fast as you can on rock 'n' roll, using it like a belt-fed squad-level machine gun. The vast majority of people purchasing a kit may perform crowd-pleasing semi-auto mag dumps or even play with a bumpfire stock at a sandpit – but on a whole, these guns will usually be serving up semi-rapid, occasionally aimed fire then (hopefully) cleaned and maintained. Under these conditions, a PSA AR-15 will last much, much longer than just 440 rounds – you should easily see many thousands of rounds through a carbine before you need to start replacing or upgrading stuff.
Even hypothetically using an AR-15 to defend a hypothetical bug-out location in a hypothetical post-apocalyptic event where one may indeed have a bunch of hypothetical mags ready to go for defending against a hypothetical threat: if you shoot so rapidly and so often that your gun cooks itself to death, you better have a priest behind you handing you a spare rifle along with your last rites, because something definitely went wrong with the plan somewhere. Even Rick Grimes didn't rip through 440 rounds attacking a Saviors outpost, so you're probably theoretically in good shape regarding your inexpensive AR's round count lifespan.
Putting 'em Where They Count
Non-mechanical disaster struck when my buddy brought his new AR to the range. Being along in years far enough that his eyes have decided to stage focus mutinies, my buddy found that his shiny new AR's iron sights were just a big blurry mess. He ran a few rounds through it, then went home after ensuring it functioned. We started chatting about solutions the next day.
He obviously needed an optic. Fortunately, he had a spare 3x-9x hunting scope kicking around, so he wanted to install that on the rifle. He was starting to consider hunting with the rifle, so he was pretty enthusiastic about the scope idea. We looked at mounting options – he was on a very tight budget – and finally decided on the Nikon P-series two-piece scope rings. He was looking at one-piece bases, but we discerned that the two-piece ring system would offer us more flexibility in mounting this and any other scopes he might want to run in the future. He ordered up the rings next paycheck, and I mounted it all up for him one evening after work. Easy upgrade, made easier by the M4's flattop railed upper receiver.
Everything was going well until he found a kid selling an AR-oriented el cheapo Chinese fixed 4x scope with an illuminated reticle for $40. The tacti-cool 4x went on as quickly as the previous model could come off, and my buddy admitted he thought it looked cooler…and the glowing reticle helped his failing eyes.
What About The Next Time?
The next time, he was able to slap the trigger and group green-tip ammo into about 4" at 50 yards. He was pretty happy, knowing he wasn't a great shot and that it was essentially military surplus ammo. I told him the 1/7 rate of twist barrel might not be doing him any favors with the light bullets, either – but the gun performed exactly as he expected at his skill level.
Since I put the rifle together with him, he has had a neighbor of his (who had a surplus of cast-off, no longer used AR-15 parts) upgrade the upper for free to a stainless 1/8 twist chambered barrel with a free-floating rail. He loves it, since it "looks all badass" and it still shoots, well, 4" groups at 50 yards with him behind the trigger. Guess sometimes it ain't the arrow, it's the Indian. I was able to get behind the wheel and get groups of about 4" at 100 yards from the bench, gritty trigger and all. Not great for a tuned high-dollar AR-15, but not bad for 350 bucks.
However, after several hundred rounds through the gun, my friend with his current rifle setup has happily reported zero malfunctions with the gun. The inexpensive package has performed well for its cost level, demonstrating itself as a notable starter point for upgrades down the road.
Greater Than the Sum Of Its Parts?
But is sourcing pre-made entry-level AR-15 parts kits worth it? Do they perform to a level reasonably high enough to justify not going out and sourcing high-dollar alternatives? Well…that's the real question, isn't it?
From what I've seen, I'm going to take a deep breath, clamp my eyes shut, and say…yes. Throw rocks, but for someone just starting out in the AR-15 world, inexpensive kits are a great place to start. And, to do it without going into serious debt. Our subject rifle met all the goals set before it, at a reasonable price. It also continues to perform to its owner's satisfaction. Staying inside this envelope, kits and those of its ilk are really a pretty good way to go if you're not expecting a match gun or long-term survival gun. So if you're just starting out or can only afford to part ways with $400 or less, shrug off what the snobby high-end AR guys will tell you and try a cheaper kit from a reliable supplier. Look for reviews, ask around, and find what works for you. It's a great way to learn the workings of an AR-15 platform, and they can be upgraded easily.
How to Grow Your Instagram Following: A Strategic Plan
Want to quickly grow your Instagram audience? Looking for a strategy that attracts the right kind of connections?
In this article, you'll discover how to combine an Instagram growth strategy with an ad sequence that can turn followers into customers.
How This Instagram Growth Strategy Works
On average, Instagram users share "more than 95 million photos and videos every single day," according to Reuters. That amounts to a lot of noise for Instagram marketers to break through to get their message in front of potential customers.
Simply focusing on run-of-the-mill Instagram growth tactics that you hear regurgitated time and again won't help you set yourself apart. You'll just be adding to the noise on the platform instead of building important assets for your brand.
A better approach is the $1.80 Instagram strategy for custom audience growth. Gary Vaynerchuk's $1.80 Instagram growth strategy to grow your business or brand is all about creating micro-connections that gradually accumulate into an active and engaged community on the platform.
Even though it's called the $1.80 strategy, it's completely free to implement. The only resource costs are your time and attention. Once a day, you'll:
Start by searching 10 relevant hashtags.
Locate the top 9 posts for each hashtag.
Leave a meaningful comment (your two cents [$0.02]).
The $1.80 Instagram growth strategy boils down to this equation: 10 hashtags multiplied by 9 posts where you leave your $0.02 = $1.80 in community-building effort.
Getting 2x, 5x, or 10x growth results with this strategy doesn't happen overnight. It requires you to stay consistent and make community-building a regular action for your brand.
As Gary states, "The number of Instagram followers you have means nothing if you can't build a community of like-minded people who care and engage." It's those people who then go on to become customers, brand evangelists, and significantly drive your brand goals forward. Finding this pocket of people is as simple as becoming part of the conversation.
In 2018, we used this strategy at The Ad Strategist to double the size of our Instagram following. More importantly, by implementing the $1.80 Instagram growth strategy, our Instagram engagement custom audience grew to almost 3x larger than our follower count.

Why is this important? The size of your warm custom audiences represents the number of users who've had a meaningful interaction with your brand. This includes everyone who liked, commented on, sent, and saved your content; DM'ed you; or clicked the link in your bio. Of course, just because someone interacts with you doesn't mean they follow you on Instagram. And if they're not following you, it's unlikely they'll see your organic content and posts in the future.
That doesn't mean those users are gone forever, though. You can create a dynamic Instagram ad sequence targeting your Instagram engagement custom audience that converts those non-followers into followers and then customers.
Running ads to this engagement custom audience resulted in 50%–100% cheaper lead costs in an ad spend study of over $45,000 with 349 ad set variations. So targeting this Instagram engagement custom audience creates costs per result that are significantly lower than if you were to target cold traffic.
#1: Create Your Instagram Engagement Custom Audience
To create an Instagram engagement custom audience, navigate to the Audience dashboard in Ads Manager.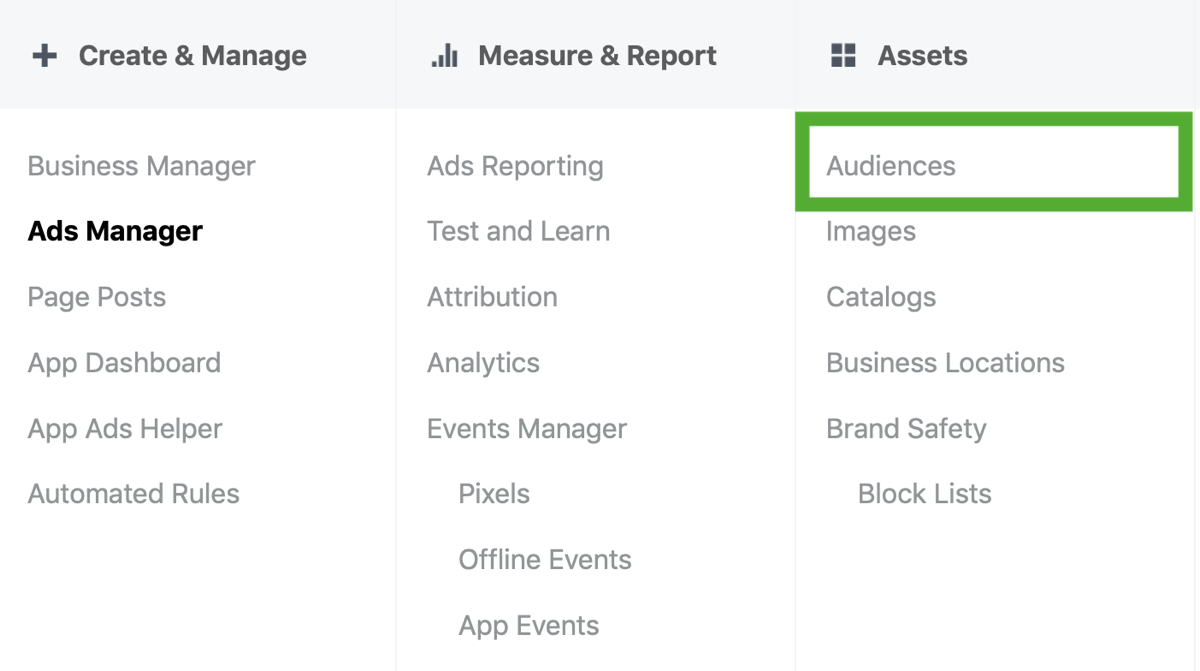 Then click Create Audience and select Custom Audience.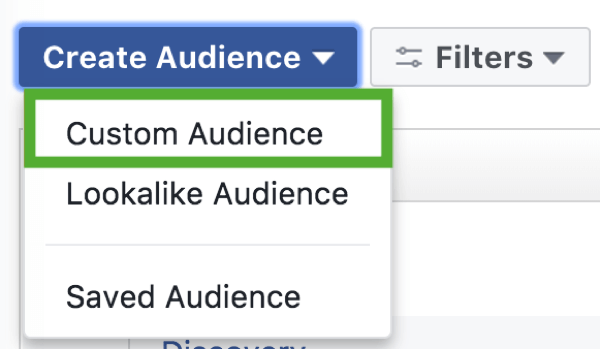 In the Create a Custom Audience window, choose Instagram Business Profile.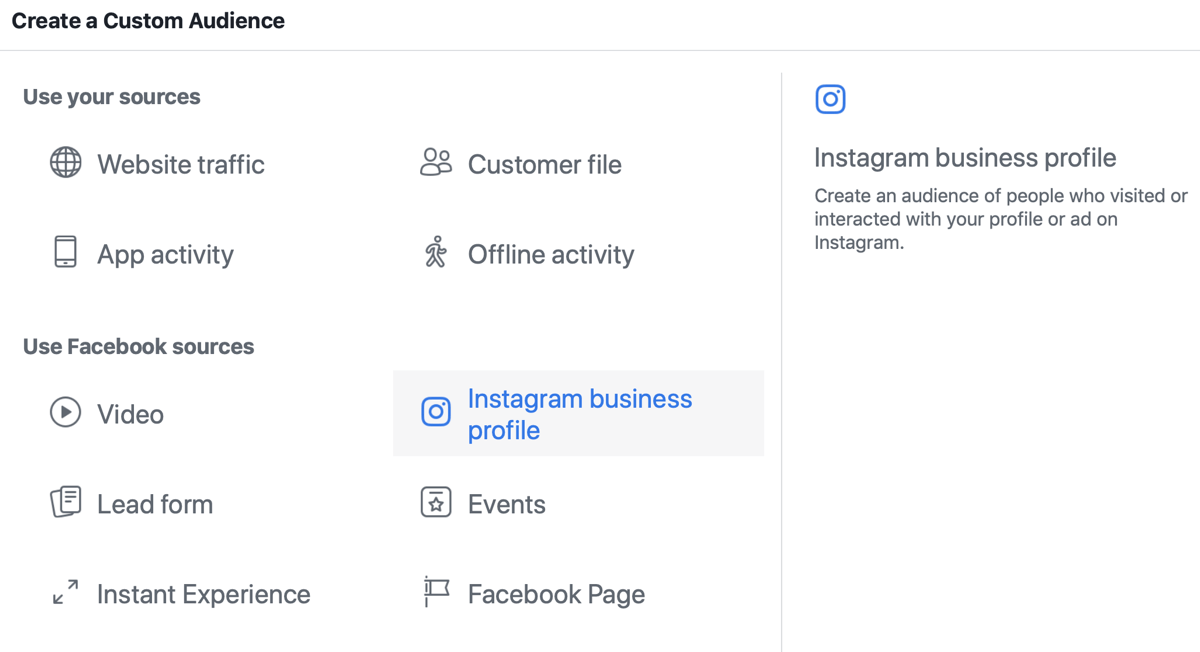 Next, select the correct Instagram profile and ensure Everyone Who Engaged With Your Business in the Past 365 Days is selected.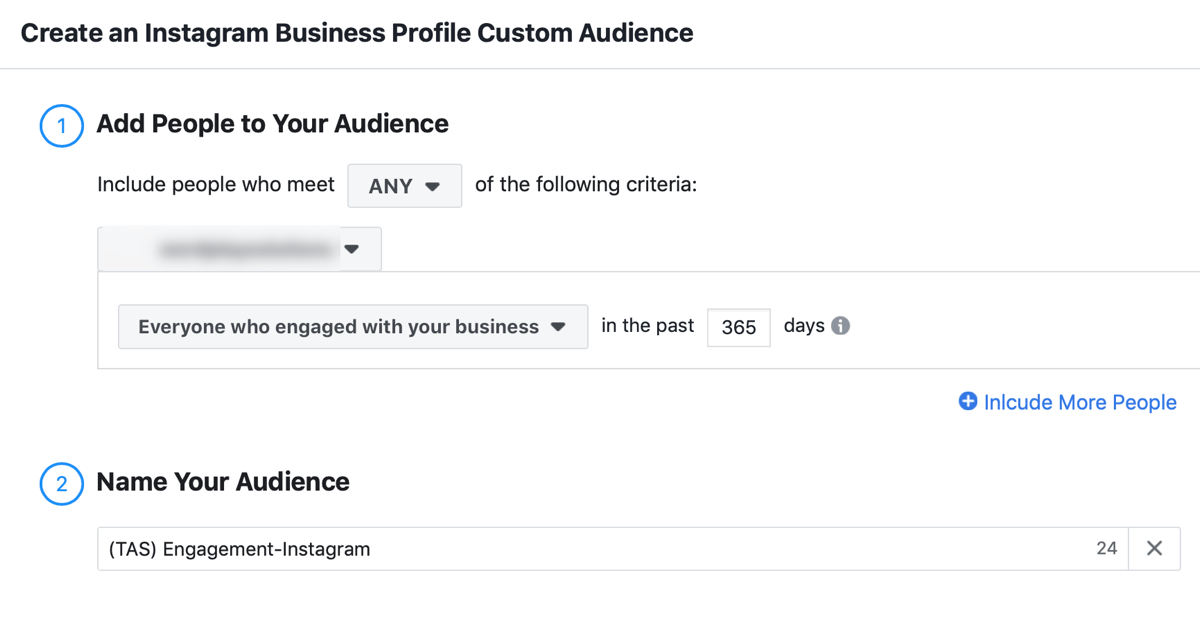 Choose a name for this audience that will be easily identifiable to you in the future and then click Create Audience. Remember that it takes up to 24 hours to reveal the size of your current Instagram engagement audience.
Now write down the current size of this audience to determine your starting point. I recommend that you track the growth of this custom audience weekly as you implement the rest of the $1.80 strategy consistently to assess your measurable growth.
Set Up a Spreadsheet to Track Instagram Growth
For fellow spreadsheet connoisseurs: Tracking this data in a notebook can feel like poking your eyes out, so here's how to structure your results tracking spreadsheet.
Set up your spreadsheet to track the total Instagram engagement custom audience with a separate column for each week.

Then use the formula =sum(D5-C5)/C5 to calculate your weekly growth rate.

Now expand the weekly growth rate calculation across all weeks.

The result is the growth rate of your retargetable custom audiences using the $1.80 Instagram growth strategy over time. Once you have this information for a larger range of weeks, you can assess what is and isn't working for you and then tailor the rest of your Instagram marketing strategy accordingly.
#2: Research and Incorporate Relevant Hashtags
Now that you're tracking your retargetable engagement, the next step is to find relevant hashtags for your business.
Open Instagram and navigate to the Search & Explore tab.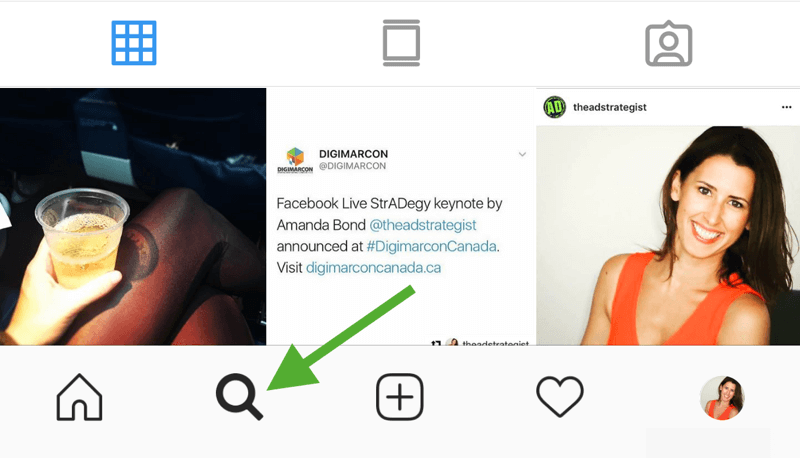 Start by searching for one hashtag such as #facebookads.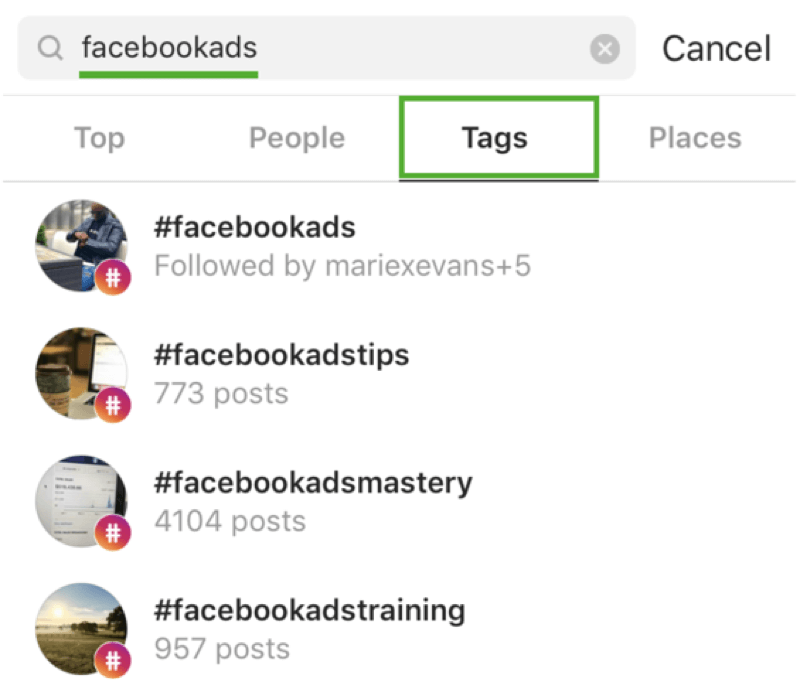 You likely have a core group of hashtags you're already using in your own posts. Because it's best to search and engage daily, I recommend that you set up a spreadsheet to track all of the relevant hashtags you're using because the list will quickly grow.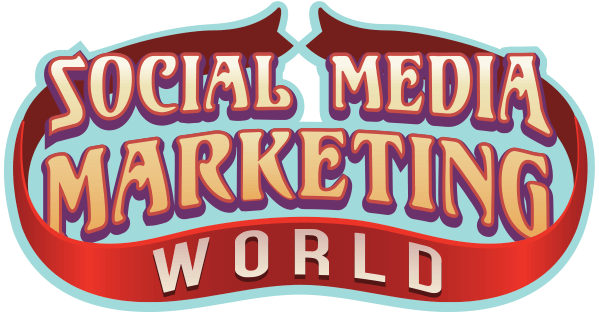 If you're a digital marketing agency, you might start with hashtags like these:

Here's the most surprising part of implementing this strategy: truly understanding the quality of a hashtag. As a Facebook advertising strategist, I'd assume that #facebookads would be an ideal hashtag for posts. However, upon closer inspection, the type of content being tagged with this particular hashtag is:
Extremely promotional (often for get-rich-quick–type schemes)
Unrelated to digital strategy
Entirely misleading
Often extremely spammy
This leads me to the conclusion that we won't use #facebookads in our own Instagram efforts going forward.
As you research hashtags and carry out your daily $1.80 growth strategy, make note of the highest-quality hashtags you find. Then use those in your organic content's written captions to give yourself the greatest opportunity to get in the Search & Explore tab of your ideal customers.
#3: Identify and Engage With 9 Relevant Instagram Posts
After you've found your Instagram hashtags, it's time to filter through the content you've found to determine whether it's relevant and valuable for you to leave your $0.02. Not every post is created equally—especially in a world full of spam bots and automation.
Take a few seconds to analyze each Instagram post you come across. I recommend clicking the full post to:
Read the caption.
Quickly measure the engagement rate (likes and comments vs. total followers).
Click the account profile image to check out their bio and the rest of their profile.
Remember, this strategy works across any vertical: B2B, B2C, SMB, etc. It's the process of culling through the noise to find the gems that most of your competitors aren't setting aside enough time to do.
Here's what to look for when analyzing accounts.
How Much Effort Is Being Put Into Writing an Informative Caption?
A lot of low-quality accounts tend to 'phone in' the caption description and jam as many hashtags into the caption as humanly possible—in the hopes that it will help them rank on the Search & Explore tab.
Well-written captions crafted with meaningful thought aren't an easy feat. The Instagram users who are putting in the time and effort to write their own story-driven captions tend to be active community members outside of their own profiles as well. They're invested in their own Instagram success and your $0.02 interaction helps them signal to the algorithm that their content is also relevant.
What Is the Engagement Rate?
In my algorithmic experience, engagement is king. If an account has 200,000 followers but barely hits 500 likes and comments on a post (0.2% engagement), what does that say about the quality of their community?
On the flipside, never discount an account for having a low follower count. If they have 200 followers and still have 30 likes and comments per post (a 15% engagement rate!), it shows they're building a small but mighty community. Engage away!
Is This Profile Something You Would Naturally Engage With?
Yes, you'll be deploying this strategy for your social media growth efforts. However, it's important to make sure the comments you're leaving have the potential to create strategic and long-term value for your brand and for your potential future community. Otherwise, as with anything, you'll be wasting your time and getting lost in the weeds.
The Anatomy of a Great Instagram Post
Most people want to skip this step (and the time it takes to properly assess the quality of the Instagram account where you're leaving your $0.02) and go straight to the end result—revenue growth. Taking your time to build relationships with the right profiles and people can help expedite your growth.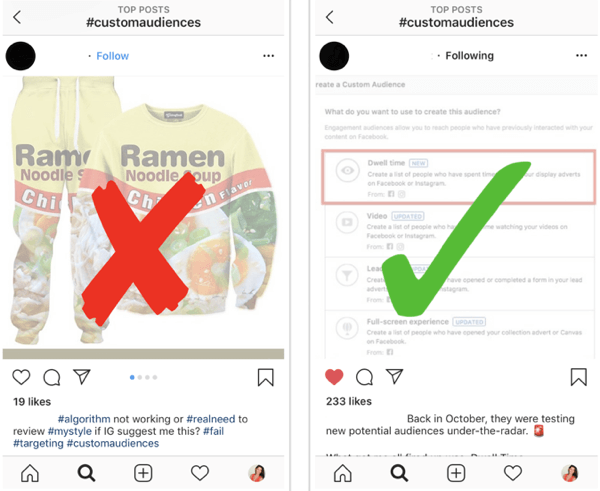 On the left:
The post engagement is lower than the one on the right (total number of likes aside).
The caption is stuffed with hashtags in an attempt to rank content vs. writing quality content to engage your audience.
The account has no bio or any other qualifying details.
On the right:
The content is relevant and educational.
The caption is well-written and informative.
The bio clearly states what they do and allows you to identify whether they belong in your community.
Now onto the fun stuff! This one's simple: Be social on social media. At this point in your efforts, all that's left is to leave your $0.02 on these newfound pieces of content.
Let's talk about leaving your $0.02 for a moment. There's a difference between crafting a meaningful comment that shows you want to be a part of the larger conversation vs. leaving a comment of three emoji hearts and then bouncing.
If all you do is leave emojis, don't use the $1.80 strategy. Spend your time elsewhere on actions/tasks that move the needle in your marketing.
Here are some best practices for being a human on social media:
Share your own experiences. Is there something in your life (or behind the scenes in your business) that's relatable to the original caption? Share that!

Ask open-ended questions. The goal here is to get people to come back to your Instagram profile and engage. If you only talk about yourself and your own experiences, it lessens your chance of developing a meaningful conversation with the other person.
Don't be a know-it-all. Let other people share their perspective and worldview. We, as humans, love to share about ourselves often. Remember that this exercise is not about YOU. It's about the incredible humans you serve in your marketing.

#4: Monetize Your Efforts With an Ad Sequence
After going through these steps, you've started to build two powerful marketing assets:
A captive community of current and future customers who drive real revenue
An engaged custom audience available for retargeting with paid advertising
The first of these two assets, a captive community, will fuel your organic Instagram efforts again and again. Next time you publish a post, these followers will be hungry for your new content. Because you've now engaged in conversations with these users, they're more ready to engage and respond than total strangers.
The second asset is an engaged custom audience that's retargetable by building a $5/day Instagram ad campaign.
When you pair a $5/day Instagram ad sequence with the $1.80 Instagram growth strategy, every image you post, DM you send, and heart you tap is automatically and effortlessly leading people toward becoming your customers. Having a low-cost Instagram ad sequence that's always running in the background is a simple way to turn followers into fanatical (read: paying!) customers.
Conclusion
Set aside time each day to execute this strategy. For me, it's only 15 minutes a day when I'm in an Uber or waiting for a meeting to begin. For you, it might be a consistent hour from 3–4 PM daily.
Your Instagram growth won't happen unless you put in the time and effort daily, track your results, tweak what isn't working, and continuously and relentlessly improve upon your efforts. A year from now, imagine your account at 2x, 10x, 100x growth and what that could mean for your business goals.
With a simple $1.80 Instagram growth strategy paired with a $5/day Facebook advertising strategy, you can rapidly grow your Instagram account with followers who turn into customers.
What do you think? Have you tried the $1.80 Instagram growth strategy? What were your results? Share your results and questions in the comments below.