10 Attractions You Can't Miss In Las Vegas
This desert oasis is a city that most people already know a decent amount about.  It is one of the biggest epicentres for gambling in the world.  When you get off a plane in Las Vegas airport you are immediately greeted by slot machines.  As you leave the airport you have amazing views of "The Strip", which is an incredibly long stretch of mega-casino and resorts lit up by glowing neon lights.  The gambling doesn't stop there as gas stations and even grocery stores feature slot machines (seriously, people hang out and gamble in grocery stores).
Las Vegas has done an excellent job of adding more than just gambling to its offerings.  It attempts to brand itself as the "entertainment capital of the world", and frankly they are doing a pretty good job of it.  There are musicians that take up permanent residency in Vegas (yes Britney, Backstreet Boys, and maybe Gaga), an incredible variety of shows (Cirque du Soleil to Blue Man Group), world-class dining options, phenomenal golf courses, mountain hikes, endless shopping (high end to outlet malls), pool parties and nightlife, and even a manmade beach and ski-resort.
As you visit Vegas you will be enthralled by everything "Sin City" has to offer.
This list is in no way inclusive of everything you could plan on a Vegas vacation but is designed to include some of the most iconic Las Vegas attractions that are perfect for the first timer, and things that you may not think to explore.
Also, check out these exclusive Las Vegas Timeshare Deals
Top 10 Must do's in Vegas
1. Welcome to Las Vegas Sign
Taking a picture at the Welcome to Las Vegas sign is a rite of passage for vacationers.  Whether you are here for a bachelor party, work convention, or just escaping cold winter temperatures this sign on the South end of The Strip is a perfect way to begin your trip.
2. Visit Foreign Cities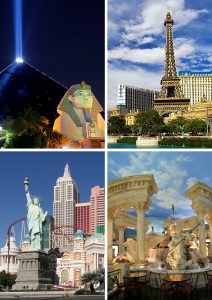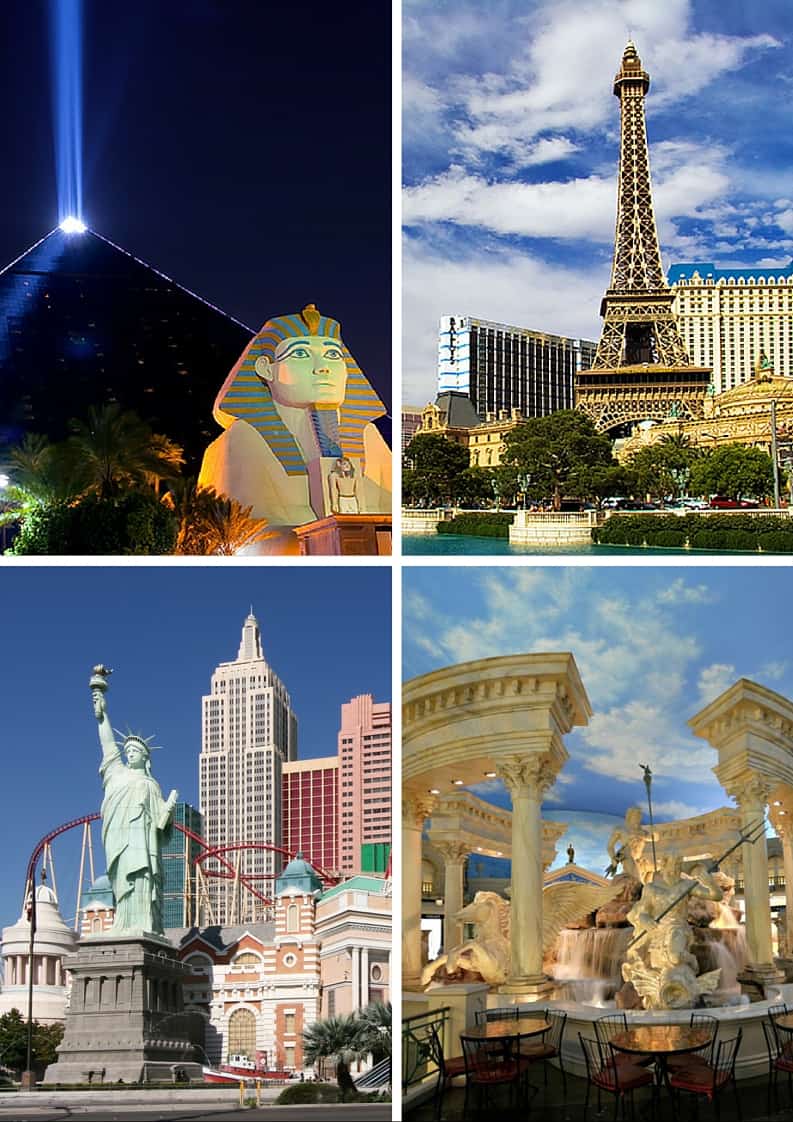 Okay not really, but lots of the casinos are based on a location or theme from somewhere else in the world.  The Paris features its own Eiffel Tower and really is reminiscent of Paris, the Venetian is based on Venice (discussed more below), the Luxor is based on ancient Egypt, Caesar's Palace is based off classic Rome, the Imperial Palace shouts out to Imperial Japan, and New York New York is pretty self-explanatory. Visiting a casino is not a substitute for seeing these places, but I recommend exploring more than just the one you stay in as it is fun to see what elements from around the world have implemented in Vegas.
3. Freemont Street (Old Vegas)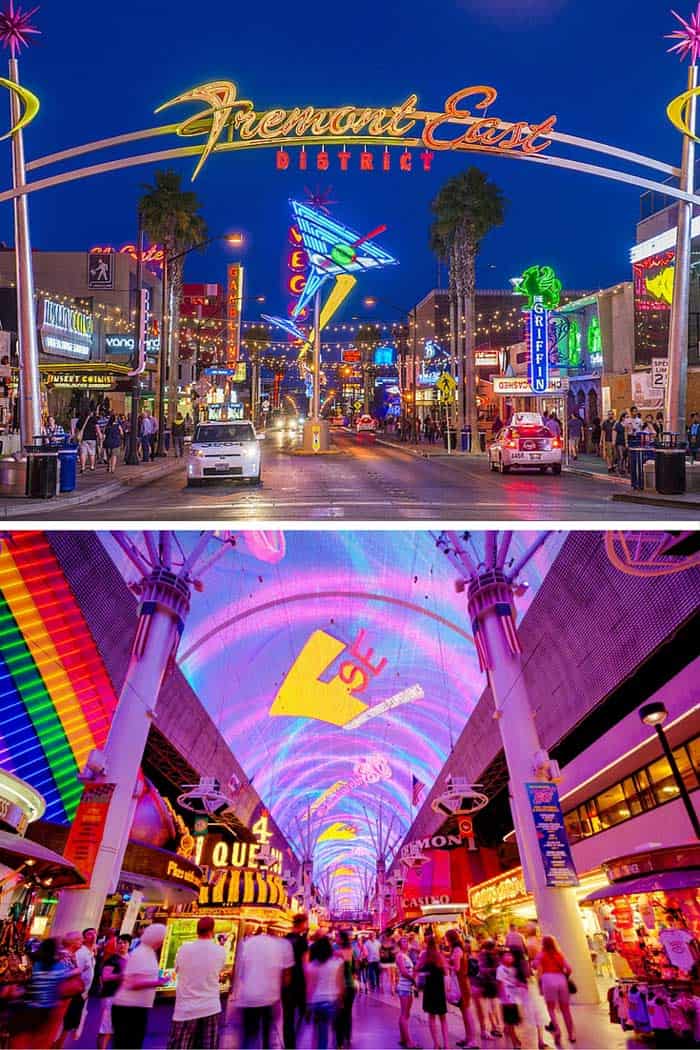 Freemont Street is where you will find the old school Vegas casinos like the 4 Queens and Golden Nugget (featuring a water slide through a shark tank). Even though it is old, it is not run down or left behind.
Freemont Street runs straight through most of the big classic casinos, and is a perfect spot to get a drink from an outdoor bar, see some of the most unique street performers in the world, experience free live music, as well as have strippers attempt to pull you in to see their shows (seriously, be careful).
4. Bellagio Fountain and Gardens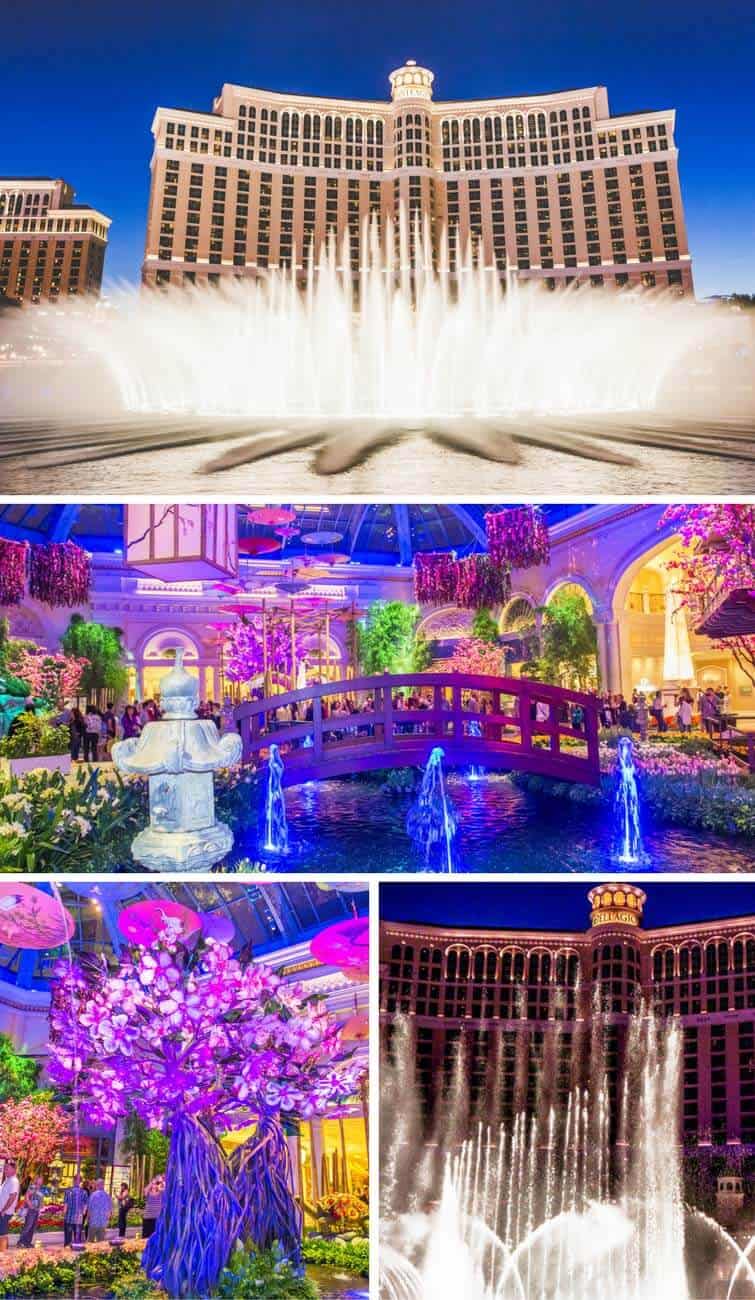 Even though each resort has fantastic things to see, the water show and botanical gardens at the Bellagio cannot be missed.  The 8-acre man-made lake features a dancing water fountain show choreographed to music.  The show is different every 15 minutes, and the results truly are beautiful.  This is the spot that was glorified in Oceans 11 (Brad Pitt and George Clooney could make anything glorious).
The gardens in the lobby are exquisitely decorated and maintained for each season with some of the unique plants and flowers in the world.  Even as a local I make a point to go down each year to see the gardens decorated with a Christmas theme.
5. Gondola Ride at the Venetian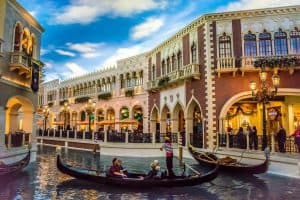 The sky in this picture really is painted on, and it does look that amazing in person.
The Venetian is a luxury resort based off of Venice Italy.  My favorite part of the Venetian is that they built canals throughout the ground floor and mall of the casino, and offer motorized gondola rides while you get serenaded by your very own gondolier.
Even though it makes my husband want to barf, I love how romantic these rides are.  Somehow they designed it so that you don't feel like you are floating through the middle of a casino.
6. Adventure Rides at the Stratosphere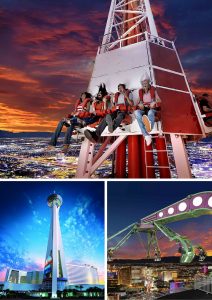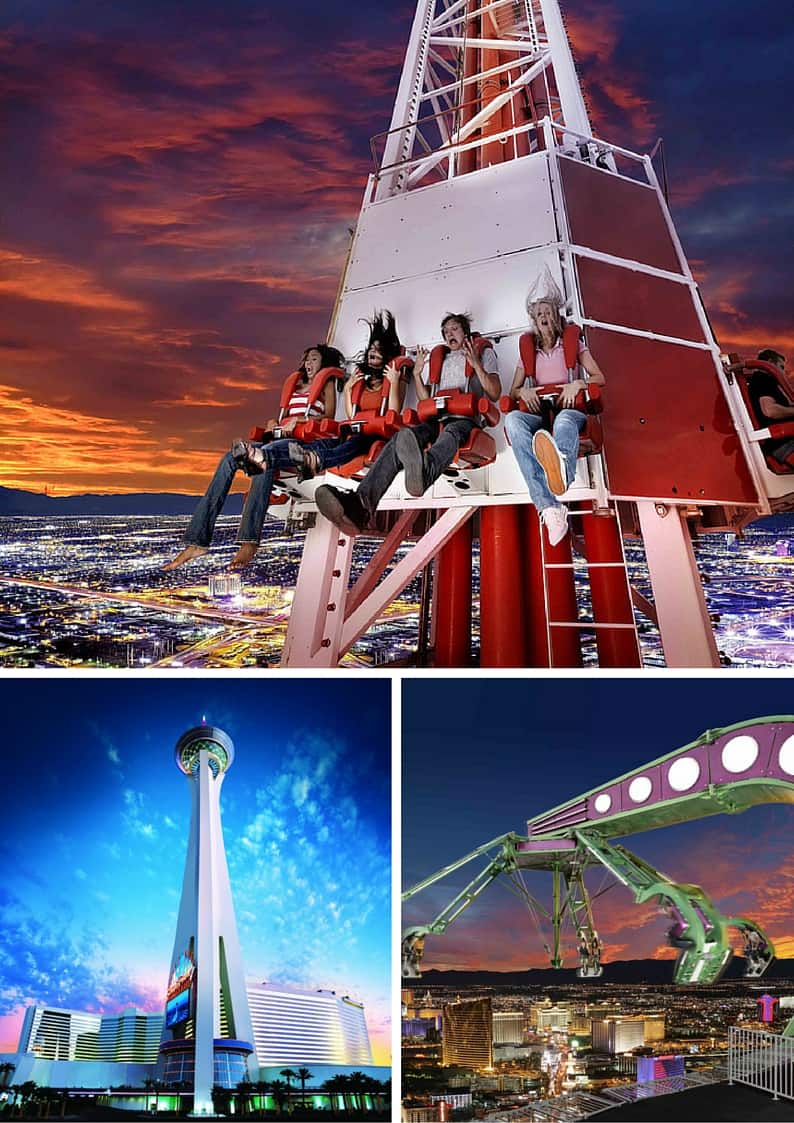 The Stratosphere is hotel and casino that towers overall on the North end of The Strip.  The Stratosphere is most famous for its views of The Strip and hair-raising rides.
It is by far the tallest building in Vegas, and the rides up top are NOT for someone who is afraid of heights. My favorite is the Big Shot, which shoots your seat straight up the top of the tower and into the sky.  It is the tallest thrill ride in the world.  If that isn't gutsy enough for you, you can jump off the top via controlled cables to the bottom.
7. The High Roller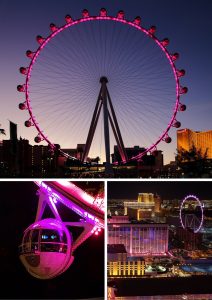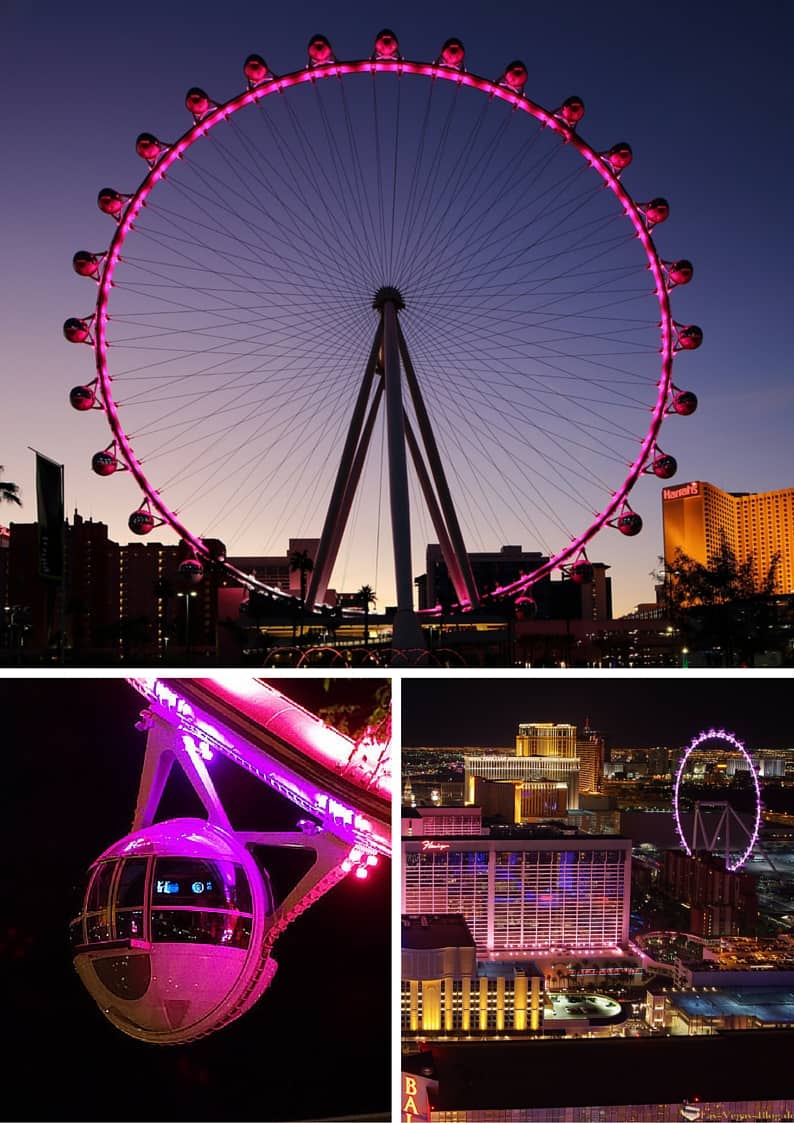 This gigantic observation/Ferris wheel is brand new to Las Vegas.  It is like the London Eye, but bigger.  Surprisingly it really is a fun ride as pods are big enough to feature whole groups of friends, and even your own bar and bartender.
Also Read: More Things To Do In Las Vegas 
8. Hoover Dam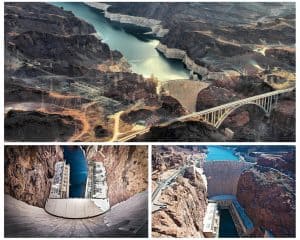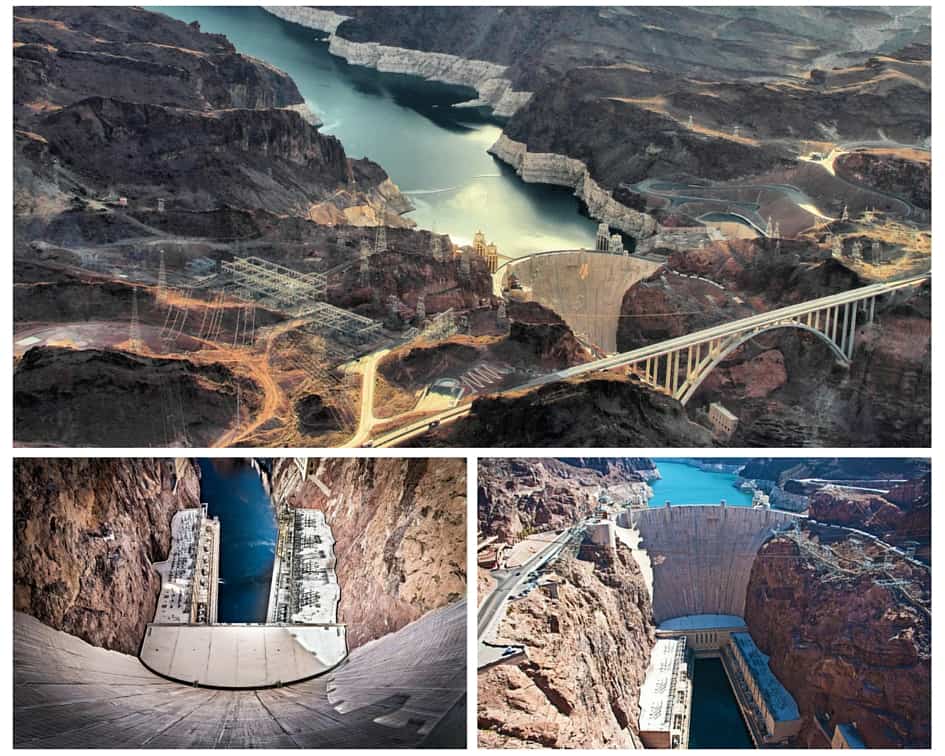 Not all the attractions in Vegas feature neon lights.  The Hoover Dam is a testament to modern engineering.  I found the tour showing how the dam generates power for Las Vegas fascinating.  Also, the lake made by the dam (Lake Mead) is great for boating.
9. Las Vegas Ski Resort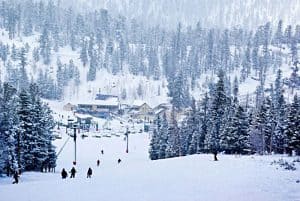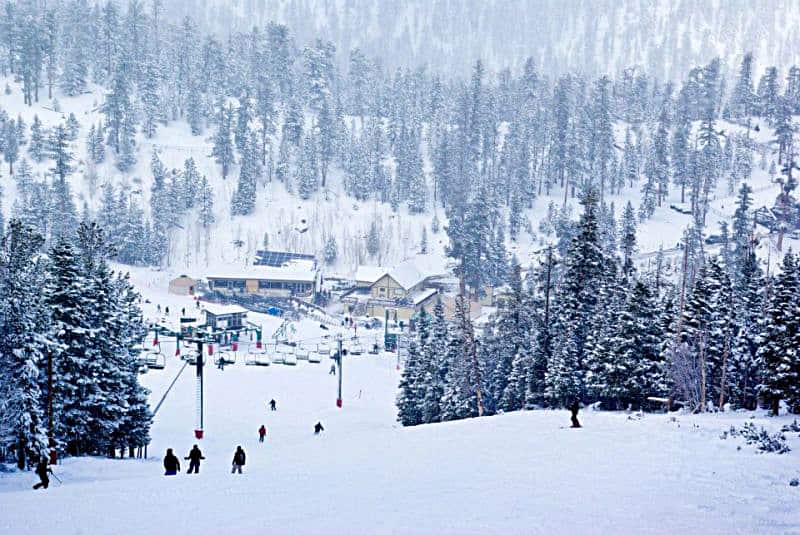 Yes, in the mountains just 45 minutes away from The Strip developers built a ski-resort.  It is not huge, and does not feature the world's best snow, but the novelty of being able to ski within 45 minutes of the scorching desert heat is unreal.
10. The Mob Museum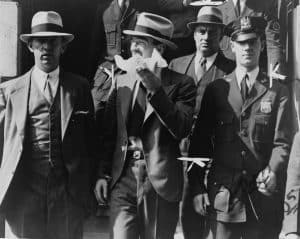 Part of the reason that Las Vegas is built the way it is today is that of the involvement of organized crime.  The mob used casinos to launder their money.  Supposedly organized crime is out of Vegas now, but a fascinating history remains.  The Mob Museum doesn't just explore Vegas' criminal history, but the characters that made this possible from around the country.  The museum does have some creepy elements as it allows visitors to hold a tommy gun, explore crime scene photos, and even see the bloody walls left from massacres.
How To Increase Your Affiliate Sales!
Parts of a successful Affiliate Marketing System The Merchant Is Mostly known as the seller or the brand, this is the party that creates/owns the product. From small enterprises to massive Fortune 500 companies, anyone could be the merchant in Affiliate marketing system. The Affiliate Is Also known as the publisher. They can range from entire companies to single individuals.
Their job is to attract and convince the potential customers for the merchant's product so that they actually buy them! The Consumer Well, a consumer has to be the one around whom the affiliate system goes. If there are no sales, there will not be any commission and revenue in hand. The affiliate tries to reach out to the customers on social networks, digital billboards, content marketing for a blog, etc. The Network People involved in Affiliate Marketing Not very popular part of the affiliate marketing system, a network is an intermediary between a merchant and an affiliate. They handle the product delivery and the payment. They also serve as a database of lots of products, out of which the affiliate can choose which to promote.
Also Read: How To Create Some Awesome SEO Reports
How Affiliate Marketing Works? Affiliate marketing is a popular money-making practice conducted on the web. Talking about affiliate product sales, the publishers are rewarded for promoting the products and services of a business. Affiliate Marketing is a process where each party receives a share of the revenue as per their contribution. Steps Involved In Affiliate Marketing A tracking URL is assigned to an affiliate. This can be used to track which affiliates are driving traffic to your website. Affiliate markets your website. Affiliates promote your company via several different ways like YouTube video, blog post, paid traffic, reviewing products, email blast etc.
Customers are acquired. Visitor purchases the product or signs up. The affiliate receives a commission If an affiliate drives you a lead, you pay them an amount. How affiliating marketing works (Source: Create and Publish For Free) That said, let us see how we can increase affiliate sales with simple tips. 5 Quick And Simple Tips To Increase Affiliate Sales If you are an affiliate, you might have questions like how can I maximize profits by promoting others' products and services? Or what can I do to make my audience loyal?! You could be an affiliate for anything. It could be an actual affiliate product, for instance, a car, or anything. Or maybe if you are in network marketing then you are an affiliate for that company's product but the compensation is just different. If you are in direct sales, then you are an affiliate marketer. Even being an insurance seller makes you an affiliate marketer because you are an affiliate for that particular insurance company's policies.
1. Create an In-Between
Well, to be honest, most affiliates are lazy. All they focus on is sending traffic to the merchant's website or to the replicated website. The only work they do is just send the traffic to the seller's website. This just doesn't work very well as almost all affiliates are doing the exact same thing. What exceptional are you doing that sets you apart from others? When you create an in-between like a blog post, youtube video or an article where you answer some questions, solve their problems, and provide some value to the visitor as to why they should take the next step. You should be basically connecting the dots! Most affiliates rely on product creator to do the heavy lifting. And of course, these merchants are doing all the heavy lifting. They are creating the product, taking care of the legal problems, money refunds, delivery processes, take care of money handling, customer service, and more. Therefore, you could do more than just sending traffic to their website by creating an in between.
like a blog post, youtube video or an article where you answer some questions, solve their problems, and provide some value to the visitor as to why they should take the next step. You should be basically connecting the dots! Most affiliates rely on product creator to do the heavy lifting. And of course, these merchants are doing all the heavy lifting. They are creating the product, taking care of the legal problems, money refunds, delivery processes, take care of money handling, customer service, and more. Therefore, you could do more than just sending traffic to their website by creating an in between.
2. Buy The Product Yourself and Review It
Why not do a product review of the product you are promoting? How about a behind the screen scene like screen sharing view? That would be a good idea if the product you are promoting is an informational product. Record the scene and just show a little sneak peek to what customers will be having in a product if they buy it. This gives them the credibility that you actually own the product. How many affiliates might be doing that? If you don't own the product you are promoting, how will the visitors be ready to buy these products? As an affiliate, you are going to be way more effective if you buy the product yourself, believe in it, review it, and promote it.
3. Do a Comparison Video Between Your Product and a Similar Product
Well, sometimes you could be an affiliate for both. For instance, if you are selling if a really popular weight loss training program then you can compare it with some similar type of training program. However, it is important to remember that you can't cut down on another product and it should be a true, genuine review. It can't be skewed because people will find it.
Also Read: Are You an Entrepreneur? Take The Test to Find Out
4. Have Your Own Bonuses
You could give people incentives and that could be the reason why they would choose your product over others. The bonuses you provide could be as simple as having a 30-minute meeting with you or a webinar with you. Or it could some recording/ blog post that you could give them for free which will be of some value to them. The main motive of having your own bonuses is to provide extra incentives to people who have bought your product over others.
5. Build an audience Finally
The fifth point is to build your audience. This is by far the most important point that you should consider. Most affiliates are sending the traffic directly to the seller's website and thereby passing them without retaining any. The traffic you are attracting is not getting to know you and your business. Hey, become a little possessive here! Your business is not those affiliate products but it is you and the audience. Your business is you and the relationship with your audience. So you need to be focused on building your own list first. This makes sense because if they don't buy this particular affiliate product today, they may buy another one from you down the road. You can do this by pitching them on your website by a webinar or a subscriber list for instance.