10 Attractions You Can't Miss In Las Vegas
This desert oasis is a city that most people already know a decent amount about.  It is one of the biggest epicentres for gambling in the world.  When you get off a plane in Las Vegas airport you are immediately greeted by slot machines.  As you leave the airport you have amazing views of "The Strip", which is an incredibly long stretch of mega-casino and resorts lit up by glowing neon lights.  The gambling doesn't stop there as gas stations and even grocery stores feature slot machines (seriously, people hang out and gamble in grocery stores).
Las Vegas has done an excellent job of adding more than just gambling to its offerings.  It attempts to brand itself as the "entertainment capital of the world", and frankly they are doing a pretty good job of it.  There are musicians that take up permanent residency in Vegas (yes Britney, Backstreet Boys, and maybe Gaga), an incredible variety of shows (Cirque du Soleil to Blue Man Group), world-class dining options, phenomenal golf courses, mountain hikes, endless shopping (high end to outlet malls), pool parties and nightlife, and even a manmade beach and ski-resort.
As you visit Vegas you will be enthralled by everything "Sin City" has to offer.
This list is in no way inclusive of everything you could plan on a Vegas vacation but is designed to include some of the most iconic Las Vegas attractions that are perfect for the first timer, and things that you may not think to explore.
Also, check out these exclusive Las Vegas Timeshare Deals
Top 10 Must do's in Vegas
1. Welcome to Las Vegas Sign
Taking a picture at the Welcome to Las Vegas sign is a rite of passage for vacationers.  Whether you are here for a bachelor party, work convention, or just escaping cold winter temperatures this sign on the South end of The Strip is a perfect way to begin your trip.
2. Visit Foreign Cities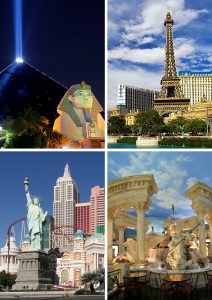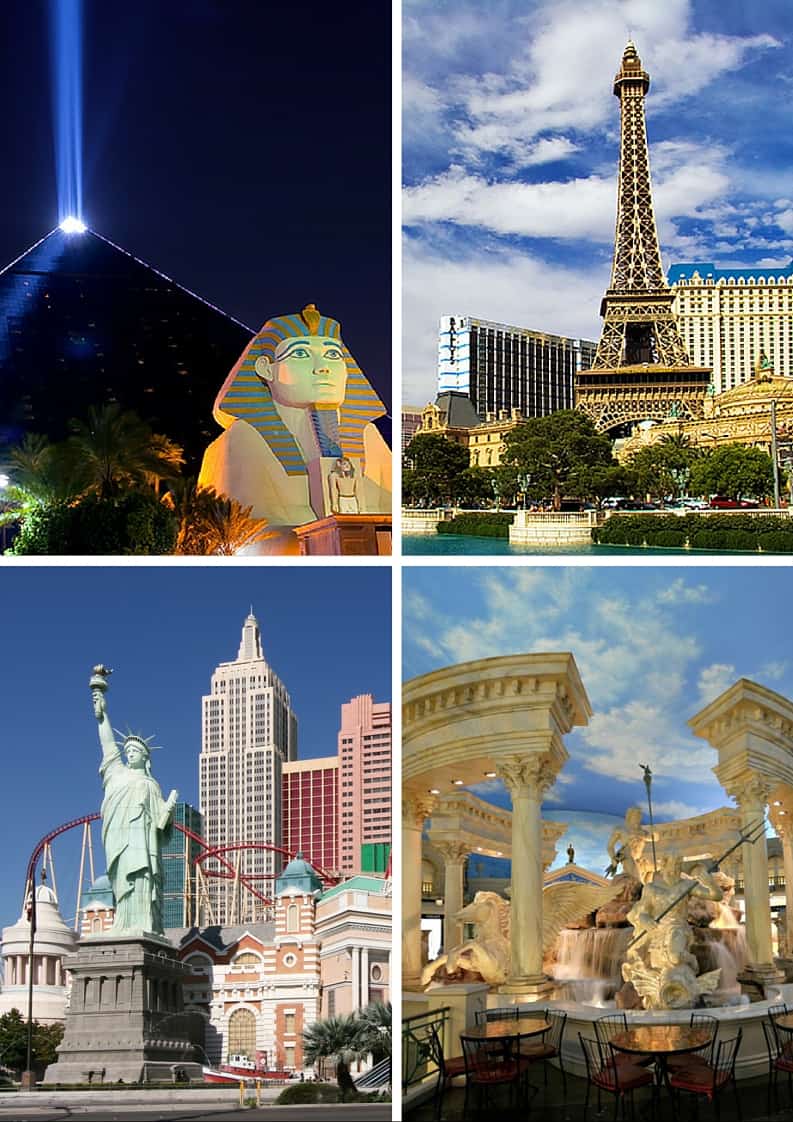 Okay not really, but lots of the casinos are based on a location or theme from somewhere else in the world.  The Paris features its own Eiffel Tower and really is reminiscent of Paris, the Venetian is based on Venice (discussed more below), the Luxor is based on ancient Egypt, Caesar's Palace is based off classic Rome, the Imperial Palace shouts out to Imperial Japan, and New York New York is pretty self-explanatory. Visiting a casino is not a substitute for seeing these places, but I recommend exploring more than just the one you stay in as it is fun to see what elements from around the world have implemented in Vegas.
3. Freemont Street (Old Vegas)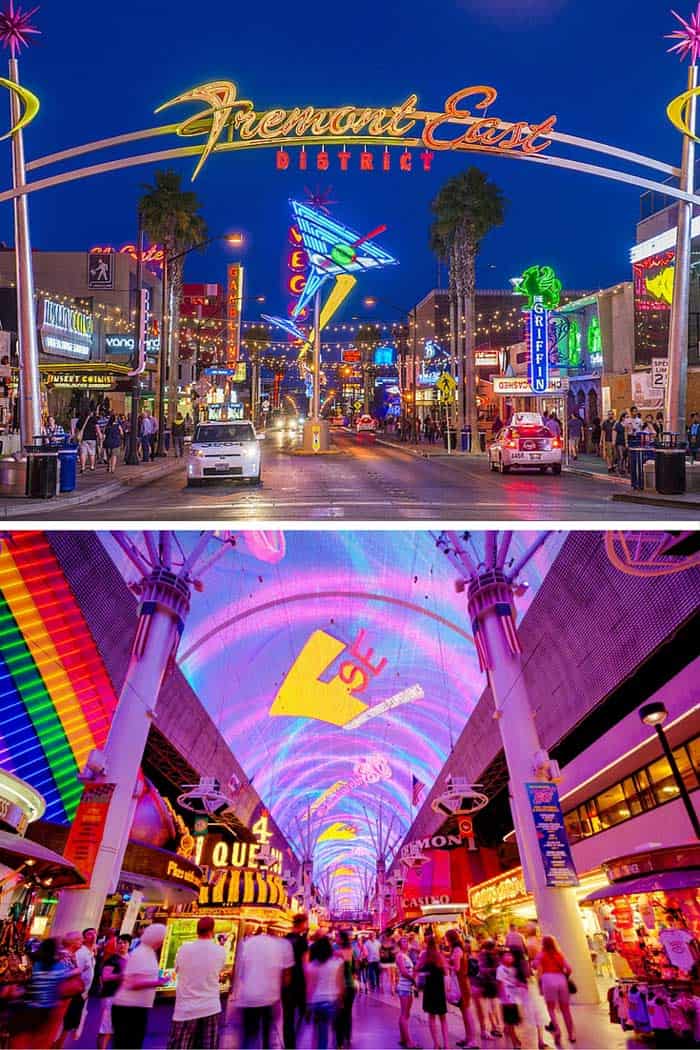 Freemont Street is where you will find the old school Vegas casinos like the 4 Queens and Golden Nugget (featuring a water slide through a shark tank). Even though it is old, it is not run down or left behind.
Freemont Street runs straight through most of the big classic casinos, and is a perfect spot to get a drink from an outdoor bar, see some of the most unique street performers in the world, experience free live music, as well as have strippers attempt to pull you in to see their shows (seriously, be careful).
4. Bellagio Fountain and Gardens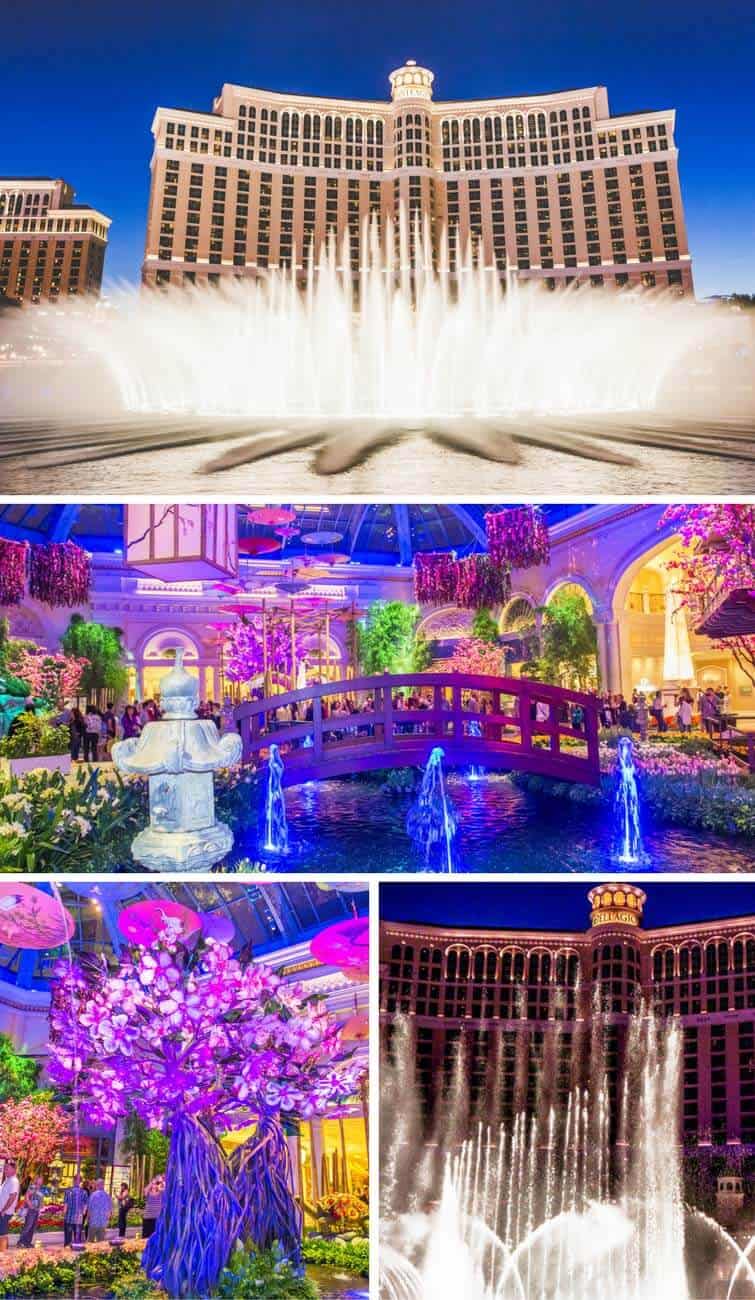 Even though each resort has fantastic things to see, the water show and botanical gardens at the Bellagio cannot be missed.  The 8-acre man-made lake features a dancing water fountain show choreographed to music.  The show is different every 15 minutes, and the results truly are beautiful.  This is the spot that was glorified in Oceans 11 (Brad Pitt and George Clooney could make anything glorious).
The gardens in the lobby are exquisitely decorated and maintained for each season with some of the unique plants and flowers in the world.  Even as a local I make a point to go down each year to see the gardens decorated with a Christmas theme.
5. Gondola Ride at the Venetian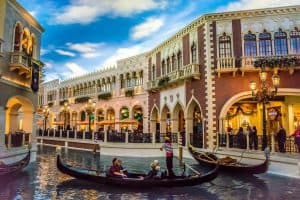 The sky in this picture really is painted on, and it does look that amazing in person.
The Venetian is a luxury resort based off of Venice Italy.  My favorite part of the Venetian is that they built canals throughout the ground floor and mall of the casino, and offer motorized gondola rides while you get serenaded by your very own gondolier.
Even though it makes my husband want to barf, I love how romantic these rides are.  Somehow they designed it so that you don't feel like you are floating through the middle of a casino.
6. Adventure Rides at the Stratosphere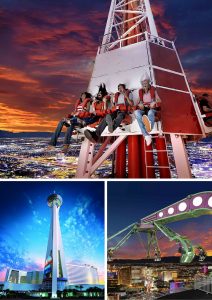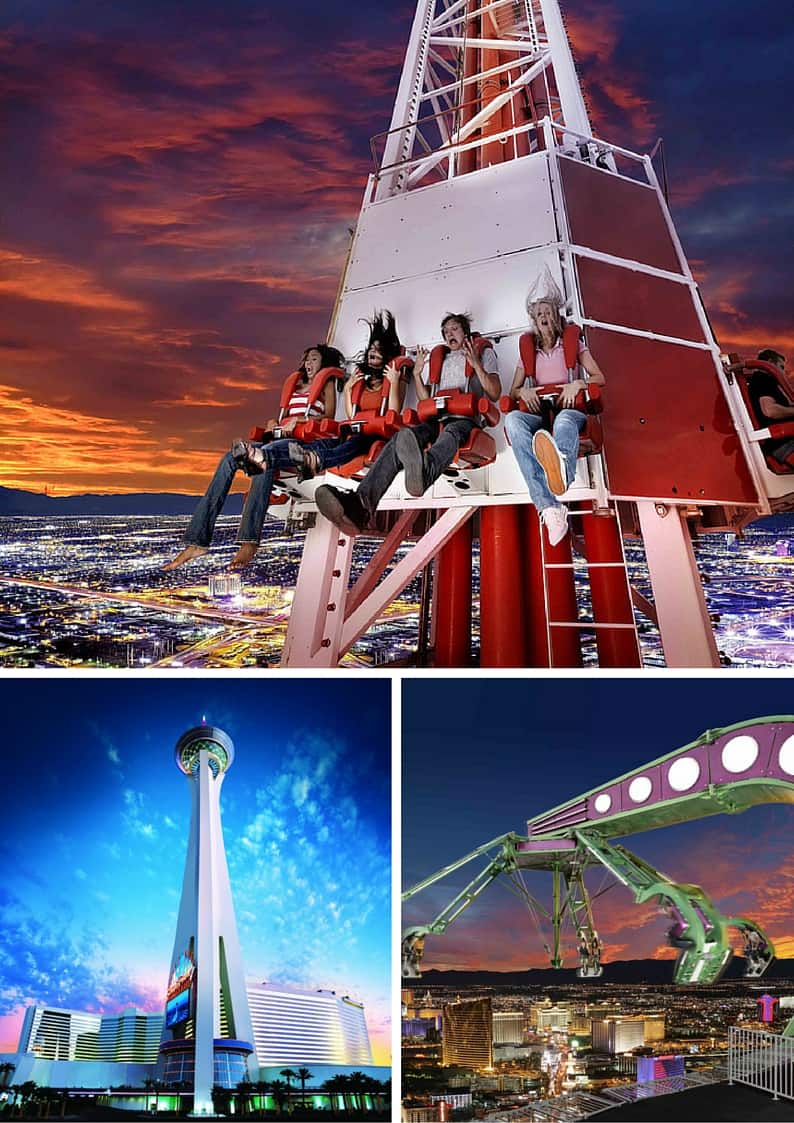 The Stratosphere is hotel and casino that towers overall on the North end of The Strip.  The Stratosphere is most famous for its views of The Strip and hair-raising rides.
It is by far the tallest building in Vegas, and the rides up top are NOT for someone who is afraid of heights. My favorite is the Big Shot, which shoots your seat straight up the top of the tower and into the sky.  It is the tallest thrill ride in the world.  If that isn't gutsy enough for you, you can jump off the top via controlled cables to the bottom.
7. The High Roller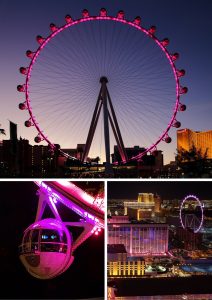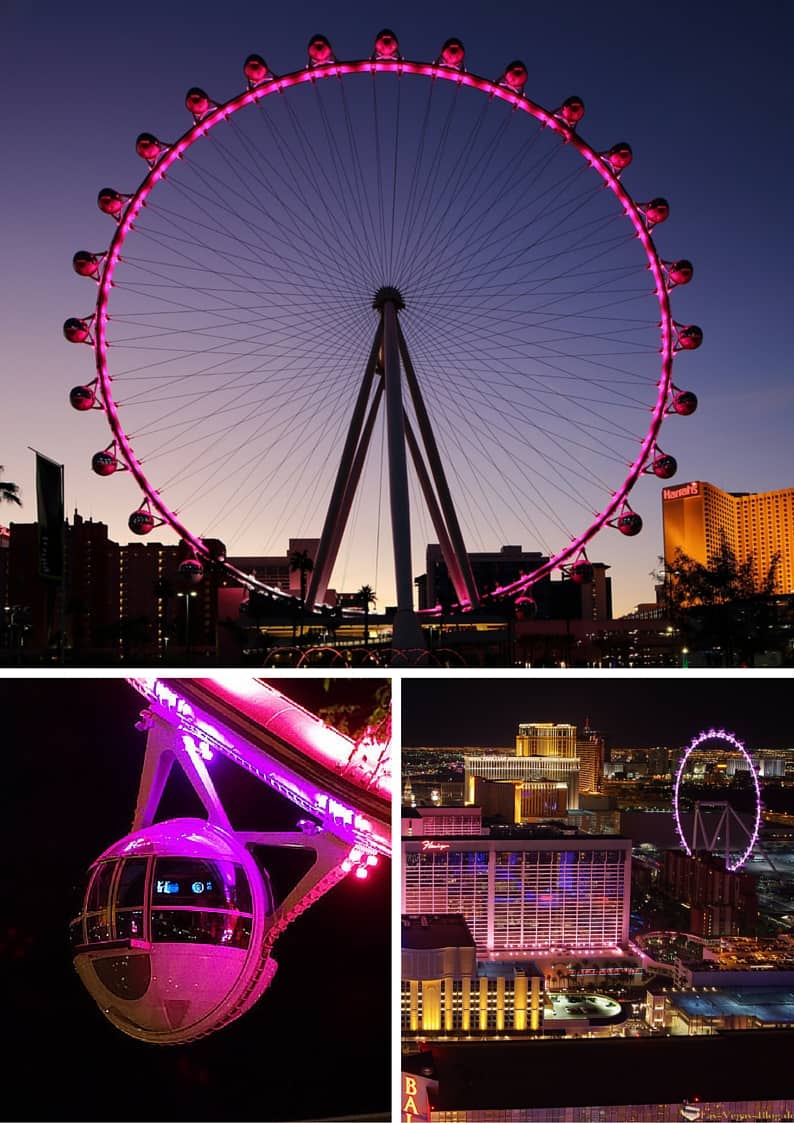 This gigantic observation/Ferris wheel is brand new to Las Vegas.  It is like the London Eye, but bigger.  Surprisingly it really is a fun ride as pods are big enough to feature whole groups of friends, and even your own bar and bartender.
Also Read: More Things To Do In Las Vegas 
8. Hoover Dam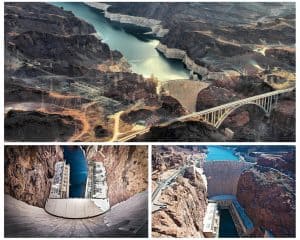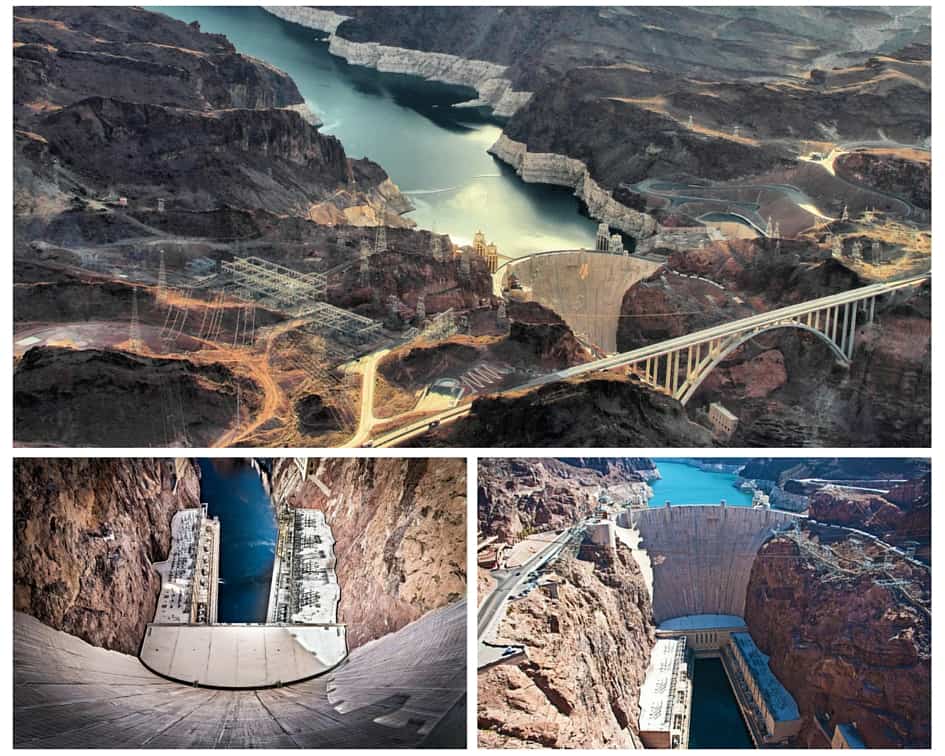 Not all the attractions in Vegas feature neon lights.  The Hoover Dam is a testament to modern engineering.  I found the tour showing how the dam generates power for Las Vegas fascinating.  Also, the lake made by the dam (Lake Mead) is great for boating.
9. Las Vegas Ski Resort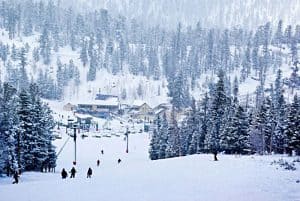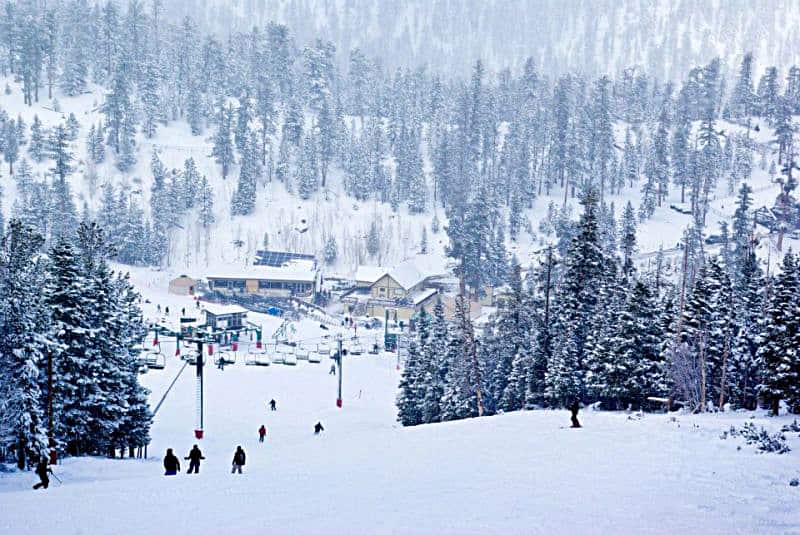 Yes, in the mountains just 45 minutes away from The Strip developers built a ski-resort.  It is not huge, and does not feature the world's best snow, but the novelty of being able to ski within 45 minutes of the scorching desert heat is unreal.
10. The Mob Museum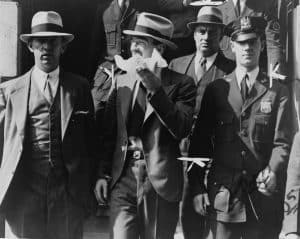 Part of the reason that Las Vegas is built the way it is today is that of the involvement of organized crime.  The mob used casinos to launder their money.  Supposedly organized crime is out of Vegas now, but a fascinating history remains.  The Mob Museum doesn't just explore Vegas' criminal history, but the characters that made this possible from around the country.  The museum does have some creepy elements as it allows visitors to hold a tommy gun, explore crime scene photos, and even see the bloody walls left from massacres.
How to Grow Your Instagram Following: A Strategic Plan
Want to quickly grow your Instagram audience? Looking for a strategy that attracts the right kind of connections?
In this article, you'll discover how to combine an Instagram growth strategy with an ad sequence that can turn followers into customers.
How This Instagram Growth Strategy Works
On average, Instagram users share "more than 95 million photos and videos every single day," according to Reuters. That amounts to a lot of noise for Instagram marketers to break through to get their message in front of potential customers.
Simply focusing on run-of-the-mill Instagram growth tactics that you hear regurgitated time and again won't help you set yourself apart. You'll just be adding to the noise on the platform instead of building important assets for your brand.
A better approach is the $1.80 Instagram strategy for custom audience growth. Gary Vaynerchuk's $1.80 Instagram growth strategy to grow your business or brand is all about creating micro-connections that gradually accumulate into an active and engaged community on the platform.
Even though it's called the $1.80 strategy, it's completely free to implement. The only resource costs are your time and attention. Once a day, you'll:
Start by searching 10 relevant hashtags.
Locate the top 9 posts for each hashtag.
Leave a meaningful comment (your two cents [$0.02]).
The $1.80 Instagram growth strategy boils down to this equation: 10 hashtags multiplied by 9 posts where you leave your $0.02 = $1.80 in community-building effort.
Getting 2x, 5x, or 10x growth results with this strategy doesn't happen overnight. It requires you to stay consistent and make community-building a regular action for your brand.
As Gary states, "The number of Instagram followers you have means nothing if you can't build a community of like-minded people who care and engage." It's those people who then go on to become customers, brand evangelists, and significantly drive your brand goals forward. Finding this pocket of people is as simple as becoming part of the conversation.
In 2018, we used this strategy at The Ad Strategist to double the size of our Instagram following. More importantly, by implementing the $1.80 Instagram growth strategy, our Instagram engagement custom audience grew to almost 3x larger than our follower count.

Why is this important? The size of your warm custom audiences represents the number of users who've had a meaningful interaction with your brand. This includes everyone who liked, commented on, sent, and saved your content; DM'ed you; or clicked the link in your bio. Of course, just because someone interacts with you doesn't mean they follow you on Instagram. And if they're not following you, it's unlikely they'll see your organic content and posts in the future.
That doesn't mean those users are gone forever, though. You can create a dynamic Instagram ad sequence targeting your Instagram engagement custom audience that converts those non-followers into followers and then customers.
Running ads to this engagement custom audience resulted in 50%–100% cheaper lead costs in an ad spend study of over $45,000 with 349 ad set variations. So targeting this Instagram engagement custom audience creates costs per result that are significantly lower than if you were to target cold traffic.
#1: Create Your Instagram Engagement Custom Audience
To create an Instagram engagement custom audience, navigate to the Audience dashboard in Ads Manager.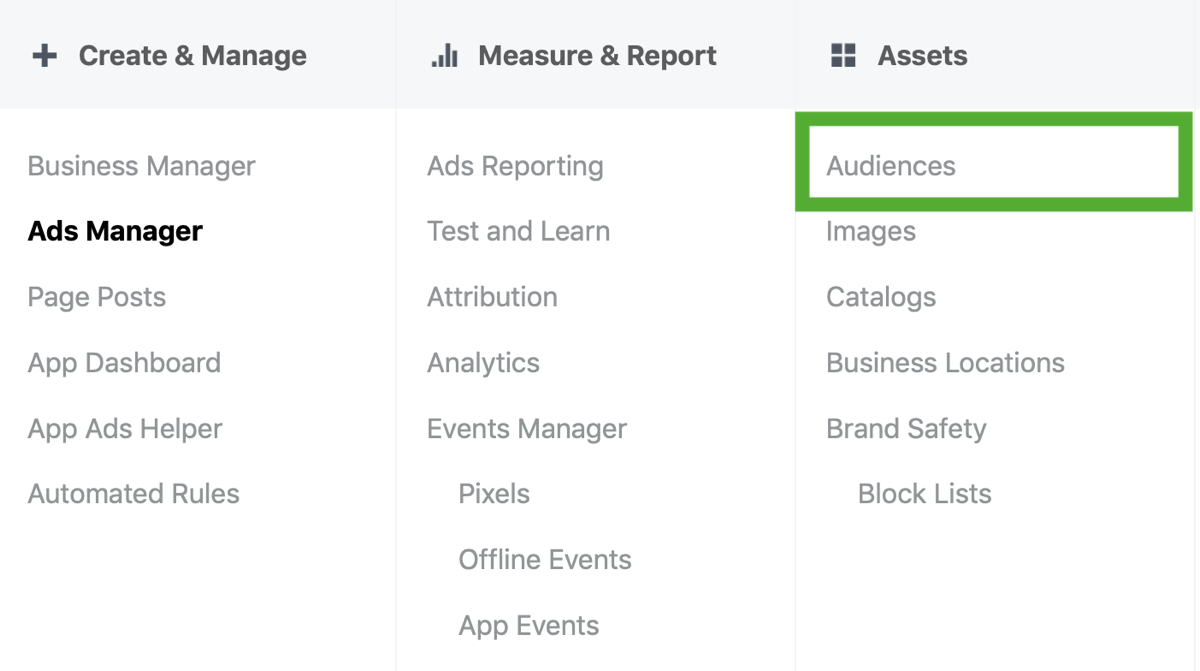 Then click Create Audience and select Custom Audience.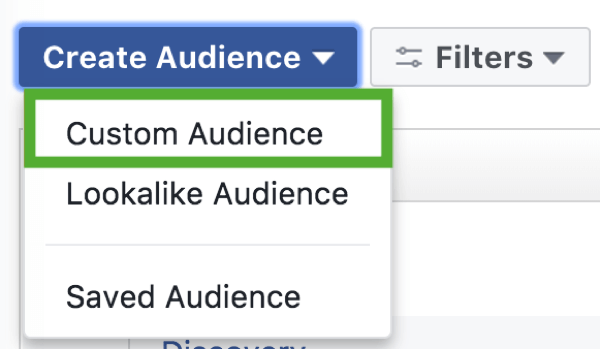 In the Create a Custom Audience window, choose Instagram Business Profile.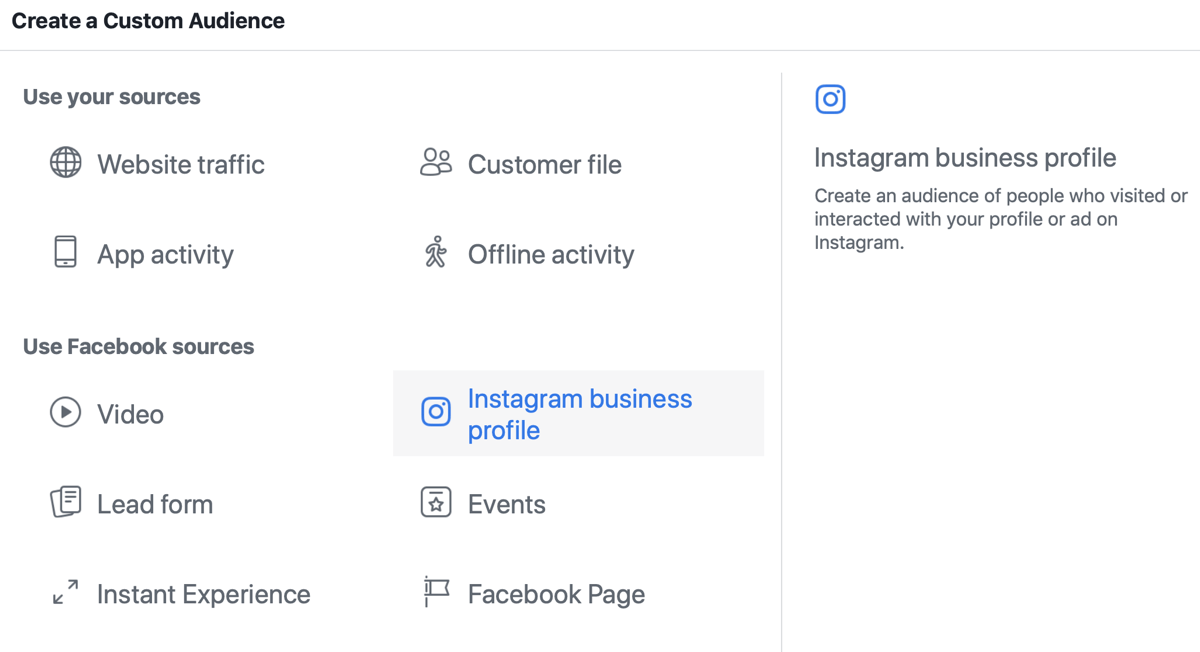 Next, select the correct Instagram profile and ensure Everyone Who Engaged With Your Business in the Past 365 Days is selected.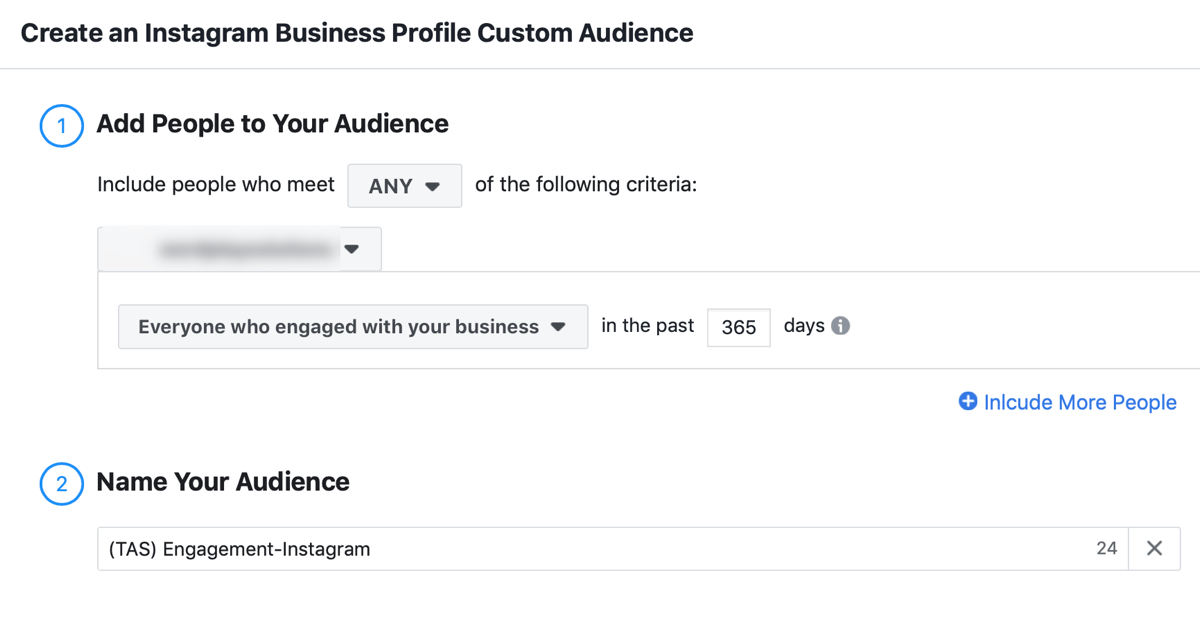 Choose a name for this audience that will be easily identifiable to you in the future and then click Create Audience. Remember that it takes up to 24 hours to reveal the size of your current Instagram engagement audience.
Now write down the current size of this audience to determine your starting point. I recommend that you track the growth of this custom audience weekly as you implement the rest of the $1.80 strategy consistently to assess your measurable growth.
Set Up a Spreadsheet to Track Instagram Growth
For fellow spreadsheet connoisseurs: Tracking this data in a notebook can feel like poking your eyes out, so here's how to structure your results tracking spreadsheet.
Set up your spreadsheet to track the total Instagram engagement custom audience with a separate column for each week.

Then use the formula =sum(D5-C5)/C5 to calculate your weekly growth rate.

Now expand the weekly growth rate calculation across all weeks.

The result is the growth rate of your retargetable custom audiences using the $1.80 Instagram growth strategy over time. Once you have this information for a larger range of weeks, you can assess what is and isn't working for you and then tailor the rest of your Instagram marketing strategy accordingly.
#2: Research and Incorporate Relevant Hashtags
Now that you're tracking your retargetable engagement, the next step is to find relevant hashtags for your business.
Open Instagram and navigate to the Search & Explore tab.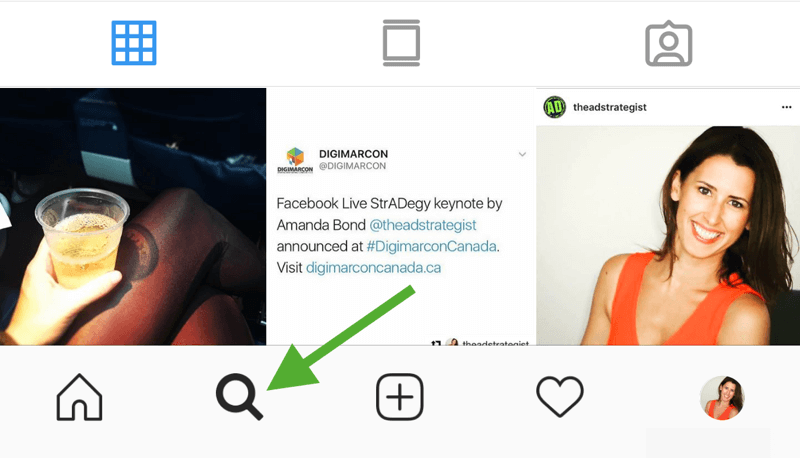 Start by searching for one hashtag such as #facebookads.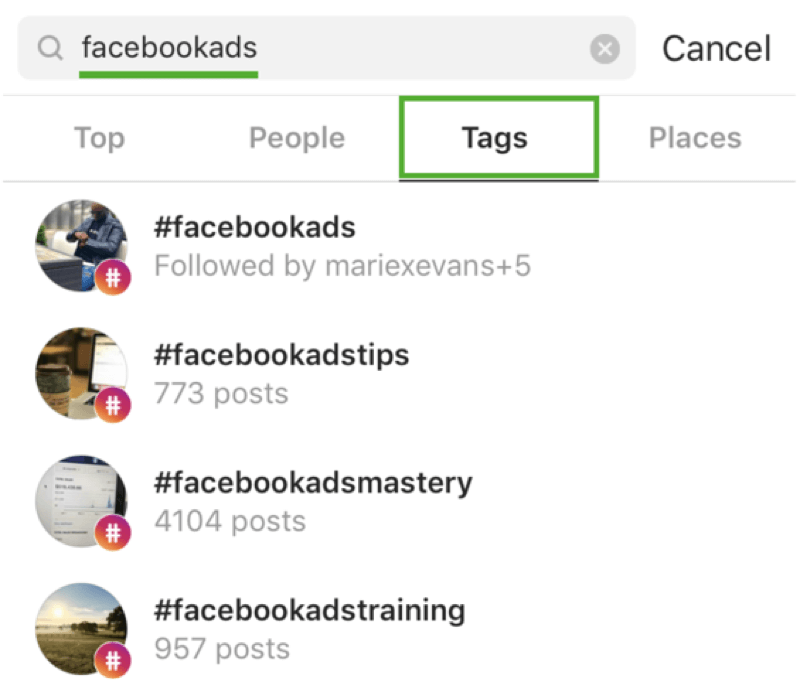 You likely have a core group of hashtags you're already using in your own posts. Because it's best to search and engage daily, I recommend that you set up a spreadsheet to track all of the relevant hashtags you're using because the list will quickly grow.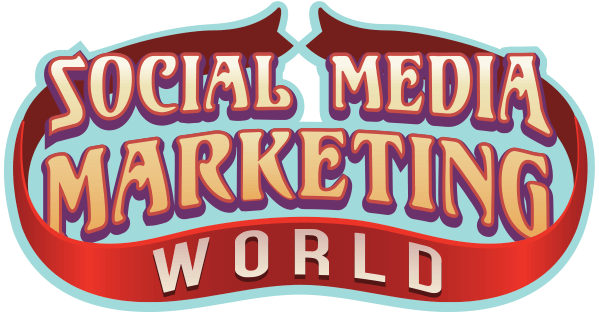 If you're a digital marketing agency, you might start with hashtags like these:

Here's the most surprising part of implementing this strategy: truly understanding the quality of a hashtag. As a Facebook advertising strategist, I'd assume that #facebookads would be an ideal hashtag for posts. However, upon closer inspection, the type of content being tagged with this particular hashtag is:
Extremely promotional (often for get-rich-quick–type schemes)
Unrelated to digital strategy
Entirely misleading
Often extremely spammy
This leads me to the conclusion that we won't use #facebookads in our own Instagram efforts going forward.
As you research hashtags and carry out your daily $1.80 growth strategy, make note of the highest-quality hashtags you find. Then use those in your organic content's written captions to give yourself the greatest opportunity to get in the Search & Explore tab of your ideal customers.
#3: Identify and Engage With 9 Relevant Instagram Posts
After you've found your Instagram hashtags, it's time to filter through the content you've found to determine whether it's relevant and valuable for you to leave your $0.02. Not every post is created equally—especially in a world full of spam bots and automation.
Take a few seconds to analyze each Instagram post you come across. I recommend clicking the full post to:
Read the caption.
Quickly measure the engagement rate (likes and comments vs. total followers).
Click the account profile image to check out their bio and the rest of their profile.
Remember, this strategy works across any vertical: B2B, B2C, SMB, etc. It's the process of culling through the noise to find the gems that most of your competitors aren't setting aside enough time to do.
Here's what to look for when analyzing accounts.
How Much Effort Is Being Put Into Writing an Informative Caption?
A lot of low-quality accounts tend to 'phone in' the caption description and jam as many hashtags into the caption as humanly possible—in the hopes that it will help them rank on the Search & Explore tab.
Well-written captions crafted with meaningful thought aren't an easy feat. The Instagram users who are putting in the time and effort to write their own story-driven captions tend to be active community members outside of their own profiles as well. They're invested in their own Instagram success and your $0.02 interaction helps them signal to the algorithm that their content is also relevant.
What Is the Engagement Rate?
In my algorithmic experience, engagement is king. If an account has 200,000 followers but barely hits 500 likes and comments on a post (0.2% engagement), what does that say about the quality of their community?
On the flipside, never discount an account for having a low follower count. If they have 200 followers and still have 30 likes and comments per post (a 15% engagement rate!), it shows they're building a small but mighty community. Engage away!
Is This Profile Something You Would Naturally Engage With?
Yes, you'll be deploying this strategy for your social media growth efforts. However, it's important to make sure the comments you're leaving have the potential to create strategic and long-term value for your brand and for your potential future community. Otherwise, as with anything, you'll be wasting your time and getting lost in the weeds.
The Anatomy of a Great Instagram Post
Most people want to skip this step (and the time it takes to properly assess the quality of the Instagram account where you're leaving your $0.02) and go straight to the end result—revenue growth. Taking your time to build relationships with the right profiles and people can help expedite your growth.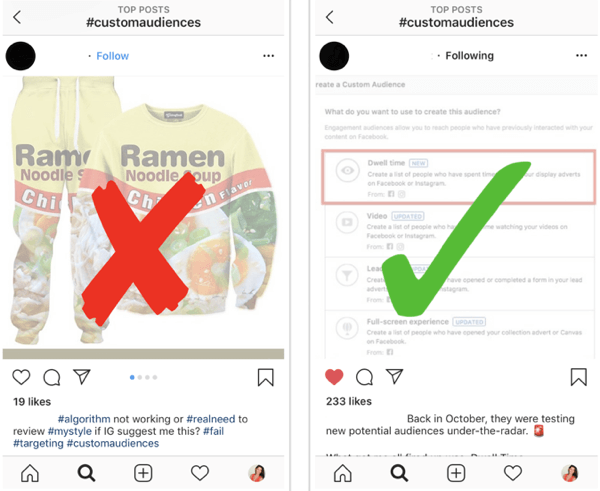 On the left:
The post engagement is lower than the one on the right (total number of likes aside).
The caption is stuffed with hashtags in an attempt to rank content vs. writing quality content to engage your audience.
The account has no bio or any other qualifying details.
On the right:
The content is relevant and educational.
The caption is well-written and informative.
The bio clearly states what they do and allows you to identify whether they belong in your community.
Now onto the fun stuff! This one's simple: Be social on social media. At this point in your efforts, all that's left is to leave your $0.02 on these newfound pieces of content.
Let's talk about leaving your $0.02 for a moment. There's a difference between crafting a meaningful comment that shows you want to be a part of the larger conversation vs. leaving a comment of three emoji hearts and then bouncing.
If all you do is leave emojis, don't use the $1.80 strategy. Spend your time elsewhere on actions/tasks that move the needle in your marketing.
Here are some best practices for being a human on social media:
Share your own experiences. Is there something in your life (or behind the scenes in your business) that's relatable to the original caption? Share that!

Ask open-ended questions. The goal here is to get people to come back to your Instagram profile and engage. If you only talk about yourself and your own experiences, it lessens your chance of developing a meaningful conversation with the other person.
Don't be a know-it-all. Let other people share their perspective and worldview. We, as humans, love to share about ourselves often. Remember that this exercise is not about YOU. It's about the incredible humans you serve in your marketing.

#4: Monetize Your Efforts With an Ad Sequence
After going through these steps, you've started to build two powerful marketing assets:
A captive community of current and future customers who drive real revenue
An engaged custom audience available for retargeting with paid advertising
The first of these two assets, a captive community, will fuel your organic Instagram efforts again and again. Next time you publish a post, these followers will be hungry for your new content. Because you've now engaged in conversations with these users, they're more ready to engage and respond than total strangers.
The second asset is an engaged custom audience that's retargetable by building a $5/day Instagram ad campaign.
When you pair a $5/day Instagram ad sequence with the $1.80 Instagram growth strategy, every image you post, DM you send, and heart you tap is automatically and effortlessly leading people toward becoming your customers. Having a low-cost Instagram ad sequence that's always running in the background is a simple way to turn followers into fanatical (read: paying!) customers.
Conclusion
Set aside time each day to execute this strategy. For me, it's only 15 minutes a day when I'm in an Uber or waiting for a meeting to begin. For you, it might be a consistent hour from 3–4 PM daily.
Your Instagram growth won't happen unless you put in the time and effort daily, track your results, tweak what isn't working, and continuously and relentlessly improve upon your efforts. A year from now, imagine your account at 2x, 10x, 100x growth and what that could mean for your business goals.
With a simple $1.80 Instagram growth strategy paired with a $5/day Facebook advertising strategy, you can rapidly grow your Instagram account with followers who turn into customers.
What do you think? Have you tried the $1.80 Instagram growth strategy? What were your results? Share your results and questions in the comments below.